At least 700,000 tons of abandoned fishing gear enter the oceans each year. Pixabay
In an ambitious effort to stop ocean pollution, the European Commission on Monday proposed banning the 10 most common single-use plastic products as well as lost and abandoned fishing gear.
The European Union's executive arm targeted the products that are most often found on the continent's beaches and seas, which together account for 70 percent of its marine litter.
"Plastic waste is undeniably a big issue and Europeans need to act together to tackle this problem, because plastic waste ends up in our air, our soil, our oceans, and in our food," said EU Commission Vice President Frans Timmermans in a statement.
"Worldwide this is the most ambitious and comprehensive legal proposal addressing marine litter. We can lead the way. We have to lead the way for our environment, for our health, but also to turn this into a competitive advantage for Europe," Timmermans, as quoted by The Guardian, told reporters as he unveiled the measures on Sunday.
Reducing harmful plastic litter is an opportunity for European businesses. We can create sustainable products that… https://t.co/zE5PMZH41V

— European Commission 🇪🇺 (@European Commission 🇪🇺)1527503207.0
The proposed rules are tailored for the different products. For instance, single-use plastic products with readily available alternatives will be banned from the market. That applies to plastic cotton buds, cutlery, plates, straws, drink stirrers and sticks for balloons—all will have to be made from more sustainable materials.
For products without a straightforward alternative—including food containers and packaging (i.e. chip bags and candy bars), cigarette butts, wet wipes, balloons and lightweight plastic bags—the plan is to limit their use with reduction targets and push manufacturers to stem pollution of their products.
Under the proposal, manufacturers will help cover the costs of waste management and cleanup, along with implementing clear labels that instruct how the waste should be safely disposed. Further, manufacturers will be given incentives to develop less polluting alternatives for their products.
Similarly, producers of plastic fishing gear, which accounts for 27 percent of all beach litter, will have to cover the costs of waste collection from port reception facilities and its transport and treatment, along with covering the costs of awareness-raising measures.
A recent report from the international nonprofit World Animal Protection estimates that at least 700,000 tons of new fishing nets, aka "ghost gear," enter the sea each year. Unfortunately, the plastics that make up most of the nets in the oceans today take around 600 years to break apart.
The European Commission has also set a target for its 28 member states to collect 90 percent of single-use plastic drink bottles by 2025.
These new measures, if implemented, would prevent 3.4 million tonnes of carbon emissions and avoid €22 billion in environmental damages by 2030 and save consumers a projected €6.5 billion, the commission estimated.
The commission noted in a press release: "Across the world, plastics make up 85 percent of marine litter. And plastics are even reaching people's lungs and dinner tables, with microplastics in the air, water and food having an unknown impact on their health. Tackling the plastics problem is a must and it can bring new opportunities for innovation, competitiveness and job creation."
The measure needs approval from its member states plus the European Parliament for adoption. The European Commission urged the EU's other institutions to "treat this as a priority file, and to deliver tangible results for Europeans before the elections in May 2019."
The directive was praised by environmental organizations.
"The only way to stop plastics pouring into our oceans is to turn off the flow at its source: production. By reducing the amount of unnecessary plastic we produce, we can make a real difference to the global marine litter crisis," Oceana Europe executive director Lasse Gustavsson said in a statement.
However, Gustavsson urged the commission to stretch the ban to cover "all single-use plastic products throughout the European Union."
"The plastics problem is not only on our beaches," he added. "Oceana has discovered plastic litter in the depths of our deep blue seas—often at depths of 1,000 meters below the surface—during research expeditions across Europe."
A Single Discarded Fishing Net Can Keep Killing for Centuries https://t.co/hrcXzTLLIx @SeafoodWatch @savingoceans

— EcoWatch (@EcoWatch)1526780703.0
From Your Site Articles
Related Articles Around the Web
EcoWatch Daily Newsletter
A French lavender farmer is part of the group suing the EU for more ambitious emissions targets, saying climate change threatens his crop.
Iamhao /
CC BY-SA 3.0
Ten families from Fiji, Kenya and countries across Europe who are already suffering the effects of climate change filed a case against the EU Wednesday in a bid to force the body to increase its commitments under the Paris agreement, AFP reported.
The "People's Climate Case," as it is being called, challenges the climate policies of the European Parliament and the Council of the European Union, saying they will not reduce emissions quickly enough to stop rising temperatures from disrupting the plaintiffs' lives. While an increasing number of communities and individuals have taken fossil fuel companies and governments to court over climate change in recent years, this is the first such case to be brought against the EU as a whole.
The case was brought before the Luxembourg-based European Court of Justice by people who "are already being impacted by climate change, already incurring damage ... and they are saying: 'EU, you have to do what you can to protect us because otherwise our damage will be catastrophical,'" Roda Verheyen, the lawyer arguing the case, told AFP.
The EU currently plans to reduce greenhouse gas emissions by 40 percent below 1990 levels by 2030, but the plaintiffs say that is not enough. They are asking the EU to strengthen its plan's emissions trading scheme directive, its land use, land use change and forestry regulation and its effort sharing regulation.
The UN calculated that current international commitments under the Paris agreement would still allow for three degrees Celsius of warming above pre-industrial levels, despite the agreement's goal of limiting warming to "well below" two degrees. Scientists say a three degree warmer world would lead to even more extreme weather and sea level rise, according to AFP.
"This case is important because it asks the EU to increase its climate ambition to 2030, in order to take a fair share of the burden required to meet the temperature goal of the Paris agreement and to protect the human rights of European citizens," ClientEarth lawyer Sophie Marjanac told The Independent.
According to The Guardian, there is precedent for the success of such an argument. In 2015, a judge at The Hague ruled in favor of the plaintiffs in a case brought against the Dutch government asking it to reduce emissions by 25 percent within five years. The Netherlands appealed the case, and the appeal will be heard next week.
The plaintiffs in this case are not seeking any financial compensation, only policy change, and their stories put a human face to the sometimes abstract concept of climate change.
They include members of the indigenous Swedish Sami Youth Association Sáminuorra who say that warmer Northern winters are threatening the reindeer that their way of life depends upon.
"If we lose the reindeers, the Sami culture will be lost. Many of the Sami youth want to stay with their families and be reindeer herders, but they cannot see a future. This is mostly due to the threat of climate change. This must be urgently addressed for the safety of our generation and the next generations." Sáminuorra Chair Sanna Vannar said, as quoted by The Guardian.
Further south, 72-year-old Provencal lavender farmer Maurice Feschet is also concerned with passing on his livelihood. He said that climate change cost him 44 percent of his harvest within six years.
"My family has been farming here since the 1800s. I am taking this action for my 38-year-old son who lives on the farm. We want him to continue to be able to farm, but it is not going to be easy. There must be more done," he told The Guardian.
According to AFP, Vannar and Feschet are joined by about 30 other plaintiffs, including a Romanian sheep farmer whose herd is threatened by
drought
, a Portuguese forester who lost all of his trees to
wildfires
in 2017, residents of a German island threatened by rising sea levels, owners of a diminishing ice-climbing business in the Italian Alps, Fijians concerned with more intense cyclones and
coral bleaching
and a Kenyan family coping with desertification.
'We'll See You in Court': Kids Climate Lawsuit Moves Forward After Judge Denies Trump https://t.co/AKRvM4EHax… https://t.co/tcy0xe3Y19

— EcoWatch (@EcoWatch)1520518322.0
waterlust.com / @tulasendlesssummer_sierra .
Each product featured here has been independently selected by the writer. If you make a purchase using the links included, we may earn commission.
The bright patterns and recognizable designs of Waterlust's activewear aren't just for show. In fact, they're meant to promote the conversation around sustainability and give back to the ocean science and conservation community.
Each design is paired with a research lab, nonprofit, or education organization that has high intellectual merit and the potential to move the needle in its respective field. For each product sold, Waterlust donates 10% of profits to these conservation partners.
Eye-Catching Designs Made from Recycled Plastic Bottles
waterlust.com / @abamabam
The company sells a range of eco-friendly items like leggings, rash guards, and board shorts that are made using recycled post-consumer plastic bottles. There are currently 16 causes represented by distinct marine-life patterns, from whale shark research and invasive lionfish removal to sockeye salmon monitoring and abalone restoration.

One such organization is Get Inspired, a nonprofit that specializes in ocean restoration and environmental education. Get Inspired founder, marine biologist Nancy Caruso, says supporting on-the-ground efforts is one thing that sets Waterlust apart, like their apparel line that supports Get Inspired abalone restoration programs.
"All of us [conservation partners] are doing something," Caruso said. "We're not putting up exhibits and talking about it — although that is important — we're in the field."
Waterlust not only helps its conservation partners financially so they can continue their important work. It also helps them get the word out about what they're doing, whether that's through social media spotlights, photo and video projects, or the informative note card that comes with each piece of apparel.
"They're doing their part for sure, pushing the information out across all of their channels, and I think that's what makes them so interesting," Caruso said.
And then there are the clothes, which speak for themselves.
Advocate Apparel to Start Conversations About Conservation
waterlust.com / @oceanraysphotography
Waterlust's concept of "advocate apparel" encourages people to see getting dressed every day as an opportunity to not only express their individuality and style, but also to advance the conversation around marine science. By infusing science into clothing, people can visually represent species and ecosystems in need of advocacy — something that, more often than not, leads to a teaching moment.

"When people wear Waterlust gear, it's just a matter of time before somebody asks them about the bright, funky designs," said Waterlust's CEO, Patrick Rynne. "That moment is incredibly special, because it creates an intimate opportunity for the wearer to share what they've learned with another."
The idea for the company came to Rynne when he was a Ph.D. student in marine science.
"I was surrounded by incredible people that were discovering fascinating things but noticed that often their work wasn't reaching the general public in creative and engaging ways," he said. "That seemed like a missed opportunity with big implications."
Waterlust initially focused on conventional media, like film and photography, to promote ocean science, but the team quickly realized engagement on social media didn't translate to action or even knowledge sharing offscreen.
Rynne also saw the "in one ear, out the other" issue in the classroom — if students didn't repeatedly engage with the topics they learned, they'd quickly forget them.
"We decided that if we truly wanted to achieve our goal of bringing science into people's lives and have it stick, it would need to be through a process that is frequently repeated, fun, and functional," Rynne said. "That's when we thought about clothing."
Support Marine Research and Sustainability in Style
To date, Waterlust has sold tens of thousands of pieces of apparel in over 100 countries, and the interactions its products have sparked have had clear implications for furthering science communication.
For Caruso alone, it's led to opportunities to share her abalone restoration methods with communities far and wide.
"It moves my small little world of what I'm doing here in Orange County, California, across the entire globe," she said. "That's one of the beautiful things about our partnership."
Check out all of the different eco-conscious apparel options available from Waterlust to help promote ocean conservation.
Melissa Smith is an avid writer, scuba diver, backpacker, and all-around outdoor enthusiast. She graduated from the University of Florida with degrees in journalism and sustainable studies. Before joining EcoWatch, Melissa worked as the managing editor of Scuba Diving magazine and the communications manager of The Ocean Agency, a non-profit that's featured in the Emmy award-winning documentary Chasing Coral.
Pexels
With one foot out the Brexit door, the UK is secretly trying to weaken EU commitments to the Paris agreement in a move branded "rude" by one member of European parliament (MEP), The Guardian reported Wednesday.
The EU is currently set to reduce its energy use by 20 percent by making improvements to energy efficiency and buildings. The targets cover the years 2014 to 2020, but the UK is lobbying to be allowed to count efficiency improvements made from 2010, and to carry over any improvements made over the target to count towards post-2020 commitments.
The plan was confirmed by leaked documents viewed by The Guardian.
Vice chair of the European parliament's environment committee Benedek Jávor did not mince words in criticizing the UK's proposal.
"This approach would risk failure in our efforts to reach even moderately ambitious overall targets, while the higher—and beneficial targets—that we need to strive for could become lost altogether," Jávor said. He further called it "rude" for the country to try and weaken regulations it would only be beholden to until it formally leaves the EU when Brexit goes into effect.
The revelation also raises concerns about the UK's commitment to fighting climate change in a post-Brexit world.
Unlike their counterparts in the U.S., UK conservatives currently in power have rhetorically embraced global environmental action.
In a speech reported by The Guardian at the UN last September, conservative Prime Minister Theresa May spoke out against President Donald Trump's plans to leave the Paris agreement, for example.
The UK has also emerged as a leader in the global fight against ocean plastics this year, announcing in April a plan to end the sale of single-use plastics like straws and drink stirrers.
But some are concerned that the government's actions won't match its words, and this move confirms those fears.
"This sneaky, behind-the-scenes amendment indicates a government that likes to pretend it is a global leader but will not take the strong policy action needed to deliver the necessary change," shadow international trade and climate spokesman Barry Gardiner told The Guardian.
Likewise, Liberal-Democratic MEP Catherine Bearder told The Guardian it "gave the lie" to the "green revolution" promised by Brexit supporter and UK environment secretary Michael Gove.
These concerns were further supported by a recent risk analysis commissioned by Friends of the Earth that found that Brexit is likely to weaken UK environmental regulations. The analysis found that a 25-year environment plan launched by May and touted by Gove was vague and less ambitious than current EU law.
Greenpeace EU / Twitter
European governments approved Friday a proposal to widen a ban on neonicotinoid pesticides that studies have found are harmful to bees and other pollinators.
The move completely bans the outdoor uses of three neonicotinoids, or neonics, across the European Union. They include Bayer CropScience's imidacloprid, Syngenta's thiamethoxam and clothianidin developed by Takeda Chemical Industries and Bayer CropScience.
The EU had already opted for a partial ban in 2013 on the use of the three chemicals on flowering crops that attract bees, such as maize, wheat, barley, oats and oil seed rape (canola).
"All outdoor uses will be banned and the neonicotinoids in question will only be allowed in permanent greenhouses where exposure of bees is not expected," the European Commission said in a statement.
In February, the European Food Safety Authority issued a report adding to the mounting scientific evidence that neonics are a risk to wild bees and honeybees, whose numbers have been plummeting in recent years.
"The Commission had proposed these measures months ago, on the basis of the scientific advice from the European Food Safety Authority," Vytenis Andriukaitis, the European commissioner for Health and Food Safety said today.
"Bee health remains of paramount importance for me since it concerns biodiversity, food production and the environment."
Plenty of lovely bees at #Schuman today. 🐝 Happy that Member States voted in favour of our proposal to further rest… https://t.co/lP9zj3zANZ

— Vytenis Andriukaitis (@Vytenis Andriukaitis)1524819290.0
According to Greenpeace EU, the member states supporting the ban were France, Germany, Spain, Italy, the United Kingdom, the Netherlands, Austria, Sweden, Greece, Portugal, Ireland, Slovenia, Estonia, Cyprus, Luxembourg and Malta, representing 76.1 per cent of the EU population. Romania, the Czech Republic, Hungary and Denmark voted against. Poland, Belgium, Slovakia, Finland, Bulgaria, Croatia, Latvia and Lithuania abstained from the vote.
BBC News noted that manufacturers and some farming groups opposed the action, saying the science remains uncertain.
"The Commission hasn't been able to find that these restrictions have delivered any measurable benefits for bees," Chris Hartfield from the National Farmers' Union in the UK, told the BBC.
"That has been a big question for us, and if we can't be certain they can deliver measurable benefits why are we doing this?"
The ban on the insecticides received widespread public support. Almost 5 million people signed a petition from campaign group Avaaz and more than 633,000 people signed another petition from international consumer group SumOfUs.
"This move is critical for protecting bees and other important pollinators—we hope this ban will encourage governments around the world to follow suit," said Wiebke Schröder, a SumOfUs campaign manager.
New Zealand's Environmental Protection Agency, for one, closely watched the vote.
"When new information is released, the EPA always takes a good look at the science, evaluating it to see if there's something we need to factor into our thinking here," said Fiona Thomson-Carter, the EPA General Manager for Hazardous Substances and New Organisms.
"While existing New Zealand rules around the use of neonicotinoids are working, there could still be instances where non-target organisms, like bees and insects are exposed to the insecticide."
Greenpeace EU food policy adviser Franziska Achterberg welcomed the news but urged the EU to make sure the three neonics are not simply swapped with other harmful chemicals.
"These three neonicotinoids are just the tip of the iceberg—there are many more pesticides out there, including other neonicotinoids, that are just as dangerous for bees and food production. Governments must ban all bee-harming pesticides and finally shift away from toxic chemicals in farming," Achterberg said.
Lori Ann Burd, director of the Center for Biological Diversity's environmental health program, praised the decision by European Union regulators, but added that the "EU's wisdom highlights the Trump EPA's folly."
"Although U.S. beekeepers reported catastrophic losses again this winter, and just this past week the EPA closed a comment period on another suite of damning neonicotinoid risk assessments, rather than banning these dangerous pesticides, the agency is actually considering increasing the use of neonics across another 165 million acres," Burd said.
EPA Considers Allowing Bee-Killing Pesticide to Be Sprayed on 165 Million Acres of U.S. Farmland… https://t.co/LuWNIFxIRx

— EcoWatch (@EcoWatch)1513715573.0
From Your Site Articles
Related Articles Around the Web
Azaaz / Twitter
By Julia Conley
Green groups and public health advocates on Monday denounced the European Commission's vote in favor of extending the license of glyphosate, the active ingredient in Monsanto's Roundup pesticide which scientists have labeled as a "likely carcinogen."
Eighteen member states of the European Union approved of the use of the weed-killer's use for the next five years, with nine voting against the extension and Portugal abstaining. Sixteen votes were needed for the extension to pass; Germany swung the vote after having been on the fence in recent weeks.
Greenpeace EU noted in a press release following the vote that the commission's new approval of the chemical is based on flawed science: a "health risk assessment of glyphosate, which states there is insufficient evidence of a cancer link, despite the WHO's classification of the weedkiller as a probable cause of cancer."
Commission and most governments have failed Europeans. They obviously care more about threats of corporate lawsuits… https://t.co/i1A3Zi7i2i

— Greenpeace EU (@Greenpeace EU)1511798879.0
An assessment done by the World Health Organization in 2015 found it to be "probably carcinogenic."

"The people who are supposed to protect us from dangerous pesticides have failed to do their jobs and betrayed the trust Europeans place in them," said the group's food policy director, Franziska Achterberg. "The European Commission and most governments have chosen to ignore the warnings of independent scientists, the demands of the European Parliament and the petition signed by more than one million people calling for a glyphosate ban."
Friends of the Earth Europe also expressed dismay at the decision.
"Today's approval, even if only for five years, is a missed opportunity to get rid of this risky weedkiller and start to get farmers off the chemical treadmill," said the group's senior food and agricultural campaigner, Adrian Bebb. "Five more years of glyphosate will put our health and environment at risk, and is a major setback to more sustainable farming methods."
As the commission voted on Monday, protesters were gathered outside its headquarters in Brussels wearing masks and holding a sign that read "Democracy vs. Glyphosate."
Critics argued that the 18 countries that voted for the license extension did so under pressure from Monsanto, the maker of Roundup, which is used widely in Europe. In Germany alone, about 40 percent of crop-growing land is treated with the weedkiller. Monsanto has been accused of suppressing information about the potential dangers of Roundup and ghost-writing research that portrayed the herbicide in a positive light
27/11/2017 Germany made a historical mistake by shifting from abstention to voting in favour of 5 years renewal of… https://t.co/zSsq4OzuwL

— FoodPolicyRevolution (@FoodPolicyRevolution)1511795922.0
Monsanto wanted 15 yrs for #glyphosate but had to fight hard for 5. Today, Germany bowed to corporate pressure, ign… https://t.co/HkDabHlZFp

— Avaaz (@Avaaz)1511796617.0
Reposted with permission from our media associate Common Dreams.
Street-side charging stations in Oslo, Norway. Carlos Bryant / Flickr
The European Union unveiled proposals Wednesday to cut car and truck emissions by 30 percent by 2030. The plans also include fines for exceeding CO2 limits and financial incentives for automakers to produce more electric vehicles.
The European car makers' lobby called the 30 percent target "overly challenging," while some environmental groups criticized the proposals' lack of quotas for electric vehicles. European Commissioner for Climate Action and Energy Miguel Arias Cañete defended the absence of quotas, saying the proposals are designed to "let carmakers decide" on the best new technologies.
As reported by the BBC:
"The Commission said the incentives for manufacturers to produce more alternative vehicles were designed to boost the EU's competitiveness in the global car manufacturing market.
'The EU automotive industry risks losing its technological leadership in particular with respect to zero- and low-emission vehicles, with the U.S., Japan, South Korea and China moving ahead very quickly in this segment,' it said.
It noted that China had recently introduced mandatory zero- and low-emission vehicle quotas for manufacturers from 2019, and that some U.S. states had established a 'regulatory instrument to enhance the uptake of zero- and low-emission vehicles.'
Internal Market Commissioner Elżbieta Bieńkowska said the EU's car industry was 'at a turning point.'
'To maintain its global leadership, and for the sake of our environment and public health, the car industry needs to invest in new and clean technologies,' she added."
7 Countries Leading the Way on the Race to Go Electric https://t.co/tkwSPi68lx @Greenpeace @SierraClub @foe_us @350 @DeSmogBlog @TeslaMotors

— EcoWatch (@EcoWatch)1500311903.0
For a deeper dive:

New York Times, Reuters, AP, BBC, WSJ
For more climate change and clean energy news, you can follow Climate Nexus on Twitter and Facebook, and sign up for daily Hot News.
Glyphosate is the active ingredient in Monsanto's Roundup. Flickr

Dr. Christopher Portier, a toxicologist and former director of the U.S. National Center for Environmental Health, has criticized the conclusions of European Union agencies which found that glyphosate—the active ingredient in Monsanto's widely used weedkiller Roundup—is not carcinogenic to humans.
In a May 28 letter to European Commission president Jean-Claude Juncker, Portier claims that the European Food Safety Authority (EFSA) and the European Chemicals Agency (ECHA) failed to include in their assessments eight instances of "significant increases in tumor response" in rodents that were tested for cancer after exposure to the herbicide.
"This suggests that the evaluations applied to the glyphosate data are scientifically flawed, and any decisions derived from these evaluations will fail to protect public health," the cancer expert wrote.
Portier noted that the International Agency for Research on Cancer Monographs Program classified glyphosate as "probably carcinogenic to humans."
He also expressed concern that the EFSA inadequately evaluated glyphosate's effects on reproductive toxicity and endocrine disruption.
"Since the industry-supported scientific evidence is not available to external scientists, I am unable to evaluate these data and determine if there are positive findings that escaped detection," he wrote. "I encourage you to release these data for external analysis and review as well."
Two weeks ago, the European Commission announced it was proposing a 10-year extension to its approval of glyphosate, citing the ECHA study.

Portier requests that both EFSA and ECHA review the evidence he submitted. He urges Juncker to refrain from "making any decisions on glyphosate until these positive findings are included."

Anca Paduraru, a spokesperson for the Juncker, told Euractiv that the commission will ask the agencies to respond to the letter.
"Given that the majority of the problems raised by the letter are related to the scientific evaluation of glyphosate, the commission will ask EFSA and ECHA to respond," Paduraru said, adding that the commission currently has no reason to doubt the evaluation of the EU agencies.

Amid questions over whether the executive order would end U.S. involvement in the Paris agreement—and with no firm indication from the White House about staying in the agreement—top European Union climate official Miguel Arias Cañete expressed "regret" over Trump's policies Tuesday, promising that the European Union "will stand by Paris, we will defend Paris and we will implement Paris."
China showed it would continue to cement its global leadership on climate, as officials reaffirmed to press the country was still committed to the Paris agreement and adding "China's resolve, aims and policy moves in dealing with climate change will not change."
Former United Nations Framework Convention on Climate Change leader Christiana Figueres expressed confidence in the agreement's durability, telling Fusion in an interview that the economic benefits of a global clean energy transition make the agreement "unstoppable."
"It's important to understand that no single country, no matter how large or small, can cancel the Paris Climate Agreement," explained Figueres. "The Paris Agreement is a multilateral agreement that has gone into force, and any country has the right to exit the agreement, or in fact to exit the Convention, but that doesn't mean that the multilateral structure is actually canceled."
For a deeper dive:
EU: Washington Post, AP, WSJ, The Guardian China: New York Times, Reuters
Figueres: PRI, Fusion Commentary: The Guardian, Damian Carrington analysis
For more climate change and clean energy news, you can follow Climate Nexus on Twitter and Facebook, and sign up for daily Hot News.
Member states of the European Union voted in favor of a European Commission proposal that limits the use of glyphosate during the herbicide's 18-month extension granted by the commission last month.
Member state experts agreed to the following conditions:
A ban of a co-formulant POE-tallowamine from glyphosate-based products
Obligations to reinforce scrutiny of pre-harvest use of glyphosate
Minimizing the use in specific areas such as public parks and playgrounds
The conditions will apply for the duration of the extension until the European Chemicals Agency issues an opinion on the product's safety.
"Member states will now need to adjust their national legislation to make sure that pesticides containing glyphosate do not contain POE-tallowamine," according to Euractiv.com.

Tallowamine, which aids the effectiveness of glyphosate, was once found in Monsanto's Roundup herbicide. The inert ingredient was found to be "more deadly to human embryonic, placental and umbilical cord cells than [glyphosate] itself," Scientific American reported in 2009, citing a French study.
"This clearly confirms that the [inert ingredients] in Roundup formulations are not inert," the study authors from France's University of Caen wrote. "Moreover, the proprietary mixtures available on the market could cause cell damage and even death [at the] residual levels" found on crops such as soybeans, alfalfa and corn, or on lawns and gardens sprayed with Roundup."
The EU's 28-member bloc has been deeply divided over glyphosate ever since the World Health Organization's International Agency for Research on Cancer (IARC) classified the compound as a probable carcinogen in March 2015.

Two other regulatory agencies, however, have reached contradictory conclusions. The European Food Safety Authority (EFSA) declared glyphosate as safe in November and the United Nation's Food and Agriculture Organization and a different regulatory body from the World Health Organization issued a joint report in May concluding that the ingredient is "unlikely to pose a carcinogenic risk to humans from exposure through the diet."

However, the EFSA made a very important admission in its report. Unlike the IARC, the Italy-based EFSA examined glyphosate alone, not glyphosate formulations. The adverse health effects of the herbicide, therefore, could be related to reactions with "other constituents or 'co-formulants,'" the report said.
Germany and France have previously restricted glyphosate and tallowamine formulations within their borders. This past April, France banned glyphosate mixed with tallowamine. The country's health and environmental government agency (ANES) said that "the co-formulants found in glyphosate preparations, tallowamine in particular, [raised] concerns."
Monsanto confirmed to Reuters that since they have shifted away from tallowamine the affect of the French ban would be "minimal," adding that the debate over glyphosate in Europe is "political." The agritech giant has long maintained the safety of their flagship product, which is also the world's most popular herbicide. The company also defended tallowamine-based products in that they "do not pose an imminent risk for human health when used according to instructions."
The bitter fight over glyphosate highlights the pesticide's uncertain fate in Europe. The commission initially proposed to relicense glyphosate for another 15 years ahead of its June 30 expiration, but after failing to secure majority approval from the member states after three votes in a row, the EU executive body was forced to give glyphosate a last-minute 18-month extension.
The European Commission failed to get member state support, but extended #glyphosate's licence by 18 months anyway. https://t.co/fcZv4y6S8S

— Greenpeace EU (@Greenpeace EU)1467188591.0
Monsanto could be hit big by an EU-wide ban on glyphosate. "The elimination of glyphosate sales in France by itself should not have a material effect on Monsanto, maybe $20 million of earnings impact. If it spreads to the rest of Europe the impact would be greater though, as Europe is a premium market; could lead to up to $100 million of earnings impact," Bernstein analyst Jonas Oxgaard told Reuters via email in April.

Opponents of glyphosate have applauded the EU's latest vote. "Despite the restrictions on use not being enforceable in law, Sustainable Pulse has been in contact with many of the Environment Ministries in Europe and we have been assured that serious measures will be taken in France, Bulgaria, the Netherlands, Slovenia, Malta, Spain, Portugal, Germany, Italy and most likely in a number of other countries," Sustainable Pulse director Henry Rowlands said. "This is a huge step in the right direction and most European citizens now look forward to a full ban on the use of glyphosate herbicides in the near future."
Last week, Dr. Kurt Straif, a section head with the IARC, appeared in an interview with euronews defending the agency's assessment that glyphosate probably causes cancer in humans.
"Our evaluation was a review of all the published scientific literature on glyphosate and this was done by the world's best experts on the topic that in addition don't have any conflicts of interest that could bias their assessment," Straif said.
"They concluded that, yes, glyphosate is probably carcinogenic to humans based on three strings of evidence, that is clear evidence of cancer in experimental animals, limited evidence for cancer for humans from real-world exposures, of exposed farmers, and also strong evidence that it can damage the genes from any kind of other toxicological studies."
The French government has approved its long-awaited energy bill, clearing the way for it to go before Parliament this autumn and be ratified in 2015. This is a major step for the nation that will be hosting the 2015 UN climate summit, where a new global climate deal is expected to be agreed.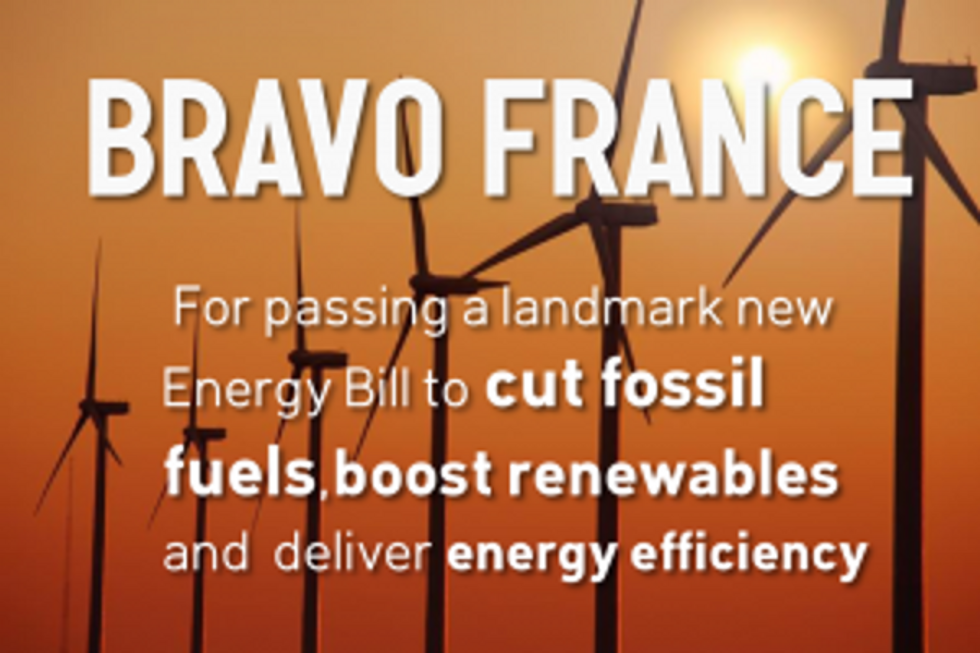 With the new energy bill, France joins the ranks of other nations taking strong climate action and committing targets to law. Photo credit: 350.org
The French bill includes targets to cut fossil fuel and nuclear energy use and boost renewables, and could help mobilize €10 billion of investment and create thousands of jobs, according to the government. France joins a host of other EU nations and major economies in announcing such legislation. While the ambitious targets have been welcomed by NGOs, they warn that the government must now "provide the impetus" and mobilize even more financing to ensure the ambitious targets are implemented. Others have pointed out that nuclear energy remains a lynchpin of France's energy policy.
With the new energy bill, France joins the ranks of other nations taking strong climate action and committing targets to law. In Europe in recent months Denmark has ratified its climate law, while Finland revealed its proposed legislation to cut emissions by 80 percent by 2050. The UK government also recently stood by its targets to cut emissions under its climate change act, while across the world other major economies have pledged strong climate action, including a recent announcement from the U.S. to cut carbon pollution from power plants.
France's national targets go some way to showing "its own climate and energy house is in order" and paving the way for ambitious international commitments on climate change. Hosts of the UN's 2015 climate summit, all eyes will now be on France to see if it can "play the role of fair and ambitious COP president" and broker a strong global climate treaty.
The country's first opportunity to show leadership will be when EU nations meet to finalize the bloc's climate and energy framework to 2030 in October. France's emissions target puts it firmly in line with the 40 percent reduction proposed by the EU Commission, while its ambitious renewable goal goes beyond the EU-wide proposal.
You Might Also Like
Ignoring Climate Risks Could Sink U.S. Economy
Denmark Outdoes Rest of Europe With Ambitious Emissions Reduction Goal
[Editor's note: Dr. Sandra Steingraber presented a keynote speech for the New Environmentalism Summit of the European Commission in Brussels, Belgium, on June 3. The text follows.]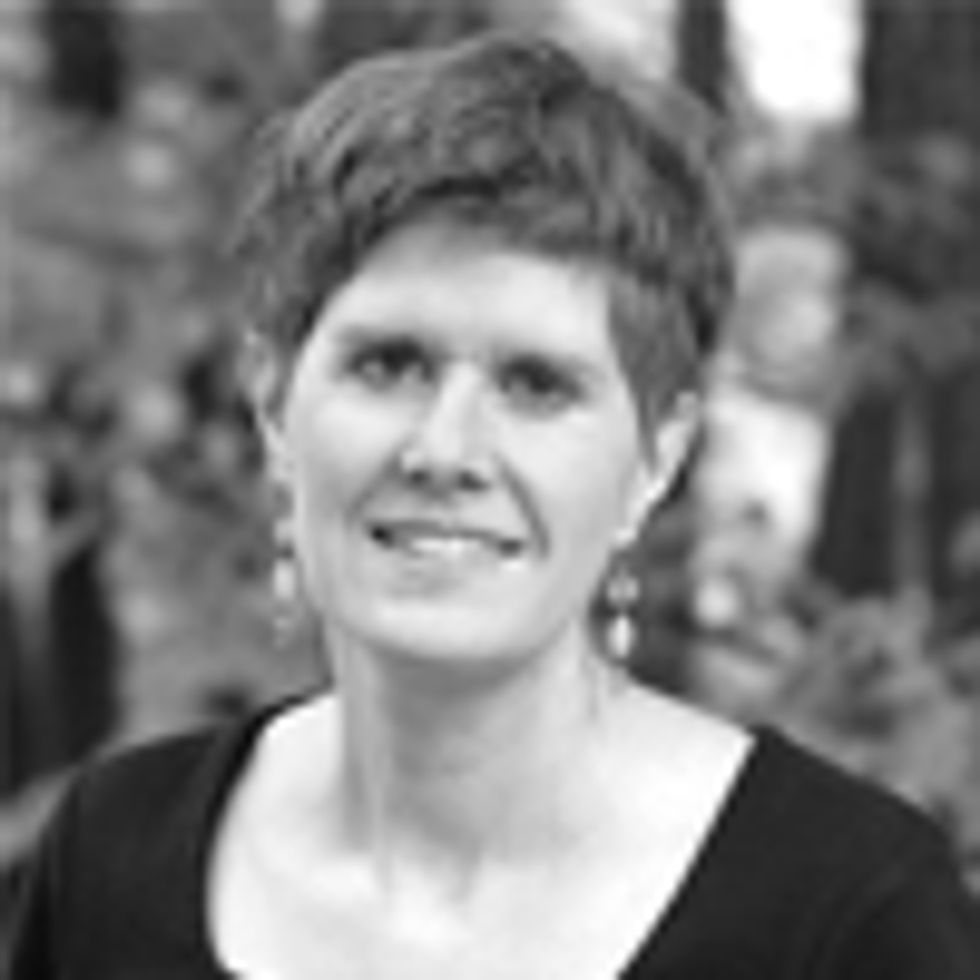 I would like to begin by quoting from comments made yesterday by Angela Knight, a former Conservative MP in Britain.
As a reaction to the recent elections here in Brussels, Ms. Knight said, "We have an opportunity in the energy industry to get fact based, logic based, properly costed and sensible EU policy-making and to encourage a move away from an emotion driven and expensive agenda."
That statement appears in yesterday's The Guardian, and I couldn't have said it better myself.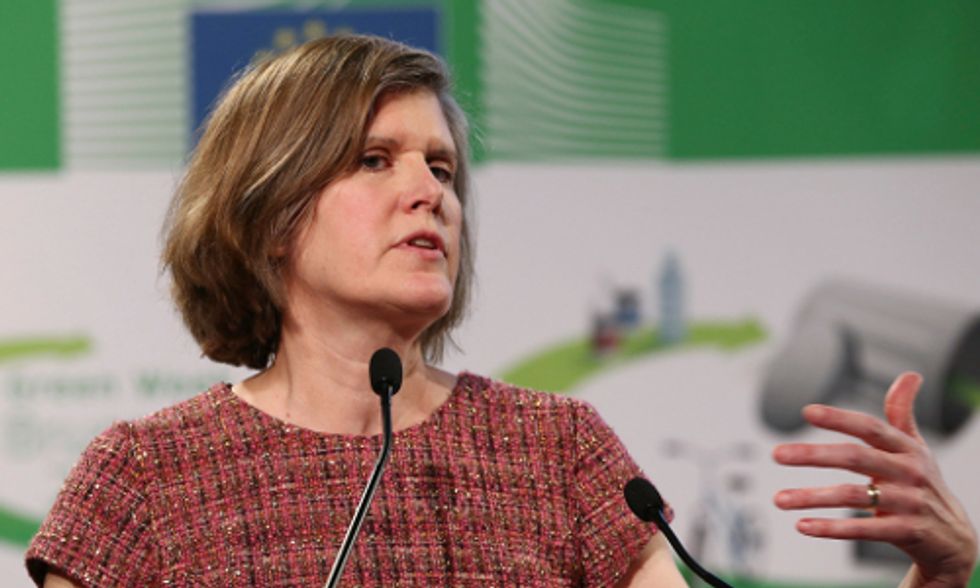 Dr. Sandra Steingraber speaking at the New Environmentalism Summit in Brussels, Belgium. Photo credit: HEAL on flickr.
Indeed, that's exactly what I have come to European Commission to ask for: for the European Union—and for my own union, the United States—a fully cost-accounted energy policy based on facts, logic and science rather than emotion.
But here's the notable difference:  Angela Knight and I are arguing for opposite courses of action.
Ms. Knight is a lobbyist for Energy UK. Her group seeks to mute the EU's commitments to green energy, stall ongoing efforts to counter climate change and maintain dependency on fossil fuels.
I am a biologist, a science advisor for Americans Against Fracking, and a co-founder of both Concerned Health Professionals of New York and New Yorkers Against Fracking. The groups of which I am part seek an acceleration of the transition to energy policies based on wind, water and solar power and believe that further investments in fossil fuels in general—and shale gas in specific—are irrational, ruinously expensive, unsustainable and immoral.
These two worldviews are fundamentally incompatible. They cannot be reconciled or bridged. They require a bold leadership choice that rejects one and embraces the other.
In New Yorkers Against Fracking, we speak of standing at an energy crossroads. One signpost points to a future powered by digging fossils from the ground and lighting them on fire. The other points to renewable energy. You cannot go in both directions at once. Subsidizing the infrastructure for one creates disincentives for the other.  
This is no more true than with fracking, the process by which fresh water is mixed with sand and a cocktail of chemicals and then used as a poisonous club to shatter layers of shale bedrock inside of which are trapped tiny bubbles of natural gas—scattered like a fizz of champagne inside of a chalk board that is buried a mile below the earth's surface.
In the United States, fracking has created such a temporary abundance of cheap natural gas that it has stunted research and development into renewable energy sources and has further delayed action toward a goal that science tells us that we must urgently meet: namely, to leave 80 percent of the remaining carbon in the ground and to redesign our economy to run almost entirely on renewables by mid-century in order to avoid catastrophic climate tipping points.
We are also running out of places to store all this excess shale gas.
One proposed solution, which is being developed with the encouragement of the European Commission, is to liquefy the excess and give it a passport to Europe. Doing so would require the construction of multi-billion dollar export terminals along our coastlines together with fossil fuel-fired power plants that are needed to run the cryogenic refrigerators that turn natural gas into LNG by super-chilling it to minus 260 degrees F.
You cannot advocate for the construction of multibillion-dollar LNG infrastructure projects that presume a 40-year return on investment and also claim in the same breath that you are building a bridge to renewable energy future. Those two ideas cannot be brought into alignment.
Another proposed solution to excess American shale gas is to bury it in abandoned salt mines.
I have personal experience with this idea because I live near a lake under which lies a gallery of old salt caverns left over from 19th century mining. These caves are now being repurposed for the storage of compressed methane gas along with other liquefied gases that are the byproducts of fracking, namely, propane and butane.
I refer here to Seneca Lake, the largest and deepest lake within New York State. Seneca Lake holds so much water that it creates its own microclimate that is uniquely favorable to growing of grapes. The shores of this lake thus form the heart of New York's wine region. Indeed, the vineyards that lie over the hillsides where I live are the goose that lays our golden egg: Grapes and wine contribute $4.8 billion to our state's economy. In particular, the Seneca Lake region is famous for world-class Rieslings.
This is also an intensely lovely place, named by Yahoo Travel as one of the top 10 lake-side destinations in the world, with beauty to rival Italy's Lake Como and England's own Lake District.
And now Seneca Lake is slated for mass industrialization, as plans are laid for compressor stations, flare stacks, pipeline, brine pits and other infrastructure required to transform the loveliest lakeside vacation spot in America into a regional hub for the storage and transport of fracked gas.
Absent our intervention, this is the fate of New York's wine region. Earlier this month, permission was granted by the U.S. federal government to move forward with the first part of this massive industrial project. 
But we are intervening. And those of us who do so see ourselves as part of a human rights struggle. Seneca Lake not only allows wine grapes to flourish in this otherwise cold, northern zone, it is also the source of drinking water for 100,000 people. Those who oppose turning the lakeshore into a storage depot for fracking are not just defending grapevines. We are defending water, which is life itself.
I've now talked myself into my assigned task: to explore the most critical issues currently facing the planet and help generate ideas that lead to breakthrough solutions.
In fact, there are two critical issues: climate change, which is killing our life-support system, and chemical pollution, which is killing us.
Like a tree with two trunks, these twinned problems have a single root cause: fossil fuels. Whether we shovel them into ovens and light them on fire or turn them into toxic petrochemicals, fossil fuels are the problem.
The ideas that would lead to breakthrough solutions are already here. Their names are green energy and green chemistry, but they are being held hostage by the oil and gas industry.
Their rescue depends on a vigorous new environmentalism that closes the door on fracking.
Fracking is the imposter in the room. 
Fracking is the problem that masquerades as a solution. 
Fracking is the deadly enabler that keeps the whole fossil fuel party going far past the time of its curfew.
Methane—also known as natural gas—is carbon dioxide's partner in crime. Indeed, as a greenhouse gas, it is far more powerful. According to the latest estimates by the Intergovernmental Panel on Climate Change, methane is, over a 100-year period, 34 times more powerful at trapping heat than carbon dioxide.
Over a shorter period, methane is even more potent. The best science tell us that methane is, over 20 years, nearly 100 times more potent at trapping heat than carbon dioxide.
How much methane is actually released between drilling for it and burning it?  We don't exactly know. Those studies are ongoing.
We do know that fugitive methane wafts from every stage of the gas extraction, processing and distribution process—and from all of the ancillary infrastructure along the way, including well casings, condenser valves and pipelines.
The emerging science shows us three things about fracking and climate change:
First, that we have grossly underestimated the amount of methane that leaks from drilling and fracking operations. Second, that we have grossly overestimated the ability of regulations to control those emissions. And third, that the ability of methane to trap heat is far more powerful than we realized in the only remaining time frame available to us to avert catastrophic climate change.
In short, fracking is the ultimate bridge to nowhere. You cannot blast natural gas out of the bedrock and send it into kitchen stoves and basements furnaces across the land without venting massive amounts of climate-killing methane into the atmosphere.
Let's now look at the chemical pollution of caused by drilling and fracking operations and their attendant infrastructure. This is a problem that has created a public health crisis in the United States where fracking was born and where it has spread relentlessly from sparcely populated western states to the densely populated Northeast.
The evidence for human harm caused by fracking is contained within the medical literature itself. The totality of the science now encompasses hundreds of peer-reviewed studies. All together, these data reveal multiple health problems associated with drilling and fracking operations and expose intractable, irreversible engineering problems.
They also make clear that the relevant risks for harm have neither been fully identified nor adequately assessed and, thus, that no regulatory framework in any U.S. state can be said to adequately protect public health. 
Last week, alarmed by growing evidence for harm across the United States in areas where fracking is practiced, more than 250 health organizations and individual physicians, nurses, midwives, scientists and other health professionals sent a letter to Governor Andrew Cuomo that calls for a formal three-to-five moratorium on fracking in New York State. Among the signatories were many researchers who are generating the actual data.
I'll describe for you now some of the trends that are so concerning to those of us in the scientific and medical community. [All studies referenced below are cited in the May 29 letter to Gov. Cuomo from Concerned Health Professionals of New York and other signatories.]
First, despite ongoing industry denial, evidence linking water contamination to fracking–related activities is indisputable.
Investigations have confirmed water contamination in four states: Pennsylvania, Ohio, West Virginia and Texas. These contaminants include methane, radioactive radium, the carcinogen arsenic and multiple hormone-disrupting substances—so called endocrine disruptors. This last discovery is especially worrisome because endocrine disruptors can exert powerful effects on human development at vanishingly low concentrations. There is no safe level of exposure.
To sum up the evidence for the threat to drinking water, I'll quote from a new review by the Council of Canadian Academies:
A common claim . . . is that hydraulic fracturing has shown no verified impacts on groundwater. Recent peer-reviewed literature refutes this claim and also indicates that the main concerns are for longer term cumulative impacts that would generally not yet be evident and are difficult to predict reliably. . . . The most important questions concerning groundwater contamination from shale gas development are not whether groundwater impacts have or will occur, but where and when they will occur. . .
Why is drinking water contamination inevitable with fracking?
The science shows that there are at least two reasons. The first is based in engineering: cement is not immortal. It can fail. And when it does, the structural integrity of gas wells can fail. These failures are common, unavoidable, and increase over time as wells age and cement and casings deteriorate.
According to the data available to us in the United States, five to seven percent of gas wells leak immediately, and more than half leak after 30 years.
Drilling and fracking itself appear to contribute to loss of well integrity. Drilling creates fractures in the surrounding rock that cement cannot completely fill and so opens pathways for the upward migration of liquids and gases. Also, as cement ages, it shrinks and pulls away from the surrounding rock, reduce the tightness of the seal, thus opening potential portals for contamination. No regulations, no best practices can prevent this problem.
Drinking water can also be contaminated by the disposal of liquid fracking waste. This is the fluid that flows back out of the hole when the high pressure is released after the bedrock is fractured. Fracking waste is contaminated not only with the toxic chemicals that are purposefully added to water to create fracking fluid but also with brine, heavy metals and radioactive substances that it absorbs on it journey down to the center of the earth and back again.
These cannot be filtered out by any known technology. Hauling fracking wastewater to treatment plants has resulted in contamination of U.S. rivers and streams with bromine and radioactive radium. We have good data on this.
Fracking destroys water. With no method to turn poisonous frack waste back into drinkable water, gas companies have resorted to pumping the waste back into the ground via deep-well injection. But this solution—which considered a "best practice"—has triggered earthquakes by stressing geological faults and making them vulnerable to slippage
In the United Kingdom, Canada, Mexico and Ohio, geologists have also linked fracking itself to earthquakes. Members of the Seismological Society of America warn that geologists do not yet know how to predict the timing or location of such earthquakes, but they do know that they can occur tens of miles away from the wells themselves.
In New York State, both the certainties and the uncertainties about the risk of earthquakes from fracking operations raise serious, unique concerns about the possible consequences to New York City's drinking water infrastructure from fracking-related activities. No other major U.S. city provides drinking water through aging, 100-mile-long aqueducts that lie directly atop the shale bedrock. Seismic damage to these aqueducts that results in a disruption of supply of potable water to the New York City area would create a catastrophic public health crisis.
Now let's look at fracking-related air pollution.
Air pollution arises from the gas extraction process itself, as well as the intensive transportation demands of extraction, processing and delivery. And yet, monitoring technologies currently in use underestimate the ongoing risk to exposed people.
Fracking-related air pollutants include carcinogenic silica dust, carcinogenic benzene and volatile organic compounds (VOCs) that create ozone. Exposure to ozone—smog—contributes to costly, disabling health problems, including premature death, asthma, stroke, heart attack and low birth weight.
Unplanned toxic air releases from fracking sites in Texas increased by 100 percent since 2009, according to an extensive investigation.
Rural areas with formerly pristine air now top the list of the nation's 25 most ozone-polluted counties. In these areas, questions about possibly elevated rates of stillbirth and infant deaths in the area have prompted an ongoing investigation.
Finally, community and social impacts of fracking can be widespread, expensive and deadly.
Community and social impacts of drilling and fracking include spikes in crime, sexually transmitted diseases, vehicle accidents and worker deaths and injuries. We know that traffic fatalities more than quadrupled in intensely drilled areas even as they fell throughout the rest of the nation.
Even as evidence of harm continues to emerge across the United States, reviews of the science to date note that investigations necessary to understand long-term public health impacts do not exist.
To explain why science is missing in action, we emphasize in our letter to the governor of New York the obstacles faced by researchers seeking to carry out the needed research. These include industry secrecy on the part of the gas industry which routinely limits the disclosure of information about its operations to researchers and routinely uses non-disclosure agreements as a strategy to keep data from health researchers.
Thus has the anti-fracking movement in the United States sprung up as a human rights movement to reclaim our right to live in a safe environment with clean air and clean water and not be enrolled as unconsenting test subjects in a vast experiment whose risks remain unassessed and unquantified.
In spite of remaining uncertainties, important studies continue to fill research gaps and build a clearer picture of the longer-term and cumulative impacts of fracking. Many such studies currently underway will be published in the upcoming three–to–five year horizon. These include further investigations of hormone-disrupting chemicals in fracking fluid; further studies of birth outcomes among pregnant women living near drilling and fracking operations; further studies of air quality impacts; and further studies of drinking water contamination.
Angela Knight of Energy UK asks for an energy policy that is "properly costed." 
So do I. 
And a properly costed energy program must take into account the economic consequence of the resulting health impacts. In the densely populated Northeastern region of the United States where fracking has now penetrated, the medical costs for treating those affected by the resulting water contamination and air pollution have never been tallied.
Doing so would require conducting a comprehensive Health Impact Assessment with an economic analysis that monetizes the costs. These costs could be considerable. In the densely populated continent of Europe, the health costs of energy security based on fracking could also be considerable.
Angela Knight of Energy UK asks for an energy policy not based on emotions.
So do I.
And I submit that an energy policy based on gold fever that has oversold the benefits, underpriced the costs and overlooked long-term risks is not emotionless. As described by Bloomberg in a story headlined, "Shale Drillers Feast on Junk Debt to Stay in the Treadmill":
People lose their discipline. They stop doing the math. They stop doing the accounting. They're just dreaming the dream, and that's what's happening with the shale boom.
Sounds like a highly emotive state to me.
We Americans and Europeans share a common destiny. We each live above bedrocks that are ancient sea floors suffused with bubbles of methane. These bubbles represent the vaporized corpses of sea lilies and squid that lived 400 million years ago. Biologically speaking, our bedrocks are a cemetery of vaporized corpses. 
The U.S. plan is to frack them out of the ground, liquefy them and send them over here—all in the name of freeing you from Russian gas. And to encourage you to frack your own bedrock.
If that's the future you choose, it is not possible to also create a circular economy and attain zero waste, which is the stated goal of the EU Commission's Green Week, because in this shale are many other hydrocarbon vapors that are liberated along with the methane during fracking. Ethane is one.
In the United States, we have so much excess ethane—a waste product of fracking—that we are planning to build a massive ethane cracker in Allegheny County, Pennsylvania that will turn this waste product into ethylene.
Allegheny County, Pennsylvania is the birthplace of Rachel Carson. It is a county that already suffers from high levels of air pollution and excess rates of cancer. Ethane crackers are notorious air polluters.
By turning ethane into ethylene, this facility will solve a waste problem for the gas industry and create the feedstock for the manufacture of disposable plastic. Ultimately, this plastic will end up in our oceans as nanobits of non-biodegradable petrochemical.
If this is not what you had in mind, if a new, vigorous environmentalism is what you want, I ask to you stand with us in calling for a moratorium on fracking in the EU, just as we have called for a moratorium on fracking in the U.S.  
Our future is unfractured.
Thank you. 
——–
YOU ALSO MIGHT LIKE
Anti-Fracking Activist Sandra Steingraber's Pursuit of a Healthy Environment
Regulators Ignore Fracking Earthquakes, Protect Big Oil Profits Over People
Interview with Ecologist and Anti-Fracking Activist Sandra Steingraber
——–
What do you do when you're faced with food that is past its "best by" date? If you're like many people, you're probably conflicted. It may look and smell OK, but something about that date makes us not trust our senses. Rather than risk getting sick from spoiled food, into the trash it goes.
It turns out that your nose does know. The terms "sell by," "use by" and "best before" are largely unregulated, vary from state to state, and have little to do with food safety. In many cases, these labels indicate when the manufacturer expects the food to be at its peak quality, not when it is unsafe to eat.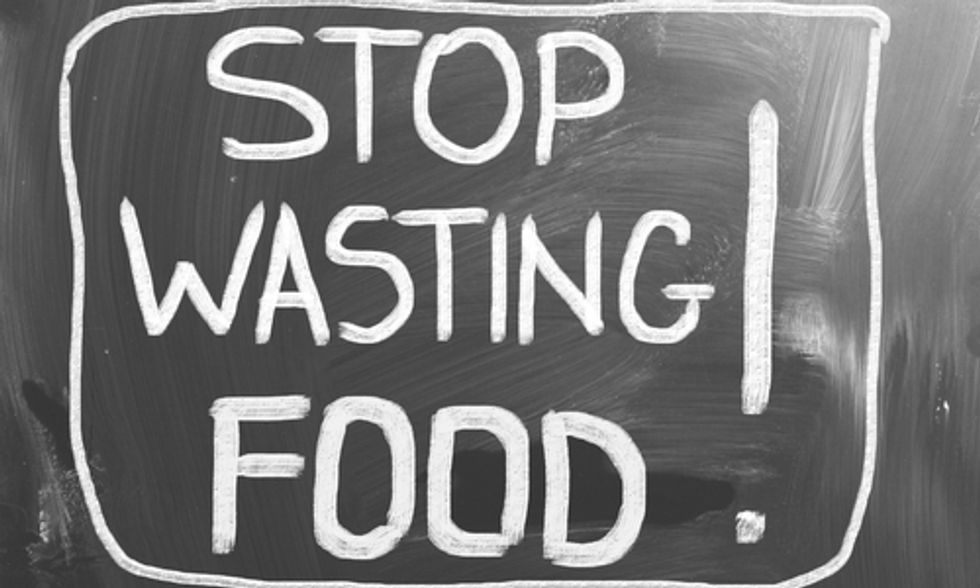 Photo courtesy of Shutterstock
This expiration date labeling confusion is leading to mountains of food being thrown out before it's gone bad. According to a 2013 report from the Natural Resources Defense Council (NRDC), more than 90 percent of Americans may be prematurely tossing food because of a misunderstanding of date labels. For a family of four, this could translate to several hundred dollars' worth of perfectly edible food being thrown away every year.
Americans aren't the only ones being misled by their food labels. The European Union has a similar system of food labeling, and a 2011 report by WRAP, a nonprofit that works to reduce food waste in the United Kingdom and other European countries, estimated that date label confusion was responsible for 20 percent of avoidable household food waste.
The message from that report was heard, and last week, the EU took a step to do something about it. A discussion paper was presented to an agriculture ministers meeting calling for lifting the requirement that foods with long shelf lives carry a "best before" label. This labeling change would affect foods like coffee, rice, dry pasta, hard cheeses, jams and pickles—and could save 15 million tons of food per year from being wasted, according to officials.
"We think citizens can make sure themselves if, for instance, rice is still usable," said Sharon Dijksma, the Dutch agriculture minister, at the meeting in Brussels.
Here in the U.S., the NRDC called for similar action in its report The Dating Game last year. Their recommendations included:
• Making "sell by" dates, which are used by stores for stocking purposes, invisible to the consumer.

• Establishing a uniform dating system.

• Including "freeze by" dates and information about freezing.

• Increasing the use of safe handling instructions and "smart labels," like time-temperature indicators.

• Removing quality-based dates from shelf-stable products, similar to what the EU is proposing.
So far, nothing as sweeping as the EU proposal has come from the NRDC's report here in the U.S. We hope, however, that action abroad will spur more analysis and conversation here at home. In the meantime, American shoppers are left to sort through a complex assortment of labels that are not standardized and can vary from state to state—and are probably throwing away a lot of good food in the process. (The only food dating system regulated by the federal government is infant formula.)
Here is a quick guide to common date labels we come across at U.S. grocery stores, according to the U.S. Department of Agriculture:
Sell-By: Tells the store how long to display the product for sale. You should buy, cook or freeze the product before the date passes.
Best If Used By (or Before): The recommended date for best flavor or quality. It is not a purchase or safety date.
Use-By: The last date recommended for the use of the product while at peak quality. The date has been determined by the manufacturer of the product and usually refers to best quality, not safety.
Closed or coded dates: Packing numbers for use by the manufacturer.
No matter the label, food safety is very important. it's always a good idea to practice optimal food storage and handling once you get your groceries home. If you're not sure how to store a particular item, shelflifeadvice.com is a great resource. We also have collected some great food storage ideas on our Reducing Food Waste Pinterest board.
——–
YOU MIGHT ALSO LIKE
'Just Eat It': Documentary Explores Food Waste From Farm to Fridge
If Food Waste Were a Country, It Would Rank No. 3 for Greenhouse Gas Emissions