This website uses cookies to ensure you get the best experience while browsing it. By clicking 'Got It' you're accepting these terms.
Pexels
By Daisy Simmons
"It's not easy to watch."
That was a recurring introductory remark at screenings during the recent 2020 Wild & Scenic Film Festival. Held each year in the bucolic foothills of the Sierra, the five-day festival screens more than 140 environmental films, from artful meditations on the beauty of nature, to distressing stories of people on the frontlines of climate change.
Josh Fox, award winning filmmaker and director, speaking on stage at Collision 2017 in New Orleans, Louisiana on May 2, 2017.
CC BY 2.0
By Reynard Loki
Josh Fox, the Emmy-winning and Oscar-nominated filmmaker behind Gasland, the documentary that started the global anti-fracking movement, is bringing a new message to audiences across the country with The Truth Has Changed, a live theater-based project that sounds the alarm on the right-wing disinformation campaign working to secure President Trump's reelection.
EcoWatch Daily Newsletter
Petrochemical facilities in the Houston ship channel. Roy Luck / CC BY 2.0
By Tara Lohan
Prigi Arisandi, who founded the environmental group Ecological Observation and Wetlands Conservation, picks through a heap of worn plastic packaging in Mojokerto, Indonesia. Reading the labels, he calls out where the trash originated: the United States, Australia, New Zealand, United Kingdom, Canada. The logos range from Nestlé to Bob's Red Mill, Starbucks to Dunkin Donuts.
The trash of rich nations has become the burden of poorer countries.
By Eva Perroni
Film is an incredible tool for effecting change in the food system with its unique ability to educate, inspire and grow the movement for sustainable food and farming. Film can transport viewers to unseen territories, from Colombian coffee-growing regions to the bottom of the ocean, and unveil the stories, struggles and triumphs of those working in the hidden fabric of the food system.
Josh Miller
By Katie O'Reilly
Hollywood loves history. Awards season 2018, after all, is buzzing with films that explore world wars, arms races, governmental and Olympic scandals. For those environmentalists who get behind the camera, however, the silver screen becomes an avenue to engage audiences in the issues, threats and hopeful developments shaping their children's future. In spite of the rapidly changing and increasingly fragmented media landscape, cinema remains a powerful tool for swiftly transforming lay viewers into impassioned advocates and activists. That's why the volunteers laboring to protect the Sierra Nevada's Yuba watershed launched the Wild & Scenic Film Festival in 2003.

www.facebook.com
The recent documentary, Sea of Life, exposes key threats to the oceans, and calls for action.

Sea of Life follows filmmaker Julia Barnes on a three year adventure, spanning seven countries, to save coral reefs.
Although they cover less than 1 percent of the sea floor coral reefs support up to 30 percent of all species in the ocean at some stage in their life cycles. Often referred to as the rainforests of the ocean, coral reefs are one of the most biologically diverse ecosystems on the planet. They're also an indicator for the future of the oceans and all life on Earth.
I have asked repeatedly to have my short interview clip removed from this film. The director refuses. He believes his film is fair and balanced. I do not.

I am often interviewed (see media) and hardly ever quoted incorrectly or out of context. This film is one of those rare exceptions.
www.facebook.com
By Josh Tickell and Rebecca Harrell Tickell
Good Fortune is the rags to riches tale of conscious capitalism pioneer John Paul DeJoria. Born with nothing, at times homeless on the streets of LA, DeJoria spent a good portion of his early adulthood in and out of motorcycle gangs only to wheel and deal his way to the top of a vast hair and tequila empire. Yet DeJoria's motto is "Success unshared is failure," a pioneering philosophy that promotes the triple bottom line—people, planet and profit.
By Cyrus Sutton
Island Earth is the story of a young indigenous scientist's journey through both sides of the GMO battle in Hawaii. Groomed to work for Monsanto, Cliff Kapono had a lot to consider over the past few years. His ancestral ways of farming fed a similar population than what inhabits the island today with some of the most advanced biodynamic farming ever documented. Yet one of his most lucrative job options would be for a company promising to "feed the world."
What to do about school lunches so bad, one student exclaims, "I ate it because I was hungry and had nothing to eat"?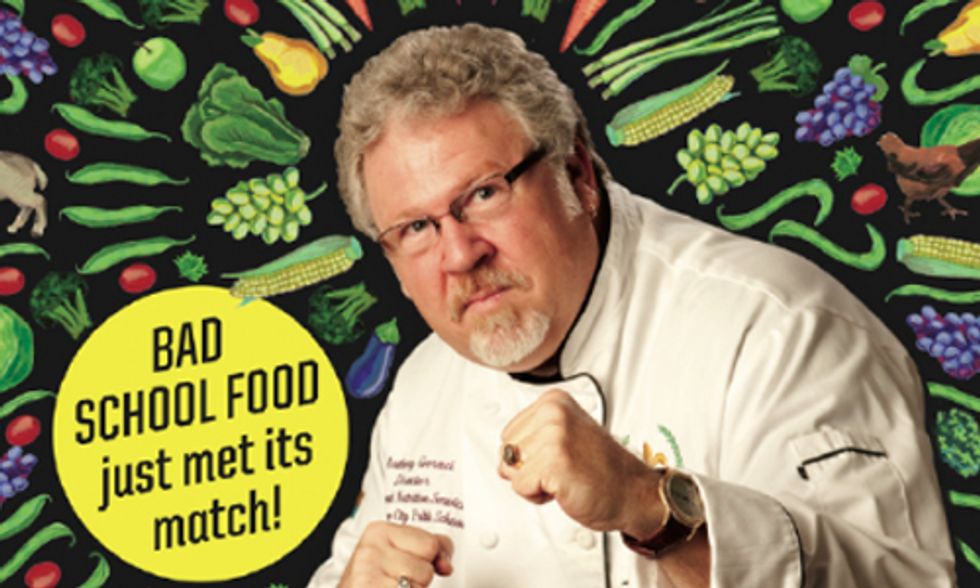 Chef Tony Geraci ambitiously tackled this problem as food and nutrition director for Baltimore public schools, an urban area serving 83,000 students.
His efforts at reforming the school food program are documented in the feature-length film Cafeteria Man, released online today. Geraci set out to transform not just what students eat, but their whole relationship to food—and succeeded.
Check out the trailer and learn more about how food can be served fresher, more wholesome and tastier to students, from "farm to school" programs to a national model teaching farm.
If you are interested in transforming school lunch programs, visit the Cafeteria Man screening action guide.
Geraci, named one of the top 20 most influential food service people in the U.S., offers the following tips for improving school food:
Get involved.

Mobilize support.

Learn what's going on locally.

Aim to work with the school staff.

Articulate your goals.

Help students make healthier choices.

Help the district see that it can afford a better program.
As the documentary, which also features Michelle Obama and Michael Pollan, confirms: Change is on the menu.
Jack Carey is going to be a sophomore at the University of Colorado, Boulder. He is an economics major interested in pursing a career in environmental economics. He writes for the CU Environmental Center blog site and lives in Costa Mesa, CA.

I attended a film screening of Food Stamped, a documentary that takes an in-depth look at the food system in our country, which many citizens find to be broken. The film follows an American couple on their quest to eat healthy and stay on a well-balanced diet while on a food stamp budget. Throughout the film, the filmmaker, Yoav Potash, and his wife, Shira, a nutrition specialist, travel the country discussing the problem amongst the company of U.S. government officials, nutritionists, food organizations and other folks living on a one-dollar-meal plan.
This hour long film brings about an important message to society with a friendly, entertaining presence. It explains the difficulty of eating healthy on food stamp benefits provided by the NSAP (the program introduced a National Policy for Social Assistance for the poor and aims at ensuring minimum national standard for social assistance). Regardless of the status of your job, education or cooking skills, this food stamp budget does not provide the capability to
eat healthy
with ease. For those who have negative attitudes towards low-income people using their benefits, this movie is a must-see.
This film is eye opening in how it delivers a message that must be heard with a calm, warm approach. Its message promotes an incentive to partake in activism rather than let ourselves be defeated by the unstable system that makes our food choices. Food Stamped examines this tough subject with the most delightful of attitudes. It is a must-see for anyone looking to be politically or socially active.