This website uses cookies to ensure you get the best experience while browsing it. By clicking 'Got It' you're accepting these terms.


The best of EcoWatch, right in your inbox. Sign up for our email newsletter!
Pexels
By Sara Amundson
It is no secret that moving legislation over the finish line in Washington, DC, has not been easy of late. However, members of Congress did come together to pass the 2018 Farm Bill—a massive public-spending package that funds agriculture, conservation and food policy. It was signed into law by President Trump on Dec. 20, 2018, just two days before the government shutdown began. While Big Agriculture with its factory farming model is not too kind as a general rule, the Farm Bill did right by animals in several important respects.
Pexels
By Brian Barth
If there is one thing Tuesday's elections reinforced, it is that city folks and country folks are firmly rooted on opposite sides of America's partisan divide. Farmers are traditionally a conservative bunch and they have flocked to President Trump, even when it is questionable that it's in their best interests to do so.
EcoWatch Daily Newsletter
The Orangutans in Indonesia have been known to be on the verge of extinction as a result of deforestation and poaching.
Ulet Ifansasti / Getty Images News
By Edward Davey
The world is vastly underestimating the benefits of acting on climate change. Recent research from the Global Commission on the Economy and Climate finds that bold climate action could deliver at least $26 trillion in economic benefits through 2030. This ground-breaking research, produced by the Global Commission and more than 200 experts, highlights proof points of the global shift to a low-carbon economy, and identifies ways to accelerate action in five sectors: energy, cities, food and land use, water and industry. Our blog series, The $26 Trillion Opportunity, explores these economic opportunities in greater detail.
Lance Cheung / USDA
By Courtney Lindwall
The hyper-partisan farm bill, narrowly passed by the House of Representatives last week, contains dangerous handouts to the chemical industry and Big Ag. If enacted in its current state, the bill would have serious ramifications for small farmers, biodiversity, public health and America's hungry.
It started with a call from actress and animal rights activist Natalie Portman to author Jonathan Safran Foer. The latter had recently taken a break from novel-writing to publish 2009's New York Times best-selling treatise Eating Animals—an in-depth discussion of what it means to eat animals in an industrialized world, with all attendant environmental and ethical concerns. The two planned a meeting in Foer's Brooklyn backyard, and also invited documentary director Christopher Dillon Quinn (God Grew Tired of Us) over. The idea was to figure out how to turn Foer's sprawling, memoiristic book into a documentary that would ignite mainstream conversations around our food systems.
By George Kimbrell
One year down, three to go. Trump and his enablers are hell bent on destroying or selling to the highest bidder the federal agencies they are charged with running in the public interest. In the past year, they have been unrelenting in their attacks on food safety, environmental protections, climate change, government transparency and so many other values we hold dear. We are in the midst of the most significant environmental and public health challenges imaginable. We're no longer dreading the harm the Trump administration could do to our health and environment—we're living it.
Ready for some inspiration? Check out this video of a press conference that took place earlier this month in Iowa.
Art Cullen, editor of the Storm Lake Times, is hugged Monday by his son, Tom, a reporter for the newspaper, at the newspaper office. Art Cullen won the Pulitzer Prize for editorial writing. Photo credit: Dolores Cullen / Storm Lake Times
By Nika Knight
Prestigious Pulitzer Prizes on Monday were awarded to investigations that tackled President Donald Trump, Big Ag and international offshore tax havens, rewarding reporters that took on today's powers-that-be.
Iowa Gov. Terry Branstad has been nominated to serve as U .S. Ambassador to China in Donald Trump's Administration, a pick that has some of Big Ag's biggest players celebrating.
Donald Trump has chosen Iowa Governor Terry Branstad as ambassador to China. Twitter
Branstad is the longest-serving governor in U.S. history with 22 non-consecutive years and going under his belt. During his tenure, he has built significant relationships with Iowa's agribusinesses and has helped spur trade of the state's beef, pork and soy products to Asian consumers, and once struck a $4.3 billion deal with Chinese officials for Iowa's exports.
This past October, China signed a $2.1 billion deal for Iowa soybeans to feed Chinese livestock. In November, less than a week after Trump's presidential win, Branstad traveled to China to promote Iowa beef and pork. It was his seventh such trip to China as governor.
The Republican governor's friendship with Chinese president Xi Jinping goes back three decades after Xi visited rural Iowa in 1985.
"Ensuring the countries with the two largest economies and two largest militaries in the world maintain a collaborative and cooperative relationship is needed more now than ever," Branstad said after Trump's announcement.
At a Wednesday meeting in St. Louis with United Soybean Board and the American Soybean Association, Monsanto chief technology officer Robb Fraley praised the president-elect's latest top-level pick.

"[Fraley] said Branstad's past work on behalf of biotech acceptance and advocacy for U.S. agriculture makes him an excellent choice for the role," according to Farm Journal editor Susan Luke.
China, Monsanto and Iowa are all linked by the humble soybean. Monsanto controls 90 percent of soybean production in the U.S. and Iowa happens to be a top soybean grower, with 97 percent of the state's soybeans grown from genetically modified (GMO) seeds. China is the world's largest soybean consumer, importing about 25 percent of all U.S. soy produced.
Soybeans sold to China are "the largest U.S. agricultural export as their value rose from about $400,000 annually during 1996-97 to as high as $14.5 billion in 2014," Fred Gale, U.S. Department of Agriculture agricultural economist told ChinaDaily USA.
China's booming population is driving increased meat consumption and increased imports of corn and soybeans to feed livestock. Incidentally, China has banned the cultivation of GMO crops, as Chinese consumers are generally fearful of the food's perceived health risks. Rather, the country buys GMO soy for cooking oil or animal feed. But in recent years, China has pushed for the domestic commercialization of GMO soybeans, spending billions on research. President Xi himself called for the domestic cultivation of GMO crops in 2014.

Branstad's nomination was also praised by Iowa Corn Growers Association president Kurt Hora, noting that China does not just buy corn to feed its animals, it's also a large buyer of U.S. ethanol.
"China is an important market for U.S. corn in all forms including the second-largest purchaser of U.S. ethanol last marketing year; and a critical buyer of U.S. distiller's dried grains (DDGS). The China/Hong Kong market is also the third largest customer for both U.S. pork and beef exports," Hora said.

Corn ethanol has been touted as an energy alternative, but the biofuel "might be worse than petroleum when total greenhouse gas emissions are considered," Scientific American explained.

Mother Jones's Tom Philpott called Trump's choice of Branstad a "gift" to Big Ag, highlighting the governor's close ties to Bruce Rastetter, the CEO of Summit Agriculture Group, a major Iowa pork and ethanol producer, who contributed $164,875 towards Branstad's run for governor in 2010. Eldon Roth, CEO of Beef Products International, contributed another $152,000.
Not only that, "back in 2011, the governor also tapped Rastetter's brother Brent, who then ran a business constructing industrial-scale hog-rearing facilities, to the state's Environmental Protection Commission. Branstad also signed into law one of those infamous "ag gag" bills, championed by Big Ag, that make it a crime to secretly document conditions inside livestock farms," Philpott wrote.
Ronnie Cummins, the director of the Organic Consumers Association, criticized Trump's latest pick.

"[The selection of] Iowa Governor Terry Branstad for U.S. Ambassador to China is good news for the factory farm cartel, the ethanol lobby, Big Pharma Bayer and Monsanto, but very bad news for organic consumers and farmers, as well as everyone in the world who cares about justice, healthy food and soils, the environment, humane treatment of animals and re-stabilizing our dangerously out-of-control climate," Cummins told EcoWatch.
Ken Roseboro, the editor and publisher of the Organic & Non-GMO Report, agreed.
"As an Iowan, I've seen that Governor Terry Branstad has been a big supporter of factory farms in Iowa, which threaten the environment, human health and quality of life for Iowans," Roseboro told EcoWatch. "His appointment as Ambassador to China is likely to accelerate that unsustainable trend since China is deeply involved in Iowa's pork production and factory farms."
Health and environmental advocates have been very critical of Trump's recent slew of nominations for his incoming administration. Just yesterday, the president-elect announced his pick of Oklahoma Attorney General Scott Pruitt to head the U.S. Environmental Protection Agency. 350.org's Executive Director May Boeve called Pruitt a fossil fuel "puppet."
"Donald Trump appears destined for the Guinness Book of Records for appointing the most corrupt and dangerous administration officials in U.S. history," Cummins told EcoWatch. "If I were a Reality TV host, my message to Donald and his cronies would be clear: You're fired."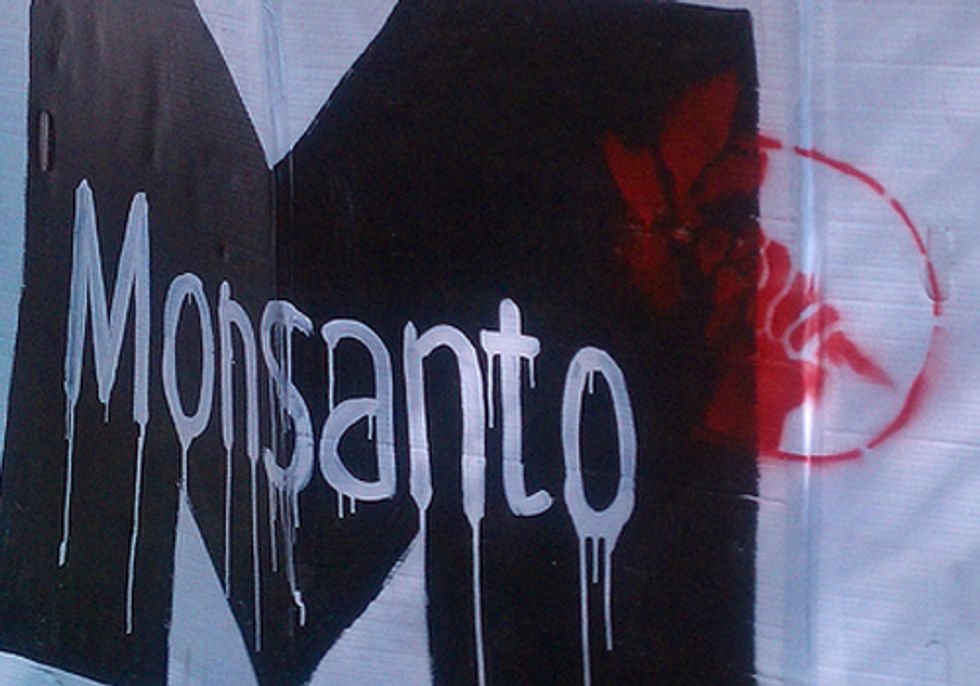 Energy-intensive industrial farming practices that rely on toxic chemicals and genetically engineered crops are not just undermining public health, they're destroying the planet.
Here's how:
Generating massive greenhouse gas pollution (CO2, methane, nitrous oxide) and global warming, while promoting false solutions such as industrial biofuels, so-called drought-resistant crops, and genetically engineered trees

Polluting the environment and the soil-food web with pesticides, chemical fertilizers, and persistent toxins, including dioxin

Draining and polluting wetlands and aquifers, turning farmland into desert

Poisoning wells and municipal drinking water, lakes, and rivers

Chopping down the rainforests for monoculture GMO crops, biofuels and cattle grazing

Increasing the cost of food, while reducing nutrition and biodiversity

Spawning pesticide-resistant superbugs and weeds, and antibiotic-resistant bacteria

Generating new and more virulent plant, animal and human diseases

Utilizing wasteful fossil fuel-intensive practices and encouraging the expansion of natural gas fracking and tar sands extraction (which destroy forests, aquifers, and farmland)

Stealing money from the 99 percent to give huge subsidies to the 1 percent wealthiest, most chemical and energy-intensive farms and food producers
It's not enough to stop eating genetically engineered food. If we want a liveable planet we've got to boycott all factory farmed food and make the great transition from energy and chemical-intensive agriculture to a relocalized and organic system of food and farming. The world according to monsanto is a recipe for disaster. Monsanto and Big Ag contaminate every link in the food chain, threatening the very foundation of life—living nutrient-rich soil, clean water, resilient crops, healthy animals, stable climates, and diverse food sources. The good news is that agro-ecological and organic methods can reverse this threat and sustain food production for future generations, but we don't have much time to turn things around.
Take action by clicking here.
For more information, click here.