This website uses cookies to ensure you get the best experience while browsing it. By clicking 'Got It' you're accepting these terms.
State of Charge: Electric Vehicles and Global Warming Emissions
Apr. 24, 2012 11:01AM EST
Climate
Electric vehicles (EVs) burn no gasoline and have no tailpipe emissions, but producing the electricity used to charge them does generate global warming emissions. The amount of these emissions, however, varies significantly based on the mix of energy sources used to power a region's electricity grid.
For example, coal-fired power plants produce nearly twice the global warming emissions of natural gas-fired power plants, while renewable sources like wind and solar power produce virtually no emissions at all.
The Union of Concerned Scientists (UCS) report, State of Charge: Electric Vehicles' Global Warming Emissions and Fuel-Cost Savings Across the United States, compares the global warming emissions from EVs with those from gasoline-powered vehicles and finds that:
Nationwide, EVs charged from the electricity grid produce lower global warming emissions than the average compact gasoline-powered vehicle (with a fuel economy of 27 miles per gallon)—even when the electricity is produced primarily from coal in regions with the "dirtiest" electricity grids.
In regions with the "cleanest" electricity grids, EVs produce lower global warming emissions than even the most fuel-efficient hybrids.
EVs charged entirely from renewable sources like wind and solar power produce virtually no global warming emissions.
Infographic—Learn more about the range of global warming emissions from electric vehicles: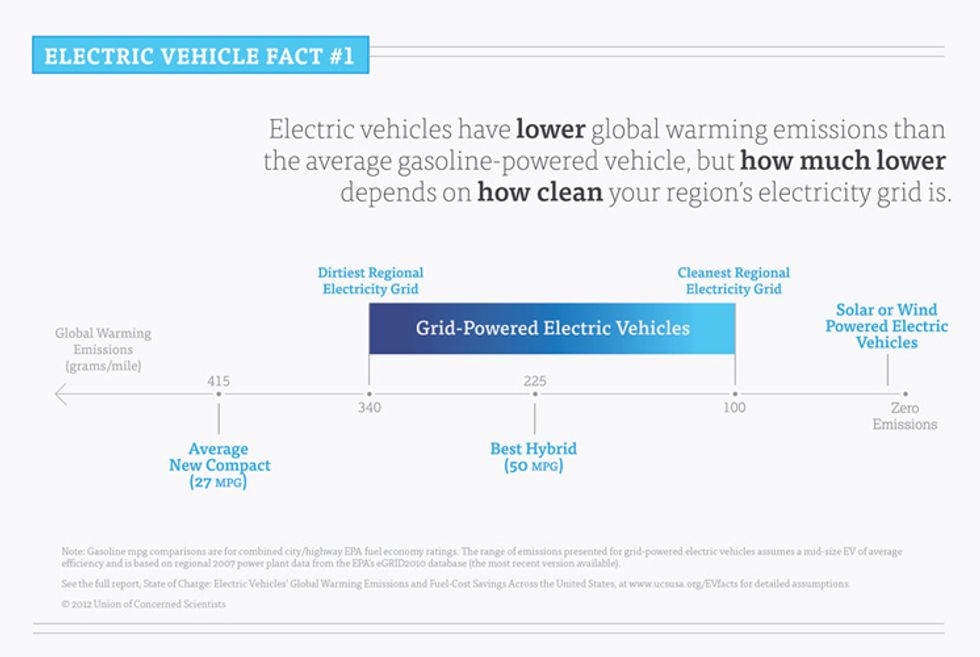 Charging Up: How Clean is Your Electricity Grid?
The report evaluates regional electricity grids across the U.S. based on the global warming emissions produced from electricity generation, and then compares the emissions generated by charging an EV with those produced by gasoline-powered vehicles.
The report finds that:
Nearly half of Americans (45 percent) live in the "best" regions where EVs produce lower global warming emissions than even the most fuel-efficient gasoline hybrids on the market today (greater than 50 mpg).
Another third (37 percent) live in "better" areas where EVs produce emissions comparable to the best gasoline hybrid vehicles (41-50 mpg).
A minority (18 percent) reside in "good" regions where emissions from EVs are comparable to the most fuel-efficient non-hybrid gasoline vehicles (31-40 mpg).
How clean is an electric vehicle powered by your regional electricity grid? View our map of the U.S. to find out: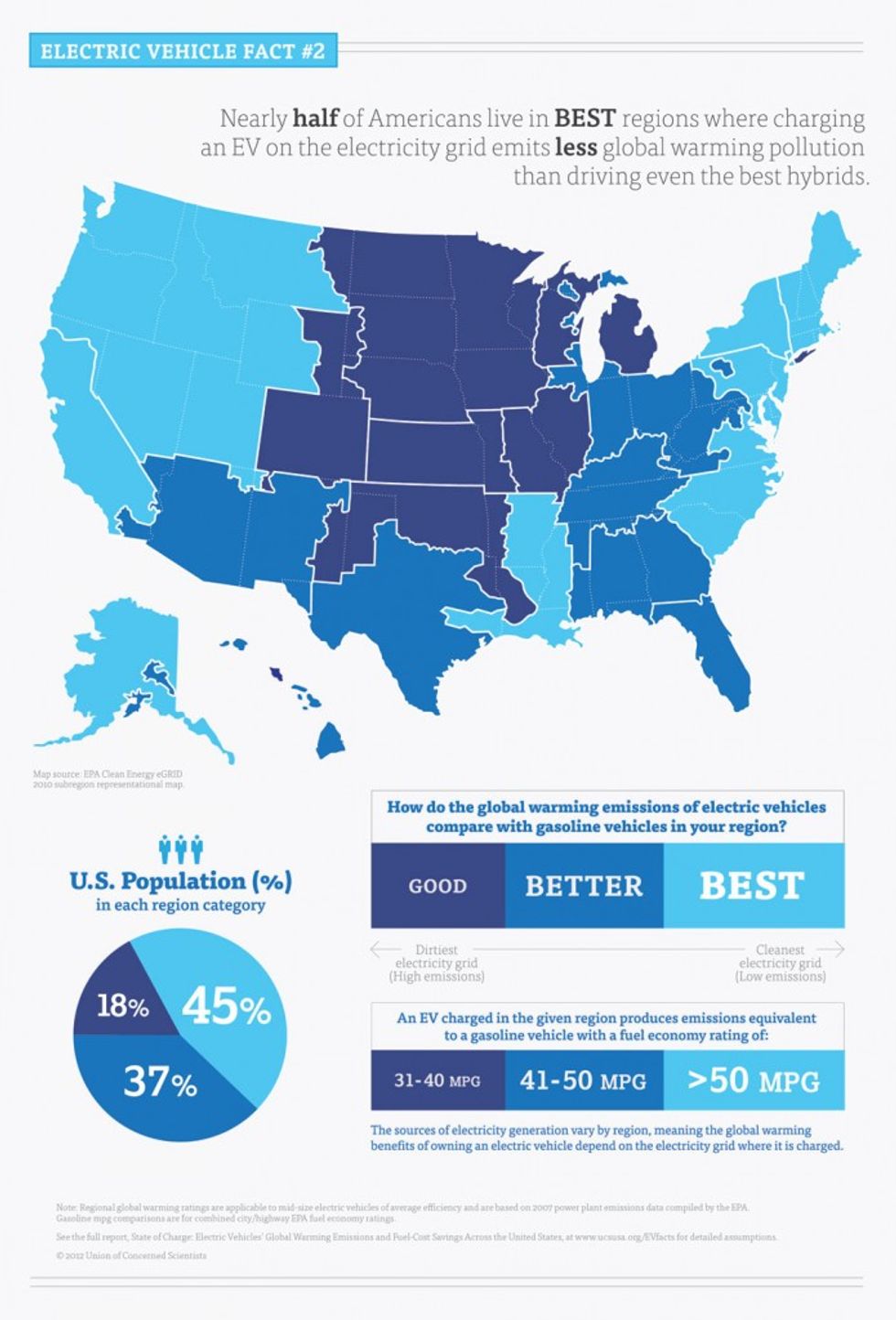 Go Electric. Save Oil. Save Money on Fuel Costs.
Driving on electricity is cheaper than driving on gasoline. Driving an EV slashes oil consumption and saves thousands of dollars in fuel costs over the lifetime of the vehicle.
For example, an EV driver could save nearly $13,000 on fuel costs and use 6,100 fewer gallons of gasoline over the life of the vehicle relative to today's average compact gasoline car.
Local utility rates determine just how much EV drivers will save. Taking advantage of different rate plans utilities have to offer can help maximize savings.
The report compares charging costs in 50 major cities across the U.S. and finds that:
On the best rate plans, electric vehicles can save $750 - $1,200 a year on fueling costs compared to a gasoline vehicle averaging 27 miles per gallon and fueled at $3.50 per gallon.
EV owners can save money on fueling costs without changing electricity plans, but taking advantage of rate plans that offer lower-cost electricity at night ("time-of-use" plans) can mean hundreds of dollars in additional savings per year, especially in California.
Compare the oil use and fuel costs of an electric vehicle with those of a fuel-efficient hybrid and average compact gasoline-powered vehicle: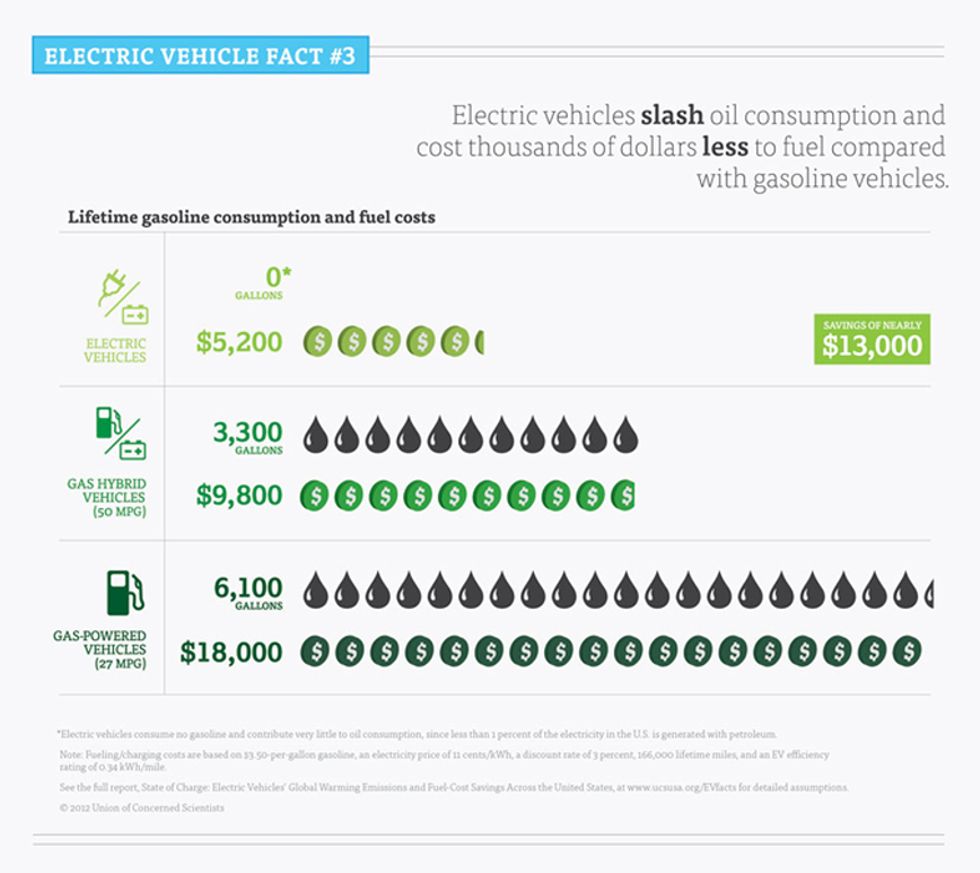 For more information, click here.
EcoWatch Daily Newsletter
Heavy industry on the lower Mississippi helps to create dead zones.
AJ Wallace on Unsplash.
Cutting out coal-burning and other sources of nitrogen oxides (NOx) from heavy industry, electricity production and traffic will reduce the size of the world's dead zones along coasts where all fish life is vanishing because of a lack of oxygen.
Despite the ongoing coronavirus pandemic, which has restricted the ability to gather in peaceful assembly, a Canadian company has moved forward with construction of the controversial Keystone XL pipeline, according to the AP.
A gas flare from the Shell Chemical LP petroleum refinery illuminates the sky on August 21, 2019 in Norco, Louisiana. Drew Angerer / Getty Images.
Methane levels in the atmosphere experienced a dramatic rise in 2019, preliminary data released Sunday shows.
A retired West Virginia miner suffering from black lung visits a doctor for tests. Andrew Lichtenstein / Corbis via Getty Images
In some states like West Virginia, coal mines have been classified as essential services and are staying open during the COVID-19 pandemic, even though the close quarters miners work in and the known risks to respiratory health put miners in harm's way during the spread of the coronavirus.
Solar panel installations and a wind turbine at the Phu Lac wind farm in southern Vietnam's Binh Thuan province on April 23, 2019. MANAN VATSYAYANA / AFP via Getty Images