This website uses cookies to ensure you get the best experience while browsing it. By clicking 'Got It' you're accepting these terms.
State of Charge: Electric Vehicles and Global Warming Emissions
Apr. 24, 2012 10:01AM EST
Climate
Electric vehicles (EVs) burn no gasoline and have no tailpipe emissions, but producing the electricity used to charge them does generate global warming emissions. The amount of these emissions, however, varies significantly based on the mix of energy sources used to power a region's electricity grid.
For example, coal-fired power plants produce nearly twice the global warming emissions of natural gas-fired power plants, while renewable sources like wind and solar power produce virtually no emissions at all.
The Union of Concerned Scientists (UCS) report, State of Charge: Electric Vehicles' Global Warming Emissions and Fuel-Cost Savings Across the United States, compares the global warming emissions from EVs with those from gasoline-powered vehicles and finds that:
Nationwide, EVs charged from the electricity grid produce lower global warming emissions than the average compact gasoline-powered vehicle (with a fuel economy of 27 miles per gallon)—even when the electricity is produced primarily from coal in regions with the "dirtiest" electricity grids.
In regions with the "cleanest" electricity grids, EVs produce lower global warming emissions than even the most fuel-efficient hybrids.
EVs charged entirely from renewable sources like wind and solar power produce virtually no global warming emissions.
Infographic—Learn more about the range of global warming emissions from electric vehicles: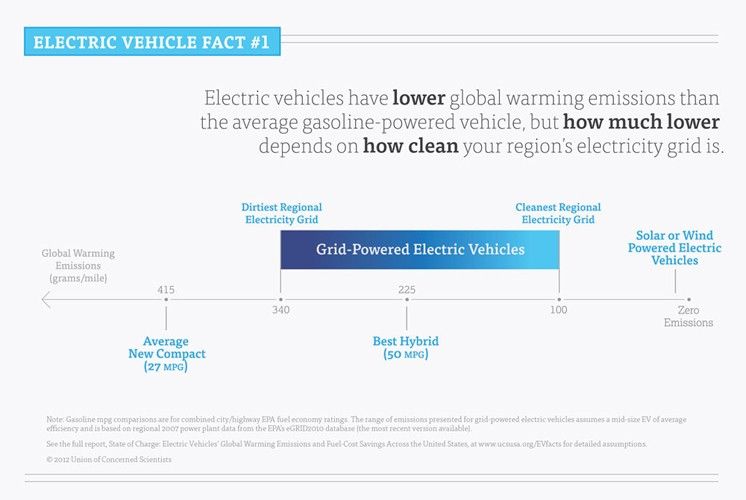 Charging Up: How Clean is Your Electricity Grid?
The report evaluates regional electricity grids across the U.S. based on the global warming emissions produced from electricity generation, and then compares the emissions generated by charging an EV with those produced by gasoline-powered vehicles.
The report finds that:
Nearly half of Americans (45 percent) live in the "best" regions where EVs produce lower global warming emissions than even the most fuel-efficient gasoline hybrids on the market today (greater than 50 mpg).
Another third (37 percent) live in "better" areas where EVs produce emissions comparable to the best gasoline hybrid vehicles (41-50 mpg).
A minority (18 percent) reside in "good" regions where emissions from EVs are comparable to the most fuel-efficient non-hybrid gasoline vehicles (31-40 mpg).
How clean is an electric vehicle powered by your regional electricity grid? View our map of the U.S. to find out: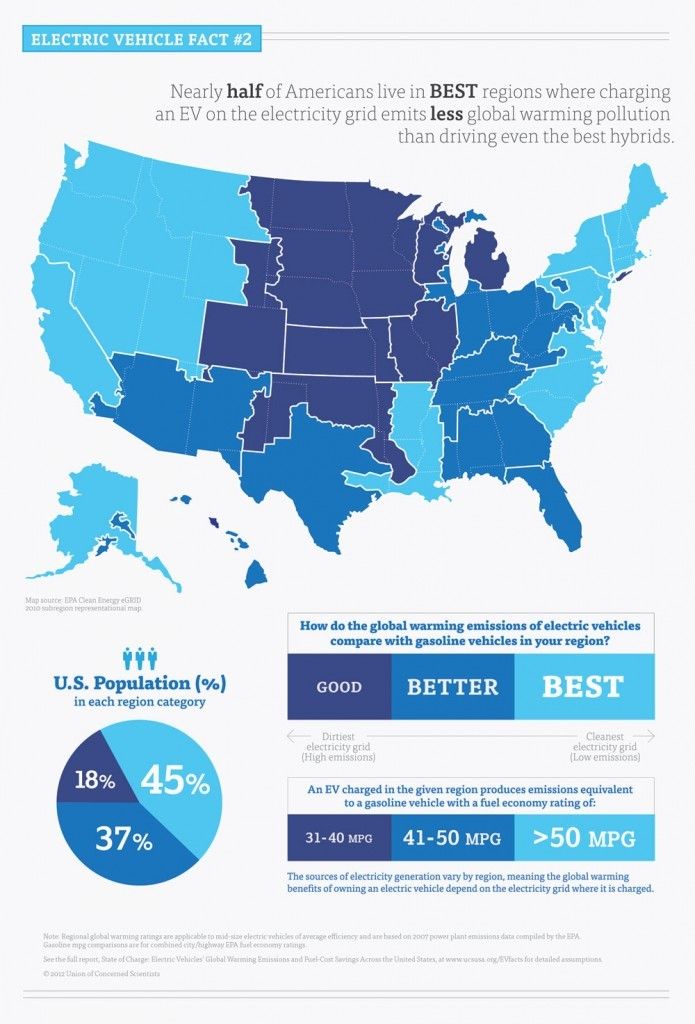 Go Electric. Save Oil. Save Money on Fuel Costs.
Driving on electricity is cheaper than driving on gasoline. Driving an EV slashes oil consumption and saves thousands of dollars in fuel costs over the lifetime of the vehicle.
For example, an EV driver could save nearly $13,000 on fuel costs and use 6,100 fewer gallons of gasoline over the life of the vehicle relative to today's average compact gasoline car.
Local utility rates determine just how much EV drivers will save. Taking advantage of different rate plans utilities have to offer can help maximize savings.
The report compares charging costs in 50 major cities across the U.S. and finds that:
On the best rate plans, electric vehicles can save $750 - $1,200 a year on fueling costs compared to a gasoline vehicle averaging 27 miles per gallon and fueled at $3.50 per gallon.
EV owners can save money on fueling costs without changing electricity plans, but taking advantage of rate plans that offer lower-cost electricity at night ("time-of-use" plans) can mean hundreds of dollars in additional savings per year, especially in California.
Compare the oil use and fuel costs of an electric vehicle with those of a fuel-efficient hybrid and average compact gasoline-powered vehicle: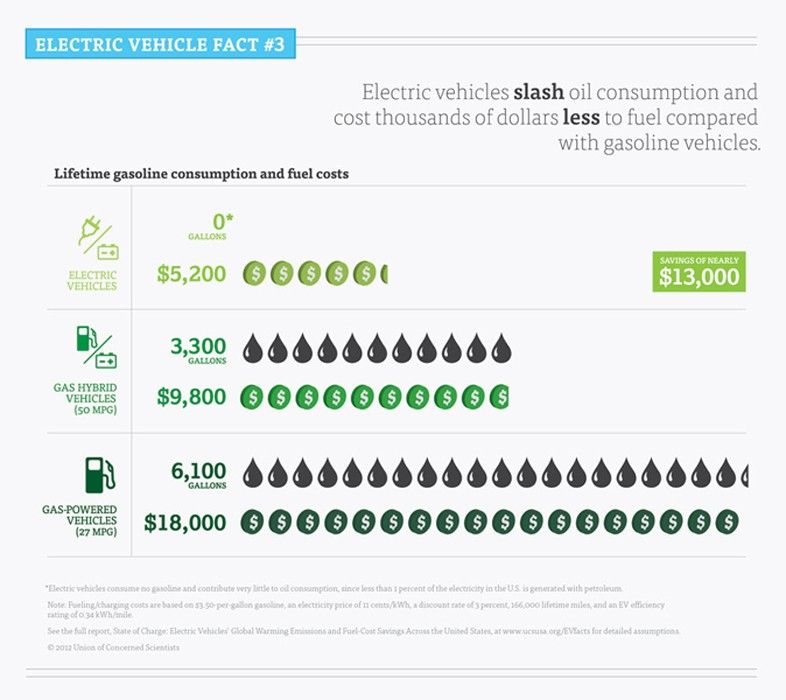 For more information, click here.
EcoWatch Daily Newsletter
One common concern about vegan diets is whether they provide your body with all the vitamins and minerals it needs.
Many claim that a whole-food, plant-based diet easily meets all the daily nutrient requirements.
The Centers for Disease Control (CDC) released new numbers that show vaping-related lung illnesses are continuing to grow across the country, as the number of fatalities has climbed to 33 and hospitalizations have reached 1,479 cases, according to a CDC update.
During the summer, the Arctic tundra is usually a thriving habitat for mammals such as the Arctic fox. Education Images / Universal Images Group via Getty Images
Reports of extreme snowfall in the Arctic might seem encouraging, given that the region is rapidly warming due to human-driven climate change. According to a new study, however, the snow could actually pose a major threat to the normal reproductive cycles of Arctic wildlife.
A fracking well looms over a residential area of Liberty, Colorado on Aug. 19.
WildEarth Guardians / Flickr
Pope Francis flanked by representatives of the Amazon Rainforest's ethnic groups and catholic prelates march in procession during the opening of the Special Assembly of the Synod of Bishops for the Pan-Amazon Region at The Vatican on Oct. 07 in Vatican City, Vatican. Alessandra Benedetti / Corbis News / Getty Images
The Catholic Church "hears the cry" of the Amazon and its peoples. That's the message Pope Francis hopes to send at the Synod of the Amazon, a three-week meeting at the Vatican that ends Oct. 27.
The crowd appears to attack a protestor in a video shared on Twitter by ITV journalist Mahatir Pasha.
VOA News /
Youtube screenshot
Some London commuters had a violent reaction Thursday morning when Extinction Rebellion protestors attempted to disrupt train service during rush hour.
Some fruit drinks may appear to be healthier, but many can have high levels of added sugars. d3sign / Moment / Getty Images
By Kristen Fischer
Though the science has shown sugary drinks are not healthy for children, fruit drinks and similar beverages accounted for more than half of all children's drink sales in 2018, according to a new report.

Donald Trump attends the opening of Red Tiger Golf Course at Trump National Doral on Jan. 12, 2015 in Doral, Florida. Johnny Louis / FilmMagic
Acting White House Chief of Staff Mick Mulvaney made two controversial announcements about the 2020 Group of Seven (G7) summit: it will be hosted at one of President Donald Trump's golf resorts in Miami and it won't feature any discussion of the climate crisis.