This website uses cookies to ensure you get the best experience while browsing it. By clicking 'Got It' you're accepting these terms.
Star Trek Actors Arrested, Call on Gov. Cuomo to Boldly Go Beyond Fossil Fuels
Jun. 06, 2016 11:52AM EST
Energy
Early this morning on a hillside above Seneca Lake, actors James Cromwell and John "J.G." Hertzler of Star Trek fame joined 17 area residents in an act of civil disobedience that is part of an ongoing citizen campaign against salt cavern gas storage.
While blockading the main entrance to the Crestwood compressor station, the two actors urged Gov. Cuomo to stand up to the Federal Energy Regulatory Commission (FERC) for green-lighting an expansion of this fracked gas infrastructure project against overwhelming local opposition and for undermining the governor's own stated commitment to a rapid transition to renewable energy.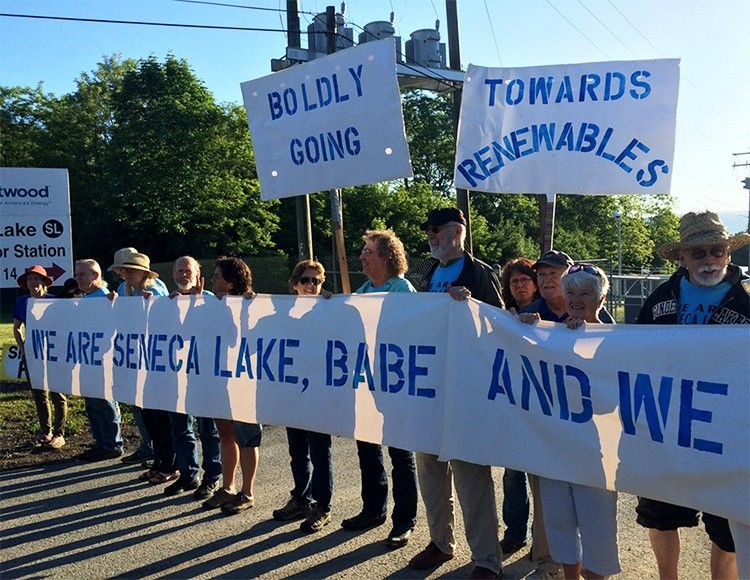 Starting at 6:45 a.m. and continuing until their arrests by Schuyler County deputies shortly before 7:30 a.m., the protesters blocked all traffic from leaving and entering the facility, including two Crestwood tanker trucks. All 19 were transported to the Schuyler County sheriff's department, charged with disorderly conduct, ticketed and released.
"The prettiest place I've ever seen is right here: the Finger Lakes region of New York … Governor Cuomo, we, the people, do not want to see these pristine lakes turned into cheap, contaminated, industrialized storage facilities for Crestwood and Con Ed. Stand with us, Governor!," John Hertzler, 66, who played Klingon General Martok on Star Trek: Deep Space Nine, said.
"Defend your own program for getting New York State off of fossil fuels and transitioned to renewable energy. FERC—the Federal Energy Regulatory Commission—seeks to keep us chained to the energy of the past and, in so doing, threatens our water, our lands, our safety and the very climate of this, our planet. Boldly go with us, Governor Cuomo, into a renewable energy future."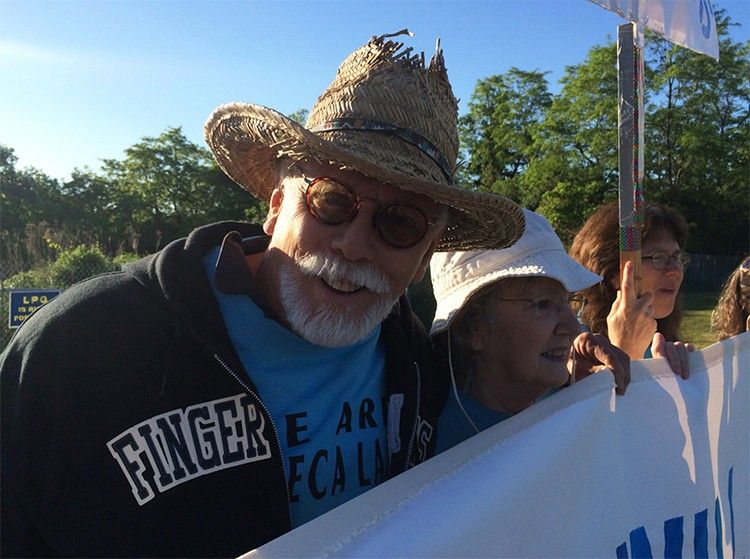 Hertzler lives in the Finger Lakes region with his family in the town of Ulysses where he serves on the town board.
James Cromwell, 76, who played Zefram Cochrane in Star Trek: First Contact and who was nominated for an Academy Award for his role as Farmer Arthur Hoggett in Babe, called on New Yorkers to join the We Are Seneca Lake movement.
"FERC-approved fracked gas infrastructure projects are taking over our entire state—from the crumbly salt caverns of Seneca Lake, where the gas will be stored, to the pipelines and compressor stations that devastate our farmlands, wetlands and maple groves, all the way to the burner tips of the natural gas-fired power plants that are planned for downstate," he said. "With all of New York under attack by the fossil fuel industry and by the rogue agency called FERC, all New Yorkers now need to stand up, stand together and say no."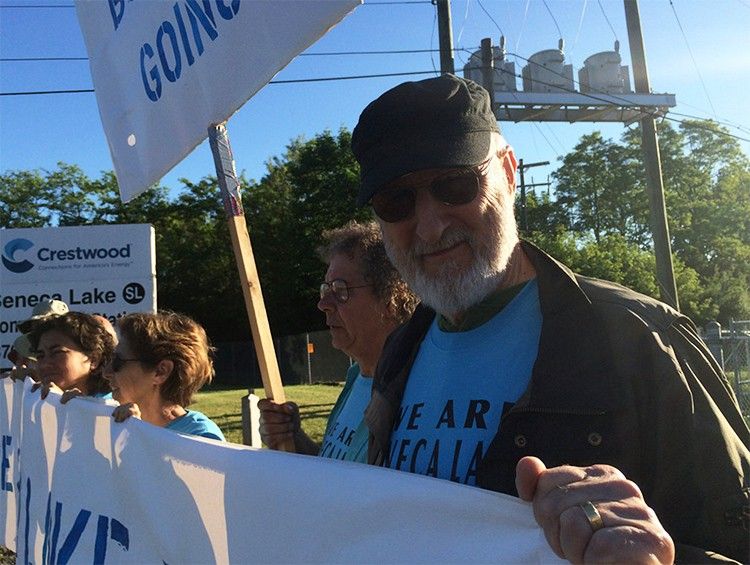 Referencing the films in which the two have appeared, protesters held banners and signs that read, "We Are Seneca Lake, Babe/And We Will Not Be FERC-ed" and "Trekkies Against Crestwood-Con Ed Boldly Going Toward Renewables."
The total number of arrests in the 20-month-old We Are Seneca Lake civil disobedience campaign now stands at 604.
Crestwood's methane gas storage expansion project was originally approved by FERC in October 2014 in the face of broad public opposition and unresolved questions about geological instabilities, fault lines and possible salinization of Seneca Lake, which serves as a source of drinking water for 100,000 people. In spite of near-unanimous citizen opposition, FERC's last-minute permit extension on May 16 gave Crestwood's Arlington subsidiary another two years to build out its natural gas storage facility.
Salt cavern storage accounts for only seven percent of total underground storage of natural gas in the U.S. but, since 1972, is responsible for 100 percent of the catastrophic accidents that has resulted in loss of life.
Crestwood also seeks to store two other products of fracking in Seneca Lake salt caverns—propane and butane (so-called Liquefied Petroleum Gases, LPG)—for which it is awaiting a decision by Gov. Cuomo's Department of Environmental Conservation.
Watch today's action here:
YOU MIGHT ALSO LIKE
Nuclear Industry Worldwide Faces Escalating Battle to Keep Aging Reactors Running
What Will Finally Shut Down Diablo Canyon Nukes? Could a Bernie Win Help?
Oil Train Derails in Columbia River Gorge, Rally Calls for Ban on 'Bomb Trains'
These Four People Were Sued for $30 Million After Speaking Out Against a Hazardous Waste Dump
EcoWatch Daily Newsletter
People carry children on a flooded street in Almoradi, Spain on Sept. 13. JOSE JORDAN / AFP / Getty Images
Large food companies are following in the footsteps of fast-food restaurants such as Burger King and KFC by offering meat alternatives. Getty Images
By Elizabeth Pratt
Hormel, Kellogg's, and Kroger are among the large companies now planning to offer "fake meat" products at grocery stores.
Experts say the trend toward plant-based meats coincides with consumers' desires to eat less meat.
However, experts urge consumers to closely check package labels as a product isn't necessarily healthy just because it's described as plant-based.
In grocery stores and fast-food outlets around the U.S., a revolution is taking place.
Colombia rainforest. Marcel Oosterwijk / CC BY-SA 2.0
Many of us think of the Amazon as an untouched wilderness, but people have been thriving in these diverse environments for millennia. Due to this long history, the knowledge that Indigenous and forest communities pass between generations about plants, animals and forest ecology is incredibly rich and detailed and easily dwarfs that of any expert.
picture-alliance / Newscom / R. Ben Ari
By Wesley Rahn
Plastic byproducts were found in 97 percent of blood and urine samples from 2,500 children tested between 2014 and 2017, according to a study by the German Environment Ministry and the Robert Koch Institute.

Pexels
Medically reviewed by Daniel Bubnis, MS, NASM-CPT, NASE Level II-CSS
Hot yoga has become a popular exercise in recent years. It offers many of the same benefits as traditional yoga, such as stress reduction, improved strength, and flexibility.
Lara Hata / iStock / Getty Images
By SaVanna Shoemaker, MS, RDN, LD
Rice is a staple in many people's diets. It's filling, inexpensive, and a great mild-tasting addition to flavorful dishes.
An image of the trans-alaskan oil pipeline that carries oil from the northern part of Alaska all the way to valdez. This shot is right near the arctic national wildlife refuge. kyletperry / iStock / Getty Images Plus
The Trump administration has initialized the final steps to open up nearly 1.6 million acres of the protected Alaskan National Wildlife Refuge to allow oil and gas drilling.