This website uses cookies to ensure you get the best experience while browsing it. By clicking 'Got It' you're accepting these terms.
South Florida Wants to Split State Over Climate Change, Become 51st State
Oct. 24, 2014 02:07PM EST
Climate
Some may remember a politically motivated proposal to split California into six separate states floated earlier this year. That was basically a proposal by a wealthy venture capitalist for the rich areas to take their ball and go home, leaving the poorer areas to fend for themselves. By last month, it had failed to collect enough signatures to make the 2016 ballot and most likely would have died on a national level, no matter what Californians decided, since it would require Congressional approval.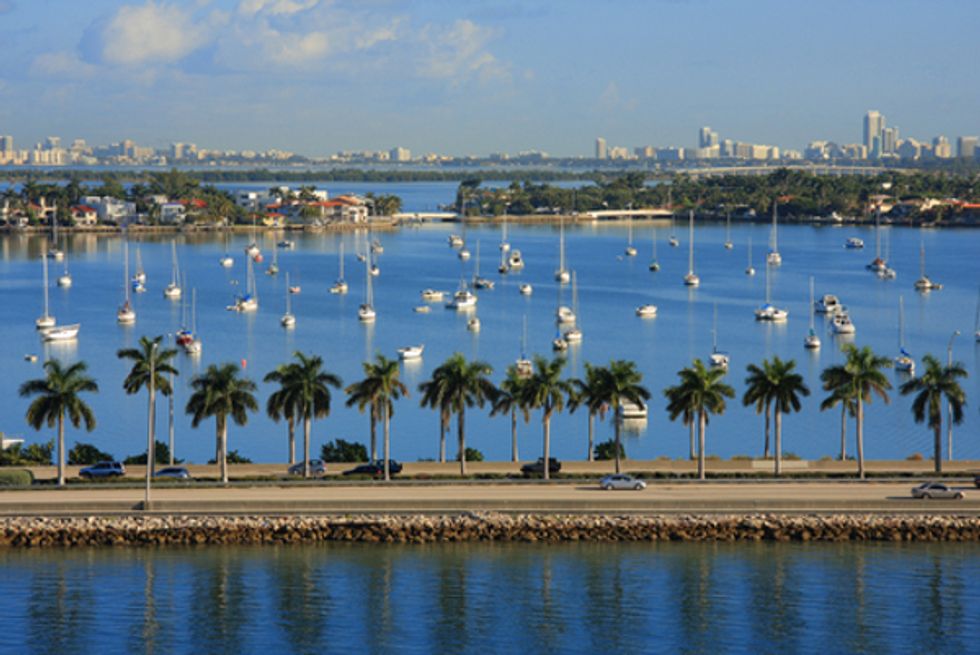 Photo credit: Shutterstock
Now a similar proposal is being floated in Florida. And while some media has blown this up into another political food fight, given the historic rancor between its southern coastal cities and its more conservative north where the capital of Tallahassee is located, it actually has a more specific motivation.
The mayor and city commission of South Miami recently passed a resolution calling for the separation of Florida into two states, North Florida and South Florida. The vote was 3-2. It's full of "whereases" but here's the key one:
"whereas, climate change is a scientific reality resulting in global warming and rising sea level; and"
And you people in Tallahassee aren't doing a DAMN thing about it! Ok, they didn't put it quite like that.
"Whereas, South Florida's situation is very precarious and in need of immediate attention. Many of the issues facing South Florida are not political, but are now significant safety issues; and Whereas, presently, in order to address the concerns of South Florida, it is necessary to travel to Tallahassee in North Florida. Often South Florida issues do not receive the support of Tallahassee. This is despite the fact that South Florida generates more than 69 percent of the state's revenue and contains 67 percent of the state's population ..."
The resolution concludes that "The creation of the 51st state, South Florida, is necessary for the survival of the entire southern region of the current state of Florida."
"It's very apparent that the attitude of the northern part of the state is that they would just love to saw the state in half and just let us float off into the Caribbean," South Miami Mayor Philip Stoddard told the Orlando Sentinel. "They've made that abundantly clear at every possible opportunity and I would love to give them the opportunity to do that."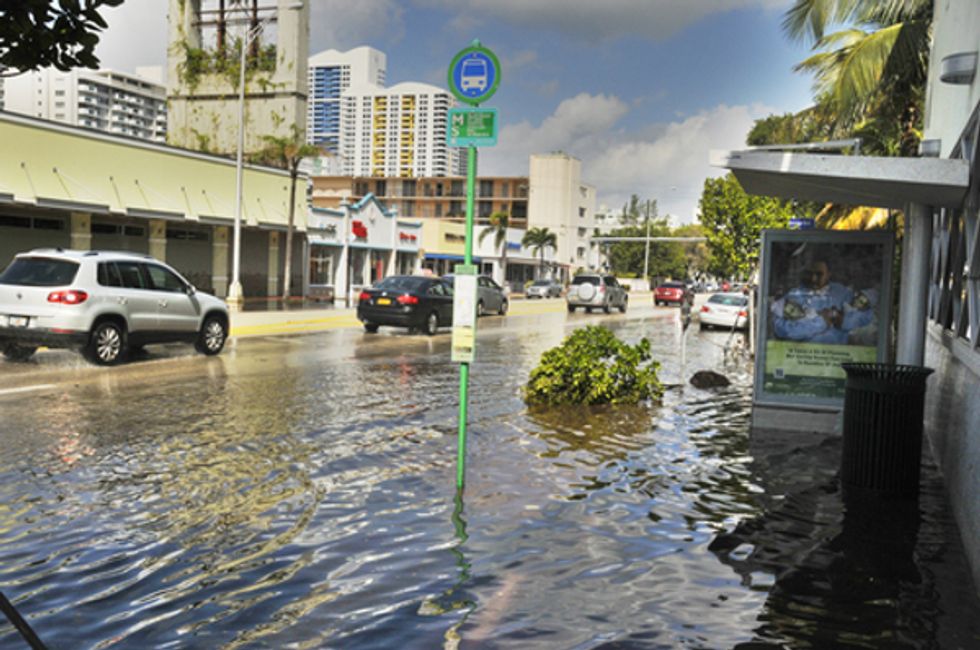 Photo credit: Shutterstock
With its combination of hurricane frequency and its low-lying land exposed to the ocean making it vulnerable to sea level rise, Florida's southern end is already feeling the impacts of climate change. Earlier this month, Miami Beach held King Tide Day, marking the year's highest tide, to draw attention to how rising sea levels have worsened the flooding it causes in that city. Scientists and even groups of evangelicals have been trying to meet with Gov. Rick Scott to talk with him about the need for action of climate change impacts to the state and found him generally unresponsive. (He's in a tight battle to retain his job with Democrat Charlie Crist, who has advocated for more aggressive action on climate change).
According to the Natural Resources Defense Council, "Florida's valuable coastal property and key tourist resources will be damaged by the most obvious result of global warming: rising sea levels. In low-lying areas, anticipated sea level rise could force water to flow horizontally as much as 400 feet or more inland—flooding shoreline homes and hotels and eroding Florida's famous beaches. Freshwater supplies that feed cities, agriculture and tourist centers may be endangered by salt-water intrusion. Sea level rise, rising temperatures and alterations in rainfall will also combine to harm the very coastal ecosystems such as the Everglades and coral reefs that make Florida a unique and appealing destination. These changes will alter the $45 to $50 billion annual revenue from Florida's tourist economy."
Pay attention, Tallahassee!
YOU MIGHT ALSO LIKE
King Tide Ignites Floridians to Take Climate Change Action
10 Scientists Want to Educate Florida Gov. Rick Scott on Climate Change
Watch a Florida Congressman Nonsensically Compare Dinosaur Extinction to Climate Change
EcoWatch Daily Newsletter
New pine trees grow from the forest floor along the North Fork of the Flathead River on the western boundary of Glacier National Park on Sept. 16, 2019 near West Glacier, Montana. Chip Somodevilla / Getty Images
Household actions lead to changes in collective behavior and are an essential part of social movements. Pixabay /
Pexels
Talk is cheap, says the acting executive secretary of the United Nations Convention on Biological Diversity, who begged governments around the world to make sure that 2020 is not another year of conferences and empty promises, but instead is the year to take decisive action to stop the mass extinction of wildlife and the destruction of habitat-sustaining ecosystems, as The Guardian reported.
The people of Kiribati have been under pressure to relocate due to sea level rise. A young woman wades through the salty sea water that flooded her way home on Sept. 29, 2015. Jonas Gratzer / LightRocket via Getty Images
Refugees fleeing the impending effects of the climate crisis cannot be forced to return home, according to a new decision by the United Nations Human Rights Committee, as CNN reported. The new decision could open up a massive wave of legal claims by displaced people around the world.
The first day of the Strike WEF march on Davos on Jan. 18, 2020 near Davos, Switzerland. The activists want climate justice and think the WEF is for the world's richest and political elite only. Kristian Buus / In Pictures via Getty Images
By Ashutosh Pandey
Teenage climate activist Greta Thunberg is returning to the Swiss ski resort of Davos for the 2020 World Economic Forum with a strong and clear message: put an end to the fossil fuel "madness."