This website uses cookies to ensure you get the best experience while browsing it. By clicking 'Got It' you're accepting these terms.
Snow Trucked in for Iditarod, Ski Resorts Remain Closed as February Experienced Most Extreme Weather in History
Mar. 12, 2015 01:14PM EST
Climate
A new report this week from the Department of Energy's Pacific Northwest National Laboratory finds that the rate of climate change, which has increased in recent decades, will increase even more in the 2020s. And Alaska, along with the rest of the Arctic, has been warming even faster with six degrees of winter warming as the loss of snow and ice cover triggers a feedback loop of further warming, according to the U.S. Environmental Protection Agency.
Alaska's rapid warming is very evident. It wasn't enough that they moved the start of the Iditarod 300 miles further north this year to Fairbanks from the traditional start of Anchorage, which has had record low snowfall. They had to reroute the course again when the Chena river, a part of the new course, failed to freeze sufficiently.
The ceremonial start of the race was still held in Anchorage, which as of March 9 received less than one-third of its average snowfall, according to Slate. So, the city had to truck in snow for the event. Sen. Lisa Murkowski tweeted about it with the hashtag "we make it work." I think the planet begs to differ. In a Senate hearing last week, Sen. Bernie Sanders brilliantly grilled Alaskan leaders for not only failing to address climate change but advocating for increased production of fossil fuels, despite leading scientists saying we need to keep fossil fuels in the ground to prevent catastrophic climate change.
The snow has arrived. pic.twitter.com/p2RlL01pot

— David Hulen (@davidhulen) March 7, 2015

 
A ski area outside of Juneau had to close temporarily due to lack of snow. They are still way below average, but they opened back up for the rest of the season. Boston received more snow in a single storm than Anchorage has seen all winter.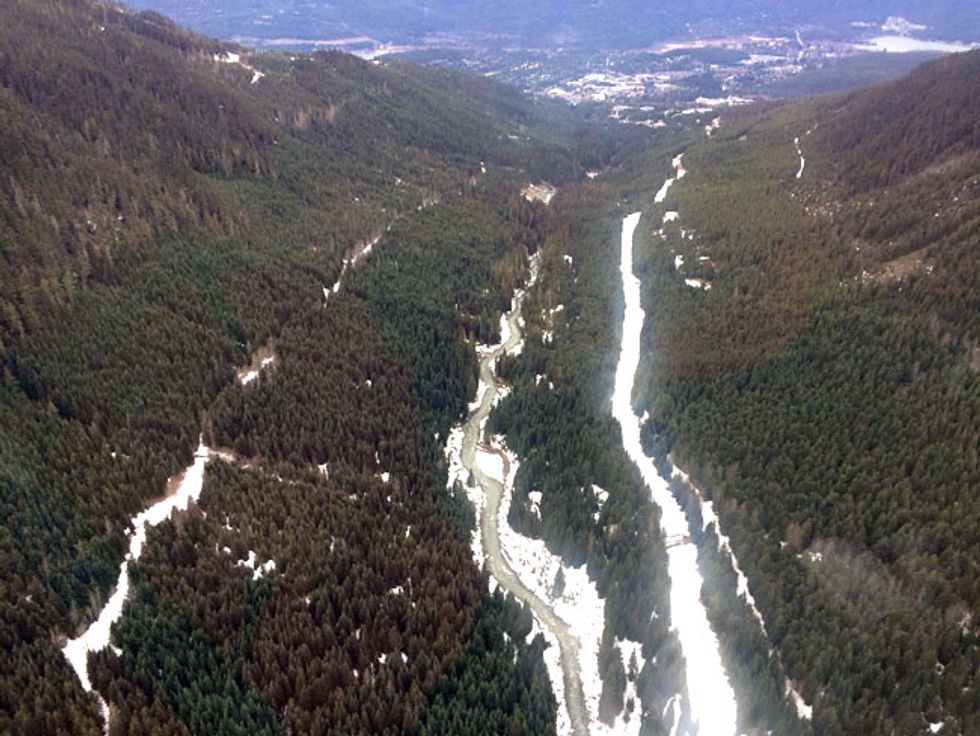 And it's not just Alaska. As we all know, the drought-stricken West is having another exceptionally warm winter. Last month, the West cooked while the East froze. Ski resorts in California, Oregon and Canada closed due to lack of snow. One Southern Californian told me he had to use his air conditioning a few times this winter, while those of us in the East have had record snow and sub-freezing temperatures.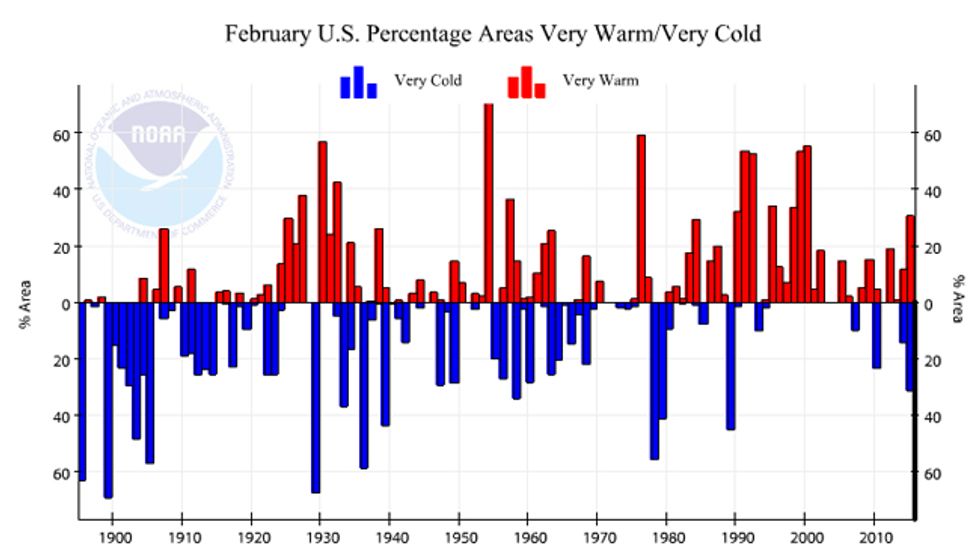 This past February was the most extreme on record, marking the first time that one-third of the U.S. experienced exceptional cold while another third experienced exceptional warmth in the same month, according to the National Oceanic and Atmospheric Administration. "All-time records were set for the coldest month in dozens of Eastern cities, with Boston racking up more snow than the peaks of California's Sierra Nevada," said Slate's Eric Holthaus. Meteorologists have even come up with a nickname for the phenomenon, "Ridiculously Resilient Ridge."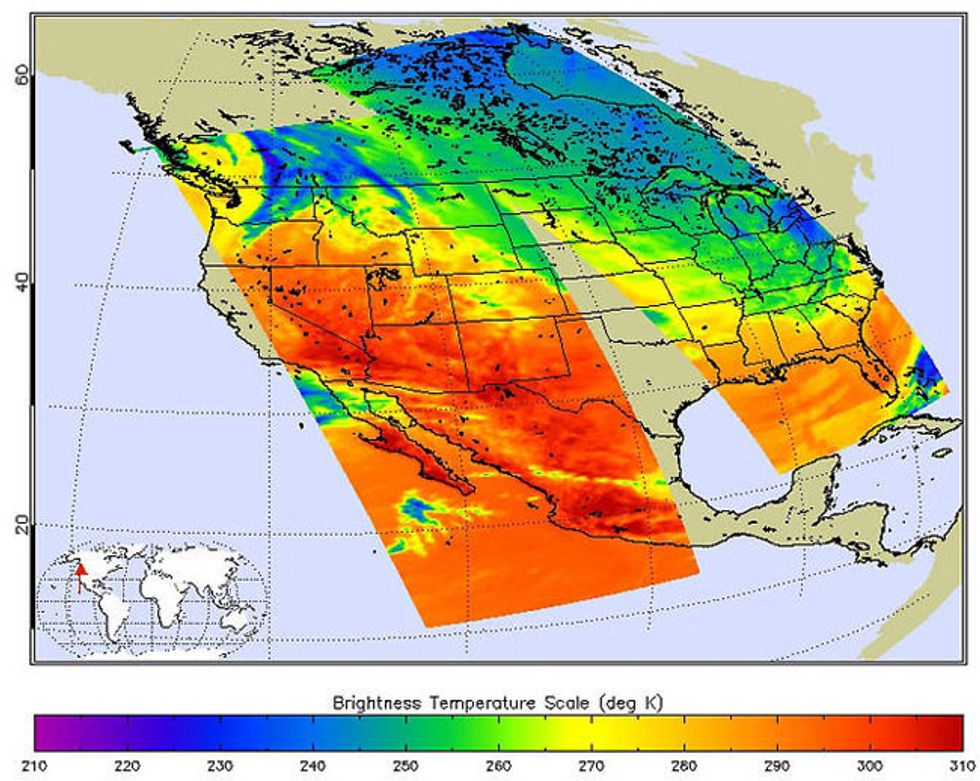 "It's the weather-controlling polar jet stream—a fast river of wind in the upper atmosphere—that has been locked in an extreme pattern for the past few years," explained Climatologist Bill Patzert of NASA's Jet Propulsion Laboratory in Pasadena, California. "Rather than circling in a relatively straight path, the jet stream has meandered in great north-south waves. In the west, it's been bulging northward, arguably for the past two winters. Over frigid northern Canada, the jet takes a hard right turn and plunges into the upper Midwest and East Coast, plummeting temperatures and creating punishing ice and snow storms."
YOU MIGHT ALSO LIKE
Watch Sen. Bernie Sanders Drill Alaskan Leaders on Failing to Adress Climate Change
Ski Resorts Close as West Coast Drought Intensifies
Legendary Iditarod Sled Dog Race Moved North As Alaska Deals with Climate Change
EcoWatch Daily Newsletter
A volcano erupts on New Zealand's Whakaari/White Island on Dec. 9, 2019.
Michael Schade / Twitter
A powerful volcano on Monday rocked an uninhabited island frequented by tourists about 30 miles off New Zealand's coast. Authorities have confirmed that five people died. They expect that number to rise as some are missing and police officials issued a statement that flights around the islands revealed "no signs of life had been seen at any point,", as The Guardian reported.
Guardians of the Forest monitor passersby entering Juracal Village in Araribóia Indigenous Reserve, Maranhão, Brazil on Aug. 8, 2015. Bonnie Jo Mount / The Washington Post via Getty Images
Two indigenous leaders were killed in a drive-by shooting in Northeast Brazil Saturday, and two others were injured.
Human activity is smothering the ocean, the largest study of its kind has found, and it poses a major threat to marine life.
Pexels
Up to 20% of people may have a food addiction or exhibit addictive-like eating behavior.
Spiced hot chocolate. Lilechka75 / iStock / Getty Images
Food is the cornerstone of the holiday season. It brings friends and family together to share memories, cultural traditions, and great flavors.