This website uses cookies to ensure you get the best experience while browsing it. By clicking 'Got It' you're accepting these terms.
Snow Trucked in for Iditarod, Ski Resorts Remain Closed as February Experienced Most Extreme Weather in History
Mar. 12, 2015 01:14PM EST
Climate
A new report this week from the Department of Energy's Pacific Northwest National Laboratory finds that the rate of climate change, which has increased in recent decades, will increase even more in the 2020s. And Alaska, along with the rest of the Arctic, has been warming even faster with six degrees of winter warming as the loss of snow and ice cover triggers a feedback loop of further warming, according to the U.S. Environmental Protection Agency.
Alaska's rapid warming is very evident. It wasn't enough that they moved the start of the Iditarod 300 miles further north this year to Fairbanks from the traditional start of Anchorage, which has had record low snowfall. They had to reroute the course again when the Chena river, a part of the new course, failed to freeze sufficiently.
The ceremonial start of the race was still held in Anchorage, which as of March 9 received less than one-third of its average snowfall, according to Slate. So, the city had to truck in snow for the event. Sen. Lisa Murkowski tweeted about it with the hashtag "we make it work." I think the planet begs to differ. In a Senate hearing last week, Sen. Bernie Sanders brilliantly grilled Alaskan leaders for not only failing to address climate change but advocating for increased production of fossil fuels, despite leading scientists saying we need to keep fossil fuels in the ground to prevent catastrophic climate change.
The snow has arrived. pic.twitter.com/p2RlL01pot

— David Hulen (@davidhulen) March 7, 2015

 
A ski area outside of Juneau had to close temporarily due to lack of snow. They are still way below average, but they opened back up for the rest of the season. Boston received more snow in a single storm than Anchorage has seen all winter.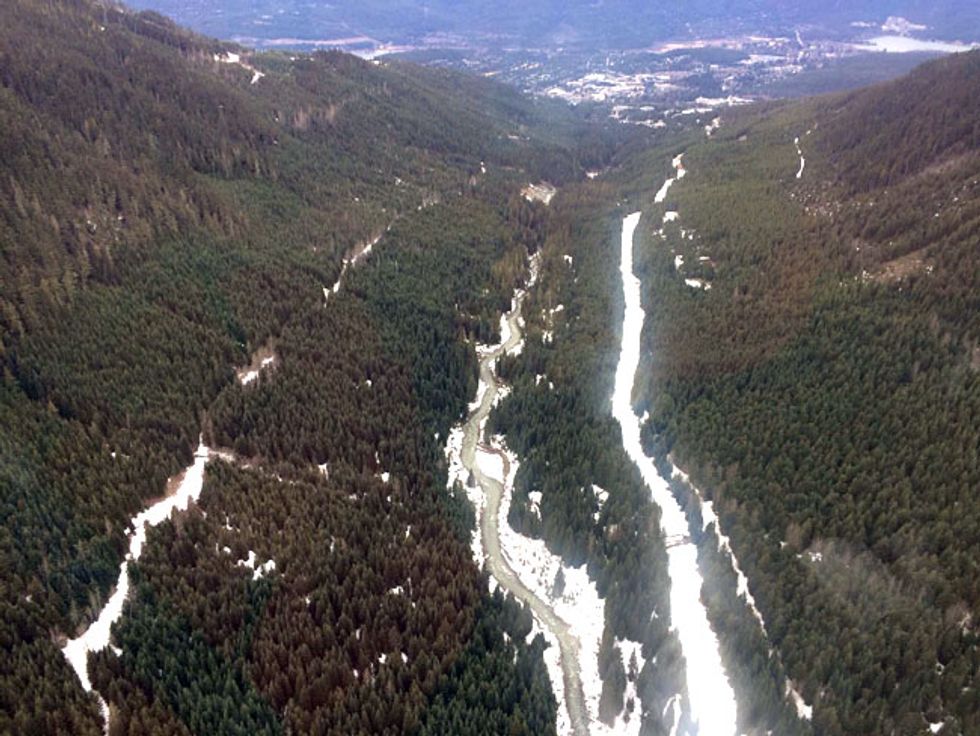 And it's not just Alaska. As we all know, the drought-stricken West is having another exceptionally warm winter. Last month, the West cooked while the East froze. Ski resorts in California, Oregon and Canada closed due to lack of snow. One Southern Californian told me he had to use his air conditioning a few times this winter, while those of us in the East have had record snow and sub-freezing temperatures.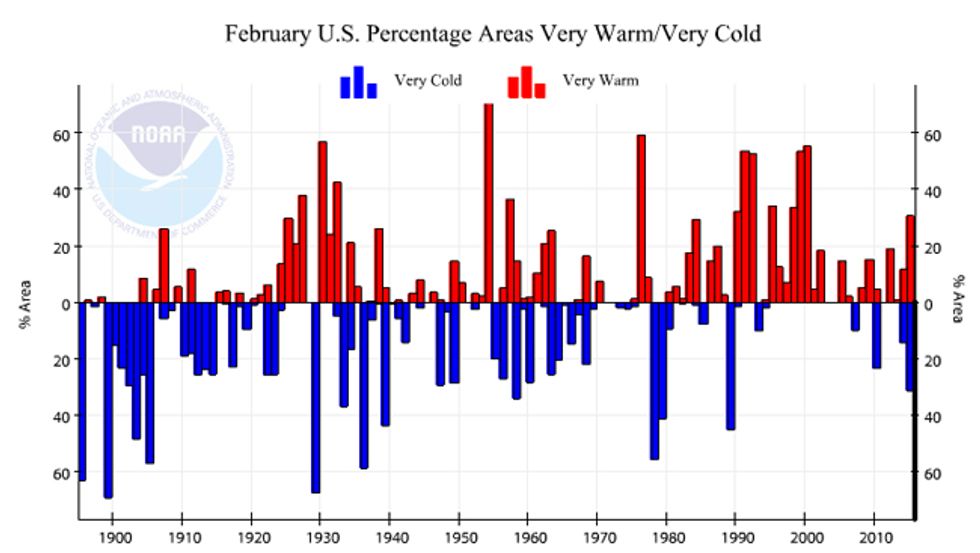 This past February was the most extreme on record, marking the first time that one-third of the U.S. experienced exceptional cold while another third experienced exceptional warmth in the same month, according to the National Oceanic and Atmospheric Administration. "All-time records were set for the coldest month in dozens of Eastern cities, with Boston racking up more snow than the peaks of California's Sierra Nevada," said Slate's Eric Holthaus. Meteorologists have even come up with a nickname for the phenomenon, "Ridiculously Resilient Ridge."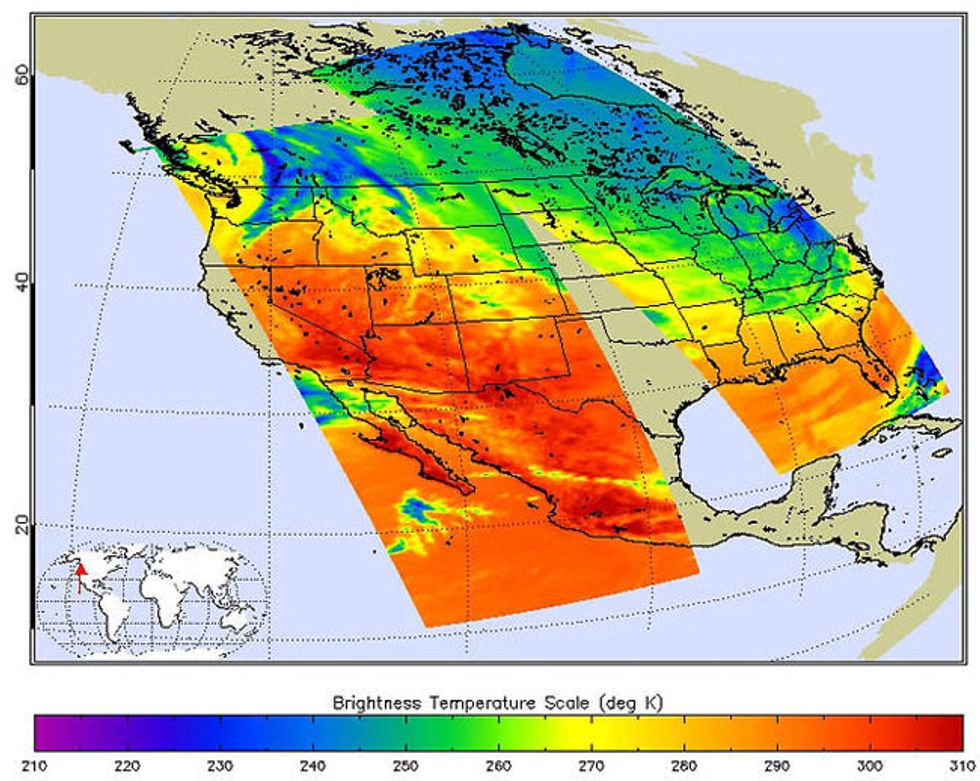 "It's the weather-controlling polar jet stream—a fast river of wind in the upper atmosphere—that has been locked in an extreme pattern for the past few years," explained Climatologist Bill Patzert of NASA's Jet Propulsion Laboratory in Pasadena, California. "Rather than circling in a relatively straight path, the jet stream has meandered in great north-south waves. In the west, it's been bulging northward, arguably for the past two winters. Over frigid northern Canada, the jet takes a hard right turn and plunges into the upper Midwest and East Coast, plummeting temperatures and creating punishing ice and snow storms."
YOU MIGHT ALSO LIKE
Watch Sen. Bernie Sanders Drill Alaskan Leaders on Failing to Adress Climate Change
Ski Resorts Close as West Coast Drought Intensifies
Legendary Iditarod Sled Dog Race Moved North As Alaska Deals with Climate Change
EcoWatch Daily Newsletter
Baby orangutan and mother orang utan seen walking in Jakarta, Indonesia. Aprison Photography / Moment / Getty Images
By Tara Lohan
To be a good wildlife photographer, you need an expertly trained eye. But good ears help, too.
Worker spraying toxic pesticides or insecticides on corn plantation. D-Keine / E+ / Getty Images
Poor people in developing countries are far more likely to suffer from exposure to pesticides classified as having high hazard to human health or the environment, according to new data that Unearthed analyzed.
Power to heat, to cool, to drive the world's industries. Renewables can supply it all.
Jason Blackeye / Unsplash
By Paul Brown
Virtually all the world's demand for electricity to run transport and to heat and cool homes and offices, as well as to provide the power demanded by industry, could be met by renewable energy by mid-century.

Phthalates, a group of chemicals used to make plastics more flexible and harder to break, affect health in many ways. Tatyana Tomsickova Photography / Moment / Getty Images
By George Citroner
Exposure to phthalates was associated with autism traits in boys (but not girls) between ages 3 and 4 years, according to a new study.
However, the risk was diminished in women who took folic acid during their pregnancy.
This study is the first to find that folic acid supplements provide a protective effect from phthalates.
Exposure in the womb to a group of endocrine-disrupting chemicals called phthalates was associated with autism traits in boys (but not girls) between ages 3 and 4 years, according to a new study.
A coral and fish community at the Great Barrier Reef, northeast of Port Douglas, Queensland, Australia, on Aug. 28, 2018. Francois Gohier / VWPics / Universal Images Group via Getty Images
Researchers released a sobering study this week showing that all of the world's coral reefs may be lost to the climate crisis by 2100.