This website uses cookies to ensure you get the best experience while browsing it. By clicking 'Got It' you're accepting these terms.
Significant Victory for Ecuadorians in Oil Pollution Case Against Chevron
Dec. 18, 2013 10:20AM EST
Energy
Indigenous and farmer communities in Ecuador scored a major victory over Chevron yesterday when an Ontario appeals court ruled they have the right to pursue enforcement of a $9.5 billion Ecuadorian court judgment against Chevron's assets in Canada.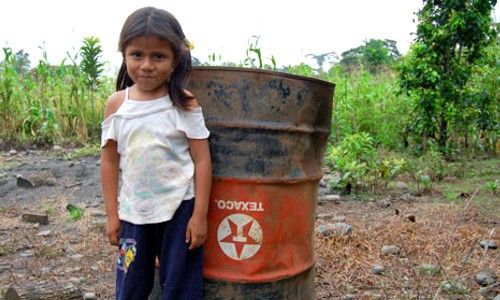 The court also ordered Chevron's two Canadian subsidiaries to pay $100,000 in costs to the Ecuadorians.
"After all these years, the Ecuadorian plaintiffs deserve to have the recognition and enforcement of the Ecuadorian judgment heard in an appropriate jurisdiction," said the decision issued by a three-judge panel of the Court of Appeal of Ontario. "At this juncture, Ontario is that jurisdiction."
The decision was lauded by the leaders of the Ecuadorian communities and their lawyers.
"This order will allow us the opportunity to hold Chevron accountable for fleeing the scene of its environmental crimes in Ecuador after a valid judgment was entered against it," said Pablo Fajardo, the lead Ecuadorian lawyer for the villagers.
Humberto Piaguaje, a Secoya indigenous leader who is the director of the Assembly of Affected Communities, said: "This decision is momentous. It proves Chevron cannot hide behind legal technicalities to avoid justice."
Members of roughly 80 indigenous and farmer communities in Ecuador's northern Amazon region, the villagers won their judgment in 2011 after a hotly-contested eight-year trial that Chevron insisted take place in the South American nation. But Chevron has refused to pay the judgment and has stripped most of its assets from Ecuador to avoid collection, forcing the villagers to file lawsuits to satisfy the judgment in places where Chevron has assets.
The Ecuadorians have launched such proceedings in Brazil and Argentina as well as Canada.
Just last month, Ecuador's Supreme Court affirmed the finding of liability against Chevron but cut the damages amount roughly in half, to $9.5 billion. By contrast, BP's liability for the relatively smaller Gulf of Mexico spill is approaching $40 billion.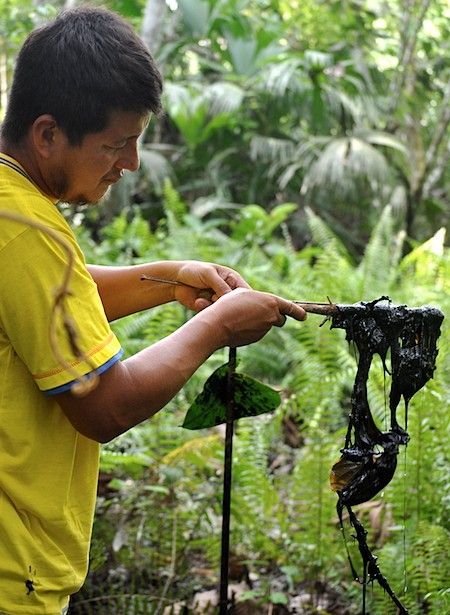 Rainforest Action Network
The Canadian appellate panel took wry note of Chevron's long history of forum shopping, citing the company's earlier promise to U.S. courts to abide by any adverse judgment in Ecuador as a condition of the case being moved there in 2001. The Ontario court also took a veiled swipe at U.S. federal judge Lewis A. Kaplan for trying to issue an injunction purporting to block the Ecuador judgment. A U.S. appeals court unanimously reversed Kaplan just last year.
"The picture from the above history is an obvious one," the panel wrote. "For 20 years, Chevron has contested the legal proceedings of every court involved in this litigation—in the U.S., Ecuador and Canada. Chevron even sought, and briefly obtained, a global injunction against enforcement of the Ecuador judgment.
"In these circumstances, the Ecuadorian plaintiffs should have an opportunity to attempt to enforce the Ecuadorian judgment in a court where Chevron will have to respond on the merits," the panel ruled.
The panel ruled that jurisdiction over Chevron in Canada "properly opens the door to this hugely significant decision of Ecuador's highest court possibly being recognized and enforced in a jurisdiction, Ontario, where enforcement may be significant to the parties."
The latest decision represents a stunning reversal of fortune for the oil giant, which just finished a six-week trial in New York before Judge Kaplan where it alleged the Ecuadorian plaintiffs and their lawyers had obtained the Ecuador judgment by fraud. The Ecuadorians assert that Chevron is using the fraud allegations to distract attention from its environmental crimes and growing liability in Ecuador. Counterclaims have been filed against Chevron in the New York case.
Chevron's subsidiaries have an estimated $15 billion of assets in Canada, more than enough to pay for the entire Ecuador judgment which just last month was unanimously affirmed by Ecuador's Supreme Court. The villagers hope to use any funds collected to clean-up the billions of gallons of toxic waste Chevron was found to have dumped in their ancestral lands from 1964 to 1992, when the company operated almost 400 well sites under the Texaco brand.
The decision technically reverses a trial court decision that imposed a stay after finding that the villagers could establish jurisdiction over Chevron, but could not target the assets of Chevron because they were held by wholly-owned subsidiaries. The panel did not make a final ruling on whether the Ecuadorians could seize the assets of subsidiaries to satisfy a judgment against the parent company, saying that issue would have to be decided during the enforcement action.
"The appellate decision represents a significant step forward in the two-decade battle by Ecuadorians for justice against one of the world's most profitable corporations," said Anton Tabuns, a Canadian lawyer who represents the villagers.
"We look forward to moving into the merits of recognizing the legitimate judgment from Ecuador in Canada," he said. "Chevron's two-decade history of forum shopping and obstructionism must end now."
Chevron is expected to appeal the ruling to Canada's Supreme Court, but it is unclear whether that appeal—even if accepted—will stay the enforcement proceeding. Under Canadian law, enforcement proceedings are heard by a judge and not a jury.
The trial court decision in Ecuador, which came down in 2011, was based almost entirely on Chevron's own scientific evidence documenting the company's substandard practices. In addition to dumping billions of gallons of toxic waste water into the environment, the company abandoned more than 900 open-air toxic waste pits gouged out of the jungle floor. Rates of cancer in the area where Chevron operated have skyrocketed, according to evidence before the Ecuador court.
In Canada, each party had been given three hours to make their case during oral argument in October, underscoring the significance of the matter to Canadian courts—in the U.S., appellate arguments are often limited to ten minutes.
The latest decision also underscores that the separate fraud action in New York federal court initiated by Chevron will not impact foreign enforcement actions, which take place in accordance with each country's laws where the actions are filed. In the New York case, Judge Kaplan has come under criticism for his displays of bias against the Ecuadorians.
Kaplan, who presided over the case from the bench after Chevron dropped damages claims to avoid a jury, also has no authority to block the Ecuador judgment from being enforced in other countries, according to prior decision of New York's federal appellate court.
Enforcement actions from the Ecuadorians have become a major disruptive influence on the oil giant's operations outside the U.S, which collectively account for approximately 75 percent of the oil giant's annual revenue. In Argentina, a trial court froze part of the revenue stream of a Chevron subsidiary pending a judgment recognition ruling. Though the ruling was lifted, recognition actions against the company both there and in Brazil are ongoing.
In Canada, Chevron subsidiaries can produce anywhere between $2 billion and $4 billion annually in dividends for the parent company, according to estimated by the plaintiffs.
Chevron also has been forced to hire major law firms in Venezuela and Colombia in anticipation of enforcement actions being filed in those countries, according to sources. A Chevron comptroller, Rex Mitchell, recently testified under oath in the New York case that the enforcement actions would cause "irreparable harm" to the company's global operations.
The Ontario judges who signed the order are James C. MacPherson, Eileen E. Gillese and C. William Hourigan.
Visit EcoWatch's ENERGY page for more related news on this topic.

EcoWatch Daily Newsletter
A vegan diet can improve your health, but experts say it's important to keep track of nutrients and protein. Getty Images
By Dan Gray
Research shows that 16 weeks of a vegan diet can boost the gut microbiome, helping with weight loss and overall health.
A healthy microbiome is a diverse microbiome. A plant-based diet is the best way to achieve this.
It isn't necessary to opt for a strictly vegan diet, but it's beneficial to limit meat intake.
New research shows that following a vegan diet for about 4 months can boost your gut microbiome. In turn, that can lead to improvements in body weight and blood sugar management.
Students gathered at the National Mall in Washington DC, Sept. 20. NRDC
By Jeff Turrentine
Nearly 20 years have passed since the journalist Malcolm Gladwell popularized the term tipping point, in his best-selling book of the same name. The phrase denotes the moment that a certain idea, behavior, or practice catches on exponentially and gains widespread currency throughout a culture. Having transcended its roots in sociological theory, the tipping point is now part of our everyday vernacular. We use it in scientific contexts to describe, for instance, the climatological point of no return that we'll hit if we allow average global temperatures to rise more than 2 degrees Celsius above preindustrial levels. But we also use it to describe everything from resistance movements to the disenchantment of hockey fans when their team is on a losing streak.
samael334 / iStock / Getty Images
Berries are small, soft, round fruit of various colors — mainly blue, red, or purple.
A glacier is seen in the Kenai Mountains on Sept. 6, near Primrose, Alaska. Scientists from the U.S. Geological Survey have been studying the glaciers in the area since 1966 and their studies show that the warming climate has resulted in sustained glacial mass loss as melting outpaced the accumulation of new snow and ice. Joe Raedle / Getty Images
By Mark Mancini
On Aug. 18, Iceland held a funeral for the first glacier lost to climate change. The deceased party was Okjökull, a historic body of ice that covered 14.6 square miles (38 square kilometers) in the Icelandic Highlands at the turn of the 20th century. But its glory days are long gone. In 2014, having dwindled to less than 1/15 its former size, Okjökull lost its status as an official glacier.
Members of Chicago Democratic Socialists of America table at the Logan Square Farmers Market on Aug. 18. Alex Schwartz
By Alex Schwartz
Among the many vendors at the Logan Square Farmers Market on Aug. 18 sat three young people peddling neither organic vegetables, gourmet cheese nor handmade crafts. Instead, they offered liberation from capitalism.
Hackney primary school students went to the Town Hall on May 24 in London after school to protest about the climate emergency. Jenny Matthews / In Pictures / Getty Images
Bird watching in the U.S. may be a lot harder than it once was, since bird populations are dropping off in droves, according to a new study.