This website uses cookies to ensure you get the best experience while browsing it. By clicking 'Got It' you're accepting these terms.
Share Your Firsthand Accounts of Climate Change on Sierra Club's 'Climate Comes Home' Site
Nov. 19, 2012 04:10PM EST
Climate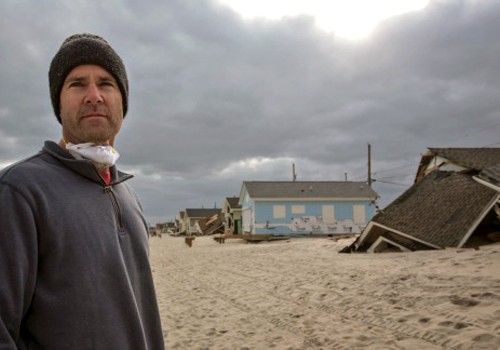 Today Sierra Club launches a new site to catalog the devastation from Hurricane Sandy and other climate events wreaking havoc on our communities. "Climate Comes Home" collects and shares stories, photos and videos documenting the human impact of the latest extreme weather events supercharged by climate disruption.


Sierra Club executive director Michael Brune grew up on Chadwick Beach, NJ, in the house his father and uncle built. The damage along the shoreline from Hurricane Sandy is so extensive that the area has been closed since the storm due to sink holes up to eight feet deep and houses strewn across the road and floating off into the bay. Michael's family and their neighbors were permitted to enter the barrier island for seven hours on Sunday to begin the clean-up process. There is still no clean water or power in many communities.


"No matter how high the definition might be on your screen, you can't anticipate the scale of some disasters until you see them firsthand. Thousands of homes have been flooded or destroyed. Roads are ripped up, boats sit calmly in the middle of side streets or on train tracks. There is no heat, no gas, no power and no water," said Brune, after arriving in Chadwick Beach.


"Like many families, there was a foot or two of seawater that came through our house. The smell hits hard when you open my parents front door, even when wearing a mask: mold is everywhere. It grows on the walls, in the insulation, in cabinets and even on lampshades. All the appliances and furniture were ruined. We were able to save an old folder of campaign materials when my dad first ran for mayor in the 1970s, but we may not be so lucky with old family photo albums found soaking wet."
Hurricane Sandy is only the latest and most devastating incident in a pattern of destructive weather that has become impossible to ignore. In 2011, the U.S. suffered through a record-high 14 weather events that caused at least $1 billion each in damages.


The Sierra Club is committed to cataloging the human toll from climate emergencies and using these firsthand experiences to compel our leaders to solve the climate crisis with bold and immediate actions.


Add your voice to the climate movement by sharing your story, pictures or thoughts on Hurricane Sandy. Visit Climate Comes Home. 
Visit EcoWatch's CLIMATE CHANGE and HURRICANE SANDY pages for more related news on this topic.
EcoWatch Daily Newsletter
Large food companies are following in the footsteps of fast-food restaurants such as Burger King and KFC by offering meat alternatives. Getty Images
By Elizabeth Pratt
Hormel, Kellogg's, and Kroger are among the large companies now planning to offer "fake meat" products at grocery stores.
Experts say the trend toward plant-based meats coincides with consumers' desires to eat less meat.
However, experts urge consumers to closely check package labels as a product isn't necessarily healthy just because it's described as plant-based.
In grocery stores and fast-food outlets around the U.S., a revolution is taking place.
Colombia rainforest. Marcel Oosterwijk / CC BY-SA 2.0
Many of us think of the Amazon as an untouched wilderness, but people have been thriving in these diverse environments for millennia. Due to this long history, the knowledge that Indigenous and forest communities pass between generations about plants, animals and forest ecology is incredibly rich and detailed and easily dwarfs that of any expert.
picture-alliance / Newscom / R. Ben Ari
By Wesley Rahn
Plastic byproducts were found in 97 percent of blood and urine samples from 2,500 children tested between 2014 and 2017, according to a study by the German Environment Ministry and the Robert Koch Institute.

Pexels
Medically reviewed by Daniel Bubnis, MS, NASM-CPT, NASE Level II-CSS
Hot yoga has become a popular exercise in recent years. It offers many of the same benefits as traditional yoga, such as stress reduction, improved strength, and flexibility.
Lara Hata / iStock / Getty Images
By SaVanna Shoemaker, MS, RDN, LD
Rice is a staple in many people's diets. It's filling, inexpensive, and a great mild-tasting addition to flavorful dishes.
An image of the trans-alaskan oil pipeline that carries oil from the northern part of Alaska all the way to valdez. This shot is right near the arctic national wildlife refuge. kyletperry / iStock / Getty Images Plus
The Trump administration has initialized the final steps to open up nearly 1.6 million acres of the protected Alaskan National Wildlife Refuge to allow oil and gas drilling.