This website uses cookies to ensure you get the best experience while browsing it. By clicking 'Got It' you're accepting these terms.
See How Two College Students Built a Tiny House for $489
Feb. 10, 2015 12:37PM EST
Two students, Amy Andrews and Ethan Van Kooten from Central College in Pella, Iowa, had a great idea for a senior project. Because homes contribute significantly to greenhouse gas emissions, Andrews and Van Kooten, both environmental studies majors, decided to build a small, sustainable home.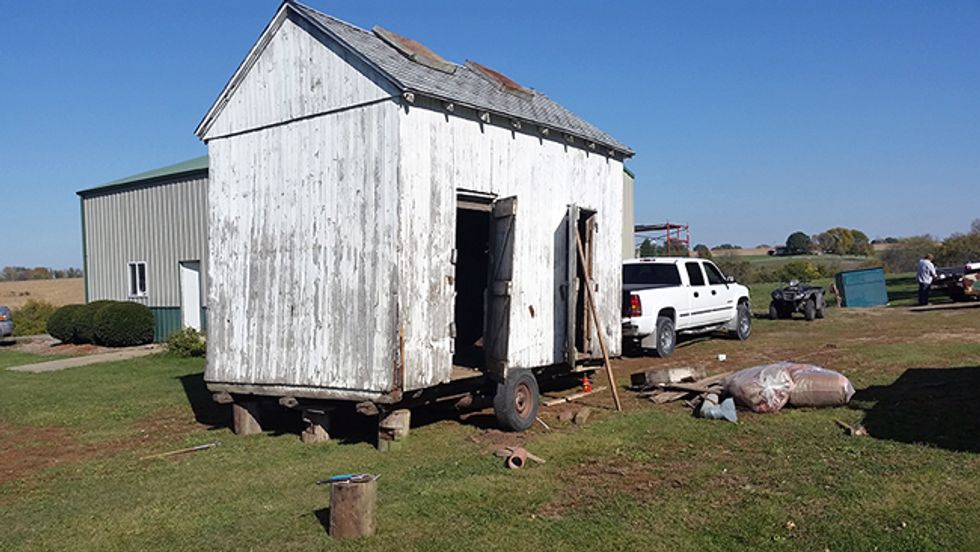 "More space, more rooms and more features are 'standard' in new houses over time," said the students. "The average American family size has been decreasing over the last 50 years, but the average American home size has been increasing."
Now that tiny homes have become so popular, TV shows and movies spotlight tiny homes with construction budgets in the tens of thousands of dollars. Andrews and Van Kooten had a different plan.
Initially, they proposed an extremely modest budget of $3,350. But when they did not receive any grant money, they had to get even more creative. Their new budget: $489. With only 10 weeks to build it, their professor, Anya Butt, admitted she doubted at first whether they would be able to finish their project with such limited time and money.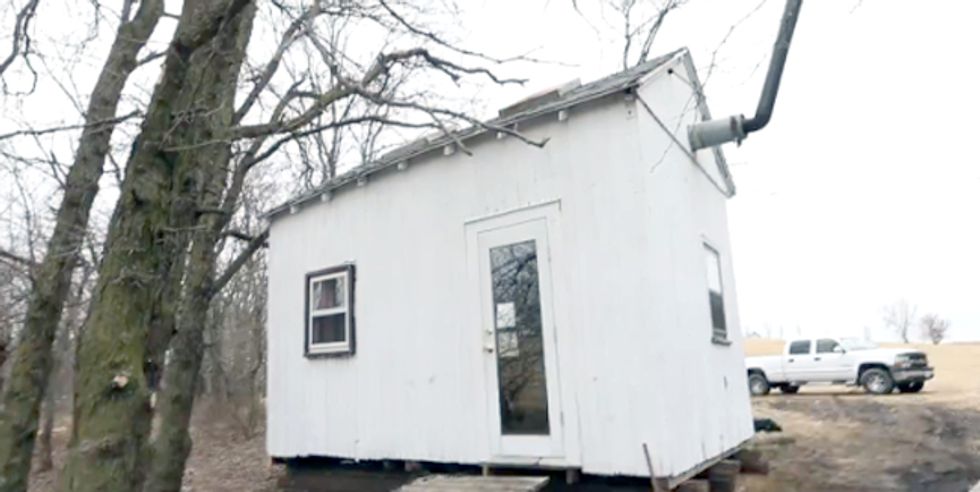 Not only were they successful, but they "built it from what other people were throwing away," said Butt. Most of what they used was "on its way to the landfill," said Andrews.
To begin, the two students reclaimed a 52-year-old granary. "My great-great grandpa, great-grandpa and grandpa built it for shelled corn," Van Kooten said. They moved the 260-square-foot dilapidated structure to Van Kooten's parents' land, where they placed it on skids to comply with zoning and building regulations. In many states, tiny homes have to be portable, so as not to violate zoning and coding laws.
Andrews and Van Kooten, who were cash-strapped and had no construction experience, became expert scavengers. After all, necessity is the mother of invention. They reclaimed lumber, insulation, cabinets, countertops and even a chandelier from buildings in the area that were set to be demolished and from the Pella and Vermeer corporations. They converted an old hog feeder into a loft and they transformed a deer stand into a ladder.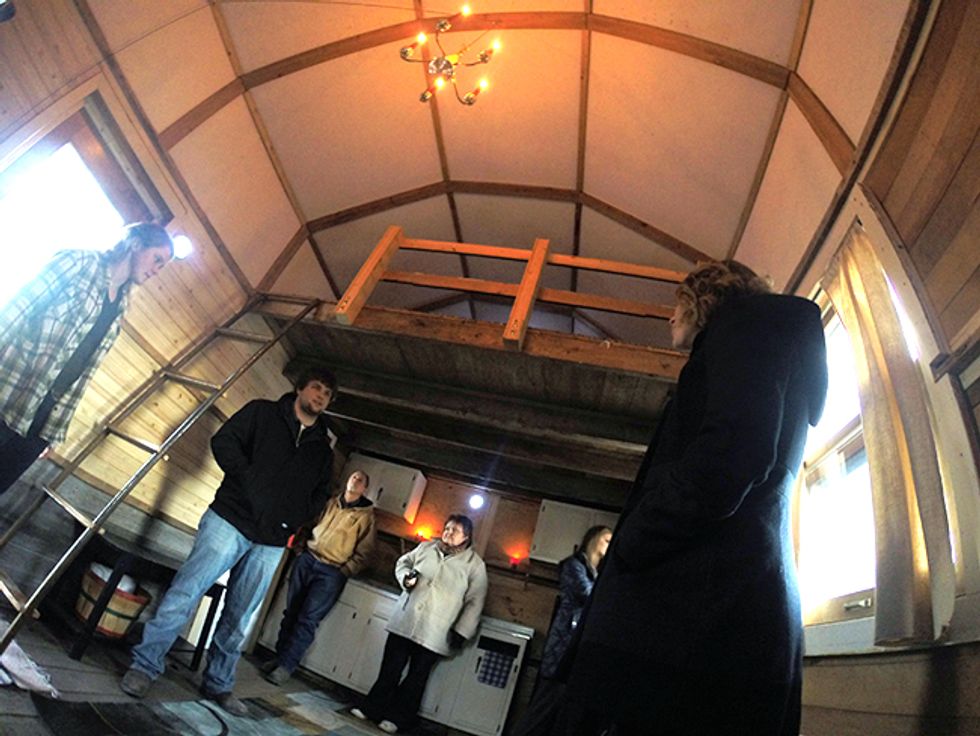 Both Andrews and Van Kooten had always wanted to do something like this. "This is like all my 'Little House on the Prairie' dreams come true," said Andrews. It was certainly a lot of work, though. The Central College students spent about 500 hours building the tiny home with Van Kooten's father, Kent Van Kooten, contributing many hours. Van Kooten said it was a great bonding opportunity for him and his dad. During construction, they excitedly shared all the ideas they had. "If I could put it in a tree, I would," Van Kooten said.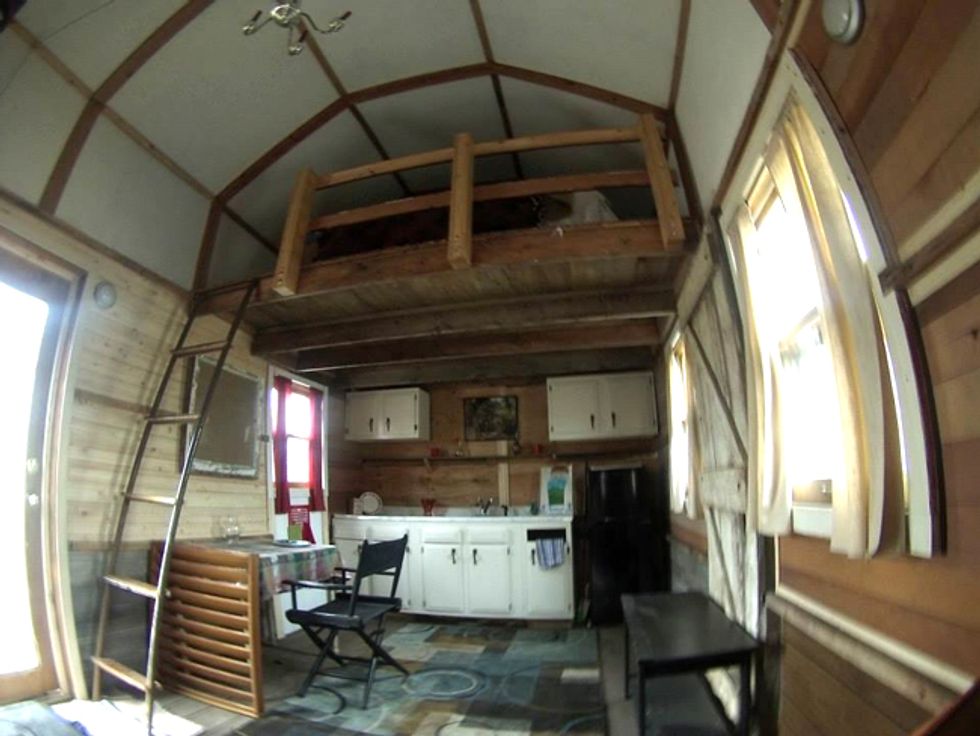 The students left out features they wanted but couldn't afford, like a composting toilet and a solar water heater, according to Central College. But they still plan to add a six-foot porch, plus rain barrels that will provide filtered water for the sink. "It's awesome if you have thousands of dollars to buy a lot of materials and make something really beautiful," Butt said, "But these students showed you can do a lot without a budget. The idea that so much can be reused is eye-opening."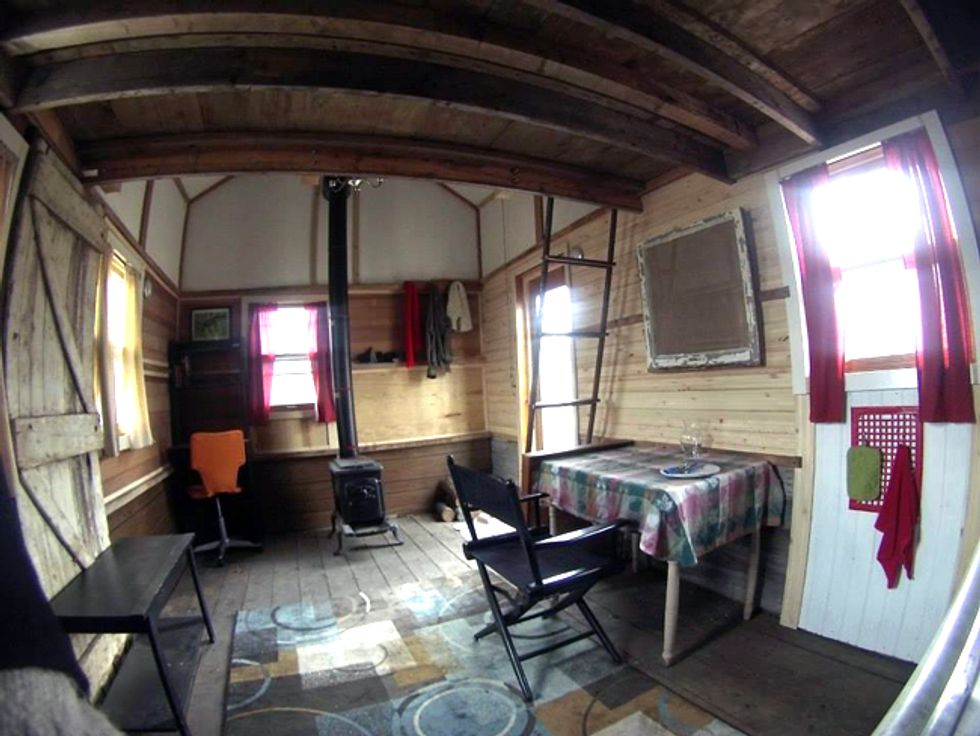 Andrews and Van Kooten hope their project "prompts others to consider ways they can become comfortable with a simpler, more sustainable lifestyle." The two students know it changed their mindset. "I keep asking, 'What else can I do?'" Andrews said. Scavenging materials has become a habit for her.
Watch this short interview of Andrews and Van Kooten by Bryon Houlgrave of the Des Moines Register:
Below is a budget breakdown for their project from Central College:
Our Budget
Original budget: $3,350
For comparison:
Project by Mount Holyoke College senior Sarah Hastings: budget $8,000, final cost $12,000-14,000
Project featured in "Tiny: A Story about Living Small" documentary: $26,000
 Acquired materials:
Original structure (granary)

Four windows, donated

Interior cabinets, sink and carpet, salvaged from Pella house

Insulation, salvaged from Hilltop manor retirement home

Wood stove, donated
 Expenditures:
OSB plywood for ceiling, $110

Exterior paint, $25

Foam ceiling vents, $25

Bolts, $10

Door frame, $40

Exterior door, $13

Interior paint, $30

Drip cap for windows, $16

Brick mold for window frames, $60

Wood stove piping materials, $120

Total Cost: $489
YOU MIGHT ALSO LIKE
7 Super Cool Tiny Houses Revolutionizing Micro-Living
Is a Tiny House Right for You?
University Crafts Climate Action Plan to Achieve Carbon Neutrality
EcoWatch Daily Newsletter
Solar panel installations and a wind turbine at the Phu Lac wind farm in southern Vietnam's Binh Thuan province on April 23, 2019. MANAN VATSYAYANA / AFP via Getty Images
The buildings of downtown Los Angeles are partially obscured at midday on November 5, 2019 as seen from Pasadena, California. Mario Tama / Getty Images.
By Ajit Niranjan
Two main risk factors are currently known to raise the chance of dying from the novel coronavirus that has brought the world to a halt: being old and having a weak immune system.
Air pollution makes the second of those more likely.
Hospital workers applaud during a tribute to the essential health care workers at Hospital Universitario de Mostoles in Mostoles, Spain on March 27, 2020. Legan P. Mace / SOPA Images / LightRocket via Getty Images
Essential farm workers continue to work as Florida agriculture industry struggles during coronavirus pandemic. Joe Raedle / Getty Images.
By Liz Carlisle
This opinion piece was originally published by Yes! Magazine on March 30, 2020.
As the coronavirus crisis has laid bare, the U.S. urgently needs a strategic plan for farmland. The very lands we need to ensure community food security and resilience in the face of crises like this pandemic and climate change are currently being paved over, planted to chemically raised feed grains for factory farm animals, and acquired by institutional investors and speculators. For far too long, the fate of farmlands has flown under the radar of public dialogue—but a powerful new proposal from think tank Data for Progress lays out how a national strategic plan for farmland could help boost economic recovery while putting the U.S. on a path to carbon neutrality.
A worker with nonprofit organization Martha's Table loads bags of fresh produce to distribute to people in need during the novel coronavirus outbreak on April 1, 2020 in Washington, DC. Chip Somodevilla / Getty Images
By Shawn Radcliffe
The CDC recommends that all people wear cloth face masks in public places where it's difficult to maintain a 6-foot distance from others. This will help slow the spread of the virus from people without symptoms or people who do not know they have contracted the virus. Cloth face masks should be worn while continuing to practice social distancing. Instructions for making masks at home can be found here. Note: It's critical to reserve surgical masks and N95 respirators for healthcare workers.