This website uses cookies to ensure you get the best experience while browsing it. By clicking 'Got It' you're accepting these terms.


The best of EcoWatch, right in your inbox. Sign up for our email newsletter!
San Francisco Sinks as Waters Rise
Mar. 09, 2018 08:31AM EST
Climate
San Francisco's Treasure Island, where new developments are currently being built, is threatened by both sinking land and rising seas. Noah_Loverbear / Wikimedia Commons
According to a study released March 7, half of San Francisco International Airport's runways could sink underwater by 2100, The New York Times reported.
The study, published in Science Advances by Manoochehr Shirzaei of Arizona State University and Roland Bürgmann of the University of California, Berkeley, reveals that sea level rise poses more of a threat to the Bay Area than previously thought. The reason? A phenomenon known as subsidence, or land sinking.
---
Shirzaei and Bürgmann found that previous flood-risk maps based on sea-level-rise projections were too conservative because they did not take local land subsidence (LLS) into account. This is a big problem for San Francisco, since parts of its coast lie on top of compacting landfills and mud deposits that are subsiding by a rate of 10 millimeters per year. "The maps estimating 100-year inundation hazards solely based on the projection of sea level rise from various emission scenarios underestimate the area at risk of flooding by 3.7 to 90.9%," they wrote in their abstract.
The report contains revised flood-risk maps that account for the combined impact of LLS and sea level rise (SLR) based on different emissions scenarios.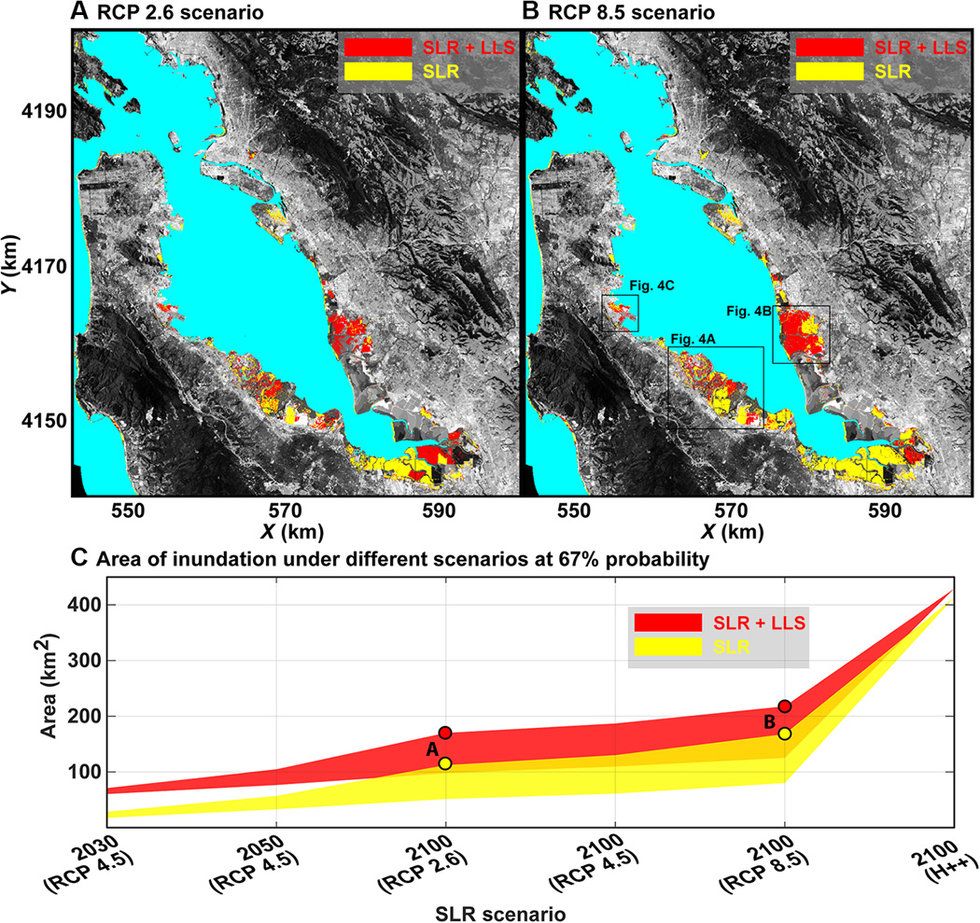 The map on the right shows the combined impact of LLS and SLR if we meet the goals of the 2015 Paris agreement; the map on the left show revised water levels if no effort is made to reduce carbon dioxide emissions. Science Advances
In addition to the San Francisco airport, Shirzaei and Bürgmann's work revealed that Foster City, Union City and Treasure Island are particularly at risk. Treasure Island has recently been the target of development, and as many as 8,000 homes are set to be built there, California Magazine reported.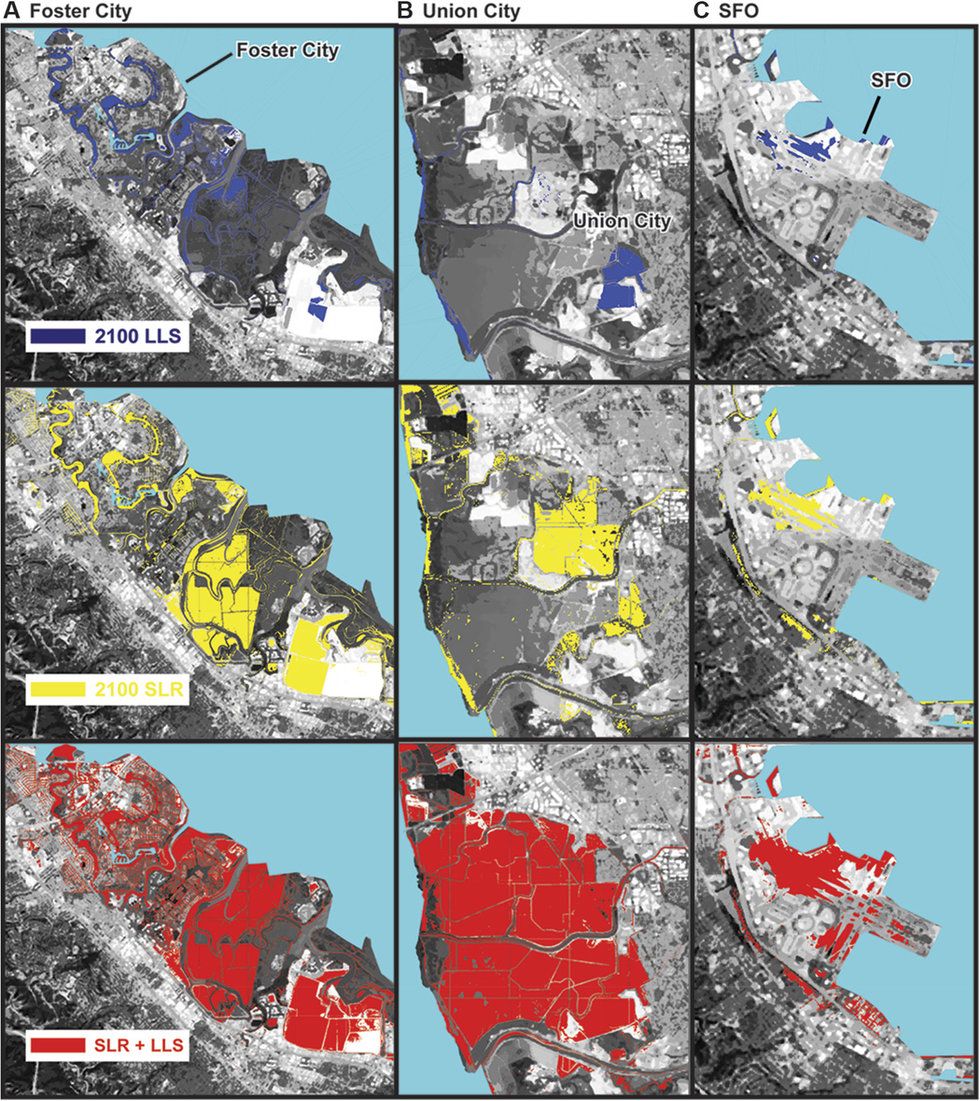 Caption: The top row of maps shows how much land could be underwater due to LLS alone by 2100; the middle row shows land threatened by SLR given a business-as-usual emissions scenario; the bottom row shows the combined impact of both. Science Advances
The findings give new urgency to a lawsuit brought by the cities of San Francisco and Oakland against the five largest investor-owned fossil-fuel producing companies, contending the companies understood the link between their activities and man-made climate change, and demanding they foot the bill for seawalls and other infrastructure adjustments.
The study underscores the fact that no matter how green a city attempts to be, it is still at the mercy of global decisions when it comes to climate change, as Oliver Milman pointed out in an article for The Guardian.
"San Francisco can lay claim to being one of the greenest cities in the U.S., through its embrace of clean energy, mandated recycling and banning of single-use plastic bags, yet it faces a steep challenge to avoid the ravages of sea level rise," Milman wrote.
The study also has implications beyond San Francisco, since it suggests other low-lying areas might be in more danger than previously thought if subsidence is taken into account.
"You look at places like Bangladesh, Jakarta—sea level rise is a critical issue," Bürgmann told California Magazine. While the new projections might be scary, they also improve cities' ability to plan for the future. "Our approach allows for refined and accurate assessment, and that can help drive rational responses," Bürgmann said.
EcoWatch Daily Newsletter
Christine Zenino / Wikimedia Commons / CC BY 2.0

The 18th century St. Catherine of Alexandria church is seen after its bell tower was destroyed following a 6.3 magnitude earthquake that struck the town of Porac, pampanga province on April 23. TED ALJIBE / AFP / Getty Images
At least 16 people have died, 81 are injured and 14 are still missing after an earthquake struck Luzon island in the Philippines Monday, according to the latest figures from the National Disaster Risk Reduction and Management Council, as the Philippine Star tweeted Tuesday.
Climate change activists gather in front of the stage at the Extinction Rebellion group's environmental protest camp at Marble Arch in London on April 22, on the eighth day of the group's protest calling for political change to combat climate change. TOLGA AKMEN / AFP / Getty Images
Pexels
By Alina Petre, MS, RD (CA)
Veganism refers to a way of living that attempts to minimize animal exploitation and cruelty. For this reason, vegans aim to exclude all foods containing meat, poultry, fish, eggs, dairy and honey from their diet (1).
American farmers use chlorpyrifos, a pesticide tied to brain and nervous system issues, on crops such as apples, broccoli, corn and strawberries. Stephanie Chapman / Flickr / CC BY 2.0
By Jessica Corbett
In a ruling welcomed by public health advocates, a federal court on Friday ordered the Trump administration to stop stalling a potential ban on a pesticide linked to brain damage in children, giving regulators until mid-July to make a final decision.
fstop123 / iStock / Getty Images Plus
At EcoWatch, our team knows that changing personal habits and taking actions that contribute to a better planet is an ongoing journey. Earth Day, happening on April 22, is a great reminder for all of us to learn more about the environmental costs of our behaviors like food waste or fast fashion.
To offer readers some inspiration this Earth Day, our team rounded up their top picks for films to watch. So, sit back and take in one of these documentary films this Earth Day. Maybe it will spark a small change you can make in your own life.
NASA
By Shuchi Talati
Solar geoengineering describes a set of approaches that would reflect sunlight to cool the planet. The most prevalent of these approaches entails mimicking volcanic eruptions by releasing aerosols (tiny particles) into the upper atmosphere to reduce global temperatures — a method that comes with immense uncertainty and risk. We don't yet know how it will affect regional weather patterns, and in turn its geopolitical consequences. One way we can attempt to understand potential outcomes is through models.
Maria Gunnoe Flight, courtesy of southwings.org
By Julia Conley
Green groups on Saturday celebrated the latest federal ruling aimed at preventing President Donald Trump from rolling back environmental regulations that were put in place by his predecessor.