This website uses cookies to ensure you get the best experience while browsing it. By clicking 'Got It' you're accepting these terms.
San Francisco Sinks as Waters Rise
Mar. 09, 2018 08:31AM EST
Climate
San Francisco's Treasure Island, where new developments are currently being built, is threatened by both sinking land and rising seas. Noah_Loverbear / Wikimedia Commons
According to a study released March 7, half of San Francisco International Airport's runways could sink underwater by 2100, The New York Times reported.
The study, published in Science Advances by Manoochehr Shirzaei of Arizona State University and Roland Bürgmann of the University of California, Berkeley, reveals that sea level rise poses more of a threat to the Bay Area than previously thought. The reason? A phenomenon known as subsidence, or land sinking.
---
Shirzaei and Bürgmann found that previous flood-risk maps based on sea-level-rise projections were too conservative because they did not take local land subsidence (LLS) into account. This is a big problem for San Francisco, since parts of its coast lie on top of compacting landfills and mud deposits that are subsiding by a rate of 10 millimeters per year. "The maps estimating 100-year inundation hazards solely based on the projection of sea level rise from various emission scenarios underestimate the area at risk of flooding by 3.7 to 90.9%," they wrote in their abstract.
The report contains revised flood-risk maps that account for the combined impact of LLS and sea level rise (SLR) based on different emissions scenarios.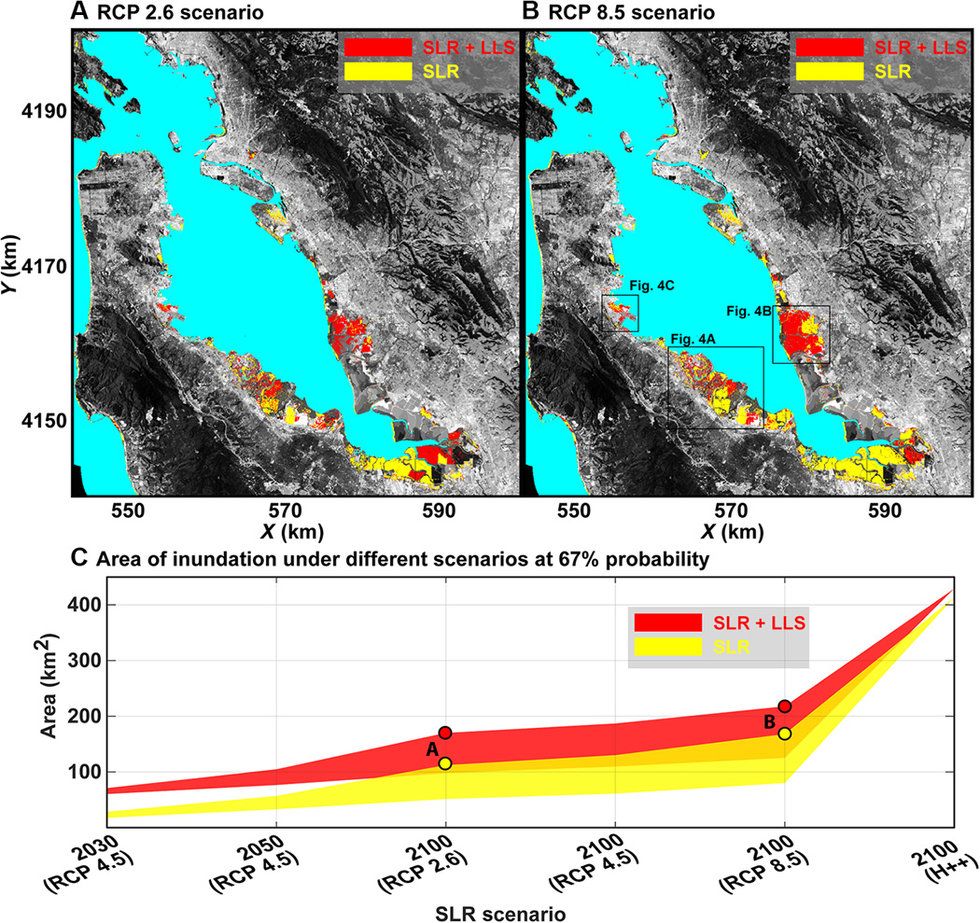 The map on the right shows the combined impact of LLS and SLR if we meet the goals of the 2015 Paris agreement; the map on the left show revised water levels if no effort is made to reduce carbon dioxide emissions. Science Advances
In addition to the San Francisco airport, Shirzaei and Bürgmann's work revealed that Foster City, Union City and Treasure Island are particularly at risk. Treasure Island has recently been the target of development, and as many as 8,000 homes are set to be built there, California Magazine reported.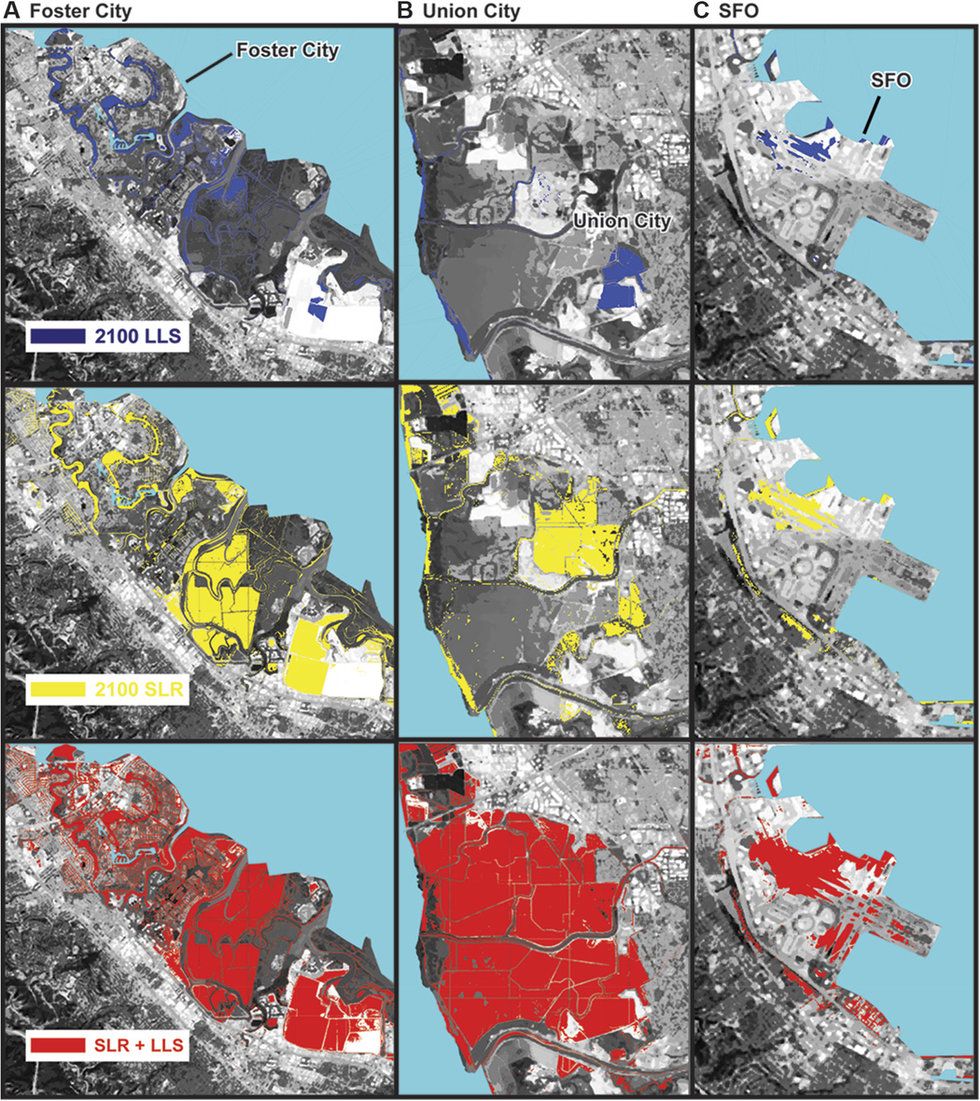 Caption: The top row of maps shows how much land could be underwater due to LLS alone by 2100; the middle row shows land threatened by SLR given a business-as-usual emissions scenario; the bottom row shows the combined impact of both. Science Advances
The findings give new urgency to a lawsuit brought by the cities of San Francisco and Oakland against the five largest investor-owned fossil-fuel producing companies, contending the companies understood the link between their activities and man-made climate change, and demanding they foot the bill for seawalls and other infrastructure adjustments.
The study underscores the fact that no matter how green a city attempts to be, it is still at the mercy of global decisions when it comes to climate change, as Oliver Milman pointed out in an article for The Guardian.
"San Francisco can lay claim to being one of the greenest cities in the U.S., through its embrace of clean energy, mandated recycling and banning of single-use plastic bags, yet it faces a steep challenge to avoid the ravages of sea level rise," Milman wrote.
The study also has implications beyond San Francisco, since it suggests other low-lying areas might be in more danger than previously thought if subsidence is taken into account.
"You look at places like Bangladesh, Jakarta—sea level rise is a critical issue," Bürgmann told California Magazine. While the new projections might be scary, they also improve cities' ability to plan for the future. "Our approach allows for refined and accurate assessment, and that can help drive rational responses," Bürgmann said.
From Your Site Articles
Related Articles Around the Web
EcoWatch Daily Newsletter
Aerial view of Ruropolis, Para state, northen Brazil, on Sept. 6, 2019. Tthe world's biggest rainforest is under threat from wildfires and rampant deforestation. JOHANNES MYBURGH / AFP via Getty Images
By Kate Martyr
Deforestation in Brazil's Amazon rainforest last month jumped to the highest level since records began in 2015, according to government data.
A total of 563 square kilometers (217.38 square miles) of the world's largest rainforest was destroyed in November, 103% more than in the same month last year, according to Brazil's space research agency.
From January to November this year an area almost the size of the Caribbean island of Puerto Rico was destroyed — an 83% overall increase in destruction when compared with the same period last year.
The figures were released on Friday by the National Institute for Space Research (INPE), and collected through the DETER database, which uses satellite images to monitor forest fires, forest destruction and other developments affecting the rainforest.
What's Behind the Rise?
Overall, deforestation in 2019 has jumped 30% compared to last year — 9,762 square kilometers (approximately 3769 square miles) have been destroyed, despite deforestation usually slowing during November and December.
Environmental groups, researchers and activists blamed the policies of Brazil's president Jair Bolsonaro for the increase.
They say that Bolosonaro's calls for the Amazon to be developed and his weakening support for Ibama, the government's environmental agency, have led to loggers and ranchers feeling safer and braver in destroying the expansive rainforest.
His government hit back at these claims, pointing out that previous governments also cut budgets to environment agencies such as Ibama.
The report comes as Brazil came to loggerheads with the Association of Small Island States (AOSIS) over climate goals during the UN climate conference in Madrid.
AOSIS blasted Brazil, among other nations, for "a lack of ambition that also undermines ours."
Last month, a group of Brazilian lawyers called for Bolsonaro to be investigated by the International Criminal Court over his environmental policies.
Reposted with permission from DW.
The Carolina parakeet went extinct in 1918. James St. John /
CC BY 2.0
The Carolina parakeet, the only parrot species native to the U.S., went extinct in 1918 when the last bird died at the Cincinnati Zoo. Now, a little more than 100 years later, researchers have determined that humans were entirely to blame.
Pexels
Vitamin C is a very important nutrient that's abundant in many fruits and vegetables.
BLM drill seeders work to restore native grasses after wildfire on the Bowden Hills Wilderness Study Area in southeast Oregon, Dec. 14, 2018. Marcus Johnson / BLM / CC BY 2.0
By Tara Lohan
In 2017 the Thomas fire raged through 281,893 acres in Ventura and Santa Barbara counties, California, leaving in its wake a blackened expanse of land, burned vegetation, and more than 1,000 destroyed buildings.