'San Andreas' Blockbuster Has Huge Radioactive Omissions
Jun. 05, 2015 01:19PM EST
Energy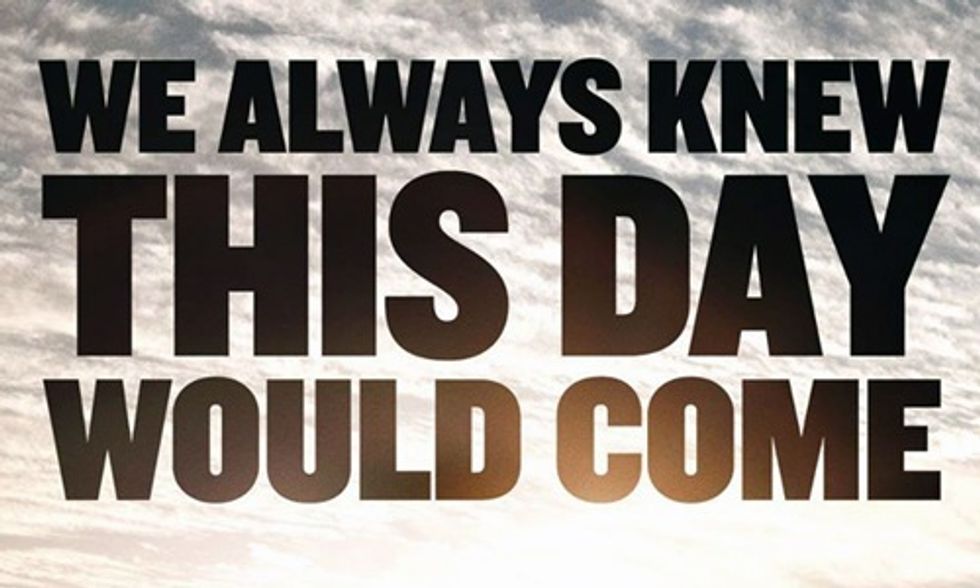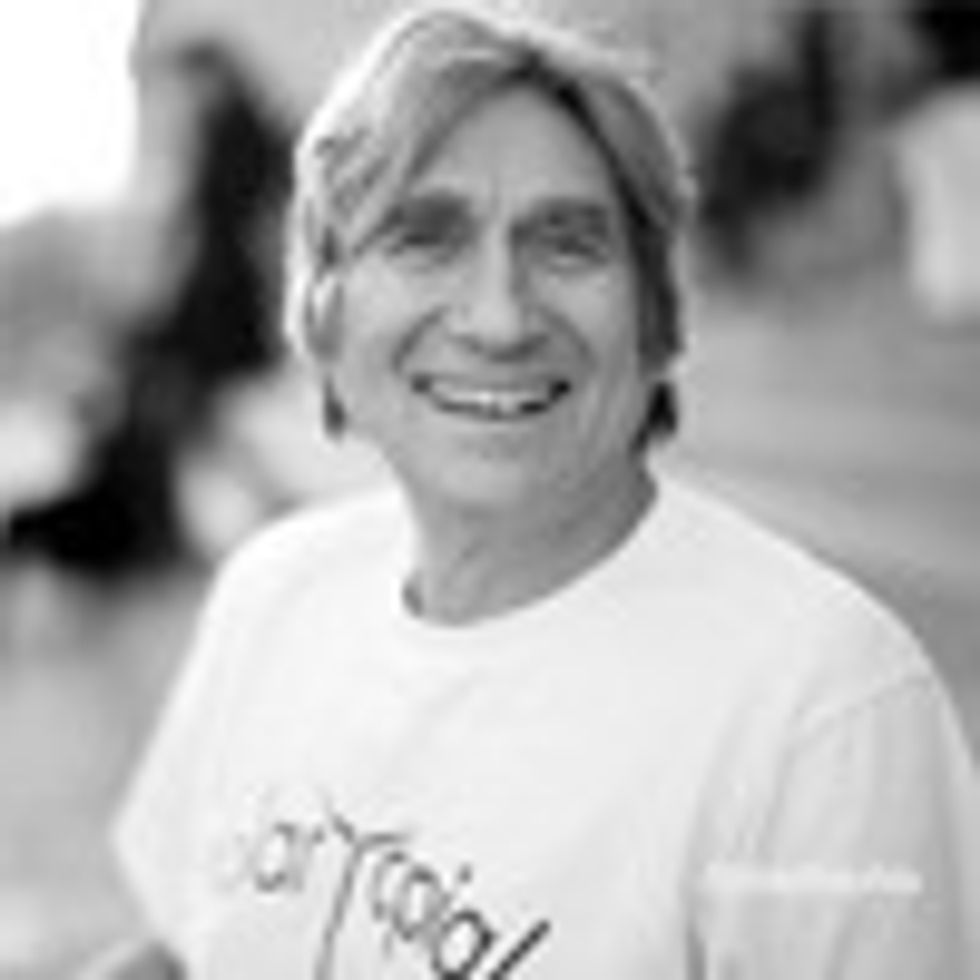 Ok. So we don't expect much from these mega-blockbuster disaster films.
But maybe just a hint about reality could spice things up. At least maybe a passing acknowledgement that the actual San Andreas could turn the Diablo Canyon nukes into a seething heap of radioactive rubble and permanently irradiate all of California?
Is that too much to ask, even of Hollywood?
Apparently so.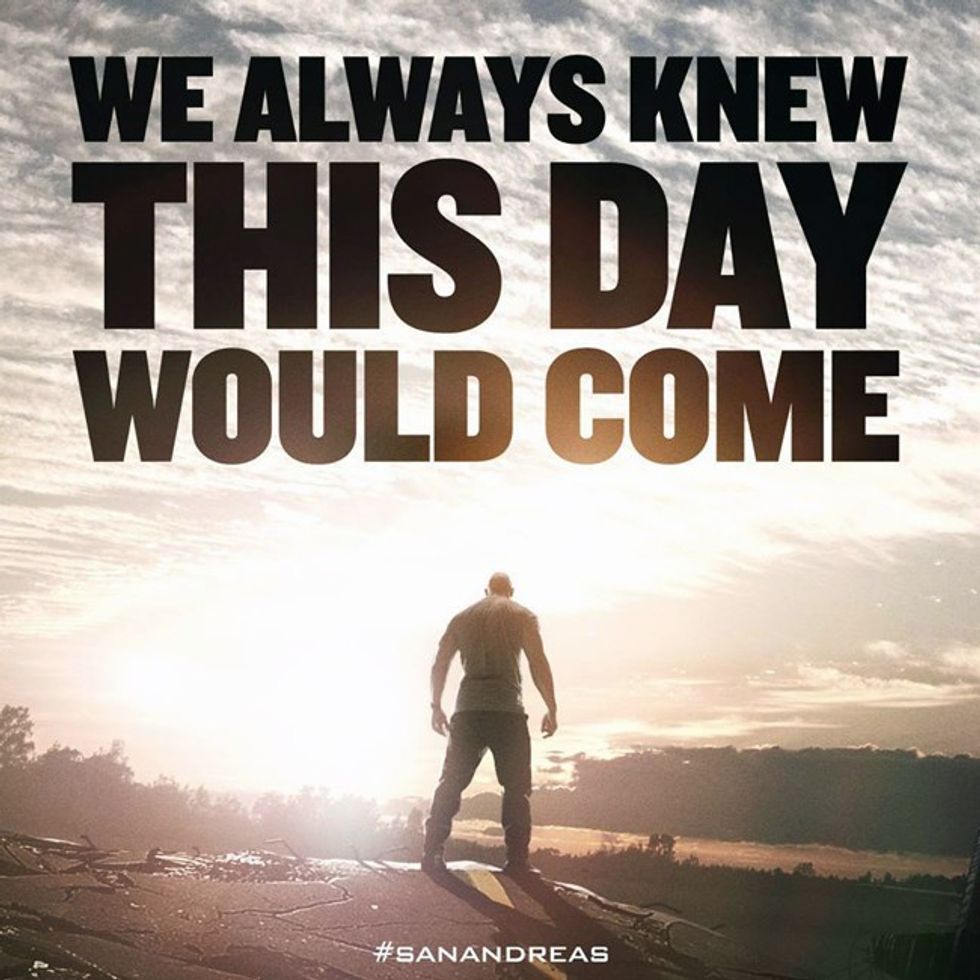 In a Hollywood high-budget Earth-coming-to-an-end flick like this one, there will always be a lame love story, totally improbable close calls where death is narrowly escaped again and again, and lead characters—male and female alike—with zero body fat who emerge onto the screen fresh from four hours of pumping iron.
San Andreas more than delivers on all of the above. The male lead (Dwayne "The Rock" Johnson) might be mistaken in some circles for basketball superstar LeBron James, who is six feet eight, 250 pounds—but who leaps like a gazelle and ball handles like a ballerina.
I knew this guy wasn't LeBron because LeBron and the Cavaliers were losing game one of the NBA finals to the Warriors elsewhere in the Bay Area exactly as we watched this.
The Warriors also emerged from that game with an improbable (overtime) victory.
And I hope you appreciate that I missed that memorable contest and suffered through the excruciating, sleep-inducing, occasional laugh-out-loud plot twists of this mega-melodrama to confirm just one thing:
Yes! In fact they did make a super-high-budget disaster movie about the eruption of the San Andreas fault without once mentioning the nuclear power plant that would define it all for generations to come.
In the film two seismologists discover how to predict earthquakes just in time to warn the world that San Francisco is about to shudder and fall.
The destruction of the city is actually a sight to behold. And an awesome tsunami does make an appearance.
Three words do not: Fukushima; Diablo Canyon.
Should we reasonably expect such a real-world accommodation in such a frivolous entertainment?
Here's what we know:
The San Andreas is 45 miles from the two 1,100-megawatt-plus reactors at Diablo Canyon. That's just half the distance Fukushima was from the quake that wrecked at least Unit 1 and sent in that tsunami to finish off Units 2, 3 and 4.
In all likelihood a 9-plus shaking from the San Andreas could reduce the two reactors at Diablo to radioactive rubble. As at Fukushima, we'd expect hydrogen explosions, maybe some fission, the loss of the cores, the cracking of the spent fuel pools, fires, mayhem, apocalyptic emissions.
Things would be made far worse, of course, because we now know at least a dozen fault lines surround those reactors, and they were not made to withstand them. One, the Shoreline, passes within 700 yards of the two cores. The NRC's own resident inspector, Dr. Michael Peck, has warned that Diablo simply cannot reliably survive those faults going off … and should be shut.
We also know that all those fault lines are interconnected. There's a hint of that as our scientific expert (Paul Giamatti) shows us how a previously unknown fault line in Nevada could touch off the Big One in California.
In fact, there's simply no way that a shock and tsunami anywhere near as big as depicted in this 3-D IMAX monster would not result in the state being saturated with massive radiation releases from those melted, exploded, rubble-ized reactors. Diablo's radioactive cloud would quickly  blanket North America, destroying our food sources and our economy and ultimately killing millions.
None of this, of course, makes it into the film.
The reason is simple: imagine yourself a Hollywood screenwriter depicting extreme bravery followed by happy endings while everyone both on the screen and in the city where it's being shown are massively dosed by a radioactive cloud that will continue to spew for the next, say, thousand years.
Try to envision the dramatic possibilities of watching the vast majority of the nation's fruit, vegetable and nut supplies being hopelessly contaminated, and the land on which they're being grown rendered useless for millennia to come.
Then let's think about the romantic twists of radiation sickness setting in and millions of chiseled Hollywood actors realizing that their lives and those of their progeny have been forever ruined.
Let's throw in a few humorous moments here and there to lighten things up. Plus some flappings of the American flag and a stage right hymn to the exceptional ability of we Americans to "start all over again."
Then, when we've written such a screenplay, let's go get it funded.
So the rumor that San Andreas makes no mention of Diablo Canyon is confirmed. The spent fuel pools at San Onofre, Rancho Seco and Humboldt do not appear. Nor are we reminded that a tsunami far smaller than what the filmmakers roll through the San Francisco Bay would utterly wreck not only Diablo but all the fracking, oil and other extraction rigs along the coast and inland throughout the Golden State, taking the term "pollution" to a whole new level.
At great personal cost, I've confirmed all that. If you like seeing apocalyptic urban destruction and a giant tsunami wave, take in this film. You might want to bring something to read during the dramatic interludes.
But don't count on even a shred of radioactive reality.
And join me to watch Game 2. Unless the Big One does come.
In which case, I guarantee, despite what you won't see in San Andreas … it will be "Game Over."
Harvey Wasserman wrote SOLARTOPIA! OUR GREEN-POWERED EARTH and edits nukefree.org.
YOU MIGHT ALSO LIKE
Nuclear Giants Take a Huge Hit
Why We Need to End Mountaintop Removal Now
By Jenna McGuire
Commonly used herbicides across the U.S. contain highly toxic undisclosed "inert" ingredients that are lethal to bumblebees, according to a new study published Friday in the Journal of Applied Ecology.
The study reviewed several herbicide products and found that most contained glyphosate, an ingredient best recognized from Roundup products and the most widely used herbicide in the U.S. and worldwide.
While the devastating impacts of glyphosate on bee populations are more broadly recognized, the toxicity levels of inert ingredients are less understood because they are not subjected to the same mandatory testing by the U.S. Environmental Protection Agency (EPA).
"Pesticides are manufactured and sold as formulations that contain a mixture of compounds, including one or more active ingredients and, potentially, many inert ingredients," explained the Center for Food Safety in a statement. "The inert ingredients are added to pesticides to aid in mixing and to enhance the products' ability to stick to plant leaves, among other purposes."
The study found that these inert substances can be highly toxic and even block bees' breathing capacity, essentially causing them to drown. While researchers found that some of the combinations of inert ingredients had no negative impacts on the bees, one of the herbicide formulations killed 96% of the bees within 24 hours.
According to the abstract of the study:
Bees exhibited 94% mortality with Roundup® Ready‐To‐Use® and 30% mortality with Roundup® ProActive®, over 24 hr. Weedol® did not cause significant mortality, demonstrating that the active ingredient, glyphosate, is not the cause of the mortality. The 96% mortality caused by Roundup® No Glyphosate supports this conclusion.
"This important new study exposes a fatal flaw in how pesticide products are regulated here in the U.S.," said Jess Tyler, a staff scientist at the Center for Biological Diversity. "Now the question is, will the Biden administration fix this problem, or will it allow the EPA to continue its past practice of ignoring the real-world harms of pesticides?"
According to the Center for Food Safety, there are currently 1,102 registered formulations that contain the active ingredient glyphosate, each with a proprietary mixture of inert ingredients. In 2017, the group filed a legal petition calling for the EPA to force companies to provide safety data on pesticide formulations that include inert ingredients.
"The EPA must begin requiring tests of every pesticide formulation for bee toxicity, divulge the identity of 'secret' formulation additives so scientists can study them, and prohibit application of Roundup herbicides to flowering plants when bees might be present and killed," said Bill Freese, science director at the Center for Food Safety. "Our legal petition gave the EPA a blueprint for acting on this issue of whole formulations. Now they need to take that blueprint and turn it into action, before it's too late for pollinators."
ATTN @EPA: Undisclosed "inert" ingredients in #pesticide products warrant further scrutiny! ➡️ A new study compared… https://t.co/bdFwXCVHsD

— Center 4 Food Safety (@Center 4 Food Safety)1618592343.0
Roundup — also linked to cancer in humans — was originally produced by agrochemical giant Monsanto, which was acquired by the German pharmaceutical and biotech company Bayer in 2018.
The merger of the two companies was condemned by environmentalists and food safety groups who warned it would cultivate the greatest purveyor of genetically modified seeds and toxic pesticides in the world.
Reposted with permission from Common Dreams.
EcoWatch Daily Newsletter
A warming climate can lead to lake stratification, including toxic algal blooms. UpdogDesigns / Getty Images
By Ayesha Tandon
New research shows that lake "stratification periods" – a seasonal separation of water into layers – will last longer in a warmer climate.
These longer periods of stratification could have "far-reaching implications" for lake ecosystems, the paper says, and can drive toxic algal blooms, fish die-offs and increased methane emissions.
The study, published in Nature Communications, finds that the average seasonal lake stratification period in the northern hemisphere could last almost two weeks longer by the end of the century, even under a low emission scenario. It finds that stratification could last over a month longer if emissions are extremely high.
If stratification periods continue to lengthen, "we can expect catastrophic changes to some lake ecosystems, which may have irreversible impacts on ecological communities," the lead author of the study tells Carbon Brief.
The study also finds that larger lakes will see more notable changes. For example, the North American Great Lakes, which house "irreplaceable biodiversity" and represent some of the world's largest freshwater ecosystems, are already experiencing "rapid changes" in their stratification periods, according to the study.
'Fatal Consequences'
As temperatures rise in the spring, many lakes begin the process of "stratification." Warm air heats the surface of the lake, heating the top layer of water, which separates out from the cooler layers of water beneath.
The stratified layers do not mix easily and the greater the temperature difference between the layers, the less mixing there is. Lakes generally stratify between spring and autumn, when hot weather maintains the temperature gradient between warm surface water and colder water deeper down.
Dr Richard Woolway from the European Space Agency is the lead author of the paper, which finds that climate change is driving stratification to begin earlier and end later. He tells Carbon Brief that the impacts of stratification are "widespread and extensive," and that longer periods of stratification could have "irreversible impacts" on ecosystems.
For example, Dr Dominic Vachon – a postdoctoral fellow from the Climate Impacts Research Centre at Umea University, who was not involved in the study – explains that stratification can create a "physical barrier" that makes it harder for dissolved gases and particles to move between the layers of water.
This can prevent the oxygen from the surface of the water from sinking deeper into the lake and can lead to "deoxygenation" in the depths of the water, where oxygen levels are lower and respiration becomes more difficult.
Oxygen depletion can have "fatal consequences for living organisms," according to Dr Bertram Boehrer, a researcher at the Helmholtz Centre for Environmental Research, who was not involved in the study.
Lead author Woolway tells Carbon Brief that the decrease in oxygen levels at deeper depths traps fish in the warmer surface waters:
"Fish often migrate to deeper waters during the summer to escape warmer conditions at the surface – for example during a lake heatwave. A decrease in oxygen at depth will mean that fish will have no thermal refuge, as they often can't survive when oxygen concentrations are too low."

This can be very harmful for lake life and can even increase "fish die-off events" the study notes.
However, the impacts of stratification are not limited to fish. The study notes that a shift to earlier stratification in spring can also encourage communities of phytoplankton – a type of algae – to grow sooner, and can put them out of sync with the species that rely on them for food. This is called a "trophic mismatch."
Prof Catherine O'Reilly, a professor of geography, geology and the environment at Illinois State University, who was not involved in the study, adds that longer stratified periods could also "increase the likelihood of harmful algae blooms."
The impact of climate change on lakes also extends beyond ecosystems. Low oxygen levels in lakes can enhance the production of methane, which is "produced in and emitted from lakes at globally significant rates," according to the study.
Woolway explains that higher levels of warming could therefore create a positive climate feedback in lakes, where rising temperatures mean larger planet-warming emissions:
"Low oxygen levels at depth also promotes methane production in lake sediments, which can then be released to the surface either via bubbles or by diffusion, resulting in a positive feedback to climate change."

Onset and Breakup
In the study, the authors determine historical changes in lake stratification periods using long-term observational data from some of the "best-monitored lakes in the world" and daily simulations from a collection of lake models.
They also run simulations of future changes in lake stratification period under three different emission scenarios, to determine how the process could change in the future. The study focuses on lakes in the northern hemisphere.
The figure below shows the average change in lake stratification days between 1900 and 2099, compared to the 1970-1999 average. The plot shows historical measurements (black), and the low emission RCP2.6 (blue), mid emissions RCP6.0 (yellow) and extremely high emissions RCP8.5 (red) scenarios.
Change in lake stratification duration compared to the 1970-1999 average, for historical measurements (black), the low emission RCP2.6 (blue) moderate emissions RCP6.0 (yellow) and extremely high emissions RCP8.5 (red). Credit: Woolway et al (2021).
The plot shows that the average lake stratification period has already lengthened. However, the study adds that some lakes are seeing more significant impacts than others.
For example, Blelham Tarn – the most well-monitored lake in the English Lake District – is now stratifying 24 days earlier and maintaining its stratification for an extra 18 days compared to its 1963-1972 averages, the study finds. Woolway tells Carbon Brief that as a result, the lake is already showing signs of oxygen depletion.
Climate change is increasing average stratification duration in lakes, the findings show, by moving the onset of stratification earlier and pushing the stratification "breakup" later. The table below shows projected changes in the onset, breakup and overall length of lake stratification under different emission scenarios, compared to a 1970-1999 baseline.
The table shows that even under the low emission scenario, the lake stratification period is expected to be 13 days longer by the end of the century. However, in the extremely high emissions scenario, it could be 33 days longer.
The table also shows that stratification onset has changed more significantly than stratification breakup. The reasons why are revealed by looking at the drivers of stratification more closely.
Warmer Weather and Weaker Winds
The timing of stratification onset and breakup in lakes is driven by two main factors – temperature and wind speed.
The impact of temperature on lake stratification is based on the fact that warm water is less dense than cool water, Woolway tells Carbon Brief:
"Warming of the water's surface by increasing air temperature causes the density of water to decrease and likewise results in distinct thermal layers within a lake to form – cooler, denser water settles to the bottom of the lake, while warmer, lighter water forms a layer on top."

This means that, as climate change causes temperatures to rise, lakes will begin to stratify earlier and remain stratified for longer. Lakes in higher altitudes are also likely to see greater changes in stratification, Woolway tells Carbon Brief, because "the prolonging of summer is very apparent in high latitude regions."
The figure below shows the expected increase in stratification duration from lakes in the northern hemisphere under the low (left), mid (center), and high (right) emission scenarios. Deeper colors indicate a larger increase in stratification period.
Expected increase in stratification duration in lakes in the northern hemisphere under the low (left), mid (centre) and high (right) emissions scenarios. Credit: Woolway et al (2021).
The figure shows that the expected impact of climate change on stratification duration becomes more pronounced at more northerly high latitudes.
The second factor is wind speed, Woolway explains:
"Wind speed also affects the timing of stratification onset and breakdown, with stronger winds acting to mix the water column, thus acting against the stratifying effect of increasing air temperature."

According to the study, wind speed is expected to decrease slightly as the planet warms. The authors note that the expected changes in near-surface wind speed are "relatively minor" compared to the likely temperature increase, but they add that it may still cause "substantial" changes in stratification.
The study finds that air temperature is the most important factor behind when a lake will begin to stratify. However, when looking at stratification breakup, it finds that wind speed is a more important driver.
Meanwhile, Vachon says that wind speeds also have implications for methane emissions from lakes. He notes that stratification prevents the methane produced on the bottom of the lake from rising and that, when the stratification period ends, methane is allowed to rise to the surface. However, according to Vachon, the speed of stratification breakup will affect how much methane is released into the atmosphere:
"My work has suggested that the amount of accumulated methane in bottom waters that will be finally emitted is related to how quickly the stratification break-up occurs. For example, a slow and progressive stratification break-up will most likely allow water oxygenation and allow the bacteria to oxidise methane into carbon dioxide. However, a stratification break-up that occurs rapidly – for example after storm events with high wind speed – will allow the accumulated methane to be emitted to the atmosphere more efficiently."

Finally, the study finds that large lakes take longer to stratify in spring and typically remain stratified for longer in the autumn – due to their higher volume of water. For example, the authors highlight the North American Great Lakes, which house "irreplaceable biodiversity" and represent some of the world's largest freshwater ecosystems.
These lakes have been stratifying 3.5 days earlier every decade since 1980, the authors find, and their stratification onset can vary by up to 48 days between some extreme years.
O'Reilly tells Carbon Brief that "it's clear that these changes will be moving lakes into uncharted territory" and adds that the paper "provides a framework for thinking about how much lakes will change under future climate scenarios."
Reposted with permission from Carbon Brief.
A view of Lake Powell from Romana Mesa, Utah, on Sept. 8, 2018. DEA / S. AMANTINI / Contributor / Getty Images
By Robert Glennon
Interstate water disputes are as American as apple pie. States often think a neighboring state is using more than its fair share from a river, lake or aquifer that crosses borders.
Robert Glennon is a Regents Professor and Morris K. Udall Professor of Law & Public Policy, University of Arizona.

Disclosure statement: Robert Glennon received funding from the National Science Foundation in the 1990s and 2000s.
Reposted with permission from The Conversation.
Plugging and capping abandoned and orphaned oil and gas wells in Central Appalachia could generate thousands of jobs. StushD80 / Getty Images
Plugging and capping abandoned and orphaned oil and gas wells in Central Appalachia could generate thousands of jobs for the workers and region who stand to lose the most from the industry's inexorable decline.
According to a new report from the Ohio River Valley Institute, just four states (Ohio, West Virginia, Pennsylvania, and Kentucky) account for at least 538,000 unplugged abandoned oil and gas wells, though that number is almost certainly low.
The first oil well in the U.S. was drilled in Pennsylvania before the Civil War and the timeline of the region's oil and gas production contributes to its disproportionate number of orphaned wells.
Among other toxic pollution released from orphaned wells, Central Appalachian wells dumped 71,000 metric tons of methane — an extremely potent heat trapping gas — into the atmosphere every year.
The report comes as the Biden administration works to allay worries in a region still tied to the fossil fuel industry.
President Biden's infrastructure plan includes $16 billion for plugging and remediating orphaned oil and gas wells and abandoned mines.
For a deeper dive:
Orphaned Wells: Earther, Charleston Gazette-Mail, West Virginia Public Broadcasting, Allegheny Front; Transition: Politico

For more climate change and clean energy news, you can follow Climate Nexus on Twitter and Facebook, sign up for daily Hot News, and visit their news site, Nexus Media News.
Plastic bails, left, and aluminum bails, right, are photographed at the Green Waste material recovery facility on Thursday, March 28, 2019, in San Jose, California. Aric Crabb / Digital First Media / Bay Area News via Getty Images
By Courtney Lindwall
Coined in the 1970s, the classic Earth Day mantra "Reduce, Reuse, Recycle" has encouraged consumers to take stock of the materials they buy, use, and often quickly pitch — all in the name of curbing pollution and saving the earth's resources. Most of us listened, or lord knows we tried. We've carried totes and refused straws and dutifully rinsed yogurt cartons before placing them in the appropriately marked bins. And yet, nearly half a century later, the United States still produces more than 35 million tons of plastic annually, and sends more and more of it into our oceans, lakes, soils, and bodies.
Clearly, something isn't working, but as a consumer, I'm sick of the weight of those millions of tons of trash falling squarely on consumers' shoulders. While I'll continue to do my part, it's high time that the companies profiting from all this waste also step up and help us deal with their ever-growing footprint on our planet.
An investigation last year by NPR and PBS confirmed that polluting industries have long relied on recycling as a greenwashing scapegoat. If the public came to view recycling as a panacea for sky-high plastic consumption, manufacturers—as well as the oil and gas companies that sell the raw materials that make up plastics—bet they could continue deluging the market with their products.
There are currently no laws that require manufacturers to help pay for expensive recycling programs or make the process easier, but a promising trend is emerging. Earlier this year, New York legislators Todd Kaminsky and Steven Englebright proposed a bill—the "Extended Producer Responsibility Act"—that would make manufacturers in the state responsible for the disposal of their products.
Other laws exist in some states for hazardous wastes, such as electronics, car batteries, paint, and pesticide containers. Paint manufacturers in nearly a dozen states, for example, must manage easy-access recycling drop-off sites for leftover paint. Those laws have so far kept more than 16 million gallons of paint from contaminating the environment. But for the first time, manufacturers could soon be on the hook for much broader categories of trash—including everyday paper, metal, glass, and plastic packaging—by paying fees to the municipalities that run waste management systems. In addition to New York, the states of California, Washington, and Colorado also currently have such bills in the works.
"The New York bill would be a foundation on which a modern, more sustainable waste management system could be built," says NRDC waste expert Eric Goldstein.
In New York City alone, the proposed legislation would cover an estimated 50 percent of the municipal waste stream. Importantly, it would funnel millions of dollars into the state's beleaguered recycling programs. This would free up funds to hire more workers and modernize sorting equipment while also allowing cities to re-allocate their previous recycling budgets toward other important services, such as education, public parks, and mass transit.
The bills aren't about playing the blame game—they are necessary. Unsurprisingly, Americans still produce far more trash than anyone else in the world, clocking in at an average of nearly 5 pounds per person, every day—clogging landfills and waterways, harming wildlife, contributing to the climate crisis, and blighting communities. As of now, a mere 8 percent of the plastic we buy gets recycled, and at least six times more of our plastic waste ends up in an incinerator than gets reused.
It's easy to see why. Current recycling rules vary widely depending on where you live—and they're notoriously confusing. Contrary to what many of us have been told, proper recycling requires more than simply looking for that green-arrowed triangle, a label that may tell you what a product is made out of and that it is recyclable in theory, but not whether that material can be recycled in your town—or anywhere at all. About 90 percent of all plastic can't be recycled, often because it's either logistically difficult to sort or there's no market for it to be sold.
That recycling marketplace is also ever changing. When China, which was importing about a third of our country's recyclable plastic, started refusing our (usually contaminated) waste streams in 2018, demand for recyclables tanked. This led to cities as big as Philadelphia and towns as small as Hancock, Maine, to send even their well-sorted recyclables to landfills. Municipalities now had to either foot big bills to pick up recyclables they once sold for a profit or shutter recycling services altogether.
According to Goldstein, New York's bill has a good shot of passing this spring—and it already has the support of some companies that see the writing on the wall, or as the New York Times puts it, "the glimmer of a cultural reset, a shift in how Americans view corporate and individual responsibility." If the bill does go through, New Yorkers could start to see changes to both local recycling programs and product packaging within a few years.
What makes these bills so groundbreaking isn't that they force manufacturers to pay for the messes they make, but that they could incentivize companies to make smarter, less wasteful choices in the first place.
New York's bill, for instance, could help reward more sustainable product design. A company might pay less of a fee if it reduces the total amount of waste of a product, sources a higher percentage of recycled material, or makes the end product more easily recyclable by, say, using only one type of plastic instead of three.
"Producers are in the best position to be responsible because they control the types and amounts of packaging, plastics, and paper products that are put into the marketplace," Goldstein says.
Bills like these embody the principles of a circular economy—that elusive North Star toward which all waste management policies should point. By encouraging companies to use more recycled materials, demand for recyclables goes up and the recycling industry itself is revitalized. What gets produced gets put back into the stream for reuse.
If widely adopted, we could significantly reduce our overall consumption and burden on the planet. With less paper used, more forests would stay intact—to continue to store carbon, filter air and water, and provide habitat for wildlife and sustenance for communities. With less plastic produced, less trash would clog oceans and contaminate ecosystems and food supplies. In turn, we'd give fossil fuels even more reasons to stay in the ground, where they belong.
That would be my Earth Day dream come true—with little hand-wringing of fellow guilt-stricken individuals required.
Courtney Lindwall is a writer and editor in NRDC's Communications department. Prior to NRDC, she worked in publishing and taught writing to New York City public school students. Lindwall has a bachelor's degree in journalism from the University of Florida. She is based in the New York office.
From Your Site Articles
Related Articles Around the Web