This website uses cookies to ensure you get the best experience while browsing it. By clicking 'Got It' you're accepting these terms.
Rupture of Aging Tar Sands Pipeline Beneath Great Lakes Would Devastate People, Planet and Economy
Jul. 11, 2014 09:27AM EST
Because the strong currents in the Straits of Mackinac reverse direction every few days, a rupture of the oil pipeline beneath the channel would quickly contaminate shorelines miles away in both lakes Michigan and Huron, according to a new University of Michigan (U-M) study commissioned by the National Wildlife Federation.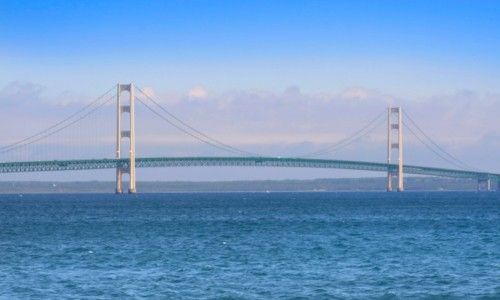 In one scenario examined in the study and accompanying animations, oil from a hypothetical pipeline break reached Mackinac Island and Round Island after 12 hours and Bois Blanc Island after two days. All three islands are in westernmost Lake Huron, just east of the straits.
Within 20 days of a spill in the Straits of Mackinac—which separates Michigan's upper and lower peninsulas and connects lakes Michigan and Huron—oil would spread as far west as Beaver Island in Lake Michigan, a distance of roughly 35 miles, and as far southeast as Rogers City in Lake Huron, a distance of about 50 miles, according to the computer-simulation study released today and conducted by hydrodynamics expert David Schwab of the U-M Water Center.
The area around the five-mile-wide straits is considered ecologically sensitive and is a major tourist draw.
"If you were to pick the worst possible place for an oil spill in the Great Lakes, this would be it," Schwab said. "The currents are powerful and change direction frequently. In the event of an oil spill, these factors would lead to a big mess that would be very difficult to contain."
Just west of the Mackinac Bridge, two 20-inch underwater pipes carry 23 million gallons of crude oil daily through the straits. The 61-year-old pipeline is operated by Enbridge Inc.
Current speeds in the straits can reach one meter per second, transporting volumes of up to 80,000 cubic meters of water per second—more than 10 times greater than the flow over Niagara Falls.
Great Lakes researchers have known since the 1990s that currents in the straits tend to reverse direction every few days. In a 2013 paper in the Journal of Great Lakes Research, Schwab and colleague Eric Anderson of the federal Great Lakes Environmental Research Laboratory in Ann Arbor presented the first three-dimensional, high-resolution hydrodynamic model able to accurately predict those oscillating currents and their effect on lakes Michigan and Huron. They showed that currents in the straits affect flows more than 40 miles away in both lakes.
In his study for the National Wildlife Federation, Schwab used the combined-lake model to simulate the release of contaminants at various locations and depths within the straits. The simulations track the oil for 20 days following a 12-hour release. 
The simulated releases occurred in August and September, months when temperature differences between upper and lower water layers would help disperse the oil. In the August release scenario, the average currents in the straits were initially eastward but changed direction every day or two.
In the September release scenario, average currents were initially westward but changed direction periodically throughout the tracking period. The westward flow carried oil into Lake Michigan during the first 24 hours. After 48 hours, oil released near the southern end of the straits was in Lake Huron and was impinging on the Michigan shoreline from Mackinac City halfway to Cheboygan.
"Any material released into the straits will go into both Lake Michigan and Lake Huron, which would complicate containment efforts," Schwab said. "Hopefully, these simulations and animations will be useful in understanding and preparing for potential impacts."
The National Wildlife Federation said an oil spill in the Straits of Mackinac would devastate the local tourism industry as well as the area's fish and wildlife. The best way to remedy the threat, according to the organization, is to replace the pipeline under the straits.
"An oil spill in the Straits of Mackinac would have devastating consequences for people, fish and wildlife, and the economy. It would be an unparalleled disaster for the Great Lakes," said Andy Buchsbaum, regional executive director of the National Wildlife Federation's Great Lakes Regional Center. "This old pipeline needs to be replaced so that we can protect the Great Lakes from future spills."
The U-M Water Center is a center of the Graham Sustainability Institute, which fosters sustainability through translational knowledge, transformative learning and institutional leadership.
Established in October 2012 with funds from the Fred A. and Barbara M. Erb Family Foundation, the Water Center engages researchers, practitioners, policymakers and nonprofit groups to support, integrate and improve current and future freshwater restoration and protection efforts.
EcoWatch Daily Newsletter
Europe is gearing up for another extreme heat wave that could set all-time records for several European countries.
Modern agricultural greenhouses in the Netherlands use LED lights to support plant growth. GAPS / iStock / Getty Images Plus
By Kevin M. Folta
A nighttime arrival at Amsterdam's Schiphol Airport flies you over the bright pink glow of vegetable production greenhouses. Growing crops under artificial light is gaining momentum, particularly in regions where produce prices can be high during seasons when sunlight is sparse.
Golde Wallingford submitted this photo of "Pure Joy" to EcoWatch's first photo contest. Golde Wallingford
EcoWatch is pleased to announce our third photo contest!

On Oct. 4, 2017, the Senate EPW Committee held a hearing on Wehrum's nomination.
EPA / YouTube screenshot
The U.S. Environmental Protection Agency's (EPA) former head of the Office of Air and Radiation who was instrumental in drafting policies that eased climate protection rules and pollution standards is under investigation by a federal watchdog for his dealings with the fossil fuel industry he was supposed to be regulating, according to the New York Times.
It's no secret that the Trump administration has championed fossil fuels and scoffed at renewable energy. But the Trump administration is trying to keep something secret: the climate crisis. That's according to a new analysis from the watchdog group Environmental Data and Governance Initiative (EDGI) who found that more than a quarter of the references to climate change on .gov websites vanished.
Pexels
New York is officially the first state in the union to ban cat declawing.
People walk in the Shaw neighborhood on July 20 in Washington, DC, where an excessive heat warning was in effect according to the NWS. Alex Wroblewski / Getty Images
By Adrienne Hollis
Climate change is a threat multiplier. This is a fact I know to be true. I also know that our most vulnerable populations, particularly environmental justice communities — people of color and/or low socioeconomic status — are suffering and will continue to suffer first and worst from the adverse effects of climate change. Case in point? Extreme heat.