This website uses cookies to ensure you get the best experience while browsing it. By clicking 'Got It' you're accepting these terms.


The best of EcoWatch, right in your inbox. Sign up for our email newsletter!
Rupture of Aging Tar Sands Pipeline Beneath Great Lakes Would Devastate People, Planet and Economy
Jul. 11, 2014 09:27AM EST
Because the strong currents in the Straits of Mackinac reverse direction every few days, a rupture of the oil pipeline beneath the channel would quickly contaminate shorelines miles away in both lakes Michigan and Huron, according to a new University of Michigan (U-M) study commissioned by the National Wildlife Federation.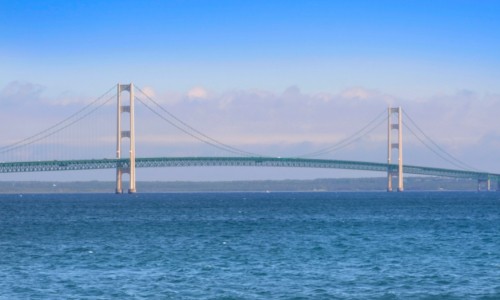 In one scenario examined in the study and accompanying animations, oil from a hypothetical pipeline break reached Mackinac Island and Round Island after 12 hours and Bois Blanc Island after two days. All three islands are in westernmost Lake Huron, just east of the straits.
Within 20 days of a spill in the Straits of Mackinac—which separates Michigan's upper and lower peninsulas and connects lakes Michigan and Huron—oil would spread as far west as Beaver Island in Lake Michigan, a distance of roughly 35 miles, and as far southeast as Rogers City in Lake Huron, a distance of about 50 miles, according to the computer-simulation study released today and conducted by hydrodynamics expert David Schwab of the U-M Water Center.
The area around the five-mile-wide straits is considered ecologically sensitive and is a major tourist draw.
"If you were to pick the worst possible place for an oil spill in the Great Lakes, this would be it," Schwab said. "The currents are powerful and change direction frequently. In the event of an oil spill, these factors would lead to a big mess that would be very difficult to contain."
Just west of the Mackinac Bridge, two 20-inch underwater pipes carry 23 million gallons of crude oil daily through the straits. The 61-year-old pipeline is operated by Enbridge Inc.
Current speeds in the straits can reach one meter per second, transporting volumes of up to 80,000 cubic meters of water per second—more than 10 times greater than the flow over Niagara Falls.
Great Lakes researchers have known since the 1990s that currents in the straits tend to reverse direction every few days. In a 2013 paper in the Journal of Great Lakes Research, Schwab and colleague Eric Anderson of the federal Great Lakes Environmental Research Laboratory in Ann Arbor presented the first three-dimensional, high-resolution hydrodynamic model able to accurately predict those oscillating currents and their effect on lakes Michigan and Huron. They showed that currents in the straits affect flows more than 40 miles away in both lakes.
In his study for the National Wildlife Federation, Schwab used the combined-lake model to simulate the release of contaminants at various locations and depths within the straits. The simulations track the oil for 20 days following a 12-hour release. 
The simulated releases occurred in August and September, months when temperature differences between upper and lower water layers would help disperse the oil. In the August release scenario, the average currents in the straits were initially eastward but changed direction every day or two.
In the September release scenario, average currents were initially westward but changed direction periodically throughout the tracking period. The westward flow carried oil into Lake Michigan during the first 24 hours. After 48 hours, oil released near the southern end of the straits was in Lake Huron and was impinging on the Michigan shoreline from Mackinac City halfway to Cheboygan.
"Any material released into the straits will go into both Lake Michigan and Lake Huron, which would complicate containment efforts," Schwab said. "Hopefully, these simulations and animations will be useful in understanding and preparing for potential impacts."
The National Wildlife Federation said an oil spill in the Straits of Mackinac would devastate the local tourism industry as well as the area's fish and wildlife. The best way to remedy the threat, according to the organization, is to replace the pipeline under the straits.
"An oil spill in the Straits of Mackinac would have devastating consequences for people, fish and wildlife, and the economy. It would be an unparalleled disaster for the Great Lakes," said Andy Buchsbaum, regional executive director of the National Wildlife Federation's Great Lakes Regional Center. "This old pipeline needs to be replaced so that we can protect the Great Lakes from future spills."
The U-M Water Center is a center of the Graham Sustainability Institute, which fosters sustainability through translational knowledge, transformative learning and institutional leadership.
Established in October 2012 with funds from the Fred A. and Barbara M. Erb Family Foundation, the Water Center engages researchers, practitioners, policymakers and nonprofit groups to support, integrate and improve current and future freshwater restoration and protection efforts.
EcoWatch Daily Newsletter
Pixabay
Saw palmetto (Serenoa repens) is a type of palm native to the southeastern U.S.
Jeff K / Flickr / CC BY-NC 2.0
By Elizabeth Henderson
The certified organic label has helped save many generational farms and enabled people like me, who do not come from agricultural backgrounds, to become successful farmers. Organic farming has brought environmental benefits—healthier soils, freedom from toxic pesticides and herbicides—to 6.5 million acres in the U.S.
PhotoAlto / Laurence Mouton / Getty Images
By Ana Reisdorf, MS, RD
You've probably heard the buzz around collagen supplements and your skin by now. But is the hype really that promising? After all, research has pointed to both the benefits and downsides of collagen supplements — and for many beauty-conscious folk, collagen isn't vegan.
Pixabay
By Marlene Cimons
Neil Pederson's introduction to tree rings came from a "sweet and kindly" college instructor, who nevertheless was "one of the most boring professors I'd ever experienced," Pederson said. "I swore tree rings off then and there." But they kept coming back to haunt him.
Aerial view of the explosion site of a chemical factory on March 22 in Yancheng, Jiangsu Province of China. Caixin Media / VCG / Getty Images)
At least 47 people have died in an explosion at a plant in Yancheng, China Thursday run by a chemical company with a history of environmental violations, Sky News reported.
A fishmonger in Elmina, a fishing port in the Central Region of Ghana. Environmental Justice Foundation
By Daisy Brickhill
Each morning, men living in fishing communities along Ghana's coastline push off in search of the day's catch. But when the boats come back to shore, it's the women who take over.
Pexels
By Sam Nickerson
Links between excess sugar in your diet and disease have been well-documented, but new research by Harvard's School of Public Health might make you even more wary of that next soda: it could increase your risk of an early death.
The study, published this week in the American Heart Association's journal Circulation, found that drinking one or two sugar-sweetened beverages (SSBs) each day — like sodas or sports drinks — increases risk of an early death by 14 percent.
Tyson Foods is recalling approximately 69,093 pounds of frozen chicken strips because they may have been contaminated with pieces of metal, the U.S. Department of Agriculture (USDA) Food Safety and Inspection Service (FSIS) announced Thursday.
The affected products were fully-cooked "Buffalo Style" and "Crispy" chicken strips with a "use by" date of Nov. 30, 2019 and an establishment number of "P-7221" on the back of the package.
"FSIS is concerned that some product may be in consumers' freezers," the recall notice said. "Consumers who have purchased these products are urged not to consume them. These products should be thrown away or returned to the place of purchase."