Roofs of Big Box Stores Key to Shifting America to a 100% Renewable Energy Future
Solar energy is expanding rapidly across the U.S.—increasing more than 100-fold over the past decade. But, there are still many untapped opportunities to harness the nation's nearly limitless solar potential. The U.S. has the technical potential to produce more than 100 times as much electricity from solar photovoltaic and concentrating solar power installations as the nation consumes each year. Given our abundant solar resources, America must take advantage of untapped opportunities to install solar technologies—like using rooftops of large superstores and "big box" retail stores as hosts for clean electricity generation.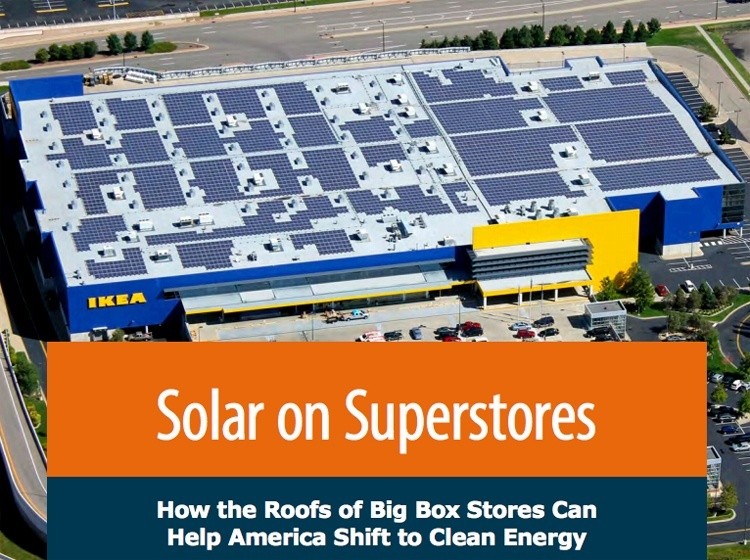 The roofs of these large stores are perfect locations for solar panels—they are largely flat and vacant and almost always fully exposed to the sun. The big box stores, large grocery stores and malls considered in this report account for 5 percent of electricity use in the U.S. Solar panels produce energy that can offset this large electricity demand while contributing to a cleaner grid. Rooftop solar power also brings benefits to the communities in which it is situated. By producing electricity close to its final point of use, distributed rooftop power reduces costs and energy losses associated with electricity transmission and distribution.
According to the National Renewable Energy Laboratory, the U.S. has the technical potential to generate enough electricity from rooftop solar installations alone to meet nearly a quarter of the nation's electricity demand. The U.S. has more than 102,000 big box retail stores, supercenters, large grocery stores and malls with more than 4.5 billion cumulative square feet of available rooftop space on which solar panels could be installed.
The rooftops of America's big box stores and shopping centers could host 62.3 gigawatts (GW) of solar photovoltaic capacity, equivalent to the amount of electricity used by more than 7 million average U.S. homes or more than 7,500 average Walmart stores and more than triple the solar photovoltaic capacity that has been installed in the U.S. to date.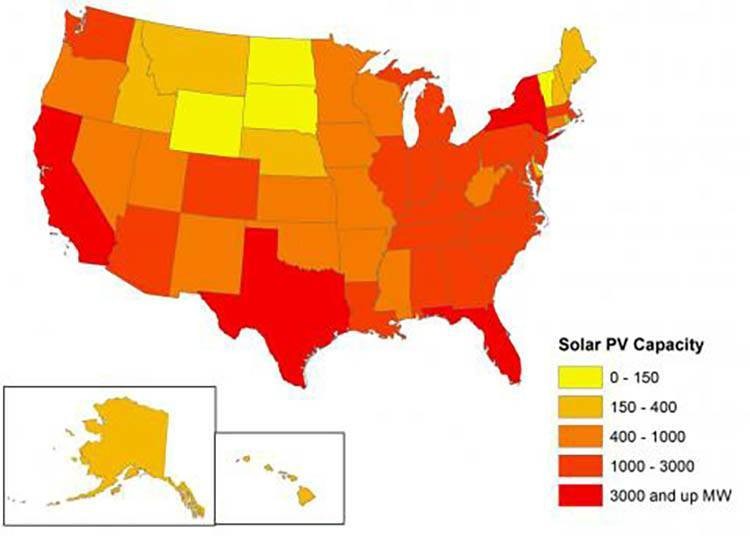 Putting solar panels on the nation's big box grocery and retail stores creates unique benefits for the environment, electricity customers and the large commercial businesses themselves.
Generating clean electricity from rooftop solar panels on existing commercial buildings is good for the environment. Installing 62.3 GW of clean solar power on America's big box stores and shopping centers would reduce global warming pollution by nearly 57 million metric tons annually—equivalent to taking nearly 12 million passenger vehicles off the road.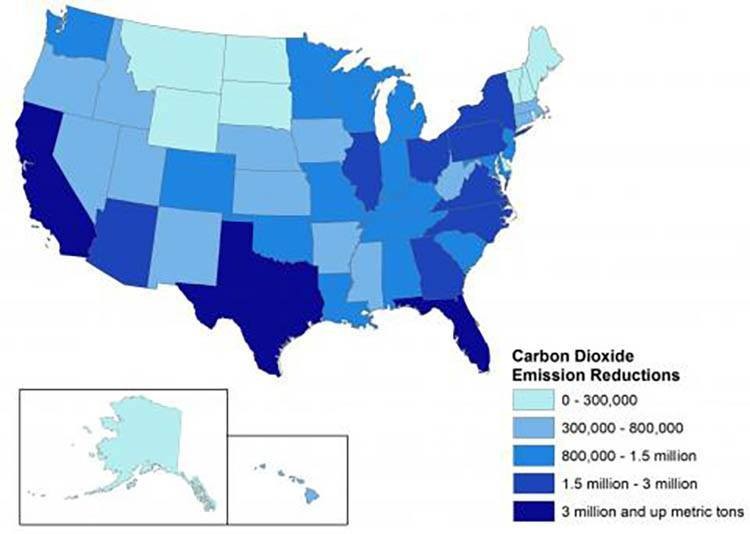 Rooftop solar power is good for the grid and electricity consumers. Producing electricity on rooftops, close to where the electricity will be used, reduces losses that happen during electricity transmission—losses that totaled an estimated 203 million megawatt-hours or 5 percent of electricity sales in 2012. Solar power also reduces costs by producing the most electricity during the sunniest parts of the day, which are often when demand for electricity peaks. This helps utilities avoid firing up expensive, peaking power plants to meet the temporary rise in demand.
Putting solar panels on the roofs of big box stores is good for business. Electricity produced by rooftop panels on big box stores and shopping centers could offset the annual electricity use of these buildings by 42 percent, saving these businesses $8.2 billion annually on their electricity bills.
Many big box retail stores are already reaping the benefits of installing solar power on their rooftops.
Of the businesses evaluated by the Solar Energy Industries Association, Walmart, Costco, Kohl's, IKEA and Macy's were the retail giants with the most solar capacity installed as of the end of 2015. Walmart has at least 142 MW of total on-site installed solar capacity.
From the same survey, the top 25 companies have installed a total of 1,462 solar energy systems at business locations across the U.S.
The 10 big box companies with the largest amount of retail space in the U.S.—Walmart, Target, Home Depot, Lowe's, Sears Holdings (including Sears and KMart), Macy's, J.C. Penney, Kohl's, Costco and TJX (including Marshall's and TJMaxx)—have enough rooftop space to host approximately 17 GW of solar capacity on their retail stores or nearly three quarters of the U.S.' current solar PV capacity.
Solar-powered businesses are saving money on their electricity bills and contributing to a cleaner and more resilient electricity grid. By installing solar panels on two California stores, Costco reported savings of $300 per day on average over three months.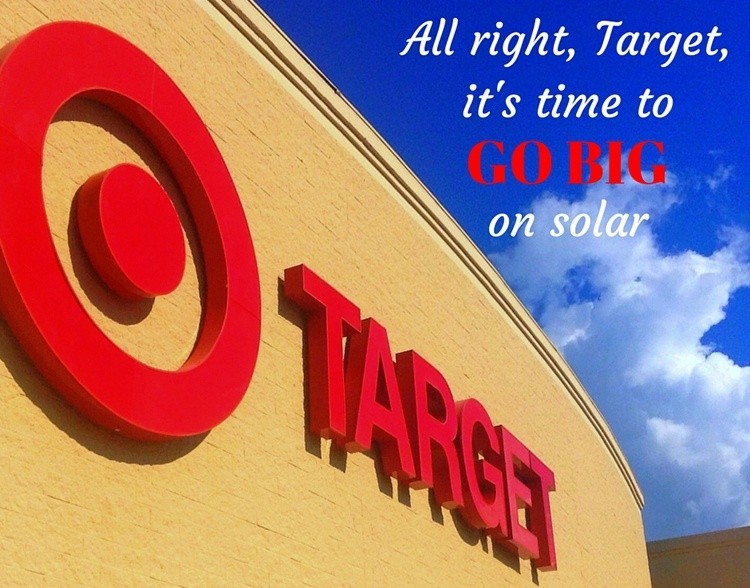 Implementing local, state and federal policies that promote the growth of rooftop solar power—like net metering, third-party financing, community solar power programs, streamlined solar permitting and interconnection and tax credits and incentive programs for new solar energy markets—can spur the development of rooftop solar power on America's big box stores and help America reach its solar potential. Officials at all levels of government should implement solar-friendly policies that help to accelerate adoption of solar energy by America's businesses.
YOU MIGHT ALSO LIKE
Warning to Fossil Fuel Investors: Coal and LNG Markets Shrinking Due to Competition From Renewables
Bill Maher is sick of billionaires' obsession with Mars, more like "Mars-a-Lago," he said.
In a new animation produced by ATTN:, the popular talk show host of Real Time, discusses the perils of our planet, including how "climate change is killing us."
Keep reading...
Show less
Dr. Benjamin D. Santer, research scientist
A group of prominent climate scientists have written a study explicitly refuting statements made by the U.S. Environmental Protection Agency Administrator Scott Pruitt on climate data. During his Senate confirmation hearing, Pruitt claimed in a written response that satellite data shows a "leveling off" of warming over the past two decades.
Keep reading...
Show less
By David Pomerantz
The Nevada Assembly passed a bill Wednesday that would dramatically increase the growth of renewable energy in the state, but Sheldon Adelson, the casino magnate and major donor to Donald Trump, is attempting to prevent the bill from becoming law.
Keep reading...
Show less
Matt Crossick
By Yosola Olorunshola
Whether it's through fashion or protest, Vivienne Westwood is not a woman afraid of making a statement.
On May 23, she rocked up to the residence of the Archbishop of Canterbury in London with a special guest—the Grim Reaper—to issue a strong statement on the Church of England's position on fracking.
Keep reading...
Show less
Military veterans from across Virginia released a letter Thursday opposing two proposed fracked-gas pipelines: Dominion Energy's Atlantic Coast Pipeline and EQT's Mountain Valley Pipeline. These pipelines would cross through pristine areas of Virginia, taking private property by use of eminent domain, removing mountain ridgetops and threatening valuable drinking water resources. The veterans view this as contrary to their service to protect and defend the freedom and security of American citizens.

Keep reading...
Show less
By Paul Brown
The food industry and big agricultural concerns are driving climate change and at the same time threatening to undermine efforts to feed the world's growing population, according to GRAIN, an organization that supports small farmers.
Particularly singled out for criticism are the large chemical fertilizer producers that have gained access to the United Nations talks on climate change. GRAIN accuses them of behaving like the fossil fuel companies did in the 1990s, pushing false information in the hope of delaying real action on climate change.
Keep reading...
Show less
May. 24, 2017 06:55PM EST
By Sydney Robinson
President Trump has no doubt been given a long list of extravagant, elaborate gifts in his lifetime, but the gift given to him today by Pope Francis may not make it on his most favorite list.
Keep reading...
Show less
May. 24, 2017 07:17PM EST
By John Rogers
Maybe it's because I first started working on clean energy while serving in the Peace Corps he founded, or maybe it's my years of working on these issues from his home state. But I can't help thinking about the 100th anniversary of John F. Kennedy's birth, and connecting his stirring rhetoric to the energy challenges of our times.
Here's what our 35th president might have said about the challenges of energy transition and the opportunities in clean energy:
"Change is the law of life. And those who look only to the past or present are certain to miss the future."
Keep reading...
Show less


Get EcoWatch in your inbox