RFK, Jr. and Josh Fox Chime in on New York Fracking Ban Victory
Dec. 19, 2014 11:38AM EST
Energy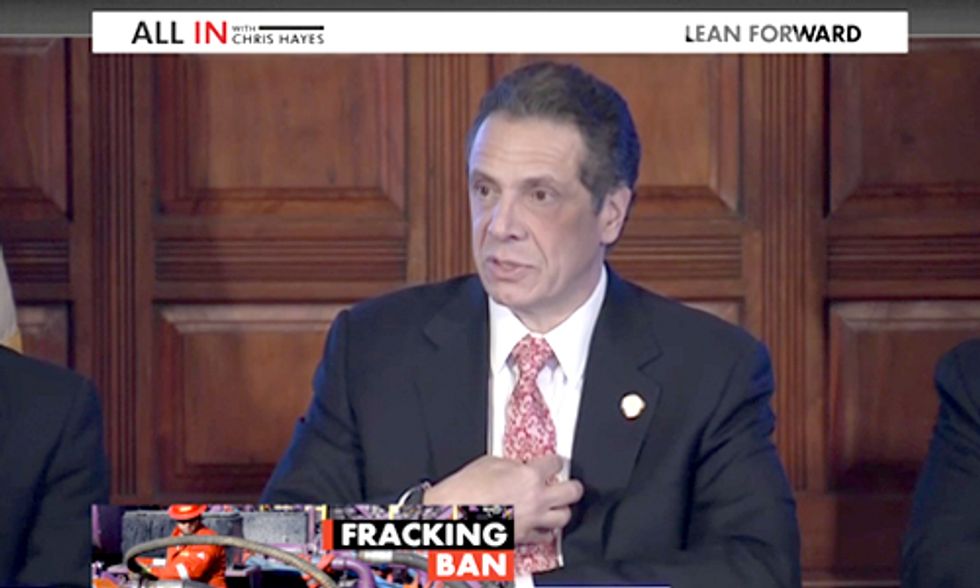 Last night on Thom Hartmann's Best of the Rest of the News, Robert F. Kennedy, Jr., president of Waterkeeper Alliance, and Thomas Linzey, co-Founder of the Community Legal Defense Fund, joined Hartmann to talk about the dangers of fracking and the New York fracking ban.
On Wednesday, New York Governor Andrew Cuomo announced that his state will ban fracking after acting New York Health Commissioner Dr. Howard Zucker said that an examination of the fracking process found that it presented significant public health risks. He said that "The potential risks are too great. In fact, they are not even fully known."
Hartmann asks Kennedy, "Are you surprised by Governor Cuomo's decision?" Kennedy replied, "I was surprised by it."
Watch as Kennedy talks about the historical significance of this decision and how it's "the first time in a decade that in a meaningful way a national political leader has stood up to the power of Big Oil."
On Wednesday, Josh Fox, director of Gasland and Gasland Part II, was on MSNBC's All In With Chris Hayes to discuss this huge fracking ban victory. "The decision will resonate nationwide not just as a victory for those opposed to fracking but as a battle won by the environmental populous," said Ari Melber, filling in for Chris Hayes.
Fox said in the interview that the New York fracking ban is a historic moment that would not have been possible without people from all over the world working together to stop fracking.
Watch the interview below as Governor Cuomo explains that he is "not a scientist."
YOU MIGHT ALSO LIKE
Fracking Ban in New York Paves the Way for Other States
Cuomo Bans Fracking in New York State
Richard Branson and Amory Lovins Join Forces to Accelerate Clean Energy Revolution
EcoWatch Daily Newsletter
Recent Stories from EcoWatch