This website uses cookies to ensure you get the best experience while browsing it. By clicking 'Got It' you're accepting these terms.
Resident-Funded Testing Confirms 'Worst Fears' for Fracking and Flowback Emissions
Apr. 24, 2012 12:03PM EST
Energy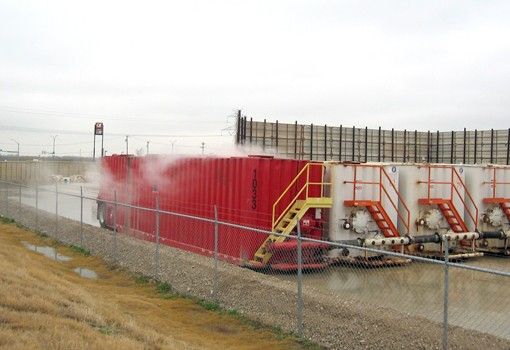 Today, Colleyville and Southlake residents and Earthworks' Oil & Gas Accountability Project released results from local residents' privately-funded air testing of Titan Operations' "mini-frack" on the border of both communities. The tests, performed by GD Air Testing Inc. of Richardson, Texas, prove emissions released during fracking and flowback contain dangerous levels of toxic chemicals.
"We paid for tests because we can't depend on the city or the fracking industry," said Colleyville resident Kim Davis. "The tests confirmed our worst fears, while Colleyville ignored their own tests to let fracking continue. Apparently the city represents Titan and the gas industry instead of local residents," she said.
Colleyville City ordinances expressly prohibit the release of any gases: "No person shall allow, cause or permit gases to be vented into the atmosphere or to be burned by open flame."
The community-funded test results, which detected twenty-six chemicals, also showed carbon disulfide, a neurotoxin at twice the state level for short-term exposure. Benzene, a known carcinogen, and Naphthalene, a suspected carcinogen, were both over state long-term exposure levels by more than 9 times and more than 7 times, respectively. Carbonyl sulfide, dimethyl disulfide and Pyridine were all detected above safe limits for long-term exposure.
Gordon Aalund, an MD with toxicology training who lives in Southlake and practices emergency medicine said, "Exceeding long and short term exposure limits to these toxics places us all at increased and unneeded risk. When your government fails to protect you and the company cannot be trusted, private citizens are forced to act."
The Colleyville results indirectly confirm the suspicions of Arlington-area residents about air pollution from ongoing Chesapeake Energy fracking and flowback operations in their neighborhood since December 2011. Residents who experienced health impacts were told by Chesapeake that flowback emissions were only "steam." When challenged to substantiate its claims with public testing, the company failed to respond.
"It's great that concerned citizens in the Colleyville-area have the wherewithal to pay for their own testing when government fails to do its job. But I live in southeast Arlington, where our community doesn't have the resources to do government's job for it," said Arlington resident Chuck Harper. "Why isn't TCEQ doing these tests? If the watchdog isn't watching, who do we turn to for protection?"
"It's state and local failures like these that make plain the need to close fracking loopholes in federal environmental laws," said Earthworks' Oil & Gas Accountability Project Organizer Sharon Wilson. "When TCEQ can't be bothered to protect their own citizens, when cities ignore their own laws, when companies lie to communities left, right and center, there's nowhere else to turn."
For more information, click here.
—————
Stay up-to-date on the latest fracking news by clicking here.
EcoWatch Daily Newsletter
A. Battenburg / Technical University of Munich
By Sarah Kennedy
Algae in a pond may look flimsy. But scientists are using algae to develop industrial-strength material that's as hard as steel but only a fraction of the weight.
Variety of fermented food korean traditional kimchi cabbage and radish salad. white and red sauerkraut in ceramic plates over grey spotted background. Natasha Breen / REDA&CO / Universal Images Group / Getty Image
Even if you've never taken probiotics, you've probably heard of them.
These supplements provide numerous benefits because they contain live microorganisms, such as bacteria or yeast, which support the healthy bacteria in your gut (1, 2, 3, 4).
Pexels
Singapore will become the first country in the world to place a ban on advertisements for carbonated drinks and juices with high sugar contents, its health ministry announced last week. The law is intended to curb sugar consumption since the country has some of the world's highest diabetes rates per capita, as Reuters reported.
A typical adult takes around 20,000 breaths per day. If you live in a megacity like Beijing, with many of those lungfuls you're likely to inhale a noxious mixture of chemicals and pollutants.
Fred Stone holds his brown swiss cow Lida Rose at his Arundel dairy farm on March 18 after a press conference where he spoke about PFAS chemical contamination in his fields. Gregory Rec / Portland Portland Press Herald via Getty Images
By Susan Cosier
First there was Fred Stone, the third-generation dairy farmer in Maine who discovered that the milk from his cows contained harmful chemicals. Then came Art Schaap, a second-generation dairy farmer in New Mexico, who had to dump 15,000 gallons of contaminated milk a day.
Protesters attend the 32nd annual Fur-Free Friday demonstration on Nov. 23, 2018 in Beverly Hills, California. Ella DeGea / Getty Images
California Governor Gavin Newsom signed into law a bill that that bans the sale and manufacture of fur products in the state. The fur ban, which he signed into law on Saturday, prohibits Californians from selling or making clothing, shoes or handbags with fur starting in 2023, according to the AP.
By Simon Evans
During the three months of July, August and September, renewables generated an estimated total of 29.5 terawatt hours (TWh), compared with just 29.1TWh from fossil fuels, the analysis shows.
A demonstrator waves an Ecuadorian flag during protests against the end of subsidies to gasoline and diesel on Oct. 9 in Quito, Ecuador. Jorge Ivan Castaneira Jaramillo / Getty Images