This website uses cookies to ensure you get the best experience while browsing it. By clicking 'Got It' you're accepting these terms.
Resident-Funded Testing Confirms 'Worst Fears' for Fracking and Flowback Emissions
Apr. 24, 2012 12:03PM EST
Energy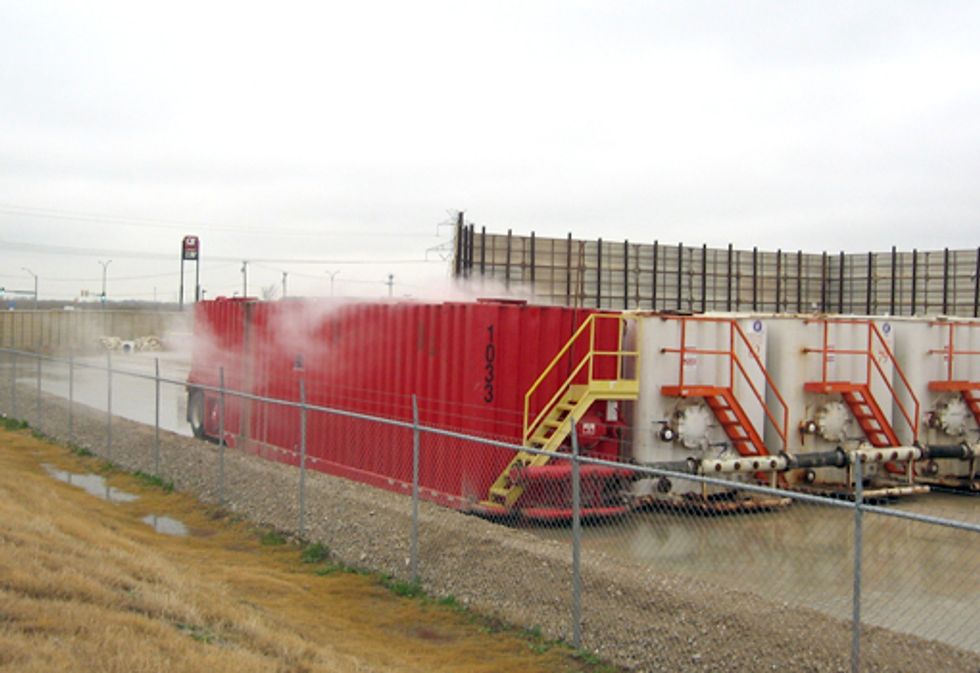 Today, Colleyville and Southlake residents and Earthworks' Oil & Gas Accountability Project released results from local residents' privately-funded air testing of Titan Operations' "mini-frack" on the border of both communities. The tests, performed by GD Air Testing Inc. of Richardson, Texas, prove emissions released during fracking and flowback contain dangerous levels of toxic chemicals.
"We paid for tests because we can't depend on the city or the fracking industry," said Colleyville resident Kim Davis. "The tests confirmed our worst fears, while Colleyville ignored their own tests to let fracking continue. Apparently the city represents Titan and the gas industry instead of local residents," she said.
Colleyville City ordinances expressly prohibit the release of any gases: "No person shall allow, cause or permit gases to be vented into the atmosphere or to be burned by open flame."
The community-funded test results, which detected twenty-six chemicals, also showed carbon disulfide, a neurotoxin at twice the state level for short-term exposure. Benzene, a known carcinogen, and Naphthalene, a suspected carcinogen, were both over state long-term exposure levels by more than 9 times and more than 7 times, respectively. Carbonyl sulfide, dimethyl disulfide and Pyridine were all detected above safe limits for long-term exposure.
Gordon Aalund, an MD with toxicology training who lives in Southlake and practices emergency medicine said, "Exceeding long and short term exposure limits to these toxics places us all at increased and unneeded risk. When your government fails to protect you and the company cannot be trusted, private citizens are forced to act."
The Colleyville results indirectly confirm the suspicions of Arlington-area residents about air pollution from ongoing Chesapeake Energy fracking and flowback operations in their neighborhood since December 2011. Residents who experienced health impacts were told by Chesapeake that flowback emissions were only "steam." When challenged to substantiate its claims with public testing, the company failed to respond.
"It's great that concerned citizens in the Colleyville-area have the wherewithal to pay for their own testing when government fails to do its job. But I live in southeast Arlington, where our community doesn't have the resources to do government's job for it," said Arlington resident Chuck Harper. "Why isn't TCEQ doing these tests? If the watchdog isn't watching, who do we turn to for protection?"
"It's state and local failures like these that make plain the need to close fracking loopholes in federal environmental laws," said Earthworks' Oil & Gas Accountability Project Organizer Sharon Wilson. "When TCEQ can't be bothered to protect their own citizens, when cities ignore their own laws, when companies lie to communities left, right and center, there's nowhere else to turn."
For more information, click here.
—————
Stay up-to-date on the latest fracking news by clicking here.
EcoWatch Daily Newsletter
Investing in grid infrastructure would enable utilities to incorporate modern technology, making the grid more resilient and flexible. STRATMAN2 / FLICKR
By Elliott Negin
The Royal Swedish Academy of Sciences' recent decision to award the 2019 Nobel Prize in Chemistry to scientists who developed rechargeable lithium-ion batteries reminded the world just how transformative they have been. Without them, we wouldn't have smartphones or electric cars. But it's their potential to store electricity generated by the sun and the wind at their peak that promises to be even more revolutionary, reducing our dependence on fossil fuels and protecting the planet from the worst consequences of climate change.
Two Javan rhinos deep in the forests of Ujung Kulon National Park, the species' last habitat on Earth. Sugeng Hendratno / WWF
The global population of the critically endangered Javan rhinoceros has increased to 72 after four new calves were spotted in the past several months.
A tiger looks out from its cage at a new resort and zoo in the eastern Lao town of Tha Bak on Dec. 5, 2018. Karl Ammann believes the "zoo" is really a front for selling tigers. Terrence McCoy / The Washington Post / Getty Images
Are tigers extinct in Laos?
That's the conclusion of a detailed new study that found no evidence wild tigers still exist in the country.
A group of scientists is warning that livestock production must not expand after 2030 for the world to stave off ecological disaster.
The largest wetland in Africa is in the South Sudan. George Steinmetz / Corbis Documentary / Getty Images Plus
Methane emissions are a far more powerful greenhouse gas than carbon dioxide – about 28 times more powerful. And they have been rising steadily since 2007. Now, a new study has pinpointed the African tropics as a hot spot responsible for one-third of the global methane surge, as Newsweek reported.