This website uses cookies to ensure you get the best experience while browsing it. By clicking 'Got It' you're accepting these terms.
Renewable Energy Growth Mitigates Climate Change While Boosting Economy, IEA Reports
Mar. 23, 2015 11:51AM EST
Climate
The International Energy Agency (IEA) announced this month that 2014 carbon dioxide emissions from the energy sector leveled off—the first time in 40 years this has happened without being linked to an economic downturn.
According to the IEA:
"Global emissions of carbon dioxide stood at 32.3 billion tonnes in 2014, unchanged from the preceding year. The preliminary IEA data suggest that efforts to mitigate climate change may be having a more pronounced effect on emissions than had previously been thought.
The IEA attributes the halt in emissions growth to changing patterns of energy consumption in China and OECD countries. In China, 2014 saw greater generation of electricity from renewable sources, such as hydropower, solar and wind, and less burning of coal. In OECD economies, recent efforts to promote more sustainable growth—including greater energy efficiency and more renewable energy—are producing the desired effect of decoupling economic growth from greenhouse gas emissions."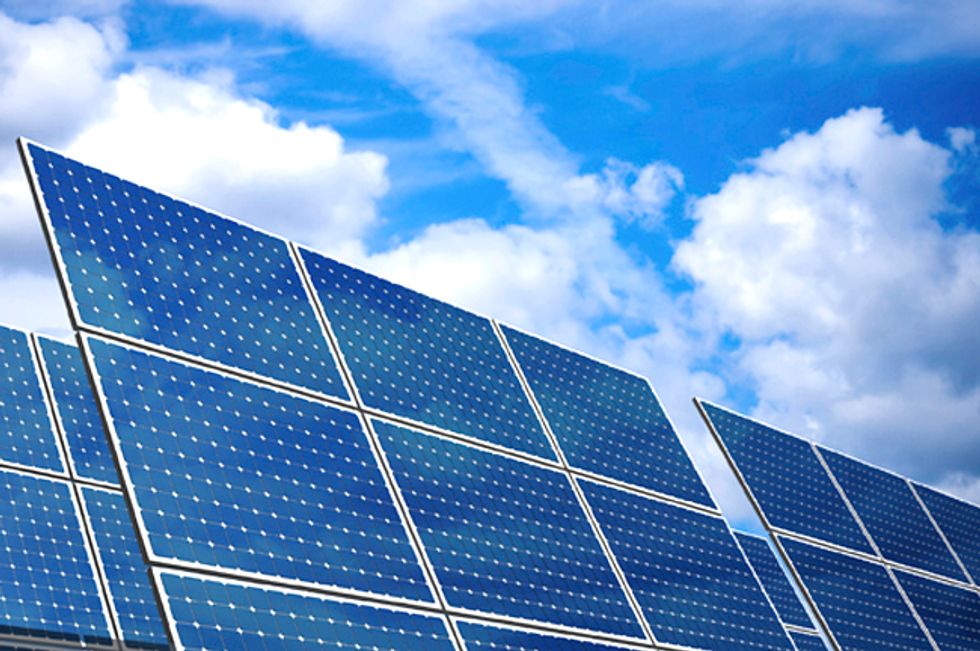 While this halt in global emissions may not survive this year's cut in oil prices, it's still a promising sign that the increased adoption of renewable energy technology, increased use of energy efficiency measures and the transition to a renewable economy, is well underway.
In Europe, three countries have already met their renewable energy targets five years ahead of schedule. According to United Press International, Bulgaria, Estonia, and Sweden have all surpassed the required goal of 20 percent renewable energy by 2020, mandated by the EU for each member country, with several other European countries, such as Italy, Romania and Lithuania, not far behind.
China's commitment to reducing air pollution has likely had a huge effect on the leveling off of global carbon emissions, as its dependence on coal dropped for the first time in a decade and its clean energy consumption increased. Bloomberg Business reported that:
"China led in renewables last year with investments of $89.5 billion, accounting for almost one out of every three dollars spent on clean energy in the world, according to BNEF figures released in January."
The U.S also reached new renewable energy milestones, with solar accounting for one-third of new generating capacity last year, more than any other energy source besides natural gas. The Washington Post also reported that electricity generated from renewable energy in 2014 outgrew that of fossil fuels, with wind power growing faster than all other sources and solar power more than doubling.
An important stimulus for the deployment of solar in the U.S. has been the Solar Investment Tax Credit, which has contributed to the over 1,600 percent annual growth in solar installation since 2006 and 86 percent increase in solar employment over the past four years. Unfortunately, this credit is set to expire at the end of 2016, threatening the thriving solar industry. The International Business Times reports a possible drop in solar installation of more than 85 percent in 2017 if the credit is not renewed. It would be a shame to see the momentum of solar interrupted with the expiration of the credit, much like the wind industry experienced with the on-again/off-again expirations and extensions of the Production Tax Credit. While a recent U.S. Department of Energy analysis on wind power finds that wind will be cheaper than natural gas within a decade even without a federal tax incentive, an inconsistent tax credit has made steady, long-term development of wind power difficult, according to Bloomberg Business.
While the shift to renewable energy is clearly underway in the U.S. and elsewhere in the world, government needs to do more to accelerate the use of renewable energy while decelerating the growth of fossil fuels. As Chris Mooney from the Washington Post puts it:
"Here's the bad news … Wind and solar are still only contributing a small fraction of the total electricity that we use, and far, far less than coal. They may be growing faster, but they're very far behind."
The U.S. federal government has a variety of tools it can deploy in order to influence the energy consumption of corporations, individuals, and even other nations. The most fundamental of these tools, and one which can be best done by government, is to fund the science needed to build the technological base for a sustainable economy.
We need to develop a way to get off of fossil fuels and more efficiently store energy. While there may be plenty of fossil fuel supplies left in the crust of the Earth, it is increasingly complicated to get it out of the ground, transport it and burn it. We need to focus our brainpower on developing cheaper, more reliable and more convenient forms of renewable energy, and direct policy toward developing and implementing new renewable energy and energy storage technologies. Government must fund the basic research, and enough of the applied research, to demonstrate possible profitability.
In my new book, Sustainability Policy: Hastening the Transition to a Sustainable Economy, written with my Columbia University colleagues William Eimicke and Alison Miller, we argue for increased government funding for the basic science needed for renewable energy and other sustainable technologies. We explain how government can help direct capital toward the commercialization of new technologies and can use its vast purchasing power to help speed the implementation of these new technologies. By exploring innovative sustainability initiatives being implemented by governments—at the state, local and federal levels—this book shows the importance of public-private partnerships in creating a sustainable economy.
While the private sector has a significant role to play in the transition to a sustainable economy, it cannot make the transition from a waste-based economy to a renewable one by itself. This transition can only happen if we create public-private partnerships, as the public and private sectors are equipped for different roles and there are specific tasks uniquely suited to government. Public-private partnerships have been behind some of the most transformative technologies in our history: the internet, the cell phone, GPS, jet planes and so on. We need to continue to invest in the technologies of the future.
In my view, the transition to a renewable economy has begun. Our demand for a clean economy and for breathable air, healthy food and drinkable water is stimulating the development of new technologies. Hastening the transition to a renewable energy economy is a difficult but feasible task, and one which can only be accomplished with increased government support.
YOU MIGHT ALSO LIKE
Fossil Fuel Industry Is Quietly Building Pipeline Network That 'Dwarfs Keystone' XL
Texas Town Says No to Fossil Fuels, Yes to 100% Renewables
Republicans Speak Out in Support of Renewable Energy and Against Fossil Fuel-Funded Climate Deniers
EcoWatch Daily Newsletter
Deserted view of NH24 near Akshardham Temple on day nine of the 21-day nationwide lockdown to curb the spread of coronavirus on April 2, 2020 in New Delhi, India. Raj K Raj / Hindustan Times via Getty Images
A Unicef social mobilizer uses a speaker as she carries out public health awareness to prevent the spread and detect the symptoms of the COVID-19 coronavirus by UNICEF at Mangateen IDP camp in Juba, South Sudan on April 2. ALEX MCBRIDE / AFP / Getty Images
By Eddie Ndopu
South Africa is ground zero for the coronavirus pandemic in Africa.
Its townships are typical of high-density neighbourhoods across the continent where self-isolation will be extremely challenging.
The failure to eradicate extreme poverty is a threat beyond the countries in question.
The outside of the Food and Drug Administration headquarters in White Oak, Md. on Nov. 9, 2015. Al Drago / CQ Roll Call
The U.S. Food and Drug Administration has approved the use of two malarial drugs to treat and prevent COVID-19, the respiratory infection caused by the SARS-CoV-2 coronavirus, despite only anecdotal evidence that either is proven effective in treating or slowing the progression of the disease in seriously ill patients.

Some
speculate
that the dissemination of the Antarctic beeches or Nothofagus moorei (seen above in Australia) dates to the time when
Antarctica
, Australia and
South America
were connected. Auscape / Universal Images Group / Getty Images
A team of scientists drilled into the ground near the South Pole to discover forest and fossils from the Cretaceous nearly 90 million years ago, which is the time when dinosaurs roamed the Earth, as the BBC reported.
The recovery of elephant seals is one of the "signs of hope" that scientists say show the oceans can recover swiftly if we let them. NOAA /
CC BY 2.0