This website uses cookies to ensure you get the best experience while browsing it. By clicking 'Got It' you're accepting these terms.
Remarkable Video Shows How to Turn Art Into Activism
Nov. 20, 2015 01:26PM EST
Food
The environmental movement runs on innovation. Our biggest victories aren't won by out-spending or out-muscling our adversaries. Instead, we out-maneuver. We meet big challenges with even bigger creativity.
And there are few challenges larger than taking on Thai Union Group.
Thai Union is the world's largest canned tuna company. Its major brands in the U.S., United Kingdom, Italy, Thailand and more control 18 percent of the global market and raked in upwards of $5 billion in profits last year. But rather than use its influence to lead on sustainability, the company is behind some of the most devastating environmental and human rights abuses in the industry, having been repeatedly linked to destructive fishing methods, human trafficking and even forced labor.
All this and you still probably haven't heard of Thai Union. Based on its social and environmental record, that may well be the way company execs want it. They'd prefer to hide behind the advertising campaigns and front groups that have greenwashed the commercial tuna fishing industry's image for decades, keeping consumers in the dark about the devastation feeding their families.
Thai Union is flexing its economic muscle to sweep the issue under the rug. But we're flexing our creative muscle with help from artist Aaron Staples to speak truth to power and change the tuna industry for good.
"Art is a lens to look at issues that are too complex to examine in words."
The story of tuna is one of complexity. It's an industry made up of equal parts environmental, social and economic pitfalls, and fixing it requires addressing each of these dimensions.
And while it might be tempting to isolate these challenges and address them one by one, that's not how Aaron approached his work.
"Because these issues are extremely complex … you have to reflect that complexity in the art."
To do this, he chose to represent as many layers as possible in each image.
"By compounding these stories together, it creates a stronger impact. Obviously not all of these things are happening simultaneously on one vessel, but within the framework of the art people can witness it all at once and become aware of how big the issue is. It's an accumulated way of looking at the issue instead of looking at individual circumstances."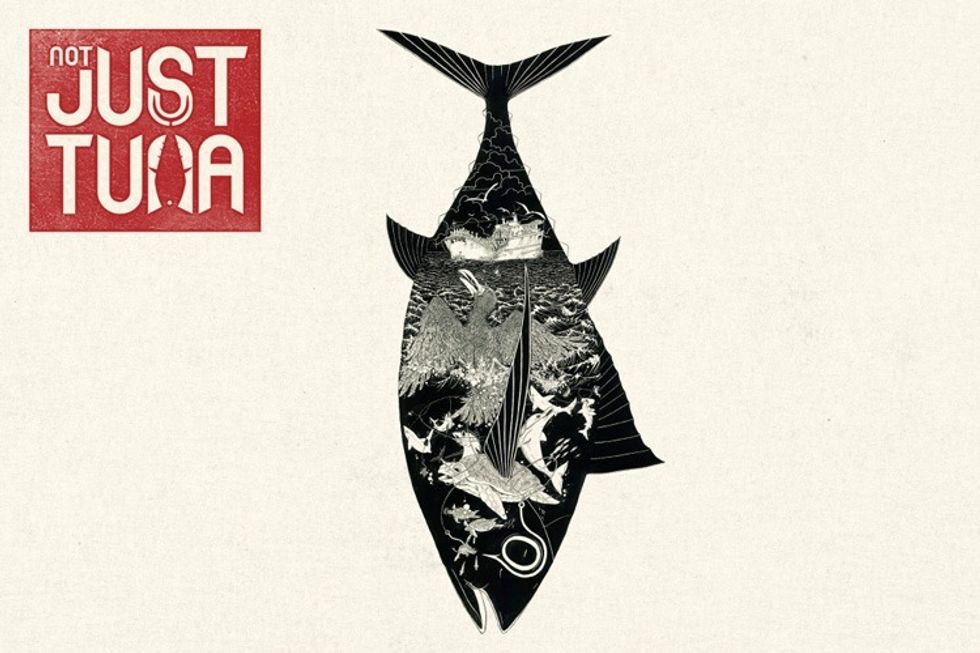 "Artwork offers a visual language that doesn't know any borders."
Art and activism are both built on exposing the truth. Art in particular has the ability to convey powerful messages across the linguistic and cultural barriers that so often divide us.
Tapping into emotion, Aaron says, is central to achieving this.
"Regardless of what language they speak, people can feel the emotion. That's why art can be such a powerful tool to translate these ideas across a range of audiences. They're responding specifically—and very viscerally—to what they're seeing."
In representing the tuna industry, Aaron says he honed in on anguish, shock and empathy to inform his artistic direction—the anguish of those trapped in deplorable working conditions on tuna vessels, a sense of shock that these egregious practices continue unchecked, and empathy in the viewer.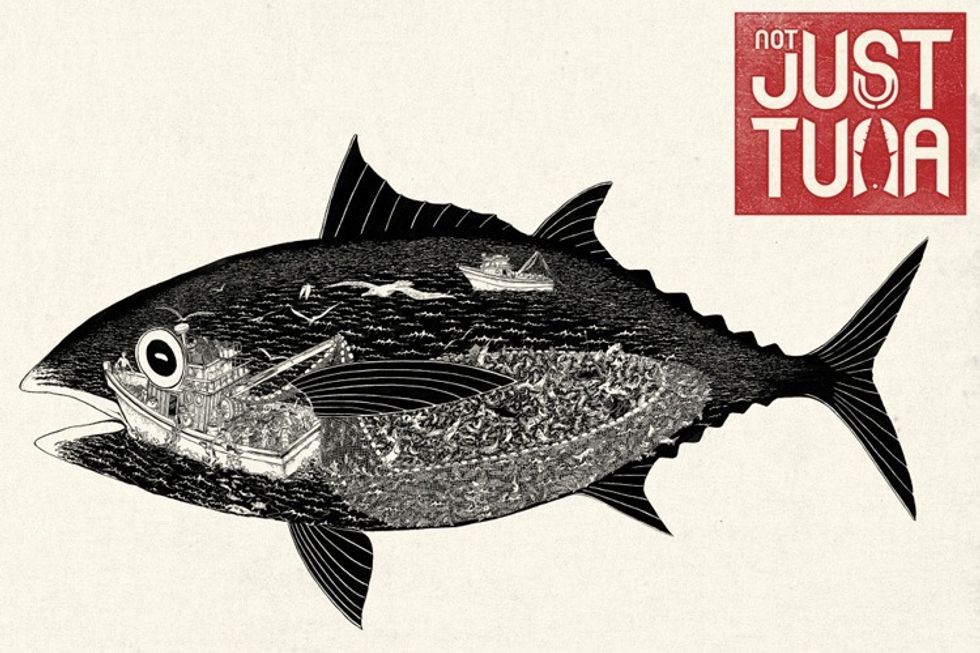 "There's no convincing anyone with art. They just see, and to see is to believe."
Part of the activist's challenge is to grip, to inspire people to action. With the avalanche of information most of us are faced with every day, this is increasingly hard to do. Sometimes it's too much to ask people to stop and think; sometimes it's too much to just ask them to stop.
For Aaron, successful art compels this. It penetrates apathy, imploring the viewer to "look deeper and explore the narrative … to give them time to stop and think."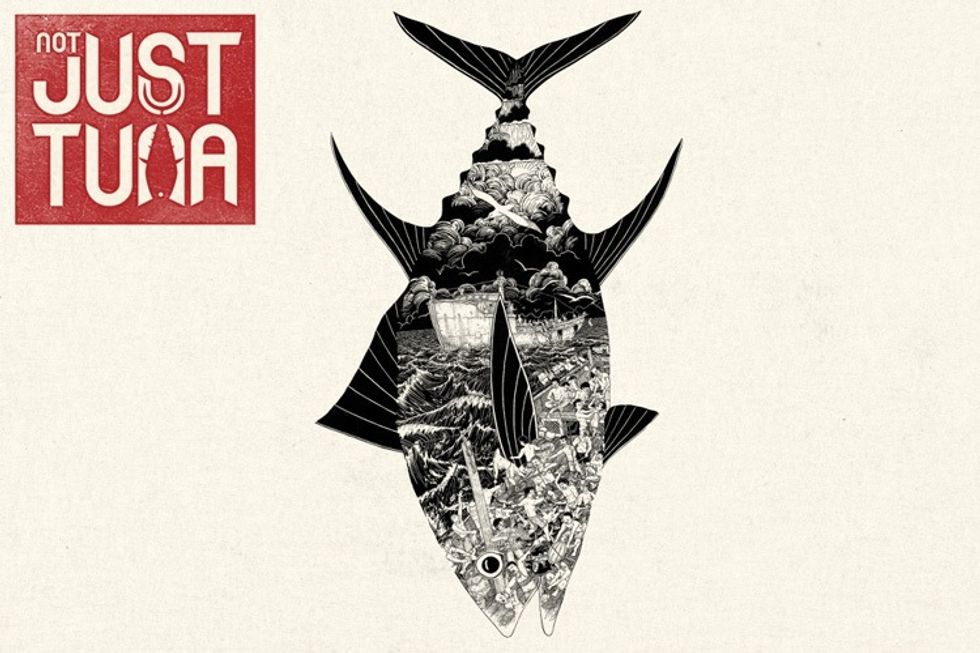 "It's always safer to stay with the status quo and not make any waves. It's safer to let things happen and not raise your voice."
Of course, neither artists nor activists take are inclined to take the safe road. We both face and overcome inherent risks in what we do every day.
"Risk is a large part of making art. What you're doing is essentially opening yourself up and putting your thoughts, ideas and way of responding to the world on display for people to come and look at. You don't know if people will embrace it … I think it's the same for artists and activists: there's a compulsion. There's this innate drive to do what it is you need to do. We have to react, so we get over the fear of failure."
For the past month, we've been asking you to take a risk with us by confronting Thai Union and its global brands, like Chicken of the Sea. We've asked you to change your shopping habits, make a statement with your dollar and raise your voice for a sustainable, ethical tuna industry. More than 250,000 of you have taken that risk with us.
Together, our actions have had a big impact. We've gotten the public's attention, changed policies and forced the spotlight to shine brighter on Thai Union than it ever has before—and with each risk we take we are changing the story of tuna.
YOU MIGHT ALSO LIKE
Food Advocacy Group to Sue FDA Over Controversial Approval of GMO Salmon
Christie Brinkley Slams Monsanto and GMOs, Says 'We're Guinea Pigs'
Michael Pollan's Letter to the Future
EcoWatch Daily Newsletter
In Germany's Hunsrück village of Schorbach, numerous photovoltaic systems are installed on house roofs, on Sept. 19, 2019. Thomas Frey / Picture Alliance via Getty Images
Germany's target for renewable energy sources to deliver 65% of its consumed electricity by 2030 seemed on track Wednesday, with 52% of electricity coming from renewables in 2020's first quarter. Renewable energy advocates, however, warned the trend is imperiled by slowdowns in building new wind and solar plants.
In many parts of the U.S., family farms are disappearing and being replaced by suburban sprawl.
General view of the empty Alma bridge, in front of the Eiffel tower, while the city imposes emergency measures to combat the Coronavirus COVID-19 outbreak, on March 17, 2020 in Paris, France. Edward Berthelot / Getty Images
Half the world is on lockdown. So, the constant hum of cars, trucks, trains and heavy machinery has stopped, drastically reducing the intensity of the vibrations rippling through the Earth's crust. Seismologists, who use highly sensitive equipment, have noticed a difference in the hum caused by human activity, according to Fast Company.
The current rate of CO2 emissions is a major event in the recorded history of Earth. EPA
At several points in the history of our planet, increasing amounts of carbon dioxide in the atmosphere have caused extreme global warming, prompting the majority of species on Earth to die out.
The "Earthrise" photograph that inspired the first Earth Day. NASA / Bill Anders
For EcoWatchers, April usually means one thing: Earth Day. But how do you celebrate the environment while staying home to prevent the spread of the new coronavirus?