This website uses cookies to ensure you get the best experience while browsing it. By clicking 'Got It' you're accepting these terms.
Protest Against Fracking Industry Continues at Riverdale Mobile Home Park
Jun. 04, 2012 09:05AM EST
Energy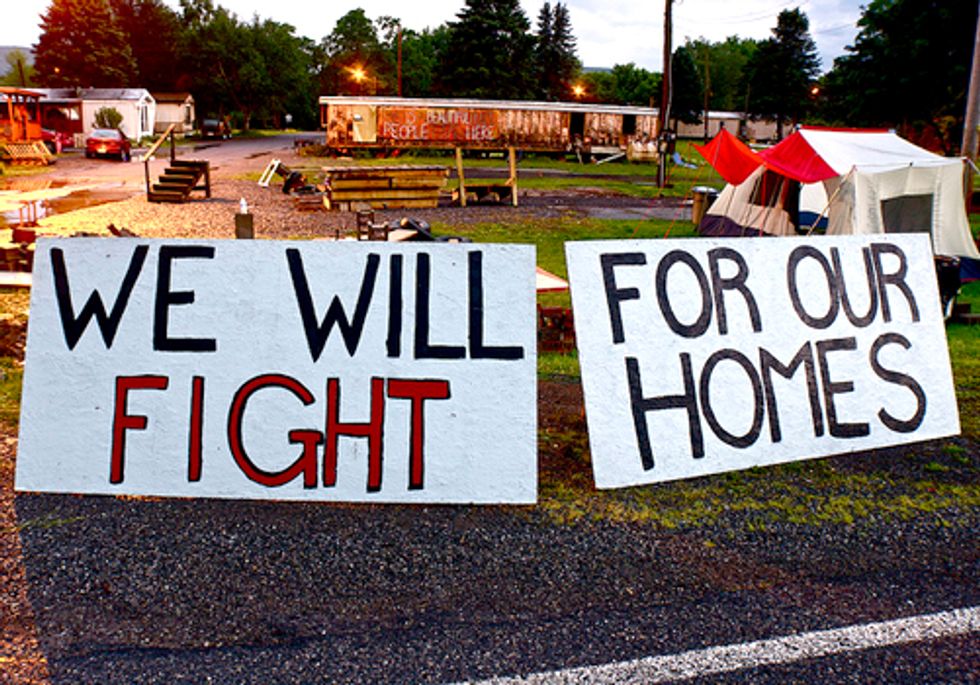 Right now more than 30 supporters and residents are blockading access to a mobile home community that is facing imminent displacement at the hands of Aqua America, a water withdrawal company that supplies natural gas drillers in the Marcellus Shale region.
The blockade was launched to halt Aqua America's plans to begin construction of a withdrawal facility for water from the Susquehanna River to be used in fracking operations. Aqua America recently purchased the entire Riverdale mobile home unit to be used as a withdrawal site, and has issued lease termination notices to 32 Riverdale families. Construction was set to begin on June 1, but supporters of Riverdale mobile home park believe the blockade and protest kept the company from starting the project last week. It is unclear what additional steps Aqua America will take to displace those families who are choosing to remain.
The dismantling of the community has left many residents in tears over the loss of their home. Deb Eck, one of the remaining residents, stated, "This park isn't just a bunch of trailers with a bunch of people who don't know each other. We're all friends. We're all neighbors. It's a community. It's one big family."
The Susquehanna River Basin Commission (SRBC) permitted construction of the Riverdale water withdrawal facility in March. The SRBC, comprised of representatives from the White House and the governors of New York, New Jersey and Pennsylvania, granted forty-eight withdrawal permits at its March meeting, despite the objections of concerned residents. Aqua America has been permitted to withdraw up to three million gallons of river water daily. Susan Obleski, spokeswoman for the SRBC, stated that the Susquehanna has been facing severe drought this spring "at levels that haven't been seen since 1910 and 1946."
Fracking has been linked to cases of water contamination in towns across the country including Dimock, PA and Pavilion, WY. The gas industry is exempted from the Clean Water Act and Safer Drinking Water Act and as a result, many of the chemicals used in drilling are unknown. Pennsylvania law restricts the ability of local governments to regulate fracking operations and gags doctors from sharing information about chemicals used in fracking with public health officials. Pennsylvania's Department of Environmental Protecting is facing criticism for its refusal to list the Susquehanna River as "impaired" under the Clean Water Act. According to John Arway of Pennsylvania's Fish and Boat Commission, there has been a significant increase in fish with black lesions in the Susquehanna since last summer.
Today's blockade is one of a series of escalating actions in resistance to increased fracking operations in the Marcellus and Utica shale regions. Pennsylvania activists disrupted the SRBC's March hearing and have blockaded trucks carrying drillrigs in Lycoming County, and eleven Ohioans have been arrested for anti-fracking actions since last November.  Additional major anti-fracking events scheduled for this summer include a takeover of the Ohio statehouse on June 17, the Earth First Rendezvous from July 1-7, a Youngstown-based action camp from July 13-17, and a July 28 convergence in Washington D.C.
Residents and supporters are committed to stopping construction of the water withdrawal facility that threatens to raze their community. They are demanding that Aqua America permit residents to remain in the homes, compensate those who have already left and allow for the return of all residents who have already been displaced. Residents have requested that more supporters converge in defense of the Riverdale mobile home park and to, in Deb Eck's words, "help us keep the River in Riverdale."
EcoWatch Daily Newsletter
Pro-environment demonstrators on the streets of Washington, DC during the Jan. 20, 2017 Trump inauguration.
Mobilus In Mobili
/ Flickr /
CC BY-SA 2.0
By Dr. Brian R. Shmaefsky
One year after the Flint Water Crisis I was invited to participate in a water rights session at a conference hosted by the US Human Rights Network in Austin, Texas in 2015. The reason I was at the conference was to promote efforts by the American Association for the Advancement of Science (AAAS) to encourage scientists to shine a light on how science intersects with human rights, in the U.S. as well as in the context of international development. My plan was to sit at an information booth and share my stories about water quality projects I spearheaded in communities in Bangladesh, Colombia, and the Philippines. I did not expect to be thrown into conversations that made me reexamine how scientists use their knowledge as a public good.
Mt. Rainier and Reflection Lake on Sept. 10, 2015. Crystal Geyser planned to open a bottling plant near Mt. Rainier, emails show.
louelke - on and off / Flickr
Bottled water manufacturers looking to capture cool, mountain water from Washington's Cascade Mountains may have to look elsewhere after the state senate passed a bill banning new water permits, as The Guardian reported.
Large storage tank of Ammonia at a fertilizer plant in Cubatão, Sao Paulo State, Brazil. Luis Veiga / The Image Bank / Getty Images
The shipping industry is coming to grips with its egregious carbon footprint, as it has an outsized contribution to greenhouse gas emissions and to the dumping of chemicals into open seas. Already, the global shipping industry contributes about 2 percent of global carbon emissions, about the same as Germany, as the BBC reported.
At high tide, people are forced off parts of the pathway surrounding DC's Tidal Basin. Andrew Bossi /
Wikimedia
The Jefferson Memorial in Washington, DC overlooks the Tidal Basin, a man-made body of water surrounded by cherry trees. Visitors can stroll along the water's edge, gazing up at the stately monument.
But at high tide, people are forced off parts of the path. Twice a day, the Tidal Basin floods and water spills onto the walkway.
Lioness displays teeth during light rainstorm in Kruger National Park, South Africa. johan63 / iStock / Getty Images
Ahead of government negotiations scheduled for next week on a global plan to address the biodiversity crisis, 23 former foreign ministers from various countries released a statement on Tuesday urging world leaders to act "boldly" to protect nature.