This website uses cookies to ensure you get the best experience while browsing it. By clicking 'Got It' you're accepting these terms.
Protecting the Earth Is Not a Crime
Apr. 06, 2016 10:18AM EST
Climate
The tragic murder of Honduran environmental activist Berta Caceres has shined a spotlight on crimes against activists around the globe. As a grassroots global philanthropy, our work at Global Greengrants Fund directly intersects with these activists and their work. We give out more than 700 small grants every year, totaling more than $8 million, almost exclusively to small groups and environmental and human rights activists. Unfortunately, our grantees are increasingly threatened for their work protecting the Earth and their homelands.
One of our grantees is the Argentinian organization "Mapuche People Winkul Newen," which is an indigenous and civil rights organization protesting against oil exploration in their native territorial homelands. In December of 2012, Relmu Namku, who is one of the Winkul Newen community leaders and activists, allegedly injured a local magistrate during a protest—the magistrate, Veronica Pelayes, was hit by a rock which allegedly broke her nose and the local police claimed that Namku threw the rock.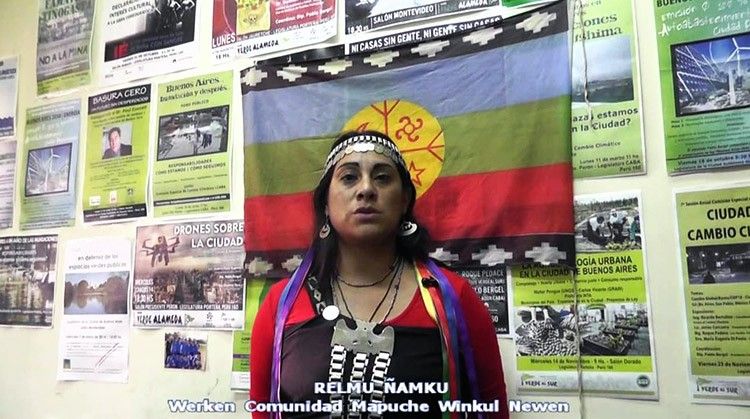 The alleged crime was vastly trumped up and called "attempted homicide" and Namku was put on trial during which the international media took note because the trial was seen to symbolize the criminalization that activists face around the globe. Namku was eventually acquitted of the charge in late 2015 and set free. After earning her freedom, Namku has become a higher-profile leader, negotiating with the new Argentinian government to protect her indigenous homelands and fight against the threat of oil drilling and other forms of occupation.
Another of our grantees was an organization of scientists, "Environmental Watch on North Caucuses" in Russia. Leaders of the organization, including Yevgeny Vitishko, were very critical of the 2014 Olympic games in Sochi which destroyed thousands of acres of pristine forest and rare salmon habitat, much of it right in the middle of Sochi National Park. At protests against the Olympics, Vitishko was arrested for swearing in public and for spray-painting a fence.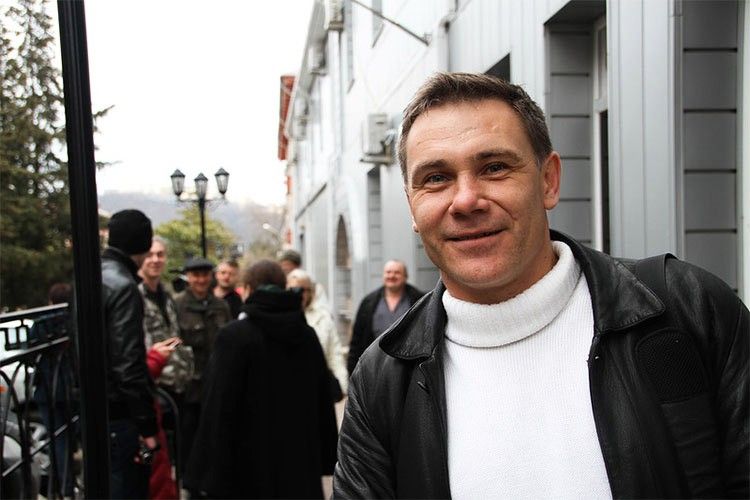 He was later sentenced to three years in a penal colony for those alleged "crimes," which most observers felt was a politically motivated and vastly trumped up punishment. Environmental Watch had created a long report critiquing the Sochi Olympics that infuriated the Kremlin and intensified the Kremlin's campaign against environmental critics during the Olympics. Vitishko ended up serving a year in prison and was released at the end of 2015. His colleague, Suren Gazaryan, won the Goldman Prize and spoke out against the Sochi Olympics and Vitishko's imprisonment at the Goldman award ceremony. As we head into the already controversial summer Olympics in Brazil, we wonder if the same attacks against activists will occur?
The Council of Indigenous and Popular Organizations of Honduras (COPINH) and its former leader Berta Caceres had received several greengrants. This tragic and now internationally known story, ends with Berta's murder two months ago. She fought successfully to stop a massive hydroelectric dam in her indigenous homelands and also won the Goldman Prize for her efforts. The success of her campaign and her international notoriety could not stop the attacks against her. Even during her Goldman award ceremony, the threats against her life were noted, as were the severe problems facing environmental and human rights activists in Honduras.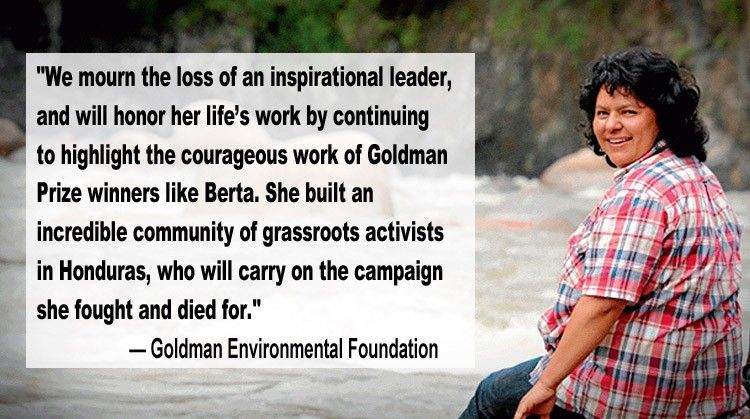 Many of our grantees have faced ridicule, harassment, intimidation and threats for their efforts to speak out to protect their human and environmental rights. In international philanthropic and NGO circles, we often call this "the closing space for civil society"—i.e., that public demonstrations and civil disobedience are increasingly being constrained and outlawed. A less sanitized term for this, that I prefer, is to call it the "criminalization of activism" such that is has now become a crime to be active in protest against authority and where the rhetoric surrounding that activism is increasingly hyperbolized and framed as "criminal" or worse.
As contests over land and resources escalate around the globe—often driven by extractive multi-national capitalism's desire for hardrock mines, hydroelectric dams, rangeland for cattle and fossil fuels—these threats seem to be intensifying as they co-mingle with the same political grip that extractive capitalism seems to have on governments and elected leaders around the world.
YOU MIGHT ALSO LIKE
Food Not Bullets: Hunger Pangs of Starving Farmers Met by a Barrage of Bullets
6 Colorado Teenagers File Appeal in Fracking and Climate Lawsuit
Mark Ruffalo: TPP Would Fuel Climate Chaos and Empower Corporate Polluters
10 Inspiring Films on Food + Farming: Who Do You Think Should Win the People's Choice Award?
EcoWatch Daily Newsletter
A man spreads pesticides on a plantation of vegetables in Rio de Janeiro Brazil. Ze Martinusso / Moment Open / Getty Images
By Jessica Corbett
Pointing to the deaths of more than half a billion bees in Brazil over a period of just four months, beekeepers, experts and activists are raising concerns about the soaring number of new pesticides greenlighted for use by the Brazilian government since far-right President Jair Bolsonaro took office in January — and the threat that it poses to pollinators, people and the planet.
SHEALAH CRAIGHEAD
By Elliott Negin
On July 19, President Trump hosted Apollo 11 astronauts Buzz Aldrin and Michael Collins and their families, along with the family of their deceased colleague Neil Armstrong, at a White House event to commemorate the 50th anniversary of the first manned landing on the moon.
The study looked at three groups of diverse lizards from South America. Daniel Pincheira-Donoso
Cold-climate lizards that give live birth to their offspring are more likely to be driven to extinction than their egg-laying cousins as global temperatures continue to rise, new research suggests.
Sean Gallup / Getty Images
A stock photo of fire in the Amazon; a record number of fires have burned there this year. Brasil2 / E+ / Getty Images
Tuna auctions are a tourist spectacle in Tokyo. Outside the city's most famous fish market, long queues of visitors hoping for a glimpse of the action begin to form at 5 a.m. The attraction is so popular that last October the Tsukiji fish market, in operation since 1935, moved out from the city center to the district of Toyosu to cope with the crowds.

gmnicholas / E+ / Getty Images
Kristan Porter grew up in a fishing family in the fishing community of Cutler, Maine, where he says all roads lead to one career path: fishing. (Porter's father was the family's lone exception. He suffered from terrible seasickness, and so became a carpenter.) The 49-year-old, who has been working on boats since he was a kid and fishing on his own since 1991, says that the recent warming of Maine's cool coastal waters has yielded unprecedented lobster landings.