This website uses cookies to ensure you get the best experience while browsing it. By clicking 'Got It' you're accepting these terms.
Powering the Planet: How Do We Balance Energy, Water and Climate?
Nov. 15, 2013 11:55AM EST
Business
By David L. Chandler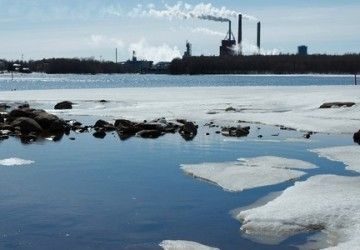 Photo courtesy of Shutterstock
In deciding how best to meet the world's growing needs for energy, the answers depend crucially on how the question is framed. Looking for the most cost-effective path provides one set of answers; including the need to curtail greenhouse-gas emissions gives a different picture.
Adding the need to address looming shortages of fresh water, it turns out, leads to a very different set of choices.
That's one conclusion of a new study led by Mort Webster, an associate professor of engineering systems at MIT, published in the journal, Nature Climate Change. 
The study, he says, makes clear that it is crucial to examine these needs together before making decisions about investments in new energy infrastructure, where choices made today could continue to affect the water and energy landscape for decades to come.
The intersection of these issues is particularly critical because of the strong contribution of the electricity-generation industry to overall greenhouse gas emissions, and the strong dependence of most present-day generating systems on abundant supplies of water. Furthermore, while power plants are a strong contributor to climate change, one expected result of that climate change is a significant change of rainfall patterns, likely leading to regional droughts and water shortages.
Surprisingly, Webster says, this nexus is a virtually unexplored area of research.
"When we started this work," he says, "we assumed that the basic work had been done, and we were going to do something more sophisticated. But then we realized nobody had done the simple, dumb thing"—that is, looking at the fundamental question of whether assessing the three issues in tandem would produce the same set of decisions as looking at them in isolation.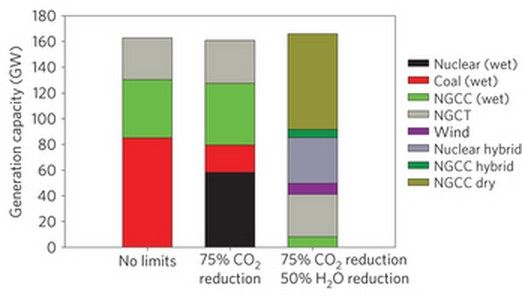 The answer, they found, was a resounding no. "Would you build the same things, the same mix of technologies, to get low carbon emissions and to get low water use?" Webster asks. "No, you wouldn't."
In order to balance dwindling water resources against the growing need for electricity, a quite different set of choices would need to be made, he says—and some of those choices may require extensive research in areas that currently receive little attention, such as the development of power-plant cooling systems that use far less water, or none at all.
Even where the needed technologies do exist, decisions on which to use for electricity production are strongly affected by projections of future costs and regulations on carbon emissions, as well as future limits on water availability. For example, solar power is not currently cost-competitive with other sources of electricity in most locations — but when balanced against the need to reduce emissions and water consumption, it may end up as the best choice, he says.
"You need to use different cooling systems, and potentially more wind and solar energy, when you include water use than if the choice is just driven by carbon dioxide emissions alone," Webster says.
His study focused on electricity generation in the year 2050 under three different scenarios: purely cost-based choices; with a requirement for a 75 percent reduction in carbon emissions; or with a combined requirement for emissions reduction and a 50 percent reduction in water use. 
To deal with the large uncertainties in many projections, Webster and his co-authors used a mathematical simulation in which they tried 1,000 different possibilities for each of the three scenarios, varying each of the variables randomly within the projected range of uncertainty. Some conclusions showed up across hundreds of simulations, despite the uncertainties.
Based on cost alone, coal would generate about half of the electricity, whereas under the emissions-limited scenario that would drop to about one-fifth, and under the combined limitations, it would drop to essentially zero. While nuclear power would make up about 40 percent of the mix under the emissions-limited scenario, it plays almost no role at all in either the cost-alone or the emissions-plus-water scenarios.
"We're really targeting not just policymakers, but also the research community," Webster says. Researchers "have thought a lot about how do we develop these low-carbon technologies, but they've given much less thought to how to do so with low amounts of water," he says.
While there has been some study of the potential for air-cooling systems for power plants, so far no such plants have been built, and research on them has been limited, Webster says.
Now that they have completed this initial study, Webster and his team will look at more detailed scenarios about "how to get from here to there." While this study looked at the mix of technologies needed in 2050, in future research they will examine the steps needed along the way to reach that point.
"What should we be doing in the next 10 years?" he asks. "We have to look at the implications all together." 
Visit EcoWatch's RENEWABLES page for more related news on this topic.

EcoWatch Daily Newsletter
EPA Administrator Andrew Wheeler signs the so-called Affordable Clean Energy rule on June 19, replacing the Obama-era Clean Power Plan that would have reduced coal-fired plant carbon emissions. U.S. Environmental Protection Agency / Twitter
By Elliott Negin
On July 8, President Trump hosted a White House event to unabashedly tout his truly abysmal environmental record. The following day, coincidentally, marked the one-year anniversary of Andrew Wheeler at the helm of the U.S. Environmental Protection Agency (EPA), first as acting administrator and then as administrator after the Senate confirmed him in late February.
A timber sale in the Kaibab National Forest. Dyan Bone / Forest Service / Southwestern Region / Kaibab National Forest
By Tara Lohan
If you're a lover of wilderness, wildlife, the American West and the public lands on which they all depend, then journalist Christopher Ketcham's new book is required — if depressing — reading.
Golde Wallingford submitted this photo of "Pure Joy" to EcoWatch's first photo contest. Golde Wallingford
EcoWatch is pleased to announce our third photo contest!

Somalians fight against hunger and lack of water due to drought as Turkish Ambassador to Somalia, Olgan Bekar (not seen) visits the a camp near the Mogadishu's rural side in Somalia on March 25, 2017. Sadak Mohamed / Anadolu Agency / Getty Images
World hunger is on the rise for the third consecutive year after decades of decline, a new United Nations (UN) report says. The climate crisis ranks alongside conflict as the top cause of food shortages that force more than 821 million people worldwide to experience chronic hunger. That number includes more than 150 million children whose growth is stunted due to a lack of food.
Eduardo Velev cools off in the spray of a fire hydrant during a heatwave on July 1, 2018 in Philadelphia. Jessica Kourkounis / Getty Images
By Adrienne L. Hollis
Because extreme heat is one of the deadliest weather hazards we currently face, Union of Concerned Scientist's Killer Heat Report for the U.S. is the most important document I have read. It is a veritable wake up call for all of us. It is timely, eye-opening, transparent and factual and it deals with the stark reality of our future if we do not make changes quickly (think yesterday). It is important to ensure that we all understand it. Here are 10 terms that really help drive home the messages in the heat report and help us understand the ramifications of inaction.
Senator Graham returns after playing a round of golf with Trump on Oct. 14, 2017 in Washington, DC. Ron Sachs – Pool / Getty Images
Lindsey Graham, the South Carolina Senate Republican who has been a close ally of Donald Trump, did not mince words last week on the climate crisis and what he thinks the president needs to do about it.
A small Bermuda cedar tree sits atop a rock overlooking the Atlantic Ocean. todaycouldbe / iStock / Getty Images Plus
By Marlene Cimons
Kyle Rosenblad was hiking a steep mountain on the island of Maui in the summer of 2015 when he noticed a ruggedly beautiful tree species scattered around the landscape. Curious, and wondering what they were, he took some photographs and showed them to a friend. They were Bermuda cedars, a species native to the island of Bermuda, first planted on Maui in the early 1900s.
krisanapong detraphiphat / Moment / Getty Images
By Grace Francese
You may know that many conventional oat cereals contain troubling amounts of the carcinogenic pesticide glyphosate. But another toxic pesticide may be contaminating your kids' breakfast. A new study by the Organic Center shows that almost 60 percent of the non-organic milk sampled contains residues of chlorpyrifos, a pesticide scientists say is unsafe at any concentration.