This website uses cookies to ensure you get the best experience while browsing it. By clicking 'Got It' you're accepting these terms.
Pope's Encyclical Proves We Have an 'Unshakeable Moral Imperative to Act on Climate Change'
Jun. 24, 2015 09:03AM EST
Climate
With Thursday's release of his much-anticipated environmental encyclical, Pope Francis is joining a large chorus of Christian leaders and faith traditions who have spoken out about humanity's call to care for the Earth and all of God's creatures.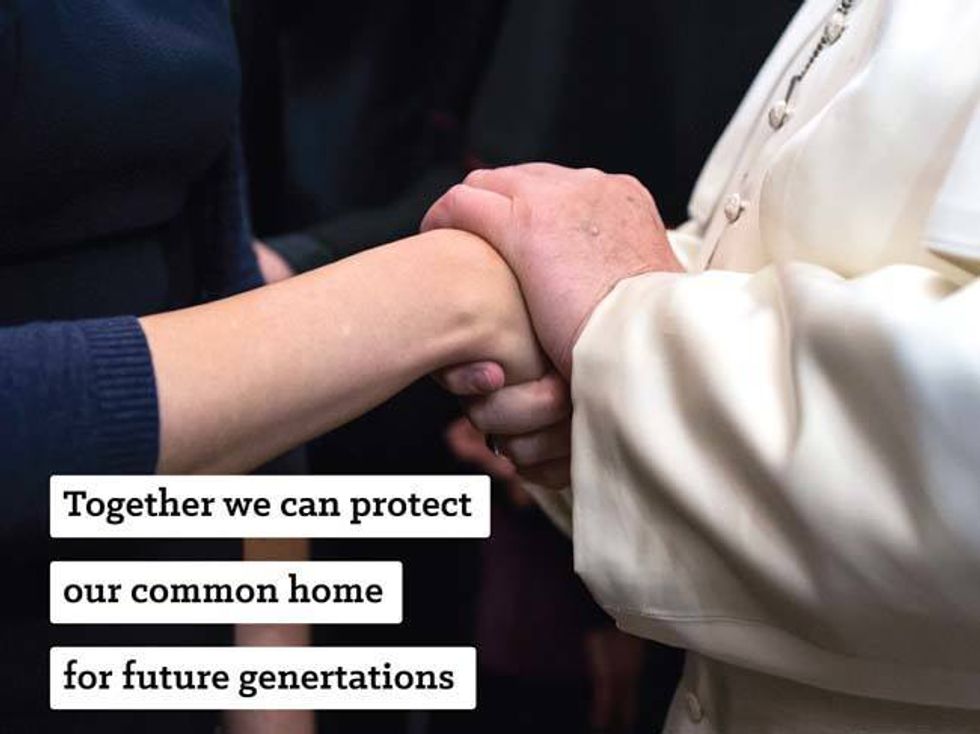 This is an important moment and a great opportunity not just for Catholics but for all Christians to reflect on what their faith tradition tells them about the responsibilities of stewardship—and what that means in light of the global environmental crisis of climate change.
The Pope's message, for all the welcome attention it has received, is not new or groundbreaking. Stewardship has always been a core message of many faiths. The Bible contains explicit calls to both care for creation and to care for our neighbors.
In the first chapter of Genesis, God created the earth, and saw it was good. In Chapter 2, God charged man with taking care of creation, which, if you think about it, is just incredibly humbling—we have been given the task to care for that which God created.
As Pope Francis said before releasing his encyclical, "Creation is not a property, which we can rule over at will; or, even less, is the property of only a few: Creation is a gift, it is a wonderful gift that God has given us, so that we care for it and we use it for the benefit of all, always with great respect and gratitude."
In the New Testament, Jesus also compels us to care for our neighbors—especially and specifically the most vulnerable among us.
Climate change is a problem many faith leaders have been vocal about. We know it is attributed to human causes, namely the uncontrolled burning of coal, oil and gas, with global consequences that affect all of us.
But we also know that climate change is impacting populations differently. The most vulnerable populations are seeing disproportionate effects—even though they generally contributed the least to the problem.
Communities living nearest coal-fired power plants spewing carbon and toxic air pollution have associated public health costs two to five times greater than populations living further away from these plants. Study after study shows beyond a doubt that a small percentage of the population is bearing the majority of risk from toxic power plant pollution.
Those who are being hit the hardest are the very people we are called by our faiths to serve.
We already answer that call, of course, in countless ways. We know that every day, communities of faith are on the front lines feeding the hungry, treating the sick, responding to disasters and providing aid. After Hurricane Katrina hit the Gulf Coast, the 38 denominations that Creation Justice Ministries represents contributed $250 million to recovery efforts.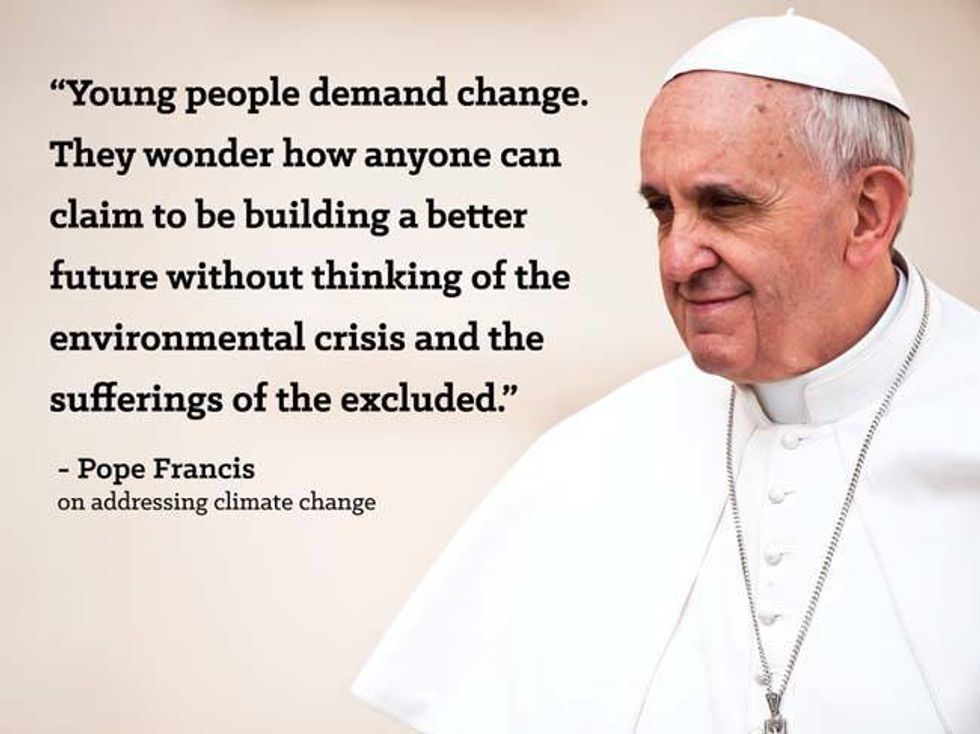 We know that storms will continue to worsen and become more frequent around the world. That means the faith community will be called upon to provide a greater amount of relief like financial resources and human services. Christian communities have a long history of caring for those impacted by poverty, hunger and disasters. They will no doubt continue to serve when called upon.
But we can and must do more. We can continue making the case, as Pope Francis has done, that we have an unshakable moral imperative to act on the impacts and causes of climate change. Our efforts to protect communities around the world are born out of our faith and a desire for justice.
With this in mind, we at Creation Justice Ministries are supporting the Obama administration's Clean Power Plan. It would, at long last, place limits on the largest source of carbon pollution in the country: coal-fired power plants. Through a state-based planning process, the plan would promote energy efficiency measures and cleaner energy alternatives like the solar panels sprouting atop our church rooftops across the nation.
The real reductions in carbon pollution that will result from this plan will help make the U.S. the leader it must be in taking concrete steps to alleviate the impact of climate change.
Christians are people of hope, and hope is a necessary part of this conversation. We appreciate the wonder and awe of God's creation, and marvel at the beauty we've been given and entrusted to take care of.
The future predicted by scientists, if action is not taken, is gloomy. The implications of what we have done can weigh heavily as we contemplate the health of our planet and what the future may look like for generations to come.
But we must not lose our way. People of faith can show that there is hope for the future because we know that with God's help all things are possible.
Tricia Bruckbauer is program director for Creation Justice Ministries, which represents the creation care policies of 38 national Christian denominations.
YOU MIGHT ALSO LIKE
Sanders to Maher: Pope Francis's Forceful Stance on Climate Change Is 'a Miracle for Humanity'
How Pope Francis's Climate Encyclical Is Disrupting American Politics
EcoWatch Daily Newsletter
The Opera House is seen with smoke haze which enveloped Sydney Harbor on Dec. 10 in Sydney, Australia. Smoke haze hangs over the city as the New South Wales fire danger risk is raised from 'very high' to 'severe'. James D. Morgan / Getty Images
The brushfires raging through New South Wales have shrouded Australia's largest city in a blanket of smoke that pushed the air quality index 12 times worse than the hazardous threshold, according to the Australia Broadcast Corporation (ABC).
People walk across the bridge near Little Raven Court in downtown Denver. Younger Americans increasingly prefer to live in walkable neighborhoods. Helen H. Richardson / The Denver Post via Getty Images
By David B. Goldstein
Energy efficiency is the cornerstone of any country's plan to fight the climate crisis. It is the cheapest option available, and one that as often as not comes along with other benefits, such as job creation, comfort and compatibility with other key solutions such as renewable energy. This has been recognized by the International Energy Agency (IEA) for at least a decade.
Activists from Extinction Rebellion New York City engaged in nonviolent direct action to confront climate change outside City Hall on April 17, 2019. Erik McGregor / Pacific Press / LightRocket via Getty Images
By Andrea Germanos

Over 500 groups on Monday rolled out an an action plan for the next president's first days of office to address the climate emergency and set the nation on a transformative path towards zero emissions and a just transition in their first days in office.

The Ladakh region of India, pictured above, is a part of the Himalayan mountain region of the upper Indus Valley which is the most vulnerable water tower, according to researchers. Suttipong Sutiratanachai / Moment / Getty Images
Jet stream triggered heat waves could threaten food production in several important breadbaskets, including central North America.
Carl Wycoff /
CC BY 2.0
Researchers have pinpointed a previously underexamined threat to global food production, and they warn it will only get worse as the climate crisis intensifies.