Pope Francis: 'Unbridled Consumerism' Is Destroying Our Planet
In what has become an annual tradition, Pope Francis wrote a letter to Tony Abbott, the Prime Minister of Australia and this year's leader of the G20 Summit, which will take place Nov. 15-16 in Brisbane, Australia. On the heels of a report by the Overseas Development Institute and Oil Change International, which is the first detailed breakdown of fossil fuel exploration subsidies by all G20 countries, the Pope has voiced his concerns about the state of world affairs: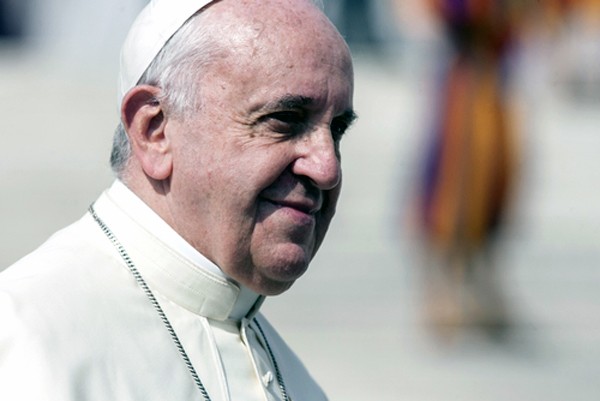 Photo credit: Shutterstock
To the Honourable Tony Abbott
Prime Minister of Australia
On 15 and 16 November next in Brisbane you will chair the Summit of Heads of State and Government of the world's twenty largest economies, thus bringing to a close Australia's presidency of the Group over the past year.  This presidency has proved to be an excellent opportunity for everyone to appreciate Oceania's significant contributions to the management of world affairs and its efforts to promote the constructive integration of all countries.
The G20 agenda in Brisbane is highly focused on efforts to relaunch a sustained and sustainable growth of the world economy, thereby banishing the spectre of global recession. One crucial point that has emerged from the preparatory work is the fundamental imperative of creating dignified and stable employment for all. This will call for improvement in the quality of public spending and investment, the promotion of private investment, a fair and adequate system of taxation, concerted efforts to combat tax evasion and a regulation of the financial sector which ensures honesty, security and transparency.
I would ask the G20 Heads of State and Government not to forget that many lives are at stake behind these political and technical discussions, and it would indeed be regrettable if such discussions were to remain purely on the level of declarations of principle. Throughout the world, the G20 countries included, there are far too many women and men suffering from severe malnutrition, a rise in the number of the unemployed, an extremely high percentage of young people without work and an increase in social exclusion which can lead to criminal activity and even the recruitment of terrorists. In addition, there are constant assaults on the natural environment, the result of unbridled consumerism, and this will have serious consequences for the world economy.
It is my hope that a substantial and productive consensus can be achieved regarding the agenda items. I likewise hope that the assessment of the results of this consensus will not be restricted to global indices but will take into account as well real improvements in the living conditions of poorer families and the reduction of all forms of unacceptable inequality. I express these hopes in light of the post-2015 Development Agenda to be approved by the current session of the United Nations Assembly, which ought to include the vital issues of decent work for all and climate change.
The G20 Summits, which began with the financial crisis of 2008, have taken place against the terrible backdrop of military conflicts, and this has resulted in disagreements between the Group's members.  It is a reason for gratitude that those disagreements have not prevented genuine dialogue within the G20, with regard both to the specific agenda items and to global security and peace. But more is required. The whole world expects from the G20 an ever broader agreement which can lead, through the United Nations legal system, to a definitive halt to the unjust aggression directed at different religious and ethnic groups, including minorities, in the Middle East. It should also lead to eliminating the root causes of terrorism, which has reached proportions hitherto unimaginable; these include poverty, underdevelopment and exclusion. It has become more and more evident that the solution to this grave problem cannot be a purely military one, but must also focus on those who in one way or another encourage terrorist groups through political support, the illegal oil trade or the provision of arms and technology. There is also a need for education and a heightened awareness that religion may not be exploited as a means of justifying violence.
These conflicts leave deep scars and result in unbearable humanitarian situations around the world. I take this opportunity to ask the G20 Member States to be examples of generosity and solidarity in meeting the many needs of the victims of these conflicts, and especially of refugees.
The situation in the Middle East has revived debate about the responsibility of the international community to protect individuals and peoples from extreme attacks on human rights and a total disregard for humanitarian law. The international community, and in particular the G20 Member States, should also give thought to the need to protect citizens of all countries from forms of aggression that are less evident but equally real and serious. I am referring specifically to abuses in the financial system such as those transactions that led to the 2008 crisis, and more generally, to speculation lacking political or juridical constraints and the mentality that maximization of profits is the final criterion of all economic activity. A mindset in which individuals are ultimately discarded will never achieve peace or justice.  Responsibility for the poor and the marginalized must therefore be an essential element of any political decision, whether on the national or the international level.
With this Letter I express my appreciation for your work, Prime Minister, and I offer my prayerful encouragement for the deliberations and outcome of the Summit. I invoke divine blessings on all taking part and on all the citizens of the G20 countries. In a particular way, I offer you my prayerful best wishes for the successful conclusion of Australia's presidency and I willingly assure you of my highest consideration.
Pope Francis, 6 November 2014
YOU MIGHT ALSO LIKE
The $88 Billion Fossil Fuel Bailout for Oil, Gas and Coal Exploration
Millennials Demand Climate Action
Jon Stewart Shows Why Climate Change Deal for China Can't Come Soon Enough
Monsanto, the maker of the glyphosate-based herbicide Roundup, filed a motion June 16 in U.S. District Court, Northern District of California to reconsider the chemical's addition to California's Proposition 65 list of agents known to cause cancer.
The agrochemical giant made this move based on a June 14 Reuters investigation of Dr. Aaron Blair, a lead researcher on the World Health Organization's International Agency for Research on Cancer (IARC) committee, that classified glyphosate as a "2A probable human carcinogen" in March 2015.
Keep reading...
Show less
By Avery Friedman
Algae is often considered a nuisance, but for Sweden, the rapidly growing sea plant is now an asset.
As the Scandinavian country works to cut all of its greenhouse gas emissions by 2045, it's using algae to sop up the carbon emissions from cement.
Keep reading...
Show less
Jun. 24, 2017 01:35PM EST
By Itai Vardi
A recent intensification in protests against Williams Partners' planned Atlantic Sunrise pipeline in Pennsylvania prompted a state senator to propose legislation aimed at limiting demonstrations.
Last month, Pennsylvania Sen. Scott Martin (R-Norman) announced his intention to introduce legislation that would pass the costs of law enforcement responding to protests onto the demonstrators. Martin also helped introduce a different bill that would criminalize protests at natural gas facilities.
Keep reading...
Show less
Jun. 24, 2017 01:29PM EST
Black Shogun / iStock
The Federal Energy Regulatory Commission (FERC) released its Final Environmental Impact Statement Friday for the Mountain Valley Pipeline, a controversial 303-mile pipeline that would carry two billion cubic feet of fracked gas per day from West Virginia through Virginia.
Keep reading...
Show less
Jun. 24, 2017 01:46PM EST
Falcon PEV
The so-called "first and last mile" problem is one of the biggest hurdles with public transportation. How do you encourage more people to take Earth-friendlier commutes when their homes are miles away from the train or bus station?
One solution, as this Estonian electric scooter company proposes, is to simply take your commute with you—literally. Tallinn-based Stigo has developed a compact e-scooter that folds to the size of a rolling suitcase in about two seconds.
Keep reading...
Show less
Jun. 24, 2017 05:12PM EST
Connect4Climate
[Editor's note: I'm still in shock after hearing the news that Lucia Grenna passed away in her sleep last week. When we first met in April of 2014 at a Copenhagen hotel, I was immediately taken by here powerful presence. We spent the next couple days participating in a Sustainia climate change event where Lucia presented her audacious plans to connect people to the climate issue. I had the chance to partner with Lucia on several other projects throughout the years and work with her incredible Connect4Climate team. I was always in awe of her ability to "make the impossible possible." Her spirit will live on forever. — Stefanie Spear]
It is with a heavy heart that Connect4Climate announces the passing of its founder and leading light, Lucia Grenna. Lucia passed peacefully in her sleep on June 15, well before her time. We remember her for her leadership and extraordinary ability to motivate people to take on some of the greatest challenges of our time, not least climate change.
Keep reading...
Show less
Jun. 23, 2017 07:29PM EST
Wikimedia Commons
By Stacy Malkan
Neil deGrasse Tyson has inspired millions of people to care about science and imagine themselves as participants in the scientific process. What a hopeful sign it is to see young girls wearing t-shirts emblazoned with the words, "Forget princess, I want to be an astrophysicist."
Keep reading...
Show less
Jun. 23, 2017 01:57PM EST
www.youtube.com
By Andy Rowell
Any day now we will truly witness climate change in action. Within days at worst, maybe weeks at best, scientists predict that a huge section of the Larsen C ice shelf in Antarctica will break off into the ocean, in what is called a major "carving" event.
Keep reading...
Show less
Jun. 23, 2017 02:27PM EST
www.youtube.com
President Trump visited Cedar Rapids, Iowa on June 21 to speak to a large crowd in the U.S. Cellular Center at a political rally organized by his campaign.
As Trevor Noah noted during The Daily Show episode last night (starts at 2:25), the real reason Trump has these rallies is to "get back in front of his loyal crowds and feed of their energy." Noah believes that "Trump supporters are so on board with their dude he can say anything and they'll come along for the ride."
Keep reading...
Show less