This website uses cookies to ensure you get the best experience while browsing it. By clicking 'Got It' you're accepting these terms.
Pope Francis: 'Unbridled Consumerism' Is Destroying Our Planet
Nov. 13, 2014 09:55AM EST
Climate
In what has become an annual tradition, Pope Francis wrote a letter to Tony Abbott, the Prime Minister of Australia and this year's leader of the G20 Summit, which will take place Nov. 15-16 in Brisbane, Australia. On the heels of a report by the Overseas Development Institute and Oil Change International, which is the first detailed breakdown of fossil fuel exploration subsidies by all G20 countries, the Pope has voiced his concerns about the state of world affairs: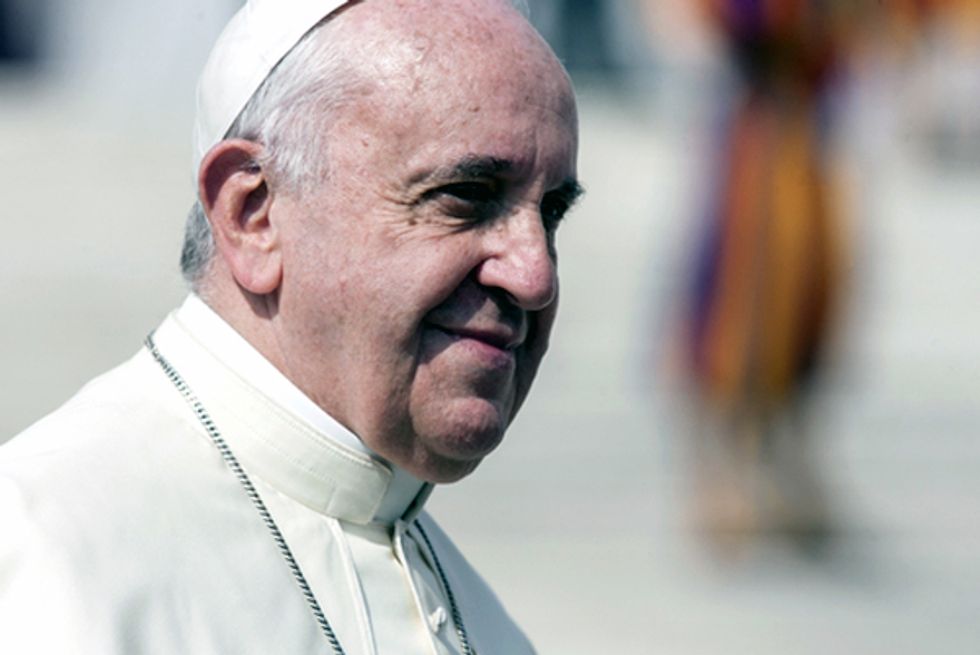 Photo credit: Shutterstock
To the Honourable Tony Abbott
Prime Minister of Australia
On 15 and 16 November next in Brisbane you will chair the Summit of Heads of State and Government of the world's twenty largest economies, thus bringing to a close Australia's presidency of the Group over the past year.  This presidency has proved to be an excellent opportunity for everyone to appreciate Oceania's significant contributions to the management of world affairs and its efforts to promote the constructive integration of all countries.
The G20 agenda in Brisbane is highly focused on efforts to relaunch a sustained and sustainable growth of the world economy, thereby banishing the spectre of global recession. One crucial point that has emerged from the preparatory work is the fundamental imperative of creating dignified and stable employment for all. This will call for improvement in the quality of public spending and investment, the promotion of private investment, a fair and adequate system of taxation, concerted efforts to combat tax evasion and a regulation of the financial sector which ensures honesty, security and transparency.
I would ask the G20 Heads of State and Government not to forget that many lives are at stake behind these political and technical discussions, and it would indeed be regrettable if such discussions were to remain purely on the level of declarations of principle. Throughout the world, the G20 countries included, there are far too many women and men suffering from severe malnutrition, a rise in the number of the unemployed, an extremely high percentage of young people without work and an increase in social exclusion which can lead to criminal activity and even the recruitment of terrorists. In addition, there are constant assaults on the natural environment, the result of unbridled consumerism, and this will have serious consequences for the world economy.
It is my hope that a substantial and productive consensus can be achieved regarding the agenda items. I likewise hope that the assessment of the results of this consensus will not be restricted to global indices but will take into account as well real improvements in the living conditions of poorer families and the reduction of all forms of unacceptable inequality. I express these hopes in light of the post-2015 Development Agenda to be approved by the current session of the United Nations Assembly, which ought to include the vital issues of decent work for all and climate change.
The G20 Summits, which began with the financial crisis of 2008, have taken place against the terrible backdrop of military conflicts, and this has resulted in disagreements between the Group's members.  It is a reason for gratitude that those disagreements have not prevented genuine dialogue within the G20, with regard both to the specific agenda items and to global security and peace. But more is required. The whole world expects from the G20 an ever broader agreement which can lead, through the United Nations legal system, to a definitive halt to the unjust aggression directed at different religious and ethnic groups, including minorities, in the Middle East. It should also lead to eliminating the root causes of terrorism, which has reached proportions hitherto unimaginable; these include poverty, underdevelopment and exclusion. It has become more and more evident that the solution to this grave problem cannot be a purely military one, but must also focus on those who in one way or another encourage terrorist groups through political support, the illegal oil trade or the provision of arms and technology. There is also a need for education and a heightened awareness that religion may not be exploited as a means of justifying violence.
These conflicts leave deep scars and result in unbearable humanitarian situations around the world. I take this opportunity to ask the G20 Member States to be examples of generosity and solidarity in meeting the many needs of the victims of these conflicts, and especially of refugees.
The situation in the Middle East has revived debate about the responsibility of the international community to protect individuals and peoples from extreme attacks on human rights and a total disregard for humanitarian law. The international community, and in particular the G20 Member States, should also give thought to the need to protect citizens of all countries from forms of aggression that are less evident but equally real and serious. I am referring specifically to abuses in the financial system such as those transactions that led to the 2008 crisis, and more generally, to speculation lacking political or juridical constraints and the mentality that maximization of profits is the final criterion of all economic activity. A mindset in which individuals are ultimately discarded will never achieve peace or justice.  Responsibility for the poor and the marginalized must therefore be an essential element of any political decision, whether on the national or the international level.
With this Letter I express my appreciation for your work, Prime Minister, and I offer my prayerful encouragement for the deliberations and outcome of the Summit. I invoke divine blessings on all taking part and on all the citizens of the G20 countries. In a particular way, I offer you my prayerful best wishes for the successful conclusion of Australia's presidency and I willingly assure you of my highest consideration.
Pope Francis, 6 November 2014
YOU MIGHT ALSO LIKE
The $88 Billion Fossil Fuel Bailout for Oil, Gas and Coal Exploration
Millennials Demand Climate Action
Jon Stewart Shows Why Climate Change Deal for China Can't Come Soon Enough
EcoWatch Daily Newsletter
A view of a washed out road near Utuado, Puerto Rico, after a Coast Guard Air Station Borinquen MH-65 Dolphin helicopter crew dropped relief supplies to residents Tuesday, Oct. 3, 2017. The locals were stranded after Hurricane Maria by washed out roads and mudslides. U.S. Coast Guard photo by Petty Officer 3rd Class Eric D. Woodall /
CC BY-NC-ND 2.0
By Coral Natalie Negrón Almodóvar
The Earth began to shake as Tamar Hernández drove to visit her mother in Yauco, Puerto Rico, on Dec. 28, 2019. She did not feel that first tremor — she felt only the ensuing aftershocks — but she worried because her mother had an ankle injury and could not walk. Then Hernández thought, "What if something worse is coming our way?"
Flooded battery park tunnel is seen after Hurricane Sandy in 2012.
CC BY 2.0
President Trump has long touted the efficacy of walls, funneling billions of Defense Department dollars to build a wall on the southern border. However, when the U.S. Army Corps of Engineers (USACE) released a study that included plans for a sea wall to protect New Yorkers from sea-level rise and catastrophic storms like Hurricane Sandy, Trump mocked it as ineffective and unsightly.
A general view of fire damaged country in the The Greater Blue Mountains World Heritage Area near the town of Blackheath on Feb. 21, 2020 in Blackheath, Australia. Brook Mitchell / Getty Images
In a post-mortem of the Australian bushfires, which raged for five months, scientists have concluded that their intensity and duration far surpassed what climate models had predicted, according to a study published yesterday in Nature Climate Change.
Sea level rise causes water to spill over from the Lafayette River onto Llewellyn Ave in Norfolk, Virginia just after high tide on Aug. 5, 2017. This road floods often, even when there is no rain.
Skyler Ballard / Chesapeake Bay Program
By Tim Radford
The Texan city of Houston is about to grow in unexpected ways, thanks to the rising tides. So will Dallas. Real estate agents in Atlanta, Georgia; Denver, Colorado; and Las Vegas, Nevada could expect to do roaring business.
Malala Yousafzai (left) and Greta Thunberg (right) met in Oxford University Tuesday. Wikimedia Commons /
CC BY 2.0
What happens when a famous school striker meets a renowned campaigner for education rights?