This website uses cookies to ensure you get the best experience while browsing it. By clicking 'Got It' you're accepting these terms.
Polluting Politics: Koch Industries and Others Spend Millions to Gut Clean Water Act Protections
Feb. 27, 2015 01:03PM EST
Politics
Americans like the Clean Water Act (CWA), which was passed in 1972 to clean up the country's waterways polluted by decades of industrialization and weak regulation, because they like having access to safe drinking water as well as clean water for activities like swimming, boating and fishing. It seems like a no-brainer. So it was no surprise when the general public submitted more than 800,000 comments during the public comment period last year in support of President Obama's plan to restore CWA protections to the country's small waterways.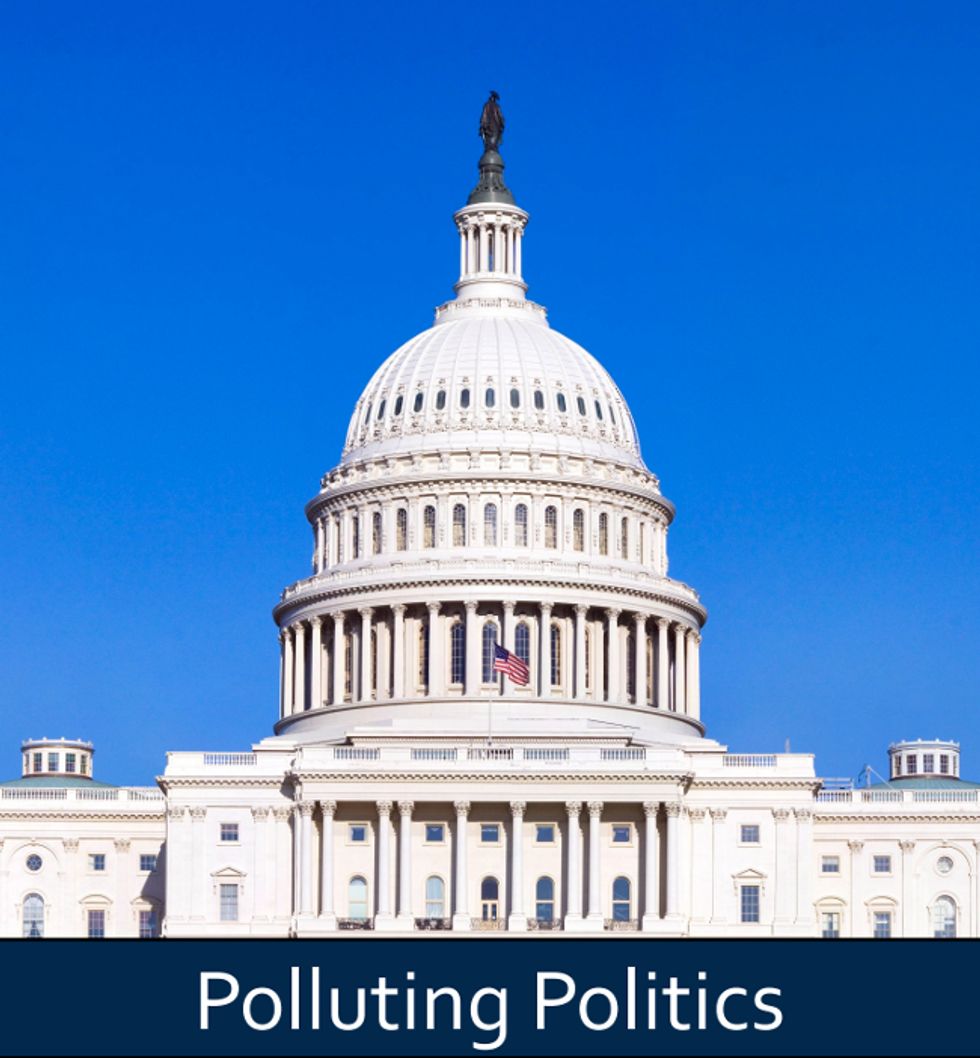 However, a new report from Environment America, Polluting Politics: Political Spending by Companies Dumping Toxics in our Waters, shows opponents to the CWA are spending significant amounts of money to act against the public interest.
"Year after year, polls show that more Americans are concerned with the pollution and quality of our waterways more than any other environmental issue," the report begins. "And after toxins in Lake Erie left 400,000 Toledo, Ohio residents unable to drink the water coming out of their taps last August, the need to protect our waterways is clear and present."
But, the report says, "Corporations and industry groups that oppose restoring Clean Water Act protections can drown out the voice of the average voter by spending enormous sums on election campaigns and lobbying."
The report reveals that currently, half of the U.S.'s lakes, rivers and streams are unsafe for fishing, swimming and drinking, and that 206 million pounds of toxic materials are dumped in our waterways each year. Polluting Politics ties some of the polluters to investments in political candidates who might work to minimize CWA protections.
"As it turns out, the same companies that are polluting our waterways with toxic chemicals are also polluting our politics with their spending," said report author Ally Fields, clean water advocate at Environment America.
What these companies want is to stave off regulations that would limit the discharge of industrial chemicals from fracking and agricultural runoff (especially from factory farms), and restore wetlands and protect them against development. Those are regulations the public likes and wants. But to a large degree, the public interest has been trumped by several U.S. Supreme Court decisions since 2006 that have left half the country's waterways—which provide drinking water for a third of Americans—vulnerable to toxic pollution. And these big spender have swooped in to try to exploit those loopholes.
The report revealed that AK Steel Holding Corp, the top water polluter, dumped 19,088,128 pounds of toxics into waterways in 2012. And in 2014 it spent $739,752 on lobbying to try secure its ability to keep on polluting. Industrial foods company Tyson Foods, the second biggest water polluter with 18,446,749 pounds dumped, spent $1,163,838 on lobbying. The U.S. Department of Defense was the third largest waterway polluter at 10,868,190, but does not spend money on lobbying. But chemical company Cargill, checking in at fourth, spent about $1,300,000 to allow it to keep dumping more than 10,600,000 pounds of toxic materials into U.S. waterways.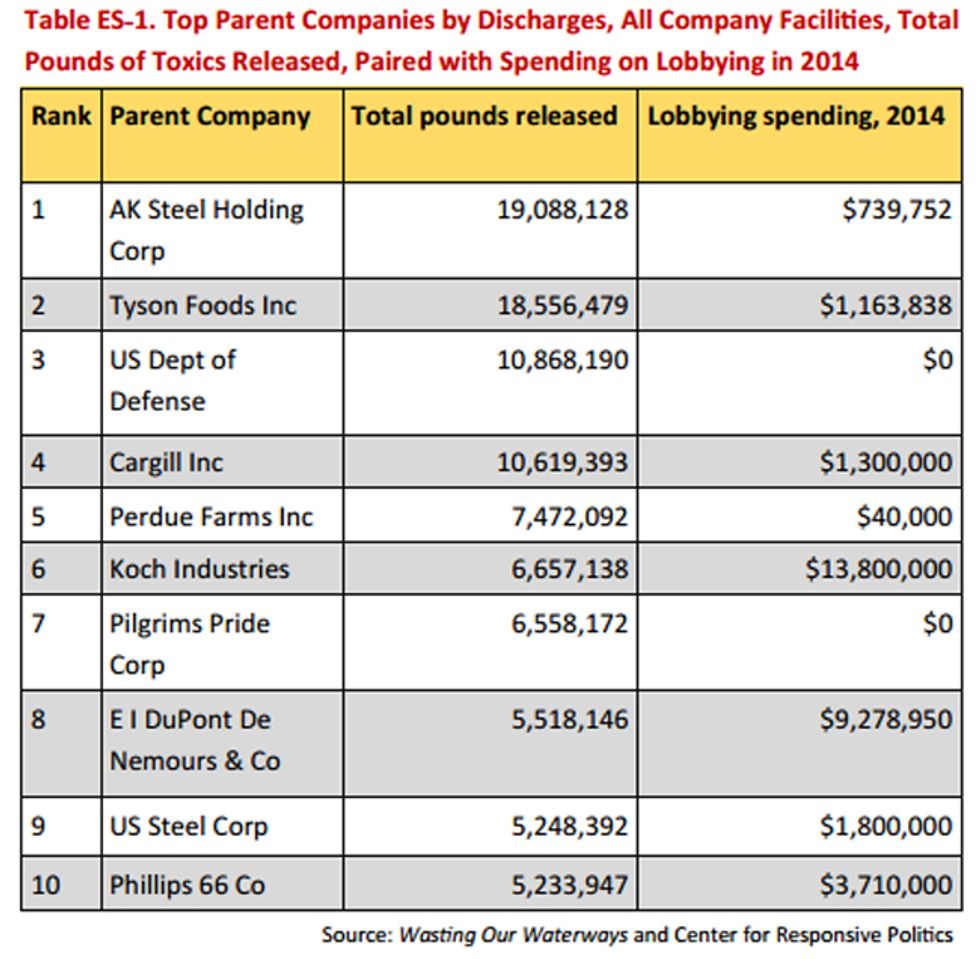 Those top polluters were not the biggest spenders though. That honor went to the number six polluter, Koch Industries, a notorious source of large campaign contributions to industry-friendly candidates. It dumped 6,657,138 pounds of toxics in 2014. Last year, it spent a whopping $13,800,000 on lobbying, with another $7.7 million spent in last year's elections, according to Polluting Politics. Given the Koch brothers' propensity for pouring campaign money into 501 (c) 4 groups that don't have to reveal their funders, the amount was likely much more.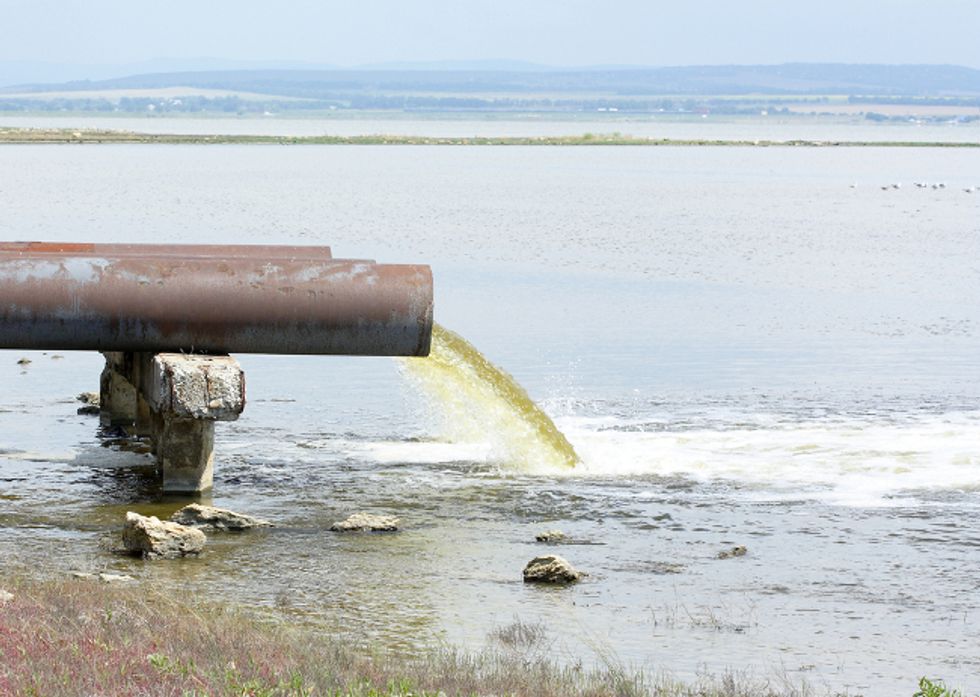 Photo credit: Shutterstock
Another outsized spender was chemical company DuPont, which dumped about 5,500,000 pounds of toxics and spent nearly $9,300,000 to protect its right to do so. According to the report, the top 10 companies were responsible for almost 100 million pounds of toxics in public waterways—as well as $53 million on lobbying and $9.4 million in campaign contributions. And the three top polluting industries—energy/natural resources, agribusiness and construction—spent more than $237 million on campaign contributions in the 2014 elections. Meanwhile, industry groups such as the American Petroleum Institute and the American Farm Bureau, spent tens of millions more on lobbyists who were frequently well-connected former government officials.
"It's clear that our nation's polluters have deep pockets, but hundreds of thousands of Americans have raised their voices in support of doing more to protect our waterways, from the Chesapeake Bay to Puget Sound," said Fields. "It's time for Congress to listen to citizens, not the polluters, and let the EPA finish the job to protect our waterways."
YOU MIGHT ALSO LIKE
Groups Demand EPA Regulate Toxic Water Pollution from Mountaintop Removal Coal Mining
Clean Water, a Smart Investment
Koch-Connected Nonprofits Use 'Dark Money' to Fight Political Disclosure
EcoWatch Daily Newsletter
A pangolin at a rescue center in Cambodia. Rhett A. Butler / Mongabay
A man carries plastic shopping bags in Times Square on May 5, 2018 in New York City. Kena Betancur / VIEWpress / Corbis / Getty Images
White gold man-made diamond solitaire engagement ring. Clean Origin
While keeping track of the new trends in the diamond industry can be hard, it is still an essential task of any savvy consumer or industry observer. Whether you are looking to catch a deal on your next diamond purchase or researching the pros and cons of an investment within the diamond industry, keeping up with the trends is imperative.
Rep. Alexandria Ocasio-Cortez (D-NY) (C) chants with housing and environmental advocates before a news conference to introduce legislation to transform public housing as part of her Green New Deal outside the U.S. Capitol Nov. 14, 2019 in Washington, DC. Chip Somodevilla / Getty Images
Rep. Alexandria Ocasio-Cortez (D-N.Y.) took to the floor of the House of Representatives yesterday to chide Republicans for not reading the Green New Deal, which she introduced over one year ago, as The Hill reported. She then read the entire 14-page document into the congressional record.
Anti Ivan Duque's demonstrator is seen holding a placard with the photos of social leader Alirio Sánchez Sánchez and the indigenous Hector Janer Latín, both killed in Cauca, Colombia during a protest against Ivan Duque visit in London which included a meeting about fracking, environmental issues, the peace process implementation, and questioning the risk that social leaders in Colombia face. Andres Pantoja / SOPA Images / LightRocket / Getty Images
Colombia was the most dangerous nation in 2019 to be an environmental activist and experts suspect that conditions will only get worse.