This website uses cookies to ensure you get the best experience while browsing it. By clicking 'Got It' you're accepting these terms.
Polluting Politics: Koch Industries and Others Spend Millions to Gut Clean Water Act Protections
Feb. 27, 2015 01:03PM EST
Americans like the Clean Water Act (CWA), which was passed in 1972 to clean up the country's waterways polluted by decades of industrialization and weak regulation, because they like having access to safe drinking water as well as clean water for activities like swimming, boating and fishing. It seems like a no-brainer. So it was no surprise when the general public submitted more than 800,000 comments during the public comment period last year in support of President Obama's plan to restore CWA protections to the country's small waterways.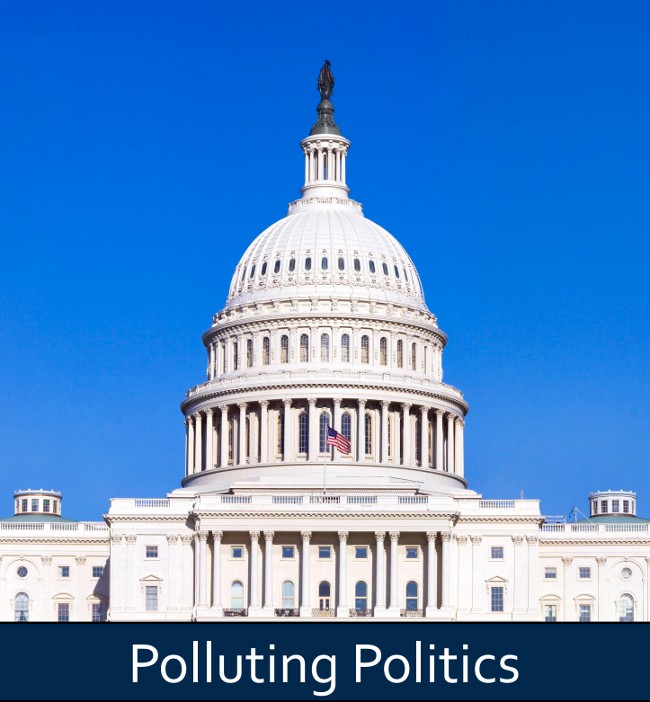 However, a new report from Environment America, Polluting Politics: Political Spending by Companies Dumping Toxics in our Waters, shows opponents to the CWA are spending significant amounts of money to act against the public interest.
"Year after year, polls show that more Americans are concerned with the pollution and quality of our waterways more than any other environmental issue," the report begins. "And after toxins in Lake Erie left 400,000 Toledo, Ohio residents unable to drink the water coming out of their taps last August, the need to protect our waterways is clear and present."
But, the report says, "Corporations and industry groups that oppose restoring Clean Water Act protections can drown out the voice of the average voter by spending enormous sums on election campaigns and lobbying."
The report reveals that currently, half of the U.S.'s lakes, rivers and streams are unsafe for fishing, swimming and drinking, and that 206 million pounds of toxic materials are dumped in our waterways each year. Polluting Politics ties some of the polluters to investments in political candidates who might work to minimize CWA protections.
"As it turns out, the same companies that are polluting our waterways with toxic chemicals are also polluting our politics with their spending," said report author Ally Fields, clean water advocate at Environment America.
What these companies want is to stave off regulations that would limit the discharge of industrial chemicals from fracking and agricultural runoff (especially from factory farms), and restore wetlands and protect them against development. Those are regulations the public likes and wants. But to a large degree, the public interest has been trumped by several U.S. Supreme Court decisions since 2006 that have left half the country's waterways—which provide drinking water for a third of Americans—vulnerable to toxic pollution. And these big spender have swooped in to try to exploit those loopholes.
The report revealed that AK Steel Holding Corp, the top water polluter, dumped 19,088,128 pounds of toxics into waterways in 2012. And in 2014 it spent $739,752 on lobbying to try secure its ability to keep on polluting. Industrial foods company Tyson Foods, the second biggest water polluter with 18,446,749 pounds dumped, spent $1,163,838 on lobbying. The U.S. Department of Defense was the third largest waterway polluter at 10,868,190, but does not spend money on lobbying. But chemical company Cargill, checking in at fourth, spent about $1,300,000 to allow it to keep dumping more than 10,600,000 pounds of toxic materials into U.S. waterways.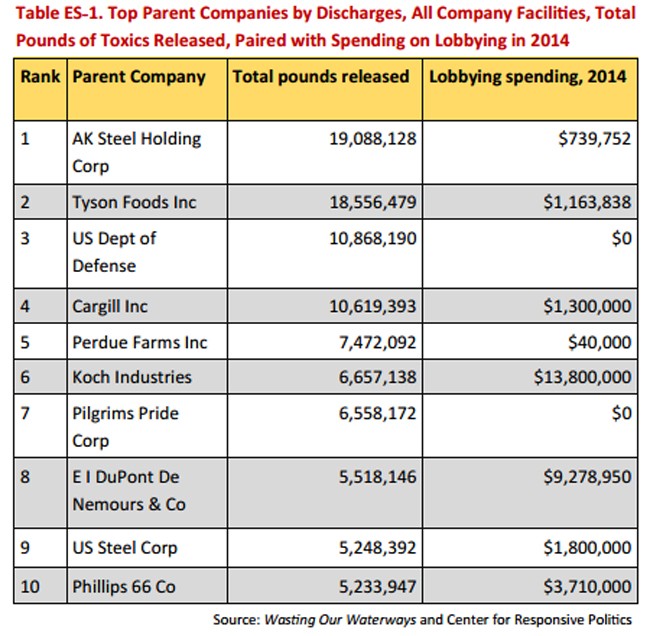 Those top polluters were not the biggest spenders though. That honor went to the number six polluter, Koch Industries, a notorious source of large campaign contributions to industry-friendly candidates. It dumped 6,657,138 pounds of toxics in 2014. Last year, it spent a whopping $13,800,000 on lobbying, with another $7.7 million spent in last year's elections, according to Polluting Politics. Given the Koch brothers' propensity for pouring campaign money into 501 (c) 4 groups that don't have to reveal their funders, the amount was likely much more.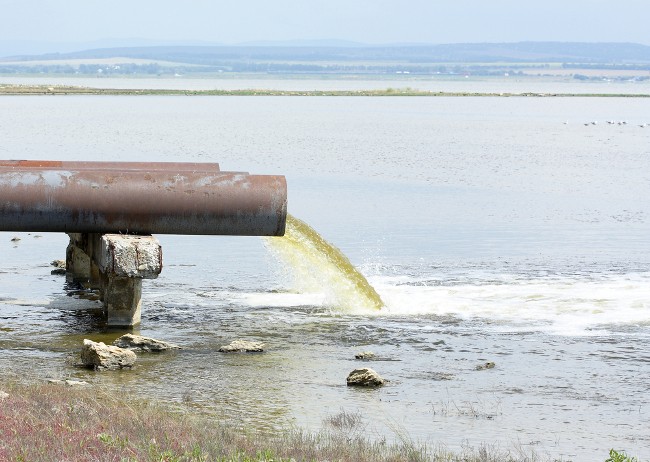 Photo credit: Shutterstock
Another outsized spender was chemical company DuPont, which dumped about 5,500,000 pounds of toxics and spent nearly $9,300,000 to protect its right to do so. According to the report, the top 10 companies were responsible for almost 100 million pounds of toxics in public waterways—as well as $53 million on lobbying and $9.4 million in campaign contributions. And the three top polluting industries—energy/natural resources, agribusiness and construction—spent more than $237 million on campaign contributions in the 2014 elections. Meanwhile, industry groups such as the American Petroleum Institute and the American Farm Bureau, spent tens of millions more on lobbyists who were frequently well-connected former government officials.
"It's clear that our nation's polluters have deep pockets, but hundreds of thousands of Americans have raised their voices in support of doing more to protect our waterways, from the Chesapeake Bay to Puget Sound," said Fields. "It's time for Congress to listen to citizens, not the polluters, and let the EPA finish the job to protect our waterways."
YOU MIGHT ALSO LIKE
Groups Demand EPA Regulate Toxic Water Pollution from Mountaintop Removal Coal Mining
Clean Water, a Smart Investment
Koch-Connected Nonprofits Use 'Dark Money' to Fight Political Disclosure
Prince William and British naturalist David Attenborough attend converse during the World Economic Forum annual meeting, on January 22 in Davos, Switzerland. Fabrice Cofferini /AFP / Getty Images
Britain's Prince William interviewed famed broadcaster David Attenborough on Tuesday at the World Economic Forum's annual meeting in Switzerland.
During the sit-down, the 92-year-old naturalist advised the world leaders and business elite gathered in Davos this week that we must respect and protect the natural world, adding that the future of its survival—as well as humanity's survival—is in our hands.
Electric vehicle sales took off in 2018, with a record two million units sold around the world, according to a new Deloitte analysis.
What's more, the accounting firm predicts that another 21 million electric cars will be on the road globally over the next decade due to growing market demand for clean transportation, government subsidies, as well as bans on fossil fuel cars.
Teenager Alex Weber and friends collected nearly 40,000 golf balls hit into the ocean from a handful of California golf courses.
Alex Weber /
CC BY-ND
Southwest Greenland had the most consistent ice loss from 2003 to 2012. Eqalugaarsuit, Ostgronland, Greenland on Aug. 1, 2018.
Rob Oo / CC BY 2.0
Greenland is melting about four times faster than it was in 2003, a new study published Monday in the Proceedings of the National Academy of Sciences found, a discovery with frightening implications for the pace and extent of future sea level rise.
"We're going to see faster and faster sea level rise for the foreseeable future," study lead author and Ohio State University geodynamics professor Dr. Michael Bevis said in a press release. "Once you hit that tipping point, the only question is: How severe does it get?"
Finally, some good news about the otherwise terrible partial government shutdown. A federal judge ruled that the Trump administration cannot issue permits to conduct seismic testing during the government impasse.
The Justice Department sought to delay—or stay—a motion filed by a range of coastal cities, businesses and conservation organizations that are suing the Trump administration over offshore oil drilling, Reuters reported. The department argued that it did not have the resources it needed to work on the case due to the shutdown.
Most people have heard of the Amazon, South America's famed rainforest and hub of biological diversity. Less well known, though no less critical, is the Pantanal, the world's largest tropical wetland.
Like the Amazon, the Pantanal is ecologically important and imperiled. Located primarily in Brazil, it also stretches into neighboring Bolivia and Paraguay. Covering an area larger than England at more than 70,000 square miles, the massive wetland provides irreplaceable ecosystem services that include the regulation of floodwaters, nutrient renewal, river flow for navigability, groundwater recharge and carbon sequestration. The wetland also supports the economies of the four South American states it covers.
Demonstrators participate in a protest march over agricultural policy on Jan. 19 in Berlin, Germany. Carsten Koall / Getty Images Europe
By Andrea Germanos
Organizers said 35,000 people marched through the streets of the German capital on Saturday to say they're "fed up" with industrial agriculture and call for a transformation to a system that instead supports the welfare of the environment, animals and rural farmers.

The fire that erupted after a pipeline explosion in Mexico Friday. FRANCISCO VILLEDA / AFP / Getty Images
By Patrick Rogers
If you have ever considered making the switch to an environmentally friendly electric vehicle, don't drag your feet. Though EV prices are falling, and states are unveiling more and more public charging stations and plug-in-ready parking spots, the federal government is doing everything it can to slam the brakes on our progress away from gas-burning internal combustion engines. President Trump, likely pressured by his allies in the fossil fuel industry, has threatened to end the federal tax credits that have already helped put hundreds of thousands of EVs on the road—a move bound to harm not only our environment but our economy, too. After all, the manufacturing and sale of EVs, hybrids, and plug-in hybrids supported 197,000 jobs in 2017, according to the most recent U.S. Energy and Employment Report.