This website uses cookies to ensure you get the best experience while browsing it. By clicking 'Got It' you're accepting these terms.
Polar Protection on Ice
Feb. 27, 2012 09:45AM EST
Climate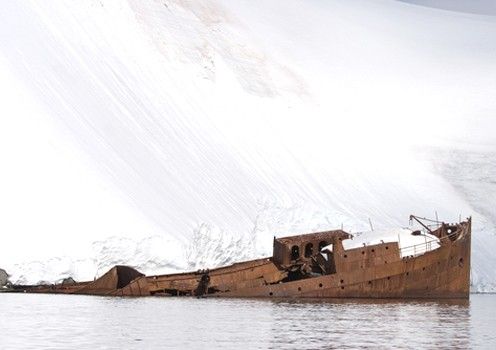 The polar waters of the Arctic and Antarctic are in jeopardy as a result of substantial delays to the development of environmental protection rules which will reduce the impact of shipping on these delicate regions. Last week the International Maritime Organization1 shelved the development of environmental protection rules until 2013.
This major setback for polar environmental protection came about as a result of procedural objections by flag states2 despite the efforts of most Arctic states and Antarctic treaty states to make progress on environmental protection. "As a result of this decision, the completion of a mandatory Polar shipping code covering both safety and environment protection will fall further behind schedule, and indeed, there is a very real chance that environmental protection could be scuttled altogether," said James Barnes, executive director of Antarctic and Southern Ocean Coalition (ASOC).
Both poles are extremely sensitive to environmental disruption and have an important role regulating the global climate. As the global climate changes, the poles are experiencing the most rapid warming of anywhere on earth and sea ice is retreating in most polar regions, making those waters more accessible to shipping than ever before in human history. The numbers of ships using the Northwest Passage and Northern Sea Route, to the north of Canada, the U.S., Norway and Russia, is increasing each year. The Arctic in particular is expected to experience a significant increase in resource exploitation and shipping volumes, which are likely to exacerbate climate-induced problems.
Environmental regulations for shipping are necessary to ensure that the volume of pollutants such as oils, chemicals and sewage being discharged by increased shipping into these pristine waters can be minimized. In addition, rules are needed to ensure that disturbance of wildlife and coastal communities is kept to a minimum and major oil and chemical spills are avoided.
"Last week's decision is badly flawed," said Mr. Barnes." Action is required sooner rather than later to ensure adequate environmental protection is in place as more and more ships use these remote, hazardous and vulnerable waters. Operational pollution from shipping and accidents could irreversibly damage these globally important sensitive ecosystems and polar wildlife is already under massive pressure from the changing climate."
"IMO member governments have an obligation to develop proactive environmental protections for our poles, and we hope that it won't take an Exxon Valdez or Costa Concordia-type disaster in polar waters before real regulatory action is achieved in these vulnerable regions," said John Kaltenstein, marine program manager at Friends of the Earth U.S.
"It is imperative that the IMO brings countries together to finish developing a mandatory Polar Code, which must include strong environmental protections," said Shawna Larson, Chickaloon Village Tribal Member and Alaska program director for Pacific Environment. "Indigenous Peoples who have lived in these Arctic coastal communities since time immemorial are highly dependent on a clean Arctic Environment for their traditional ways of life and their food sources. Without strong environmental protections in the Polar Code, Indigenous Peoples traditional ways will be at risk."
For more information, click here.
—————
1. The IMO is the UN body responsible for developing and adopting global shipping regulations addressing safety and environmental protection
2. Flag States are the countries which flag ships and are then expected to enforce the globally adopted shipping regulations relevant to the ships flying their flags.
EcoWatch Daily Newsletter
A typical adult takes around 20,000 breaths per day. If you live in a megacity like Beijing, with many of those lungfuls you're likely to inhale a noxious mixture of chemicals and pollutants.
Fred Stone holds his brown swiss cow Lida Rose at his Arundel dairy farm on March 18 after a press conference where he spoke about PFAS chemical contamination in his fields. Gregory Rec / Portland Portland Press Herald via Getty Images
By Susan Cosier
First there was Fred Stone, the third-generation dairy farmer in Maine who discovered that the milk from his cows contained harmful chemicals. Then came Art Schaap, a second-generation dairy farmer in New Mexico, who had to dump 15,000 gallons of contaminated milk a day.
Protesters attend the 32nd Annual Fur-Free Friday demonstration on Nov. 23, 2018 in Beverly Hills, California. Ella DeGea / Getty Images
California Governor Gavin Newsom signed into law a bill that that bans the sale and manufacture of fur products in the state. The fur ban, which he signed into law on Saturday, prohibits Californians from selling or making clothing, shoes or handbags with fur starting in 2023, according to the AP.
By Simon Evans
During the three months of July, August and September, renewables generated an estimated total of 29.5 terawatt hours (TWh), compared with just 29.1TWh from fossil fuels, the analysis shows.
A demonstrator waves an Ecuadorian flag during protests against the end of subsidies to gasoline and diesel on Oct. 9 in Quito, Ecuador. Jorge Ivan Castaneira Jaramillo / Getty Images
Protesters block the road outside Mansion House in London during an XR climate change protest. Gareth Fuller / PA Images via Getty Images
Protestors marched outside the Prudential Center in Newark, New Jersey on Monday, August 26, during the MTV Video and Music Awards to bring attention to the water crisis currently gripping the city. Karla Ann Cote / NurPhoto / Getty Images
By Will Sarni
It is far too easy to view scarcity and poor quality of water as issues solely affecting emerging economies. While the images of women and children fetching water in Africa and a lack of access to water in India are deeply disturbing, this is not the complete picture.
Pexels
Mice exposed to nicotine-containing e-cigarette vapor developed lung cancer within a year.
More research is needed to know what this means for people who vape.
Other research has shown that vaping can cause damage to lung tissue.
A new study found that long-term exposure to nicotine-containing e-cigarette vapor increases the risk of cancer in mice.