Philippines Tragedy Demands Global Action at Warsaw Climate Talks

As people in the Philippines struggle with the devastation and death from the worst storm to hit land in recorded history, world leaders are meeting in Warsaw, Poland, to discuss the climate crisis.
"What my country is going through as a result of this extreme climate event is madness. The climate crisis is madness," Yeb Sano, lead negotiator for the Philippines, told the opening session of the United Nations climate summit, which runs until Nov. 22. "We can stop this madness. Right here in Warsaw."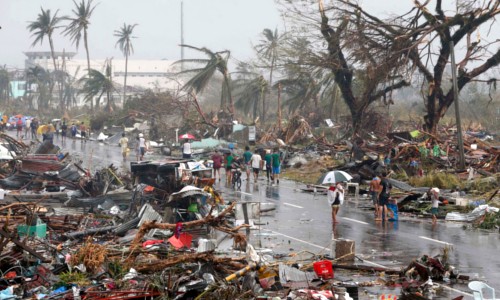 Given the slow progress at the 18 meetings held since 1992—when countries from around the world joined the United Nations Framework Convention on Climate Change—it's hard not to be pessimistic. Canada, in particular, has been repeatedly singled out among the close to 200 member countries for obstructing progress and not doing enough to address climate change at home.
But as scientific evidence continues to build, and impacts—from extreme weather to melting Arctic ice—continue to worsen, with costs mounting daily, the impetus to resolve the problem is growing. We're exhausting Earth's finite resources and pushing global ecosystems to tipping points, beyond which addressing pollution and climate issues will become increasingly difficult and costly. The only hindrance to developing a fair, ambitious and legally binding climate plan for the world is lack of political will.
Part of the problem is that much of the world is tied to the fossil fuel economy, and the rush is on to get as much oil, coal and gas out of the ground and to market while people are still willing to pay for it and burn it up. We're wasting precious resources in the name of quick profits, instead of putting them to better use than propelling often solo occupants in large metal vehicles, and instead of making them last while we shift to cleaner energy sources.
But there's cause for hope. Solutions are available. Governments just have to demonstrate courage and leadership to put us on a path to a healthier future.
For example, a recent report by energy consulting firm ECOFYS, Feasibility of GHG Emissions Phase-Out by Mid-Century, shows it's technically and economically feasible to reduce global greenhouse gas emissions to zero from 90 percent of current sources with readily available technology. It shows we could phase out almost all net emissions by 2050 by innovating further. In doing so, we could likely meet the agreed-upon goal of limiting global average temperature increases to below two degrees Celsius, and we'd stand a 50 percent chance of staying below 1.5 degrees Celsius by the end of the century. All of this would have the added benefit of reducing "water, air and soil pollution associated with traditional energy generation."
The report echoes the David Suzuki Foundation's findings regarding Canada's potential to meet its current and forecasted demand for fuel and electricity with existing supplies of solar, wind, hydroelectric and biomass energy.
Whether or not any of this is politically feasible is another question. But the longer we delay the more difficult and expensive it will get.
Polling research also shows Canadians expect our government to be a constructive global citizen on climate action. A recent Leger Marketing survey sponsored by Canada 2020 and the University of Montreal found the majority of Canadians understand that human activity is contributing to climate change and believe the federal government should make addressing the issue a high priority. Of those polled, 76 percent said Canada should sign an international treaty to limit greenhouse gas emissions, with most supporting this even if China does not sign.
The poll also found majority support for a carbon tax as one way to combat climate change, especially if the money generated is used to support renewable energy development. Although B.C. has recently stepped back from previous leadership on climate change, its carbon tax is one example among many of local governments doing more than the federal government to address climate change.
We and our leaders at all political levels—local, national and international—must do everything we can to confront the crisis. As Mr.Sano told delegates in Warsaw, "We cannot sit and stay helpless staring at this international climate stalemate. It is now time to take action. We need an emergency climate pathway."
—————
Below, watch climate change representative Yeb Sano as he pleads with the world to take immediate, drastic climate action in an emotional speech at the UN's climate talks in Warsaw:
Dow CEO Andrew Liveris and President Donald Trump in February.
U.S. Environmental Protection Agency (EPA) administrator Scott Pruitt met with Dow Chemical CEO Andrew Liveris before deciding to reverse an earlier EPA decision to ban the company's toxic and widely used pesticide, chlorpyrifos.
According to records obtained by the Associated Press, the EPA boss met with Liveris for about 30 minutes at a Houston hotel on March 9. Later that month, Pruitt announced that he would no longer pursue a ban on chlorpyrifos from being used on food, ignoring his agency's own review that even small amounts of the pesticide could impact fetus and infant brain development.
Keep reading...
Show less
www.facebook.com
Native communities and environmental justice advocates in Louisiana opened a new resistance camp Saturday to oppose the proposed Bayou Bridge Pipeline project. Called L'eau Est La Vie, or Water is Life, the camp will consist of floating indigenous art structures on rafts and constant prayer ceremonies during its first two weeks.
Keep reading...
Show less
Continuing its march toward elimination of key Clean Water Act protections, the U.S. Environmental Protection Agency (EPA) on Tuesday issued a formal notice of withdrawal of the Obama administration's rule defining which waters can be protected against pollution and destruction under federal law.
Keep reading...
Show less
The U.S. Environmental Protection Agency (EPA) is not doing enough to prevent weed resistance to the herbicide glyphosate (Roundup) says a new report from the EPA's Inspector General's Office, which draws in part on a report from the agbiotech company, Pioneer: Weed Management in the Era of Glyphosate Resistance.
Keep reading...
Show less
SUMR
When it comes to the latest wind turbine technologies, size matters. A group of six institutions and universities is designing an offshore wind turbine that will stand 500 meters in height. That's taller than the Eiffel Tower and the Empire State Building.
The research team, led by researchers at the University of Virginia, believes that its wind turbine concept will produce 50 megawatts of peak power, or about 10 times more powerful than conventional wind turbines.
Keep reading...
Show less
www.facebook.com
Natural gas is often considered the cleanest fossil fuel, but could it actually be dirtier than coal?
Watch as New York Times reporter Mark Bittman, in the above Year's of Living Dangerously video, investigates how much methane is leaking at fracking wells. Find out how the natural gas industry's claims compare to what scientists are reporting.
See what happens when Gaby Petron, an atmospheric scientist with NOAA, converts her van into a mobile methane detector and sets out across northeastern Colorado for two years, taking thousands of readings to uncover the truth.
www.youtube.com
Adrian Grenier was named UN Goodwill Ambassador earlier this month. The Hollywood actor, best known for his iconic role of A-list movie star Vincent Chase in the HBO smash hit and film Entourage, will advocate for drastically reducing single-use plastic and protection of marine species, and encourage his followers to make conscious consumer choices to reduce their environmental footprint, according to the UN Environment announcement.
"Together we must usher in a new era of compassion and carefulness through forward thinking environmental programs to drive measurable change," Grenier said. "I am personally committed to creating ways in which the global community can come together to help solve our most critical climate crises through routine, collective action.
"The more we connect to nature in our daily lives, the more dedicated we will become to our individual commitments. Together, I believe we can go further, faster in our race to achieve the UN Sustainable Development Goals by 2030."
Watch the video above to learn more.
The last week has seen a flood of stories on clean energy's prospects—stories that make your head spin with their conflicting tales of renewable energy's prospects of ending our dangerous addiction to fossil fuel power from coal and gas.
Keep reading...
Show less


Get EcoWatch in your inbox