This website uses cookies to ensure you get the best experience while browsing it. By clicking 'Got It' you're accepting these terms.
On Earth Day 150 World Leaders to Sign Paris Climate Agreement
Apr. 19, 2016 12:39PM EST
Climate
By Kathleen Rogers
On April 22, 1970, 20 million Americans hit the streets to protest the environmental effects of more than 100 years of uncontrolled fossil-fueled industrial development. It was the first Earth Day.
What was intended to be a college campus teach-in soon spread to every community and city across the United States. It was and remains the single largest secular event in history. The sheer size of the protest—along with increasing visual evidence of dire health threats associated with air and toxic pollution—soon forced Congress to pass some of the world's toughest environmental laws, most of which include community right-to-know provisions and allow citizens to sue their government if it fails to enforce the law.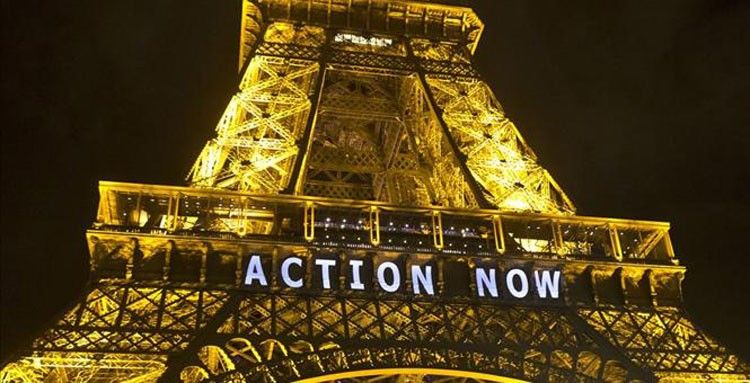 Citizens' rights have been enshrined in every major environmental law from that point on. These laws spawned others around the world—many more stringent than those in the U.S.—and most recognize the role of citizens in the enforcement of environmental laws.
Nearly 50 years later, Earth Day remains a day of reckoning, and now more than 1 billion people take action each year in almost every country on Earth. Some protest, many clean up their communities and plant trees, and millions more have their first exposure to environmentalism through educational programs at schools and universities. Governments large and small make commitments and meet with their constituents, while corporations make pledges to be more sustainable and responsible for the pollution they create.
It is fitting then that United Nations Secretary-General Ban Ki-moon chose Earth Day, April 22, for world leaders to sign the historic Paris climate agreement at UN headquarters in New York. At least 150 world leaders are expected to sign, making it the largest single signing of an international agreement in world history (another Earth Day first). And it's happening not a moment too soon. On every front, global warming is becoming more immediate, more threatening and more irreversible, while scientific consensus and data on the health effects of climate change—particularly on the poor—mount.
Critics warn that the agreement's specific emissions targets are too low, that the pace of implementation is too slow, and it fails failed to specify penalties for non-compliance. That's where we the people come in.
Included in the climate agreement are provisions that recognize the critical role civil society must play to make it work. It calls on citizens to scale up their efforts and support actions to reduce emissions. It signals the need for all of us to be actively engaged in transforming our world from one dominated by fossil fuels to one driven by renewable energy. While these words don't amount to a call for revolution, it's clear both the UN and world leaders recognize that citizen participation in solving global warming has been missing. The success—or failure—of the agreement is on our shoulders.
This isn't a fight in which any of us can remain on the sidelines and hope for the best. Unless we take these matters into our own hands, the agreement alone won't save the world's ecosystems from collapsing, or our biodiversity, which supports all living things on Earth, from disappearing.
Doing our part doesn't mean merely buying green products or inquiring how things are going. It means action. It means a direct challenge to the status quo. It means holding our elected officials accountable and voting out of office national, state and local leaders who won't take action on climate change. It means not passing the buck and hoping others do the hard work.
For many, getting involved means knowing how your retirement accounts and pensions are invested and demanding divestment from fossil fuel stocks. It means demanding that your children be educated for green jobs of the future. It means showing up at town hall or city council meetings and asking about your community's survivability in a climate crisis. It means saying "No" to every new coal or fracking project, and retooling those communities for safer green powered jobs.
And there are no doubt countless other ways to act. Undoubtable, the climate agreement makes it clear that governments don't have the power to solve climate change alone. We all must do something more than we currently are. Earth Day 2016 is not about crossing the finish line. When the agreement is signed, the hard work begins anew.
Kathleen Rogers is president of Earth Day Network.
YOU MIGHT ALSO LIKE
Bill Nye vs. Sarah Palin on Climate Change: Who Do You Believe?
Scientists Start to Look at Ground Beneath Their Feet for Solution to Climate Change
March 2016 Was Hottest on Record by Greatest Margin Yet Seen for Any Month
Al Gore and Neil deGrasse Tyson Talk the Future of Our Planet
EcoWatch Daily Newsletter
United Nations Secretary-General Antonio Guterres speaks at a news conference at UN headquarters on Sept. 18. Drew Angerer / Getty Images
A vegan diet can improve your health, but experts say it's important to keep track of nutrients and protein. Getty Images
By Dan Gray
Research shows that 16 weeks of a vegan diet can boost the gut microbiome, helping with weight loss and overall health.
A healthy microbiome is a diverse microbiome. A plant-based diet is the best way to achieve this.
It isn't necessary to opt for a strictly vegan diet, but it's beneficial to limit meat intake.
New research shows that following a vegan diet for about 4 months can boost your gut microbiome. In turn, that can lead to improvements in body weight and blood sugar management.
Students gathered at the National Mall in Washington DC, Sept. 20. NRDC
By Jeff Turrentine
Nearly 20 years have passed since the journalist Malcolm Gladwell popularized the term tipping point, in his best-selling book of the same name. The phrase denotes the moment that a certain idea, behavior, or practice catches on exponentially and gains widespread currency throughout a culture. Having transcended its roots in sociological theory, the tipping point is now part of our everyday vernacular. We use it in scientific contexts to describe, for instance, the climatological point of no return that we'll hit if we allow average global temperatures to rise more than 2 degrees Celsius above preindustrial levels. But we also use it to describe everything from resistance movements to the disenchantment of hockey fans when their team is on a losing streak.
samael334 / iStock / Getty Images
Berries are small, soft, round fruit of various colors — mainly blue, red, or purple.
A glacier is seen in the Kenai Mountains on Sept. 6, near Primrose, Alaska. Scientists from the U.S. Geological Survey have been studying the glaciers in the area since 1966 and their studies show that the warming climate has resulted in sustained glacial mass loss as melting outpaced the accumulation of new snow and ice. Joe Raedle / Getty Images
By Mark Mancini
On Aug. 18, Iceland held a funeral for the first glacier lost to climate change. The deceased party was Okjökull, a historic body of ice that covered 14.6 square miles (38 square kilometers) in the Icelandic Highlands at the turn of the 20th century. But its glory days are long gone. In 2014, having dwindled to less than 1/15 its former size, Okjökull lost its status as an official glacier.
Members of Chicago Democratic Socialists of America table at the Logan Square Farmers Market on Aug. 18. Alex Schwartz
By Alex Schwartz
Among the many vendors at the Logan Square Farmers Market on Aug. 18 sat three young people peddling neither organic vegetables, gourmet cheese nor handmade crafts. Instead, they offered liberation from capitalism.
Hackney primary school students went to the Town Hall on May 24 in London after school to protest about the climate emergency. Jenny Matthews / In Pictures / Getty Images