This website uses cookies to ensure you get the best experience while browsing it. By clicking 'Got It' you're accepting these terms.


The best of EcoWatch, right in your inbox. Sign up for our email newsletter!
On Earth Day 150 World Leaders to Sign Paris Climate Agreement
Apr. 19, 2016 12:39PM EST
Climate
By Kathleen Rogers
On April 22, 1970, 20 million Americans hit the streets to protest the environmental effects of more than 100 years of uncontrolled fossil-fueled industrial development. It was the first Earth Day.
What was intended to be a college campus teach-in soon spread to every community and city across the United States. It was and remains the single largest secular event in history. The sheer size of the protest—along with increasing visual evidence of dire health threats associated with air and toxic pollution—soon forced Congress to pass some of the world's toughest environmental laws, most of which include community right-to-know provisions and allow citizens to sue their government if it fails to enforce the law.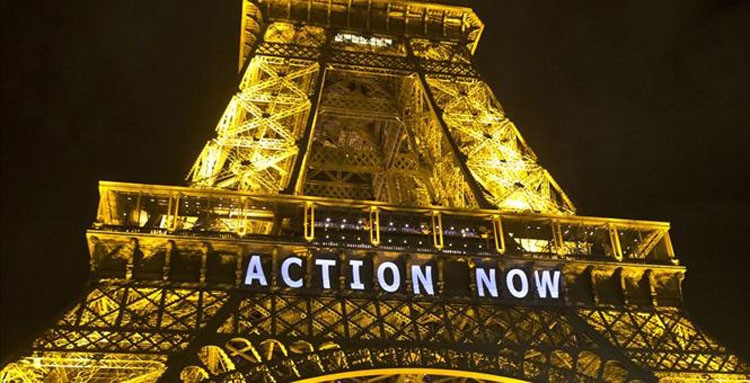 Citizens' rights have been enshrined in every major environmental law from that point on. These laws spawned others around the world—many more stringent than those in the U.S.—and most recognize the role of citizens in the enforcement of environmental laws.
Nearly 50 years later, Earth Day remains a day of reckoning, and now more than 1 billion people take action each year in almost every country on Earth. Some protest, many clean up their communities and plant trees, and millions more have their first exposure to environmentalism through educational programs at schools and universities. Governments large and small make commitments and meet with their constituents, while corporations make pledges to be more sustainable and responsible for the pollution they create.
It is fitting then that United Nations Secretary-General Ban Ki-moon chose Earth Day, April 22, for world leaders to sign the historic Paris climate agreement at UN headquarters in New York. At least 150 world leaders are expected to sign, making it the largest single signing of an international agreement in world history (another Earth Day first). And it's happening not a moment too soon. On every front, global warming is becoming more immediate, more threatening and more irreversible, while scientific consensus and data on the health effects of climate change—particularly on the poor—mount.
Critics warn that the agreement's specific emissions targets are too low, that the pace of implementation is too slow, and it fails failed to specify penalties for non-compliance. That's where we the people come in.
Included in the climate agreement are provisions that recognize the critical role civil society must play to make it work. It calls on citizens to scale up their efforts and support actions to reduce emissions. It signals the need for all of us to be actively engaged in transforming our world from one dominated by fossil fuels to one driven by renewable energy. While these words don't amount to a call for revolution, it's clear both the UN and world leaders recognize that citizen participation in solving global warming has been missing. The success—or failure—of the agreement is on our shoulders.
This isn't a fight in which any of us can remain on the sidelines and hope for the best. Unless we take these matters into our own hands, the agreement alone won't save the world's ecosystems from collapsing, or our biodiversity, which supports all living things on Earth, from disappearing.
Doing our part doesn't mean merely buying green products or inquiring how things are going. It means action. It means a direct challenge to the status quo. It means holding our elected officials accountable and voting out of office national, state and local leaders who won't take action on climate change. It means not passing the buck and hoping others do the hard work.
For many, getting involved means knowing how your retirement accounts and pensions are invested and demanding divestment from fossil fuel stocks. It means demanding that your children be educated for green jobs of the future. It means showing up at town hall or city council meetings and asking about your community's survivability in a climate crisis. It means saying "No" to every new coal or fracking project, and retooling those communities for safer green powered jobs.
And there are no doubt countless other ways to act. Undoubtable, the climate agreement makes it clear that governments don't have the power to solve climate change alone. We all must do something more than we currently are. Earth Day 2016 is not about crossing the finish line. When the agreement is signed, the hard work begins anew.
Kathleen Rogers is president of Earth Day Network.
YOU MIGHT ALSO LIKE
Bill Nye vs. Sarah Palin on Climate Change: Who Do You Believe?
Scientists Start to Look at Ground Beneath Their Feet for Solution to Climate Change
March 2016 Was Hottest on Record by Greatest Margin Yet Seen for Any Month
Al Gore and Neil deGrasse Tyson Talk the Future of Our Planet
EcoWatch Daily Newsletter
PhotoAlto / Laurence Mouton / Getty Images
By Ana Reisdorf, MS, RD
You've probably heard the buzz around collagen supplements and your skin by now. But is the hype really that promising? After all, research has pointed to both the benefits and downsides of collagen supplements — and for many beauty-conscious folk, collagen isn't vegan.
Pixabay
By Marlene Cimons
Neil Pederson's introduction to tree rings came from a "sweet and kindly" college instructor, who nevertheless was "one of the most boring professors I'd ever experienced," Pederson said. "I swore tree rings off then and there." But they kept coming back to haunt him.
Aerial view of the explosion site of a chemical factory on March 22 in Yancheng, Jiangsu Province of China. Caixin Media / VCG / Getty Images)
At least 47 people have died in an explosion at a plant in Yancheng, China Thursday run by a chemical company with a history of environmental violations, Sky News reported.
A fishmonger in Elmina, a fishing port in the Central Region of Ghana. Environmental Justice Foundation
By Daisy Brickhill
Each morning, men living in fishing communities along Ghana's coastline push off in search of the day's catch. But when the boats come back to shore, it's the women who take over.
Pexels
By Sam Nickerson
Links between excess sugar in your diet and disease have been well-documented, but new research by Harvard's School of Public Health might make you even more wary of that next soda: it could increase your risk of an early death.
The study, published this week in the American Heart Association's journal Circulation, found that drinking one or two sugar-sweetened beverages (SSBs) each day — like sodas or sports drinks — increases risk of an early death by 14 percent.
Tyson Foods is recalling approximately 69,093 pounds of frozen chicken strips because they may have been contaminated with pieces of metal, the U.S. Department of Agriculture (USDA) Food Safety and Inspection Service (FSIS) announced Thursday.
The affected products were fully-cooked "Buffalo Style" and "Crispy" chicken strips with a "use by" date of Nov. 30, 2019 and an establishment number of "P-7221" on the back of the package.
"FSIS is concerned that some product may be in consumers' freezers," the recall notice said. "Consumers who have purchased these products are urged not to consume them. These products should be thrown away or returned to the place of purchase."
Environmental exposure to pesticides, both before birth and during the first year of life, has been linked to an increased risk of developing autism spectrum disorder, according to the largest epidemiological study to date on the connection.
The study, published Wednesday in BMJ, found that pregnant women who lived within 2,000 meters (approximately 1.2 miles) of a highly-sprayed agricultural area in California had children who were 10 to 16 percent more likely to develop autism and 30 percent more likely to develop severe autism that impacted their intellectual ability. If the children were exposed to pesticides during their first year of life, the risk they would develop autism went up to 50 percent.