On Earth Day 150 World Leaders to Sign Paris Climate Agreement
By Kathleen Rogers
On April 22, 1970, 20 million Americans hit the streets to protest the environmental effects of more than 100 years of uncontrolled fossil-fueled industrial development. It was the first Earth Day.
What was intended to be a college campus teach-in soon spread to every community and city across the United States. It was and remains the single largest secular event in history. The sheer size of the protest—along with increasing visual evidence of dire health threats associated with air and toxic pollution—soon forced Congress to pass some of the world's toughest environmental laws, most of which include community right-to-know provisions and allow citizens to sue their government if it fails to enforce the law.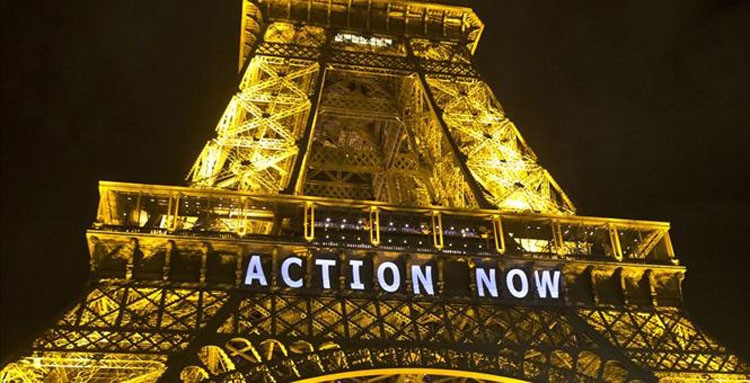 Citizens' rights have been enshrined in every major environmental law from that point on. These laws spawned others around the world—many more stringent than those in the U.S.—and most recognize the role of citizens in the enforcement of environmental laws.
Nearly 50 years later, Earth Day remains a day of reckoning, and now more than 1 billion people take action each year in almost every country on Earth. Some protest, many clean up their communities and plant trees, and millions more have their first exposure to environmentalism through educational programs at schools and universities. Governments large and small make commitments and meet with their constituents, while corporations make pledges to be more sustainable and responsible for the pollution they create.
It is fitting then that United Nations Secretary-General Ban Ki-moon chose Earth Day, April 22, for world leaders to sign the historic Paris climate agreement at UN headquarters in New York. At least 150 world leaders are expected to sign, making it the largest single signing of an international agreement in world history (another Earth Day first). And it's happening not a moment too soon. On every front, global warming is becoming more immediate, more threatening and more irreversible, while scientific consensus and data on the health effects of climate change—particularly on the poor—mount.
Critics warn that the agreement's specific emissions targets are too low, that the pace of implementation is too slow, and it fails failed to specify penalties for non-compliance. That's where we the people come in.
Included in the climate agreement are provisions that recognize the critical role civil society must play to make it work. It calls on citizens to scale up their efforts and support actions to reduce emissions. It signals the need for all of us to be actively engaged in transforming our world from one dominated by fossil fuels to one driven by renewable energy. While these words don't amount to a call for revolution, it's clear both the UN and world leaders recognize that citizen participation in solving global warming has been missing. The success—or failure—of the agreement is on our shoulders.
This isn't a fight in which any of us can remain on the sidelines and hope for the best. Unless we take these matters into our own hands, the agreement alone won't save the world's ecosystems from collapsing, or our biodiversity, which supports all living things on Earth, from disappearing.
Doing our part doesn't mean merely buying green products or inquiring how things are going. It means action. It means a direct challenge to the status quo. It means holding our elected officials accountable and voting out of office national, state and local leaders who won't take action on climate change. It means not passing the buck and hoping others do the hard work.
For many, getting involved means knowing how your retirement accounts and pensions are invested and demanding divestment from fossil fuel stocks. It means demanding that your children be educated for green jobs of the future. It means showing up at town hall or city council meetings and asking about your community's survivability in a climate crisis. It means saying "No" to every new coal or fracking project, and retooling those communities for safer green powered jobs.
And there are no doubt countless other ways to act. Undoubtable, the climate agreement makes it clear that governments don't have the power to solve climate change alone. We all must do something more than we currently are. Earth Day 2016 is not about crossing the finish line. When the agreement is signed, the hard work begins anew.
Kathleen Rogers is president of Earth Day Network.
YOU MIGHT ALSO LIKE
Bill Nye vs. Sarah Palin on Climate Change: Who Do You Believe?
Scientists Start to Look at Ground Beneath Their Feet for Solution to Climate Change
March 2016 Was Hottest on Record by Greatest Margin Yet Seen for Any Month
Al Gore and Neil deGrasse Tyson Talk the Future of Our Planet
Wikimedia Commons
By Stacy Malkan
Neil deGrasse Tyson has inspired millions of people to care about science and imagine themselves as participants in the scientific process. What a hopeful sign it is to see young girls wearing t-shirts emblazoned with the words, "Forget princess, I want to be an astrophysicist."
Keep reading...
Show less
www.youtube.com
By Andy Rowell
Any day now we will truly witness climate change in action. Within days at worst, maybe weeks at best, scientists predict that a huge section of the Larsen C ice shelf in Antarctica will break off into the ocean, in what is called a major "carving" event.
Keep reading...
Show less
www.youtube.com
President Trump visited Cedar Rapids, Iowa on June 21 to speak to a large crowd in the U.S. Cellular Center at a political rally organized by his campaign.
As Trevor Noah noted during The Daily Show episode last night (starts at 2:25), the real reason Trump has these rallies is to "get back in front of his loyal crowds and feed of their energy." Noah believes that "Trump supporters are so on board with their dude he can say anything and they'll come along for the ride."
Keep reading...
Show less
The Kamuthi solar plant in the southern Indian state of Tamil Nadu.
The rapid growth in renewable energy continues to put a dent in the demand for coal.
Coal India, the world's biggest coal mining company and producer of 82 percent of the country's coal, announced the closure of 37 mines that are financially "unviable."
Keep reading...
Show less
www.youtube.com
By Katie O'Reilly
Two years ago—long before coal became one of the most dominant and controversial symbols of the 2016 presidential election—Bloomberg Philanthropies approached production company RadicalMedia with the idea of creating a documentary exploring the U.S. coal mining industry. Last spring, they brought on Emmy-nominated director Michael Bonfiglio, tasked with forging a compelling story out of the multitudes of facts, statistics and narratives underlying the declining industry.
Keep reading...
Show less
Mayors for 100% Clean Energy
Keep reading...
Show less
www.youtube.com
Thanks to Newsy for their coverage on Thursday's news that the U.S. Fish and Wildlife Service removed grizzly bears in the Greater Yellowstone region from the Endangered Species List.
Watch above as Newsy explains that the decision comes despite serious concerns from the environmental and scientific community, and Tribal Nations about a declining, isolated grizzly bear population with diminishing food resources and record-high mortalities.
Keep reading...
Show less
www.facebook.com
By Francine Kershaw
Seismic airguns exploding in the ocean in search for oil and gas have devastating impacts on zooplankton, which are critical food sources for marine mammals, according to a new study in Nature. The blasting decimates one of the ocean's most vital groups of organisms over huge areas and may disrupt entire ecosystems.
And this devastating news comes on the heels of the National Marine Fisheries Service's proposal to authorize more than 90,000 miles of active seismic blasting. Based on the results of this study, the affected area would be approximately 135,000 square miles.
Keep reading...
Show less
By Jill Richardson
Is coconut oil:
good for you
bad for you
neither good nor bad
scientists don't know
The subject of this question is the source of a disagreement. Initially, the question was thought to be settled decades ago, when scientist Ancel Keys declared all saturated fats unhealthy. Coconut oil, which is solid at room temperature, is a saturated fat.
Keep reading...
Show less


Get EcoWatch in your inbox