This website uses cookies to ensure you get the best experience while browsing it. By clicking 'Got It' you're accepting these terms.
Oil and Gas Billionaire Pressured Oklahoma Scientist to Ignore Fracking-Earthquake Link
Apr. 01, 2015 08:34AM EST
Hillary Clinton's emails aren't the only ones making news, at least not in Oklahoma. A trove of emails were released by the Oklahoma Geological Survey (OGS), which regulates the state's oil and gas industries, in response to public records requests from news outlets such as Bloomberg and EnergyWire. They appear to reveal that oil and gas billionaire Harold Hamm, known as the founding father of the U.S. fracking boom, inserted himself into the conversation about whether fracking was causing a dramatic upsurge in earthquakes in the state.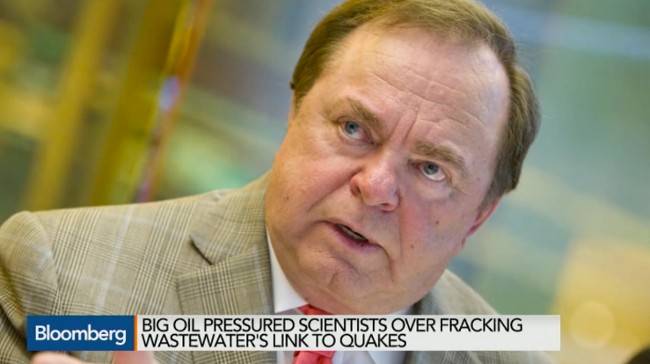 Bloomberg reports that in November 2013, state seismologist Austin Holland, who works for the OGS, got a request from University of Oklahoma president David Boren to meet with him and Hamm in Boren's office. Boren is on the board of Hamm's company, Continental Resources.
Hamm isn't known as a guy shy about slinging around his money and his influence. He's given millions to the University of Oklahoma including $20 million for a diabetes center. He contributed almost a million dollars to Mitt Romney's 2012 presidential campaign and was named his energy advisor. And according to Holland, at that meeting with Boren, he wanted to express his "concern" about the growing evidence that the wave of earthquakes was an outcome of the fracking process.
As fracking has exploded in Oklahoma in the last five years, so have earthquakes, going from an average of two a year over 3.0 magnitude from 1975-2008 to 538 in 2014. Last year, Oklahoma surged past California as the most seismically active state in the lower 48. And scientific studies have been piling up showing a connection between earthquakes and fracking, not just in Oklahoma but also in Texas, Colorado and Ohio.
"Large areas of the U.S. that used to experience few or no earthquakes have, in recent years, experienced a remarkable increase in earthquake activity that has caused considerable public concern as well as damage to structures," says the U.S. Geological Survey (USGS). "This rise in seismic activity, especially in the central U.S., is not the result of natural processes. Deep injection of wastewater is the primary cause of the dramatic rise in detected earthquakes and the corresponding increase in seismic hazard in the central U.S."
"Holland had been studying possible links between a rise in seismic activity in Oklahoma and the rapid increase in oil and gas production, the state's largest industry," wrote Bloomberg reporters Benjamin Elgin and Matthew Phillips. "Hamm requested that Holland be careful when publicly discussing the possible connection between oil and gas operations and a big jump in the number of earthquakes, which geological researchers were increasingly tying to the underground disposal of oil and gas wastewater, a byproduct of the fracking boom that Continental has helped pioneer."
"It was just a little bit intimidating," said Holland. When he emailed a colleague that he had been summoned to have "coffee" with Boren and Hamm, she replied, "Gosh, I guess that's better than having Kool-Aid with them. I guess."
The previous month, Holland had a meeting in the office of Patrice Douglas, then one of the three elected members of the OGS, that was attended by Jack Stark, then senior vice president for exploration at Continental and now its president. Holland updated his superiors following the meeting, saying, "The basic jist [sic] of the meeting is that Continental does not feel induced seismicity is an issue and they are nervous about any dialogue about the subject."
It appears their nervousness was making Holland and the OGS nervous as well, and that they bowed to Hamm's suggestion that they "be careful" about linking earthquakes and fracking operations. When the journal Geology published a paper attributing a 2011 5.6 magnitude Oklahoma quake in 2011 to the injection of fracking wastewater, OGS put out its own statement attributing it to "natural causes."
And when a new disposal well was turned on in southern Oklahoma's Love County and the area began to experience multiple quakes a day, which disappeared when the well was de-activated, Holland wrote, "We cannot rule out that this observation could be simply a coincidence." After Holland stonewalled residents at a public meeting, ExxonMobil geologist Michael Sweatt emailed him, saying, "I would like to congratulate you on a job well done at the Town Hall meeting in Love County. I believe you delivered an unbiased report on the recent earthquake activity and answered the residents' questions the best you could."
Both Boren and Continental dismissed concerns that there was anything improper in the November 2013 meeting in Boren's office or other contacts that Continental had with the OSG.
"The insinuation that there was something untoward that occurred in those meetings is both offensive and inaccurate," Continental Resources spokeswoman Kristin Thomas told Bloomberg. "The Oklahoma Geological Survey had a solid reputation of an agency that was accessible and of service to the community and industry in Oklahoma. We hope that the agency can continue the legacy to provide this service."
Boren called the meeting in his office "purely informational," and said, "Mr. Hamm is a very reputable producer and wanted to know if Mr. Holland had found any information which might be helpful to producers in adopting best practices that would help prevent any possible connection between drilling and seismic events. In addition, he wanted to make sure that the OGS had the benefit of research by Continental geologists."
Holland has denied that pressure from the oil and gas executives influenced his thinking, telling EnergyWire "None of these conversations affect the science that we are working on producing."
And today for Holland, the evidence seems to have overwhelmed Hamm's push for discretion. While saying that Oklahoma has seen spikes in earthquakes in the past when no drilling was going on, he told Bloomberg that he believes most of the new seismic activity is due to the injection of oil and gas wastewater.
"We don't work in a vacuum, although a lot of people think science does occur in an ivory tower or vacuum," Holland told the Tulsa World earlier this year. "So clearly we feel pressures on both sides, and really we are trying to serve Oklahomans and understand things as best we can."
YOU MIGHT ALSO LIKE
Founding Father of Fracking Boom Is Crying the Blues
Did Fracking Cause Oklahoma to Have 3 Times as Many Earthquakes as California in 2014?
Scientists Say Small Fracking Earthquakes Could Lead to Major Ones 
Prince William and British naturalist David Attenborough attend converse during the World Economic Forum annual meeting, on January 22 in Davos, Switzerland. Fabrice Cofferini /AFP / Getty Images
Britain's Prince William interviewed famed broadcaster David Attenborough on Tuesday at the World Economic Forum's annual meeting in Switzerland.
During the sit-down, the 92-year-old naturalist advised the world leaders and business elite gathered in Davos this week that we must respect and protect the natural world, adding that the future of its survival—as well as humanity's survival—is in our hands.
Electric vehicle sales took off in 2018, with a record two million units sold around the world, according to a new Deloitte analysis.
What's more, the accounting firm predicts that another 21 million electric cars will be on the road globally over the next decade due to growing market demand for clean transportation, government subsidies, as well as bans on fossil fuel cars.
Teenager Alex Weber and friends collected nearly 40,000 golf balls hit into the ocean from a handful of California golf courses.
Alex Weber /
CC BY-ND
Southwest Greenland had the most consistent ice loss from 2003 to 2012. Eqalugaarsuit, Ostgronland, Greenland on Aug. 1, 2018.
Rob Oo / CC BY 2.0
Greenland is melting about four times faster than it was in 2003, a new study published Monday in the Proceedings of the National Academy of Sciences found, a discovery with frightening implications for the pace and extent of future sea level rise.
"We're going to see faster and faster sea level rise for the foreseeable future," study lead author and Ohio State University geodynamics professor Dr. Michael Bevis said in a press release. "Once you hit that tipping point, the only question is: How severe does it get?"
Finally, some good news about the otherwise terrible partial government shutdown. A federal judge ruled that the Trump administration cannot issue permits to conduct seismic testing during the government impasse.
The Justice Department sought to delay—or stay—a motion filed by a range of coastal cities, businesses and conservation organizations that are suing the Trump administration over offshore oil drilling, Reuters reported. The department argued that it did not have the resources it needed to work on the case due to the shutdown.
Most people have heard of the Amazon, South America's famed rainforest and hub of biological diversity. Less well known, though no less critical, is the Pantanal, the world's largest tropical wetland.
Like the Amazon, the Pantanal is ecologically important and imperiled. Located primarily in Brazil, it also stretches into neighboring Bolivia and Paraguay. Covering an area larger than England at more than 70,000 square miles, the massive wetland provides irreplaceable ecosystem services that include the regulation of floodwaters, nutrient renewal, river flow for navigability, groundwater recharge and carbon sequestration. The wetland also supports the economies of the four South American states it covers.
Demonstrators participate in a protest march over agricultural policy on Jan. 19 in Berlin, Germany. Carsten Koall / Getty Images Europe
By Andrea Germanos
Organizers said 35,000 people marched through the streets of the German capital on Saturday to say they're "fed up" with industrial agriculture and call for a transformation to a system that instead supports the welfare of the environment, animals and rural farmers.

The fire that erupted after a pipeline explosion in Mexico Friday. FRANCISCO VILLEDA / AFP / Getty Images
By Patrick Rogers
If you have ever considered making the switch to an environmentally friendly electric vehicle, don't drag your feet. Though EV prices are falling, and states are unveiling more and more public charging stations and plug-in-ready parking spots, the federal government is doing everything it can to slam the brakes on our progress away from gas-burning internal combustion engines. President Trump, likely pressured by his allies in the fossil fuel industry, has threatened to end the federal tax credits that have already helped put hundreds of thousands of EVs on the road—a move bound to harm not only our environment but our economy, too. After all, the manufacturing and sale of EVs, hybrids, and plug-in hybrids supported 197,000 jobs in 2017, according to the most recent U.S. Energy and Employment Report.