This website uses cookies to ensure you get the best experience while browsing it. By clicking 'Got It' you're accepting these terms.
Ohio Fracking Fire Likely Cause of Large Fish Kill
Jul. 01, 2014 04:08PM EST
Ohio Department of Natural Resources and state Environmental Protection Agency officials have launched an investigation to find out what killed a large, but unspecified, amount of fish in a creek that feeds into the Ohio River.
While Ohio officials are willing to concede that a fire at a nearby shale gas fracking site "likely" contaminated Monroe County's Opossum Creek, according to the Columbus Dispatch, one environmental group appears more certain that those dots have a connection. An ODNR official confirmed the fish kill Sunday—just a day after the fire temporarily displaced about 25 area families.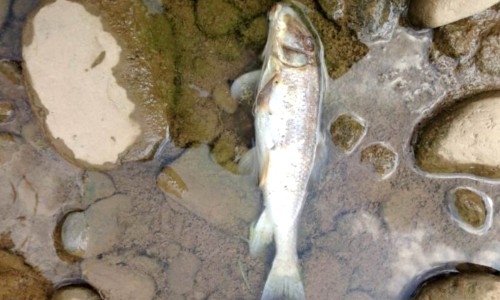 "The fracking fire appears to have left a miles-long trail of death and destruction in its wake with thousands of dead fish and wildlife floating belly up in this once pristine stream," Nathan Johnson, staff attorney for the Ohio Environmental Council. "This may be unprecedented, perhaps the biggest Ohio fish kill in memory related to the oil and gas industry."
The fire occurred on the Eisenbarth well pad, near the West Virginia border, after fracking fluid tubes malfunctioned. The fire spread from the tubes to about 20 trucks that were lined on the pad. It could have killed the crayfish, minnows and smallmouth bass that died as far as 5 miles away from the site.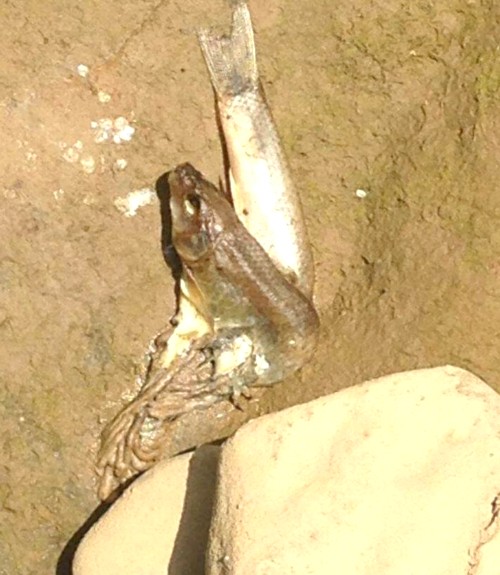 ODNR spokeswoman Bethany McCorkle told the paper she did not know whether the fracking contaminants had reached the Ohio River, and  the EPA said it doesn't know yet if drinking water in the area has been impacted. Additionally, John Shreve, Monroe County environmental health director, said the contaminants that killed the fish might not be enough to contaminate groundwater.
Shreve said his department is monitoring water quality, administering requested well testing, though no well owners have asked for testing yet.
However, Ohio Environmental Council representatives say the incident is particularly troubling since the creek was once proclaimed by the EPA as one of the state's cleanest waterways.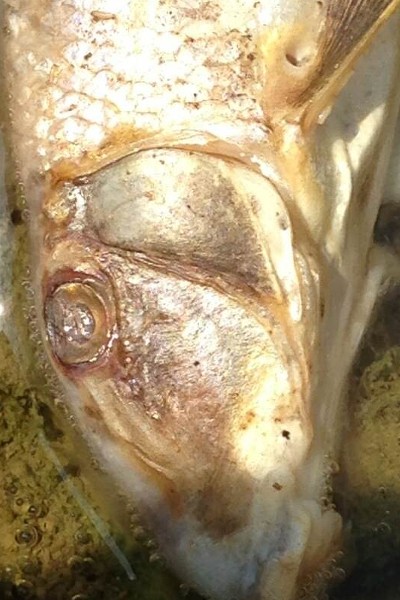 "Who is to say that more fracking-related environmental tragedies like the one we appear to be seeing in Opossum Creek won't occur in the future," Johnson asked. "We just saw a major well blow-out in Morgan County this past May that threatened a nearby creek."  
"The Ohio legislature needs to step up and overhaul Ohio's pitifully toothless existing law to mandate a much larger separation buffer between oil and gas well sites and nearby streams. Extending the legal stream buffer is an urgent no-brainer for Ohio's environment."
No injuries were reported in the fire.
Plus, learn if there's one that's best for your health.
Catherine Falls Commercial / Moment / Getty Images
An invasive Amynthas worm, also known as a crazy snake worm, Asian jumping worm and Alabama jumper Tom Potterfield / Flickr
By Jason Bittel
My wife and I built a house two years ago on a few acres of woodland outside of Pittsburgh. The backyard is full of maples, poplars, briars and common spicebush. Two-lined salamanders and grumpy-looking crayfish wade among the rocks in the small stream that runs down the edge of the property. Deer, raccoon and opossum tracks appear regularly in the snow and mud. Sometimes, my trail-cam even catches a pair of gray foxes as they slink through the night.
AleksandarNakic / Getty Images
By Kate Murphy
No matter the time of year, there's always a point in each season when my skin decides to cause me issues. While these skin issues can vary, I find the most common issues to be dryness, acne and redness.

David Woodfall / The Image Bank / Getty Images
By Sam Nickerson
The U.S. Environmental Protection Agency (EPA) in April 2018 proposed relaxing standards related to how it assesses the effects of exposure to low levels of toxic chemicals on public health.
Now, correspondence obtained by the LA Times revealed just how deeply involved industry lobbyists and a controversial, industry-funded toxicologist were in drafting the federal agency's proposal to scrap its current, protective approach to regulating toxin exposure.
Steve Irwin poses with a three foot long alligator at the San Francisco Zoo on June 26, 2002. Justin Sullivan / Getty Images
February 22 is the birthday of conservationist and beloved TV personality "Crocodile Hunter" Steve Irwin, who would have been 57 years old today.
Irwin's life was tragically cut short when the barb from a stingray went through his chest while he was filming in 2006, but his legacy of loving and protecting wildlife lives on, most recently in a Google Doodle today honoring his birthday.