This website uses cookies to ensure you get the best experience while browsing it. By clicking 'Got It' you're accepting these terms.
Oceana Urges Cancellation of Central Gulf Lease Sale
Jan. 12, 2012 02:49PM EST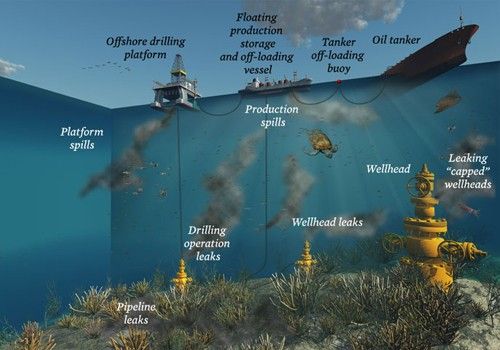 The Bureau of Ocean Energy Management (BOEM) paved the way to opening roughly 63 million acres in the Central Gulf of Mexico Jan. 11 by issuing its Final Supplemental Environmental Impact Statement for the Central Gulf lease sale 216/222 to new oil and gas exploration and development. This area notably includes the site of British Petroleum's (BP) massive 2010 oil spill.
"The Central Gulf of Mexico is literally a disaster zone, with oil plumes and dispersants still in the water, and marine life still trying to recover. We haven't even fully assessed the damage done by the last spill. Allowing more drilling there is like opening up a crime scene before you have all the evidence and while the perpetrator is still at large," said Jacqueline Savitz, senior campaign director for international ocean conservation group Oceana. "We need to understand what happened, how it affected the ecosystem and how we can prevent it from happening again before we reopen for business," Savitz added.
For more specifics about shortcomings in drilling safety requirements, see the new Oceana analysis, False Sense of Safety.
Central Gulf waters are important habitat for bluefin and yellowfin tuna, red snapper, red drum and gulf sturgeon, in addition to numerous marine mammals. Many of these species are already struggling. Gulf sturgeon are endangered and bluefin tuna have been severely overfished. Until the status of these species is confirmed, it's impossible to determine the impacts of this lease sale, a step required by law prior to the sale.
Many of the existing leases already purchased in the Gulf have yet to be tapped for oil. According to the U.S. Department of Interior, 76 percent of leases in the Central Gulf remained inactive as of October 2011 The companies holding these leases have not yet produced any oil from them. In addition, BOEM just sold off many more leases in the Western Gulf last month.
For these reasons, Oceana urges the Obama administration to more fully consider the impacts of the Deepwater Horizon spill prior to moving forward with a proposed Central Gulf lease sale.
For more information, click here.
EcoWatch Daily Newsletter
Large food companies are following in the footsteps of fast-food restaurants such as Burger King and KFC by offering meat alternatives. Getty Images
By Elizabeth Pratt
Hormel, Kellogg's, and Kroger are among the large companies now planning to offer "fake meat" products at grocery stores.
Experts say the trend toward plant-based meats coincides with consumers' desires to eat less meat.
However, experts urge consumers to closely check package labels as a product isn't necessarily healthy just because it's described as plant-based.
In grocery stores and fast-food outlets around the U.S., a revolution is taking place.
Colombia rainforest. Marcel Oosterwijk / CC BY-SA 2.0
Many of us think of the Amazon as an untouched wilderness, but people have been thriving in these diverse environments for millennia. Due to this long history, the knowledge that Indigenous and forest communities pass between generations about plants, animals and forest ecology is incredibly rich and detailed and easily dwarfs that of any expert.
picture-alliance / Newscom / R. Ben Ari
By Wesley Rahn
Plastic byproducts were found in 97 percent of blood and urine samples from 2,500 children tested between 2014 and 2017, according to a study by the German Environment Ministry and the Robert Koch Institute.

Pexels
Medically reviewed by Daniel Bubnis, MS, NASM-CPT, NASE Level II-CSS
Hot yoga has become a popular exercise in recent years. It offers many of the same benefits as traditional yoga, such as stress reduction, improved strength, and flexibility.
Lara Hata / iStock / Getty Images
By SaVanna Shoemaker, MS, RDN, LD
Rice is a staple in many people's diets. It's filling, inexpensive, and a great mild-tasting addition to flavorful dishes.
An image of the trans-alaskan oil pipeline that carries oil from the northern part of Alaska all the way to valdez. This shot is right near the arctic national wildlife refuge. kyletperry / iStock / Getty Images Plus
The Trump administration has initialized the final steps to open up nearly 1.6 million acres of the protected Alaskan National Wildlife Refuge to allow oil and gas drilling.