This website uses cookies to ensure you get the best experience while browsing it. By clicking 'Got It' you're accepting these terms.
Oceana Urges Cancellation of Central Gulf Lease Sale
Jan. 12, 2012 02:49PM EST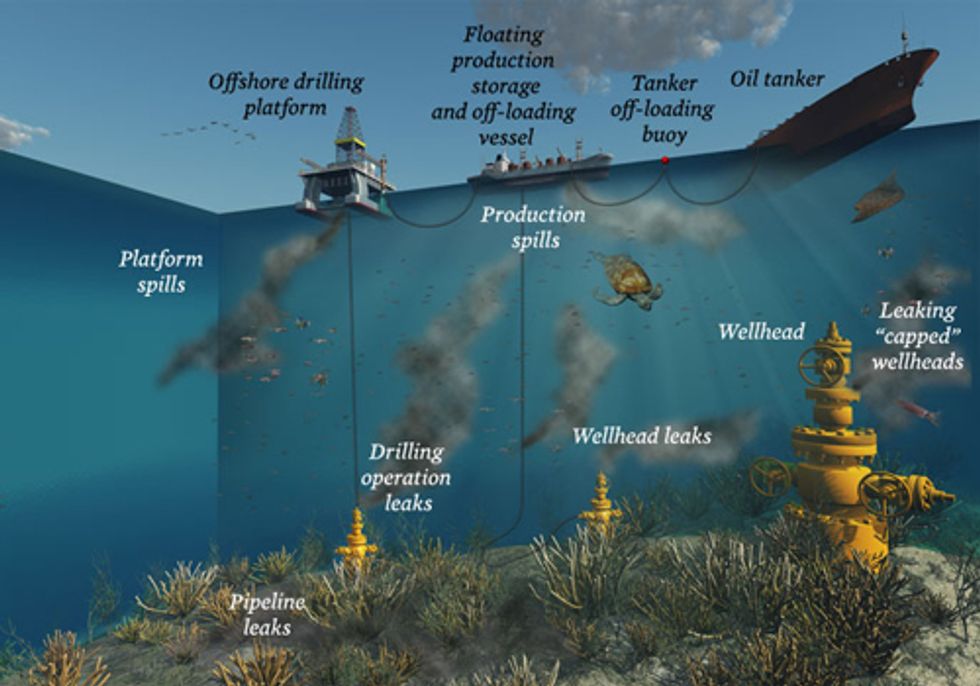 The Bureau of Ocean Energy Management (BOEM) paved the way to opening roughly 63 million acres in the Central Gulf of Mexico Jan. 11 by issuing its Final Supplemental Environmental Impact Statement for the Central Gulf lease sale 216/222 to new oil and gas exploration and development. This area notably includes the site of British Petroleum's (BP) massive 2010 oil spill.
"The Central Gulf of Mexico is literally a disaster zone, with oil plumes and dispersants still in the water, and marine life still trying to recover. We haven't even fully assessed the damage done by the last spill. Allowing more drilling there is like opening up a crime scene before you have all the evidence and while the perpetrator is still at large," said Jacqueline Savitz, senior campaign director for international ocean conservation group Oceana. "We need to understand what happened, how it affected the ecosystem and how we can prevent it from happening again before we reopen for business," Savitz added.
For more specifics about shortcomings in drilling safety requirements, see the new Oceana analysis, False Sense of Safety.
Central Gulf waters are important habitat for bluefin and yellowfin tuna, red snapper, red drum and gulf sturgeon, in addition to numerous marine mammals. Many of these species are already struggling. Gulf sturgeon are endangered and bluefin tuna have been severely overfished. Until the status of these species is confirmed, it's impossible to determine the impacts of this lease sale, a step required by law prior to the sale.
Many of the existing leases already purchased in the Gulf have yet to be tapped for oil. According to the U.S. Department of Interior, 76 percent of leases in the Central Gulf remained inactive as of October 2011 The companies holding these leases have not yet produced any oil from them. In addition, BOEM just sold off many more leases in the Western Gulf last month.
For these reasons, Oceana urges the Obama administration to more fully consider the impacts of the Deepwater Horizon spill prior to moving forward with a proposed Central Gulf lease sale.
For more information, click here.
EcoWatch Daily Newsletter
Doctors report that only 1 in 4 children are getting the recommended 60 minutes of physical activity per day. Ronnie Kaufman / DigitalVision / Getty Images
By Dan Gray
Pediatricians are being urged to start writing "exercise prescriptions" for the children they see in their office.
A First Nations protester walks in front of a train blockade in Tyendinaga, near Belleville, Ontario, Canada on Feb. 21, 2020. LARS HAGBERG / AFP via Getty Images
An indigenous rail blockade that snarled train travel in Canada for more than two weeks came to an end Monday when police moved in to clear protesters acting in solidarity with another indigenous community in British Columbia (B.C.), which is fighting to keep a natural gas pipeline off its land.
A rainbow snake, a rare reptile spotted in a Florida county for the first time in more than 50 years, seen here on July 5, 2013.
Kevin Enge / FWC Fish and Wildlife Research Institute / Flickr
A Florida hiker recently stumbled across a slithering surprise — a rare snake that hadn't been spotted in the area for more than 50 years.
We need our government to do everything it can to stop PFAS contamination and exposure from wreaking havoc in communities across the country. LuAnn Hun /
Unsplash
By Genna Reed
The EPA announced last week that it is issuing a preliminary regulatory determination for public comment to set an enforceable drinking water standard to two of the most common and well-studied PFAS, PFOA and PFOS.
This decision is based on three criteria:
PFOA and PFOS have an adverse effect on public health
PFOA and PFOS occur in drinking water often enough and at levels of public health concern;
regulation of PFOA and PFOS is a meaningful opportunity for reducing the health risk to those served by public water systems.
Charging EVs in Stockholm: But where does a dead battery go? Ranjithsiji / Wikimedia Commons
By Kieran Cooke
Driving an electric-powered vehicle (EV) rather than one reliant on fossil fuels is a key way to tackle climate change and improve air quality — but it does leave the old batteries behind as a nasty residue.