This website uses cookies to ensure you get the best experience while browsing it. By clicking 'Got It' you're accepting these terms.
Obama Administration Approves Shell's Plan to Drill in the Arctic
May. 11, 2015 03:20PM EST
Energy
The Obama administration gave conditional approval today to Shell to start drilling for oil and gas in the Arctic Ocean this summer. Shell has been fighting for the right to drill in the Arctic for years, despite a number of botched forays in recent years, and it looks like they are still going to get their way.
.@Shell approved for #drilling in #Arctic today. Their history shows they won't do it safely. http://t.co/srlxsUOExA pic.twitter.com/lS6w5rjx0f

— U.S. Climate Plan (@usclimateplan) May 11, 2015
Last month, the Department of the Interior opened the door to selling offshore drilling leases in the Arctic, even though a court-ordered re-analysis showed that the environmental impacts could be far worse than previously thought.
"We have taken a thoughtful approach to carefully considering potential exploration in the Chukchi Sea, recognizing the significant environmental, social and ecological resources in the region and establishing high standards for the protection of this critical ecosystem, our Arctic communities, and the subsistence needs and cultural traditions of Alaska Natives," Abigail Ross Hopper, director of the Interior Department's Bureau of Ocean Energy Management said. "As we move forward, any offshore exploratory activities will continue to be subject to rigorous safety standards."
The decision is a devastating blow to environmentalists, who have pressed the Obama administration to reject proposals for offshore Arctic drilling. "Instead of holding Shell accountable and moving the country towards a sustainable future, our federal regulators are catering to an ill-prepared company in a region that does not tolerate cutting corners," said Greenpeace senior research specialist Tim Donaghy. "Shell has a history of dangerous malfunctioning in the Arctic while global scientists agree that Arctic oil must stay in the ground if we're to avoid catastrophic climate change."
Michael Brune at the Sierra Club agrees. "We are deeply disappointed that just days after the United States took over chairmanship of the Arctic Council, an international body dedicated to protecting the Arctic environment, the Obama Administration decided to allow Shell to move forward with its dirty and dangerous plan to drill in our Arctic waters," Brune said. "This is exactly the wrong message to send to the world.
"Both science and common sense is crystal clear in telling us that undeveloped dirty fuels, especially those in the Arctic, must remain in the ground if we are to avoid the worst consequences of climate disruption. Downplaying the threats drilling poses to our climate, communities, and environment—as Shell continues to do—does not in reality make the threats any less serious. The Obama administration must say no to drilling in America's Arctic Ocean, cancel these leases and remove future leasing from the five-year offshore drilling plan."
Greenpeace and Sierra Club are not the only environmental groups that have stressed that the ecological costs of drilling in the pristine and remote Arctic seas are just too high. Marissa Knodel of Friends of the Earth said, "With a 75 percent chance of a large oil spill and more drilling equipment, air, water and noise pollution, this is the largest, loudest and dirtiest exploration plan ever proposed in the American Arctic Ocean," said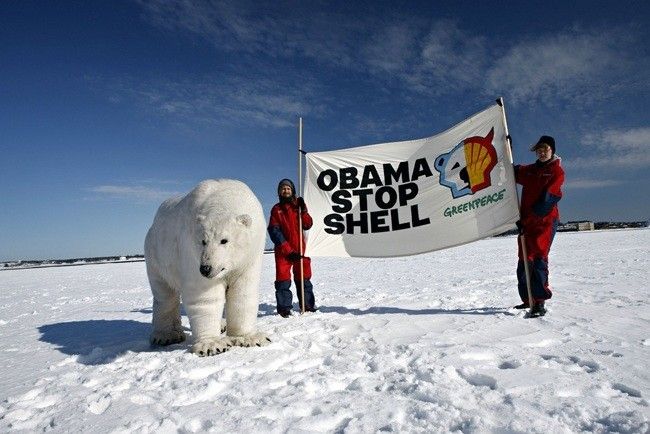 The Obama administration had initially given Shell a permit to begin offshore Arctic drilling in the summer of 2012. But, the company ran into all kinds of safety and operational problems. Two of its oil rigs ran aground and had to be towed to safety, according to The New York Times. In 2013, the Department of the Interior said the company could not resume drilling until all safety issues were addressed.
Now, Shell has been given the green light once more and many groups, including the Center for Biological Diversity, are saying Interior rushed the decision. "The Interior Department bent over backward to rush Shell's permit through the regulatory process so it could move its drillships into the Arctic this summer," said the Center for Biological Diversity's Alaska director Rebecca Noblin. "Considering Shell ran its drillship aground in Alaska in 2012, it's hard to fathom how the federal government can rationalize rubber-stamping Shell's second try at Arctic drilling."
In a review of the company's performance in the Arctic, Interior concluded that Shell had failed in a wide range of basic operational tasks, reports The New York Times. But now, Interior has decided to give shell new permits for 2015.
"This decision places big oil before people, putting the Arctic's iconic wildlife and the health of our planet on the line," said Erik Grafe, Earthjustice staff attorney. "The agency should not be approving such threatening plans based on a rushed and incomplete environmental and safety review. Ultimately, Arctic Ocean drilling is far too risky and undermines the administration's efforts to address climate change and transition to a clean energy future. These fossil fuels need to remain in the ground."
YOU MIGHT ALSO LIKE
Help Keep Shell Out of Seattle's Port and Out of the Arctic
Bottled Water Companies vs. California's Epic Drought
'World of 7 Billion' Video Contest Finds Solutions for Our Overcrowded Planet
EcoWatch Daily Newsletter
Variety of fermented food korean traditional kimchi cabbage and radish salad. white and red sauerkraut in ceramic plates over grey spotted background. Natasha Breen / REDA&CO / Universal Images Group / Getty Image
Even if you've never taken probiotics, you've probably heard of them.
These supplements provide numerous benefits because they contain live microorganisms, such as bacteria or yeast, which support the healthy bacteria in your gut (1, 2, 3, 4).
Pexels
Singapore will become the first country in the world to place a ban on advertisements for carbonated drinks and juices with high sugar contents, its health ministry announced last week. The law is intended to curb sugar consumption since the country has some of the world's highest diabetes rates per capita, as Reuters reported.
A typical adult takes around 20,000 breaths per day. If you live in a megacity like Beijing, with many of those lungfuls you're likely to inhale a noxious mixture of chemicals and pollutants.
Fred Stone holds his brown swiss cow Lida Rose at his Arundel dairy farm on March 18 after a press conference where he spoke about PFAS chemical contamination in his fields. Gregory Rec / Portland Portland Press Herald via Getty Images
By Susan Cosier
First there was Fred Stone, the third-generation dairy farmer in Maine who discovered that the milk from his cows contained harmful chemicals. Then came Art Schaap, a second-generation dairy farmer in New Mexico, who had to dump 15,000 gallons of contaminated milk a day.
Protesters attend the 32nd annual Fur-Free Friday demonstration on Nov. 23, 2018 in Beverly Hills, California. Ella DeGea / Getty Images
California Governor Gavin Newsom signed into law a bill that that bans the sale and manufacture of fur products in the state. The fur ban, which he signed into law on Saturday, prohibits Californians from selling or making clothing, shoes or handbags with fur starting in 2023, according to the AP.
By Simon Evans
During the three months of July, August and September, renewables generated an estimated total of 29.5 terawatt hours (TWh), compared with just 29.1TWh from fossil fuels, the analysis shows.
A demonstrator waves an Ecuadorian flag during protests against the end of subsidies to gasoline and diesel on Oct. 9 in Quito, Ecuador. Jorge Ivan Castaneira Jaramillo / Getty Images
Protesters block the road outside Mansion House in London during an XR climate change protest. Gareth Fuller / PA Images via Getty Images