This website uses cookies to ensure you get the best experience while browsing it. By clicking 'Got It' you're accepting these terms.
New Jersey Residents Demand Fracking Waste Ban
Jun. 13, 2013 03:24PM EST
Energy
Residents, activists and community leaders held coordinated actions across New Jersey yesterday to pressure legislative leaders into acting on the Fracking Waste Ban Bill. Notably, they collected and delivered more than 17,000 petition signatures in support of the measure to Assembly Speaker Oliver and Assembly Minority Leader Bramnick.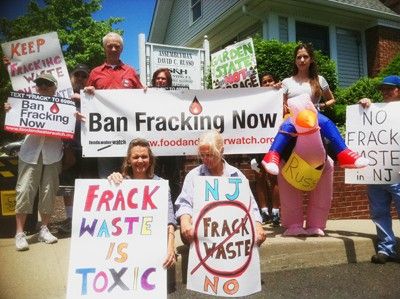 The Fracking Waste Ban Bill would protect residents by banning the disposal, treatment and discharge of toxic waste created through the process of fracking, a highly controversial natural gas drilling method. The legislation was passed with overwhelming bipartisan support last year but was vetoed by the governor in September. At various rallies today, activists dressed as ostriches, urging Oliver and Bramnick not to "bury their heads in the sand" but instead take immediate action to protect state residents.
"It's very simple—the people of New Jersey want this veto overridden, and they're expecting legislative leaders to act now," said Jim Walsh, regional director of Food & Water Watch. "There's nothing more important than the health and safety of New Jersey families, and an inundation of toxic fracking waste into our state would threaten that."
New Jersey's wastewater treatment facilities are not designed to handle the toxins found in fracking wastewater and cannot remove all the toxics before discharging the waste into public waterways. Fracking waste is exempted from critical federal protections regulating the disposal of hazardous waste and toxic materials.
"This is the most important clean water issue New Jersey has faced since the passage of the Clean Water Act 40 years ago. If we had fracking waste stored here when Sandy hit a disaster would have become an environmental nightmare," said Jeff Tittel, director of New Jersey Sierra Club. "We already have enough toxic sites and polluted water, we do not need to create more through fracking waste. We need the legislature to stand up for clean water and against special interests by voting to override the veto."
Analysis from the non-partisan Office of Legislative Services confirms the constitutionality of the legislation, directly refuting the governor's claims to the contrary. A recent study from Stony Brook University finds that the greatest risk of contamination of drinking water and environmental pollution from the fracking process occurs during the wastewater disposal period.
"The legislature took a stand to protect our drinking water and communities from frack waste pollution with the passage of the Frack Waste Ban Bill. With the governor's veto, the bill will die unless the legislature stands up again," said Tracy Carluccio, deputy director of Delaware Riverkeeper Network. "We need all those who voted to prohibit the dumping of this waste to vote again to override the veto to prevent the pollution and health impacts that will result from this radioactive material."
"This is an important vote—to protect our drinking water, to avoid enabling climate disruption in a post-Sandy New Jersey, and to bring hope to citizens that their representatives will put partisan politics aside and do the right thing," said Dave Pringle, campaign director of New Jersey Environmental Federation. "It's one thing to vote the right way when your vote's not needed, but it's another when your vote will be the difference maker."
Visit EcoWatch's FRACKING page for more related news on this topic.
——–
Sign the petition today, telling President Obama to enact an immediate fracking moratorium:

EcoWatch Daily Newsletter
By Anita Desikan
The Trump administration is routinely undermining your ability — and mine, and everyone else's in this country — to exercise our democratic rights to provide input on the administration's proposed actions through the public comment process. Public comments are just what they sound like: an opportunity for anyone in the public, both individuals and organizations, to submit a comment on a proposed rule that federal agencies are required by law to read and take into account. Public comments can raise the profile of an issue, can help amplify the voices of affected communities, and can show policymakers whether a proposal has broad support or is wildly unpopular.
Alena Gamm / EyeEm / Getty Images
Picture this: a world where chocolate is as rare as gold. No more five-dollar bags of candy on Halloween. No more boxes of truffles on Valentine's day. No more roasting s'mores by the campfire. No more hot chocolate on a cold winter's day.
Who wants to live in a world like that?
Fabian Krause / EyeEm / Getty Images
Water protectors of all persuasions gathered in talking circles at Borderland Ranch in Pe'Sla, the heart of the sacred Black Hills, during the first Sovereign Sisters Gathering. At the center are Cheryl Angel in red and white and on her left, Lyla June. Tracy Barnett
By Tracy L. Barnett
Sources reviewed this article for accuracy.
For Sicangu Lakota water protector Cheryl Angel, Standing Rock helped her define what she stands against: an economy rooted in extraction of resources and exploitation of people and planet. It wasn't until she'd had some distance that the vision of what she stands for came into focus.
Hedges, 2019 © Hugh Hayden. All photos courtesy of Lisson Gallery
By Patrick Rogers
"I'm really into trees," said the sculptor Hugh Hayden. "I'm drawn to plants."
BruceBlock / iStock / Getty Images
Thanks to their high concentration of powerful plant compounds, foods with a natural purple hue offer a wide array of health benefits.