Monsanto's Glyphosate Most Heavily Used Weed Killer in History
Glyphosate, the main ingredient in the Monsanto's flagship product Roundup, is now the "most widely applied pesticide worldwide," according to a report published today in the peer-reviewed journal Environmental Sciences Europe.
The paper, Trends in glyphosate herbicide use in the United States and globally, reveals that since 1974, when Roundup was first commercially sold, more than 1.6 billion kilograms (or 3.5 billion pounds) of glyphosate has been used in the U.S., making up 19 percent of the 8.6 billion kilograms (or 18.9 billion pounds) of glyphosate used around the world.
Globally, glyphosate use has risen almost 15-fold since "Roundup Ready" crops were introduced in 1996, the paper noted. These crops, such as soy, corn, canola, alfalfa and cotton, are genetically engineered to withstand direct applications of Roundup, as the product kills only the weeds.
"Genetically engineered herbicide-tolerant crops now account for about 56 percent of global glyphosate use," agricultural economist Charles M. Benbrook, PhD, and author of the study wrote in his paper. "In the U.S., no pesticide has come remotely close to such intensive and widespread use."
According to the study, two-thirds of the total volume of glyphosate applied in the U.S. from 1974 to 2014 has been sprayed in just the last 10 years.
"The dramatic and rapid growth in overall use of glyphosate will likely contribute to a host of adverse environmental and public health consequences," Benbrook claimed.
In his paper, Benbrook cited other scientific studies linking glyphosate exposure to adverse liver and kidney problems, as well as non-Hodgkin lymphoma.
Last March, the International Agency for Research on Cancer's (IARC), the World Health Organization's cancer research arm, infamously declared that glyphosate was a "possible carcinogen."
Following the IARC's decision, California's Office of Environmental Health Hazard Assessment (OEHHA) issued plans in September to add glyphosate to the state's list of chemicals known to cause cancer, making it the first state in the country to do so.

Another problem rising from glyphosate use is the rise of "superweeds" that are resistant to herbicides. A 2013 report from Food & Water Watch found a connection between the rapid proliferation of genetically engineered crops and affiliated pesticides in the U.S., and the rise of herbicide-resistant "superweeds" that have led to the steadily increasing use of more dangerous herbicides.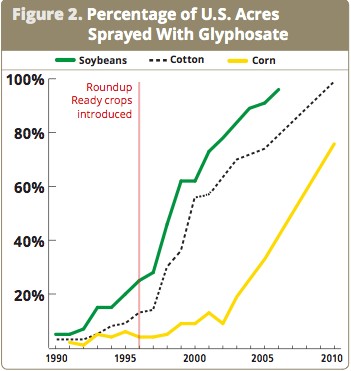 Monsanto is facing a slew of criticism from environmentalists as well as mounting class-action lawsuits over the controversial chemical.
In September, two separate U.S. agricultural workers slapped Monsanto with lawsuits, alleging that the company caused their cancers. They also argued that the company "falsified data" and "led a prolonged campaign of misinformation" to convince the public, farm workers and government agencies about the safety of Roundup.
Monsanto said that there was nothing new in the Benbrook's study, according to Horticulture Week.
Benbrook hopes his paper will "stimulate more research on glyphosate use, and human and environmental exposure patterns, to increase the chance that scientists will quickly detect any problems that might be triggered, or made worse by glyphosate exposure."
Monsanto, however, has long maintained the safety of their widely popular product, which generated $4.8 billion in 2015 revenue. The agribusiness giant has also vehemently denied glyphosate's link to cancer, demanding a retraction of the IARC's report and also filing suit last month to prevent California from listing the chemical as a known carcinogen.
"This report makes it clear that the use of glyphosate combined with the dominance of genetically engineered crops has produced an looming public health threat both in the U.S. and around the world," Mary Ellen Kustin, a senior policy analyst at Environmental Working Group, said in a statement.
"Farmers have sprayed billions of pounds of a chemical now considered a probable human carcinogen over the past decade. Spraying has increased to multiple times a year recently on the majority of U.S. cropland. The sheer volume of use of this toxic weed-killer is a clear indication that this chemical dependency is a case of farming gone wrong."
Peter Melchett, policy director at the Soil Association, agrees. "This research reveals that Monsanto's Glyphosate is now the most heavily used weed-killer in history, and use is sky-rocketing—nearly 75 percent of all Glyphosate ever sprayed on crops was used in the last 10 years," he said.
"This huge increase in chemical spraying is what we can expect if GM crops are ever grown in England. As well as being identified as a probable human carcinogen, the research notes that recent studies have made the connection between glyphosate exposure and a number of serious health effects as well as cancer, including the degeneration of the liver and kidney, as well as non-Hodgkin lymphoma. The research rightly questions the safety of using glyphosate on crops destined for people to eat just before they are harvested—a growing practice in the UK, which must end."
www.elysee.fr
By Andy Rowell
There is a growing feeling within European capitals that a quiet, but deeply positive, revolution is happening under Emmanuel Macron in France.
Macron's opinion poll rating is high, especially boosted in how the young French president has reacted to Donald Trump on the international stage.
Keep reading...
Show less
www.facebook.com
Keep reading...
Show less
Keep reading...
Show less
www.youtube.com
According to Bloomberg, "SeaWorld Entertainment Inc. received a subpoena earlier this month from regulators investigating disclosures and public statements by executives, including comments about the Blackfish documentary that caused a public backlash against the confinement of orcas.
Keep reading...
Show less
By Mary Mazzoni
In 2013, shoppers were reacquainted with the tragic story of their clothing when a massive factory collapse claimed the lives of more than 1,100 Bangladeshi garment workers.
The nonprofit Fashion Revolution, formed in response to that disaster, continues to track the apparel industry's progress on environmental stewardship and human rights. But four years later, big brands are still not doing enough to disclose their efforts to customers, the organization concluded in a recent report.
Keep reading...
Show less
Hawaii Renewable Energy Alliance
The latest issue of the U.S. Energy Information's "Electric Power Monthly" (with data through April 30) reveals that—for the first time since the beginning of the nuclear era—renewable energy sources (i.e., biomass, geothermal, hydropower, solar—inc. small-scale PV, wind) are now providing a greater share of the nation's electrical generation than nuclear power.
Keep reading...
Show less
www.youtube.com
Check out this great 360° virtual reality video by NowThis on the world's largest indoor vertical farm, AeroFarms. Located in Newark, New Jersey, AeroFarms grows more than 2 million pounds of greens a year without sunlight, soil or pesticides.
As reported by EcoWatch in July 2105, the $30 million, 70,000-square-foot AeroFarms headquarters dwarfs Japan's (already impressive) 25,000-square-foot vertical indoor farm, which had been the world's largest until now.
www.facebook.com
"There's no such thing as clean coal," according to this ATTN: video.
Watch above as ATTN: explains the many hazards of coal beyond carbon emissions, that no matter what there's no reviving the coal industry and how investment in renewable energy is the best way forward.
Share this video if you think America needs real energy solutions.
Wikipedia
By Franziska Spritzler, RD, CDE
Boosting your metabolic rate can help you lose body fat. However, most "fat-burning" supplements on the market are either unsafe, ineffective or both.
Fortunately, several natural foods and beverages have been shown to increase your metabolism and promote fat loss.
Keep reading...
Show less