GMO
Feb. 02, 2016 11:03AM EST
Monsanto's Glyphosate Most Heavily Used Weed Killer in History
Glyphosate, the main ingredient in the Monsanto's flagship product Roundup, is now the "most widely applied pesticide worldwide," according to a report published today in the peer-reviewed journal Environmental Sciences Europe.
The paper, Trends in glyphosate herbicide use in the United States and globally, reveals that since 1974, when Roundup was first commercially sold, more than 1.6 billion kilograms (or 3.5 billion pounds) of glyphosate has been used in the U.S., making up 19 percent of the 8.6 billion kilograms (or 18.9 billion pounds) of glyphosate used around the world.
Globally, glyphosate use has risen almost 15-fold since "Roundup Ready" crops were introduced in 1996, the paper noted. These crops, such as soy, corn, canola, alfalfa and cotton, are genetically engineered to withstand direct applications of Roundup, as the product kills only the weeds.
"Genetically engineered herbicide-tolerant crops now account for about 56 percent of global glyphosate use," agricultural economist Charles M. Benbrook, PhD, and author of the study wrote in his paper. "In the U.S., no pesticide has come remotely close to such intensive and widespread use."
According to the study, two-thirds of the total volume of glyphosate applied in the U.S. from 1974 to 2014 has been sprayed in just the last 10 years.
"The dramatic and rapid growth in overall use of glyphosate will likely contribute to a host of adverse environmental and public health consequences," Benbrook claimed.
In his paper, Benbrook cited other scientific studies linking glyphosate exposure to adverse liver and kidney problems, as well as non-Hodgkin lymphoma.
Last March, the International Agency for Research on Cancer's (IARC), the World Health Organization's cancer research arm, infamously declared that glyphosate was a "possible carcinogen."
Following the IARC's decision, California's Office of Environmental Health Hazard Assessment (OEHHA) issued plans in September to add glyphosate to the state's list of chemicals known to cause cancer, making it the first state in the country to do so.

Another problem rising from glyphosate use is the rise of "superweeds" that are resistant to herbicides. A 2013 report from Food & Water Watch found a connection between the rapid proliferation of genetically engineered crops and affiliated pesticides in the U.S., and the rise of herbicide-resistant "superweeds" that have led to the steadily increasing use of more dangerous herbicides.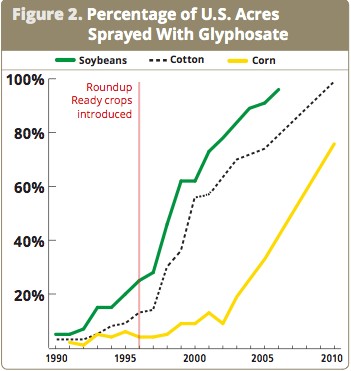 Monsanto is facing a slew of criticism from environmentalists as well as mounting class-action lawsuits over the controversial chemical.
In September, two separate U.S. agricultural workers slapped Monsanto with lawsuits, alleging that the company caused their cancers. They also argued that the company "falsified data" and "led a prolonged campaign of misinformation" to convince the public, farm workers and government agencies about the safety of Roundup.
Monsanto said that there was nothing new in the Benbrook's study, according to Horticulture Week.
Benbrook hopes his paper will "stimulate more research on glyphosate use, and human and environmental exposure patterns, to increase the chance that scientists will quickly detect any problems that might be triggered, or made worse by glyphosate exposure."
Monsanto, however, has long maintained the safety of their widely popular product, which generated $4.8 billion in 2015 revenue. The agribusiness giant has also vehemently denied glyphosate's link to cancer, demanding a retraction of the IARC's report and also filing suit last month to prevent California from listing the chemical as a known carcinogen.
"This report makes it clear that the use of glyphosate combined with the dominance of genetically engineered crops has produced an looming public health threat both in the U.S. and around the world," Mary Ellen Kustin, a senior policy analyst at Environmental Working Group, said in a statement.
"Farmers have sprayed billions of pounds of a chemical now considered a probable human carcinogen over the past decade. Spraying has increased to multiple times a year recently on the majority of U.S. cropland. The sheer volume of use of this toxic weed-killer is a clear indication that this chemical dependency is a case of farming gone wrong."
Peter Melchett, policy director at the Soil Association, agrees. "This research reveals that Monsanto's Glyphosate is now the most heavily used weed-killer in history, and use is sky-rocketing—nearly 75 percent of all Glyphosate ever sprayed on crops was used in the last 10 years," he said.
"This huge increase in chemical spraying is what we can expect if GM crops are ever grown in England. As well as being identified as a probable human carcinogen, the research notes that recent studies have made the connection between glyphosate exposure and a number of serious health effects as well as cancer, including the degeneration of the liver and kidney, as well as non-Hodgkin lymphoma. The research rightly questions the safety of using glyphosate on crops destined for people to eat just before they are harvested—a growing practice in the UK, which must end."
Werner Baumann (left), CEO of Bayer AG, and Hugh Grant, chairman and CEO of Monsanto. Bayer
The European Commission, the European Union's executive arm, announced Tuesday it has opened an in-depth investigation into Bayer's proposed $66 billion takeover of Monsanto over "concerns that the merger may reduce competition in areas such as pesticides, seeds and traits."

The controversial merger, if successful, will form the world's largest integrated seed and pesticide company.
Keep reading...
Show less
www.youtube.com
U.S. Environmental Protection Agency (EPA) administrator Scott Pruitt appears in a video sponsored by the beef industry calling on farmers and ranchers to file official comments on a proposal to withdraw and rewrite the Obama-era "Waters of the United States" rule (or WOTUS) before the Aug. 28 deadline.
The National Cattlemen's Beef Association (NCBA) video was produced by the beef lobbying organization's policy division, Beltway Beef and was released last week. Notably, NCBA spent $117,375 in lobbying last year.
Keep reading...
Show less
Two years ago, Stanford University professor Mark Jacobson and his collaborators published a widely circulated study that detailed how the U.S. can eliminate nuclear, biofuels and fossil fuels and transition to 100 percent renewable energy by 2050.
Now, in a paper published Wednesday in the new scientific journal Joule, Jacobson and 26 co-authors created clean energy roadmaps not just for the 50 United States, but for 139 individual countries.

Keep reading...
Show less
Subtitle removed and sidebar altered on federal health website. EDGI
The effects of climate change is inextricably linked to human health. The burning of fossil fuels releases carbon dioxide and other greenhouse gases that traps heat in the atmosphere, causing global temperatures to spike, air quality to worsen, all while fueling droughts, floods and storms that impact food and water security.
Climate change is making us sick in many ways, but it appears that the Trump administration trying to downplay this fact.
Keep reading...
Show less
Pax Ahimsa Gethen / Wikimedia Commons
By Steve Horn
Energy Transfer Partners, owner of the Dakota Access pipeline, has filed a $300 million Racketeer Influenced and Corrupt Organizations (RICO) lawsuit against Greenpeace and other environmental groups for their activism against the long-contested North Dakota-to-Illinois project.
In its 187-page complaint, Energy Transfer alleges that "putative not-for-profits and rogue eco-terrorist groups who employ patterns of criminal activity and campaigns of misinformation to target legitimate companies and industries with fabricated environmental claims and other purported misconduct" caused the company to lose "billions of dollars."
Keep reading...
Show less
ExxonMobil misled the public on what it knew about climate change and its link to fossil fuels, according to a groundbreaking new analysis of the company's internal and external communications.
In a study published Tuesday in the journal Environmental Research Letters, Harvard postdoctoral fellow Geoffrey Supran and professor Naomi Oreskes reviewed nearly 200 communications on climate change from the oil giant, including scientific research, internal company memos and paid editorial features in the New York Times.
Keep reading...
Show less
Energy
Aug. 22, 2017 12:55PM EST
Tallahassee Democrat / Twitter
The U.S. District Court of Appeals ruled 2-1 Tuesday saying that the Federal Environmental Energy Regulatory Commission (FERC) failed to adequately review the environmental impacts of the greenhouse gas (GHG) emissions of the fracked gas Sabal Trail pipeline, which runs more than 500 miles through Alabama, Georgia and Florida.
Keep reading...
Show less
Offshore Staghorn coral nursery. Rescue-A-Reef, UM Rosenstiel School of Marine and Atmospheric Science
As ocean waters warm and acidify, corals across the globe are disappearing. Desperate to prevent the demise of these vital ecosystems, researchers have developed ways to "garden" corals, buying the oceans some much-needed time. University of Miami Rosenstiel School marine biologist Diego Lirman sat down with Josh Chamot of Nexus Media to describe the process and explain what's at stake. This interview has been edited for length and clarity.
Keep reading...
Show less


Get EcoWatch in your inbox