This website uses cookies to ensure you get the best experience while browsing it. By clicking 'Got It' you're accepting these terms.
Monsanto's Glyphosate Most Heavily Used Weed Killer in History
Feb. 02, 2016 11:03AM EST
GMO
Glyphosate, the main ingredient in the Monsanto's flagship product Roundup, is now the "most widely applied pesticide worldwide," according to a report published today in the peer-reviewed journal Environmental Sciences Europe.
The paper, Trends in glyphosate herbicide use in the United States and globally, reveals that since 1974, when Roundup was first commercially sold, more than 1.6 billion kilograms (or 3.5 billion pounds) of glyphosate has been used in the U.S., making up 19 percent of the 8.6 billion kilograms (or 18.9 billion pounds) of glyphosate used around the world.
Globally, glyphosate use has risen almost 15-fold since "Roundup Ready" crops were introduced in 1996, the paper noted. These crops, such as soy, corn, canola, alfalfa and cotton, are genetically engineered to withstand direct applications of Roundup, as the product kills only the weeds.
"Genetically engineered herbicide-tolerant crops now account for about 56 percent of global glyphosate use," agricultural economist Charles M. Benbrook, PhD, and author of the study wrote in his paper. "In the U.S., no pesticide has come remotely close to such intensive and widespread use."
According to the study, two-thirds of the total volume of glyphosate applied in the U.S. from 1974 to 2014 has been sprayed in just the last 10 years.
"The dramatic and rapid growth in overall use of glyphosate will likely contribute to a host of adverse environmental and public health consequences," Benbrook claimed.
In his paper, Benbrook cited other scientific studies linking glyphosate exposure to adverse liver and kidney problems, as well as non-Hodgkin lymphoma.
Last March, the International Agency for Research on Cancer's (IARC), the World Health Organization's cancer research arm, infamously declared that glyphosate was a "possible carcinogen."
Following the IARC's decision, California's Office of Environmental Health Hazard Assessment (OEHHA) issued plans in September to add glyphosate to the state's list of chemicals known to cause cancer, making it the first state in the country to do so.

Another problem rising from glyphosate use is the rise of "superweeds" that are resistant to herbicides. A 2013 report from Food & Water Watch found a connection between the rapid proliferation of genetically engineered crops and affiliated pesticides in the U.S., and the rise of herbicide-resistant "superweeds" that have led to the steadily increasing use of more dangerous herbicides.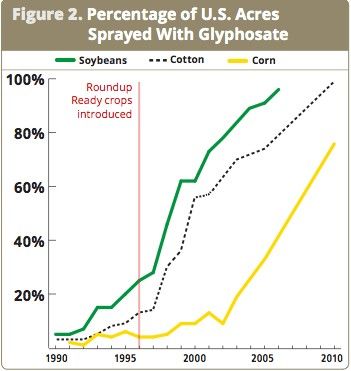 Monsanto is facing a slew of criticism from environmentalists as well as mounting class-action lawsuits over the controversial chemical.
In September, two separate U.S. agricultural workers slapped Monsanto with lawsuits, alleging that the company caused their cancers. They also argued that the company "falsified data" and "led a prolonged campaign of misinformation" to convince the public, farm workers and government agencies about the safety of Roundup.
Monsanto said that there was nothing new in the Benbrook's study, according to Horticulture Week.
Benbrook hopes his paper will "stimulate more research on glyphosate use, and human and environmental exposure patterns, to increase the chance that scientists will quickly detect any problems that might be triggered, or made worse by glyphosate exposure."
Monsanto, however, has long maintained the safety of their widely popular product, which generated $4.8 billion in 2015 revenue. The agribusiness giant has also vehemently denied glyphosate's link to cancer, demanding a retraction of the IARC's report and also filing suit last month to prevent California from listing the chemical as a known carcinogen.
"This report makes it clear that the use of glyphosate combined with the dominance of genetically engineered crops has produced an looming public health threat both in the U.S. and around the world," Mary Ellen Kustin, a senior policy analyst at Environmental Working Group, said in a statement.
"Farmers have sprayed billions of pounds of a chemical now considered a probable human carcinogen over the past decade. Spraying has increased to multiple times a year recently on the majority of U.S. cropland. The sheer volume of use of this toxic weed-killer is a clear indication that this chemical dependency is a case of farming gone wrong."
Peter Melchett, policy director at the Soil Association, agrees. "This research reveals that Monsanto's Glyphosate is now the most heavily used weed-killer in history, and use is sky-rocketing—nearly 75 percent of all Glyphosate ever sprayed on crops was used in the last 10 years," he said.
"This huge increase in chemical spraying is what we can expect if GM crops are ever grown in England. As well as being identified as a probable human carcinogen, the research notes that recent studies have made the connection between glyphosate exposure and a number of serious health effects as well as cancer, including the degeneration of the liver and kidney, as well as non-Hodgkin lymphoma. The research rightly questions the safety of using glyphosate on crops destined for people to eat just before they are harvested—a growing practice in the UK, which must end."
EcoWatch Daily Newsletter
A protestor holds up her hand covered with fake oil during a demonstration on the U.C. Berkeley campus in May 2010. Justin Sullivan / Getty Images
The University of California system will dump all of its investments from fossil fuels, as the Associated Press reported. The university system controls over $84 billion between its pension fund and its endowment. However, the announcement about its investments is not aimed to please activists.
By Ngozi Okonjo-Iweala
World leaders have a formidable task: setting a course to save our future. The extreme weather made more frequent and severe by climate change is here. This spring, devastating cyclones impacted 3 million people in Mozambique, Malawi and Zimbabwe. Record heatwaves are hitting Europe and other regions — this July was the hottest month in modern record globally. Much of India is again suffering severe drought.
Covering Climate Now / YouTube screenshot
By Mark Hertsgaard

The United Nations Secretary General says that he is counting on public pressure to compel governments to take much stronger action against what he calls the climate change "emergency."

A new rule that ends limits for hog slaughtering speeds could increase animal suffering, advocates warn. kickers / iStock / Getty Images Plus
Trump's U.S. Department of Agriculture (USDA) finalized a new hog slaughtering rule Tuesday that environmental and food safety advocates warn could harm animals, plant workers and public health, Reuters reported.
Prehistoric and historic walrus skulls, tusks and bone fragments often wash ashore on the southern coast of Snæfellsnes peninsula in Iceland. Hilmar J. Malmquist
A unique subpopulation of ancient walrus in Iceland was likely hunted to extinction by Vikings shortly after arrival to the region, according to new research.
Drivers make their way on the US 101 freeway on Aug. 30 in Los Angeles, California. Mario Tama / Getty Images
In its latest move to undermine action on the climate crisis, the Trump administration will formally rescind California's waiver to set stricter auto emissions standards under the Clean Air Act.
Brazilians living in The Netherlands organized a demonstration in solidarity with rainforest protectors and against the president of Brazil, Jair Bolsonaro on Sept. 1 in The Hague, Netherlands. Romy Arroyo Fernandez / NurPhoto / Getty Images
By Tara Smith
Fires in the Brazilian Amazon have jumped 84 percent during President Jair Bolsonaro's first year in office and in July 2019 alone, an area of rainforest the size of Manhattan was lost every day. The Amazon fires may seem beyond human control, but they're not beyond human culpability.