This website uses cookies to ensure you get the best experience while browsing it. By clicking 'Got It' you're accepting these terms.
Mexico to Replace Oil Power Plant With Latin America's Largest Solar Farm
Feb. 26, 2014 12:39PM EST
Business
By Ari Phillips
Last week President Obama and Canadian Prime Minister Stephen Harper visited Mexico for what's traditionally called the "Three Amigos" meeting. In the daylong rendezvous, energy issues were slated to play a major role, with Obama and Harper jockeying for room when it comes to the impending decision on the controversial Keystone XL pipeline that would bring dirty crude oil down from Canada to refineries on the Gulf Coast.
However, Mexico also has some major energy changes in the pipeline, and after decades of state-run oil company PEMEX having sole purview over fossil fuel extraction, international investment and companies will now be let into the mix after recent constitutional reforms. This will increase oil flows from America's southern neighbor into those same Gulf refineries as Keystone XL might. At the same time renewable energy has started to take off in Mexico, with construction of the biggest solar power plant in Latin America, Aura Solar I—a 30-megawatt solar farm in La Paz, Mexico—the latest signal.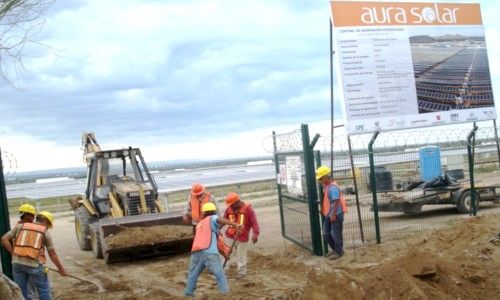 If Mexican President Enrique Peña Nieto's recent summit with North American leaders is an indication of the significance of the trio's relationship, then his expected upcoming visit to the Aura I solar farm can be seen as a benchmark on the country's path to a more renewable future. Mexico is poised to be Latin America's solar hotbed according to Greentech Media, with the solar market's installed base expected to quadruple from 60 megawatts to 240 megawatts by the end of this year. Mexico's energy ministry has set a target for 35 percent of power generation to come from non-fossil fuel sources by 2024.
"The current reform provides a real opportunity, particularly in the electricity reform, to increase investment in renewable energy generation in Mexico by opening up the sector and making other institutional changes," Christina McCain, Senior Manager for the Latin American Climate Initiative at the Environmental Defense Fund, told ClimateProgress in an email. "Some in Mexico have criticized that the energy reform is missing an opportunity to provide more direct incentives to renewable energy. While the focus of the reform seems to have largely been on the major overhauls we hear most about, there is still opportunity to provide more direct incentives to renewables, as well as leverage existing laws designed to increase renewable sources in Mexico's energy mix."
In La Paz, where pollution from a dirty thermoelectric plant creates noxious air impacting resident's lifestyles and well being, the solar plant is a welcomed clean development. The $100 million project, which includes 132,000 solar panel-modules, is the first Mexican private enterprise of such a size to get a development bank loan and an agreement to sell its electricity to the grid. According to the Thomson Reuters Foundation, the International Finance Corporation, a member of the World Bank, gave the project a $25 million credit line and also helped set up another $50 million in loans from the Mexican development bank Nacional Financiera (Nafin).
"The idea is to see how this type of merchant-risk deal can be replicated down the road, not only in Mexico and Latin America, but around the world," Hector Olea, president and CEO of Gauss Energía, the construction contractor for the project, told the Thomson Reuters Foundation.
Merchant power plants are those that are financed by investors and sell power into competitive wholesale markets, as opposed to rate-based power plants that pay for themselves via long-term utility bills or Purchase Power Agreements (PPAs) in which a contract locks in certain fees over a period of time. Merchant solar markets, where the price of electricity is indexed to spot energy markets in some fashion, are in an especially good position in Latin American.
According to Greentech Media, two numbers explain why the Aura Solar I project in Mexico is going ahead as a merchant solar project. "First, 7.5 [kilowatt hours per day] is how much insolation that Baja California Sur receives:"
"This is about three times the average levels in Germany and 50 percent higher than southern California. Higher insolation levels translate to higher output for the power plant—in this case, a capacity factor of about 31 percent.

"Second, $230 per megawatt hours (MWh) is the average price of electricity in 2013 at the La Paz node in Baja California Sur, where the Aura I project is connecting. During peak hours in peak months, rates can be as high as $380 per MWh. Given the insolation levels, that puts the back-of-the-envelope gross revenue from the plant between $13 million to $14 million in year one."
In countries like Germany, Japan, China, and the U.S., substantial subsidies have boosted solar growth, but in Mexico, merchant solar offers an opportunity for these projects to excel with less use of government coffers. Solar is easy to dispatch, or to non-dispatch, because it has no fuel costs. Peak hours of sun coincide with peak hours of electricity use, aligning it well with the spot market. And the risk of rising fossil fuel prices due to demand or regulation means that solar is likely to get more economically appealing as time goes on. Electricity in Mexico costs 25 percent more than the U.S. average, and annual electricity demand is expected to increase four percent over the next 15 years.
"There has to be people willing to finance solar projects that don't have a guaranteed price for electricity," said Adam James, author of Greentech Media Research's Latin America PV Playbook, about the potential for merchant solar growth in Latin America. "It's taken a while for people in the finance community to be willing to invest in projects."
Mexico's constitutional changes will usher in major reforms in the electricity sector by creating a wholesale power market allowing private companies to compete with the state-owned utility. James says the impact this will have on renewable is still unclear.
"A lot of the reform will boil down to implementation," he said. "If retail rates are no longer subsidized, then solar might become even more competitive because a larger part of the customer base will have to pay higher rates for electricity. The competitive wholesale market will at least open up for opportunity for solar developers to enter the electricity market."
In April 2012, Mexico's former president Felipe Calderon passed the General Law on Climate Change, which calls for a 30 percent reduction of greenhouse gas emissions by 2020 and a 50-percent reduction by 2050. McCain sees both challenges and promise in Mexico's efforts to balance the economic potential of its fossil fuel reserves with its climate goals and established leadership in the area, having also hosted the 2010 COP 16 United Nations climate change conference in Cancun, Mexico.
"As the world aspires to transition toward low-carbon economies that are no longer dependent on the fossil fuel reserves so keenly eyed in Mexico, there is significantly under-appreciated opportunity," McCain said. "Mexico can reduce the environmental impact of old, dirty sources of energy, while taking the long view and building a sustainable future economy."
Visit EcoWatch's RENEWABLES page for more related news on this topic.

EcoWatch Daily Newsletter
Ryan Hagerty / USFWS
It's become a familiar story with the Trump administration: Scientists write a report that shows the administration's policies will cause environmental damage, then the administration buries the report and fires the scientists.
A coalition of some of the largest environmental groups in the country joined forces to file a lawsuit in federal court challenging the Trump administration's maneuver to weaken the Endangered Species Act.
beyond foto / Getty Images
By Kimberly Holland
Children who eat a lot of gluten in their earliest years may have an increased risk of developing celiac disease and gluten intolerance, according to a new study published in JAMATrusted Source.
Joe Raedle / Getty Images
By Jake Johnson
Calling the global climate crisis both the greatest threat facing the U.S. and the greatest opportunity for transformative change, Sen. Bernie Sanders unveiled today a comprehensive Green New Deal proposal that would transition the U.S. economy to 100 percent renewable energy and create 20 million well-paying union jobs over a decade.
The Parties to CITES agreed to list giraffes on Appendix II of the Convention on International Trade in Endangered Species (CITES) today at the World Wildlife Conference or CoP18 in Geneva. Such protections will ensure that all giraffe parts trade were legally acquired and not sourced from the poached giraffes trade and will require countries to make non-detriment findings before allowing giraffe exports. The listing will also enable the collection of international trade data for giraffes that might justify greater protections at both CITES and other venues in the future.

The WHO stressed that more research is needed on the potential health risks of microplastic ingestion. luchschen / iStock / Getty Images Plus
The UN's health agency on Thursday said that microplastics contained in drinking water posed a "low" risk at their current levels.
However, the World Health Organization (WHO) — in its first report on the potential health risks of microplastic ingestion — also stressed more research was needed to reassure consumers.
Brazil's right-wing President Jair Bolsonaro is giving President Trump a run for his money in the alternative facts department.
Washington Gov. Jay Inslee, who made solving the climate crisis the center of his presidential campaign, is dropping out of the 2020 Democratic primary race.