This website uses cookies to ensure you get the best experience while browsing it. By clicking 'Got It' you're accepting these terms.
Massive Methane Leaks From Texas Fracking Sites Even More Significant Than Infamous Porter Ranch Gas Leak
Feb. 23, 2016 02:45PM EST
By Claire Bernish, AntiMedia
After the mammoth methane gas leak that spewed uncontrollably from a damaged well in California's Aliso Canyon was finally capped last week, residents of nearby Porter Ranch began trepidatiously returning to their homes. Lingering doubts over whether Southern California Gas Company will continue using the underground storage field have left many wondering if concerns for their safety are being considered at all—particularly considering the company has, so far, only been charged with misdemeanor violations.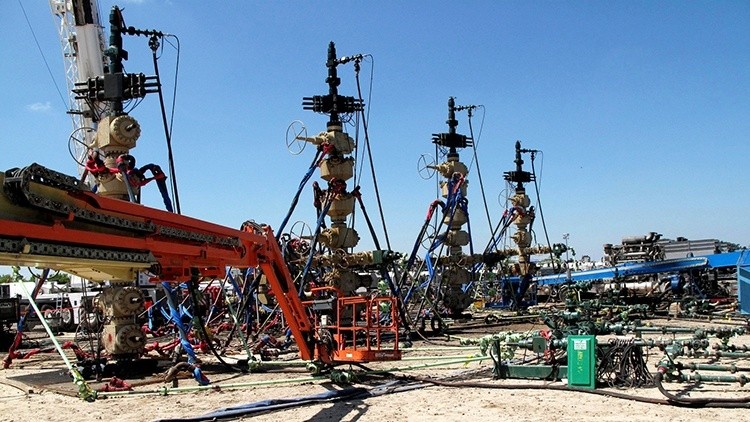 All told, the Aliso Canyon leak thrust an estimated 96,000 metric tons of potent methane—not to mention benzene, nitrogen oxides and other noxious substances—into the atmosphere over a period of months. So vast was the impact of the leak, it has been likened in impactful scope to BP's Deepwater Horizon oil spill in the Gulf of Mexico.
California, however, isn't the only state dealing with mammoth methane leakage.
Texas is dealing with a comparable disaster that has been overlooked by officials and the media, in part, because the state's methane emanates from a powerful industry's infrastructure. According to the Texas Observer's Naveena Sadasivam:
"Every hour, natural gas facilities in North Texas' Barnett Shale region emit thousands of tons of methane—a greenhouse gas at least 20 times more potent than carbon dioxide—and a slate of noxious pollutants such as nitrogen oxides and benzene.
"The Aliso Canyon leak was big. The Barnett leaks, combined, are even bigger."
At its peak, the SoCal Gas leak emitted 58,000 kilograms of methane per hour. By comparison, researchers with universities in Colorado and Michigan, partnering with the Environmental Defense Fund, estimate around 60,000 kilograms are spewed every hour by more than 25,000 natural gas wells in operation on the Barnett Shale—with the Dallas/Fort Worth Metroplex at the center. This amounts to around 544,000 tons of methane every year. But contrary to the magnitude of the Aliso Canyon event, emissions caused by oil and gas extraction from the Barnett Shale—and a second large formation, Eagle Ford Shale—won't cease as long as hydraulic fracturing remains the boon it has been to the fossil fuel industry.
An eight-month long study of Eagle Ford by the Center for Public Integrity, Weather Channel and InsideClimate News found "a system that does more to protect the industry than the public."
Due to a scarcity of air quality monitoring stations, with only five permanent monitors to cover Eagle Ford's nearly 20,000 square miles, state officials simply don't know the extent of pollutants in the air. Many facilities are permitted to police themselves and aren't required to submit those findings. Not that regulators would have an easy time enforcing a reporting mandate, as the "Texas Commission on Environmental Quality (TCEQ), which regulates most air emissions, doesn't even know some of these facilities exist."
David Sterling, chair of the University of North Texas Health Science Center, told InsideClimate News, "As much as I would like to believe that industry can police itself, history has shown that that has not worked without sufficient oversight." With TCEQ's budget having fallen 34 percent between 2010 and 2014, it's virtually impossible to imagine such oversight increasing in the future.
There is a dearth of accountability for lawbreakers in Texas' oil and gas industry. As the study discovered, in a period of nearly two years beginning in January 2010, 284 complaints against the industry—and "164 documented violations"—led to just two non-punitive fines, the larger of which was a mere $14,250.
Though alarming, that gap in accountability isn't a surprise.
"Texas officials tasked with overseeing the industry are often its strongest defenders," stated the study. "The Texas Railroad Commission, which issues drilling permits and regulates all other aspects of oil and gas production, is controlled by three elected commissioners who accepted more than $2 million in campaign contributions from the industry during the 2012 election cycle, according to data from the National Institute on Money in State Politics."
Texas lawmakers are often personally tied to the industry, as "nearly one in four state legislators or his or her spouse, has a financial interest in at least one energy company active in the Eagle Ford," according to an analysis of personal financial forms by CPI cited by the study.
Residents located in the two Texas shale production regions experience many similar symptoms to those in Porter Ranch near Aliso Canyon, such as nosebleeds, dizziness, nausea and various respiratory ailments. Those symptoms could be due to any number of pollutants and toxins. As the study described:
"Chemicals released during oil and gas extraction include hydrogen sulfide, a deadly gas found in abundance in Eagle Ford wells; volatile organic compounds (VOCs) like benzene, a known carcinogen; sulfur dioxide and particulate matter, which irritate the lungs; and other harmful substances such as carbon monoxide and carbon disulfide. VOCs also mix with nitrogen oxides emitted from field equipment to create ozone, a major respiratory hazard.
"Studies show that, depending on the concentration and length of exposure, these chemicals can cause a range of ailments, from minor headaches to neurological damage and cancer. People in the Eagle Ford face an added risk: hydrogen sulfide, also known as H2S or sour gas, a naturally occurring component of crude oil and natural gas that lurks underground."
Texas' shale facilities are responsible for 8 percent of the nation's methane emissions, already; but the combination of faulty equipment and lack of monitoring sites mean occasional large methane releases from wells—called "super-emitters"—won't necessarily be noticed immediately.
"If one well was a super-emitter the day we measured them, it could change the next day," explained Daniel Zavala-Araiza, lead researcher of a 2015 Barnett Shale methane study by the Environmental Defense Fund, in the Observer. "It's not just about finding a handful of sites. You need to be looking continuously to keep finding the ones that are malfunctioning … If you don't have frequent monitoring, there's no way you're going to know when one of these super-emitters begins spewing."
In fact, a recent study by Harvard University points the finger at the U.S. as the cause of an enormous spike in global methane emissions over the past decade, accounting for 30 to 60 percent of all "human-caused atmospheric emissions."
"I believe the U.S. probably is responsible for this much of an increase in global methane emissions," said Roger Howarth, a methane researcher at Cornell University, who is unaffiliated with the Harvard study, the Guardian reported. "And, the increase almost certainly must be coming from the fracking and from the increase in use of natural gas."
Texas residents unfortunate enough to find their homes positioned near oil or gas facilities aren't left with much recourse to combat the state's infamous industry. Shale gas production more than doubled between 2009 and 2014, though it has slowed slightly with the recent glut. As InsideClimate News reported, state Representative Harvey Hilderbran tellingly asserted to a media panel in 2014:
"I believe if you're anti-oil and gas, you're anti-Texas."
YOU MIGHT ALSO LIKE
Stanford Scientist Finds People Living Near Shallow Fracking Wells at Risk of Drinking Water Contaminated With Methane
Koch Brothers Plotting Multimillion Dollar War on Electric Vehicles
Why Would the New York Post Plug Climate Denier Profiteers?
Bill McKibben: It's Not Just What Exxon Did, It's What It's Doing
KarinaKnyspel / iStock / Getty Images
2018 saw a number of studies pointing to the outsized climate impact of meat consumption. Beef has long been singled out as particularly unsustainable: Cows both release the greenhouse gas methane into the atmosphere because of their digestive processes and require a lot of land area to raise. But for those unwilling to give up the taste and texture of a steak or burger, could lab-grown meat be a climate-friendly alternative? In a first-of-its-kind study, researchers from the Oxford Martin School set out to answer that question.
Three scissor-tailed flycatcher fledglings in a mesquite tree in Texas. Texas Eagle / CC BY-NC 2.0
By Gary Paul Nabhan
President Trump has declared a national emergency to fund a wall along our nation's southern border. The border wall issue has bitterly divided people across the U.S., becoming a vivid symbol of political deadlock.
PeopleImages / E+ / Getty Images
By Daniel Ross
Hurricane Florence, which battered the U.S. East Coast last September, left a trail of ruin and destruction estimated to cost between $17 billion and $22 billion. Some of the damage was all too visible—smashed homes and livelihoods. But other damage was less so, like the long-term environmental impacts in North Carolina from hog waste that spilled out over large open-air lagoons saturated in the rains.
Hog waste can contain potentially dangerous pathogens, pharmaceuticals and chemicals. According to the state's Department of Environmental Quality, as of early October nearly 100 such lagoons were damaged, breached or were very close to being so, the effluent from which can seep into waterways and drinking water supplies.
This picture taken on May 21, 2018 shows discarded climbing equipment and rubbish scattered around Camp 4 of Mount Everest. Decades of commercial mountaineering have turned Mount Everest into the world's highest rubbish dump as an increasing number of big-spending climbers pay little attention to the ugly footprint they leave behind. DOMA SHERPA / AFP / Getty Images
China has closed its Everest base camp to tourists because of a buildup of trash on the world's tallest mountain.