Maple Syrup Threatened By Climate Change
May. 07, 2014 11:25AM EST
Climate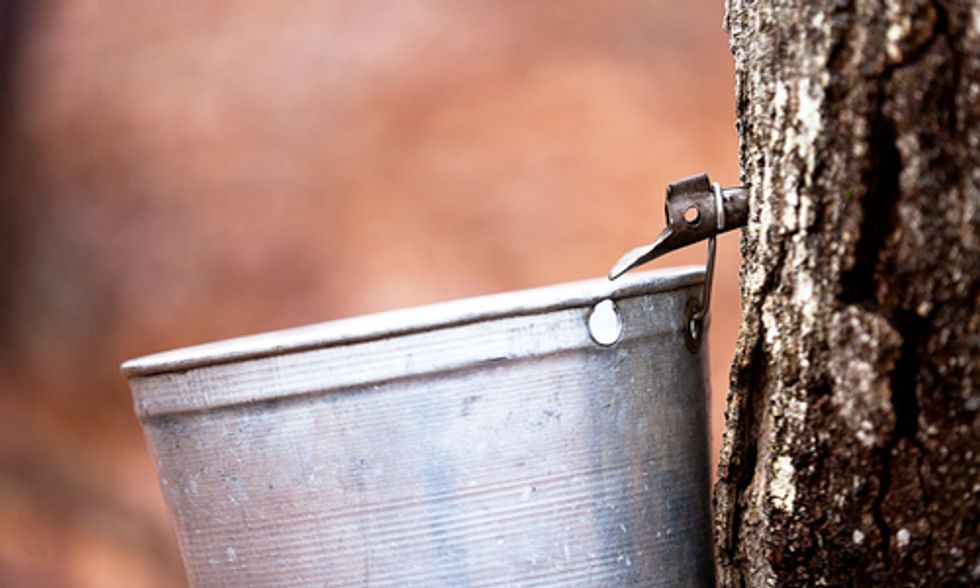 I thought the worst thing that could happen to my most beloved breakfast condiment was the 2012 maple syrup heist, but I was wrong. It turns out that climate change is trying to ruin maple syrup along with chocolate, bananas and many other beloved foods.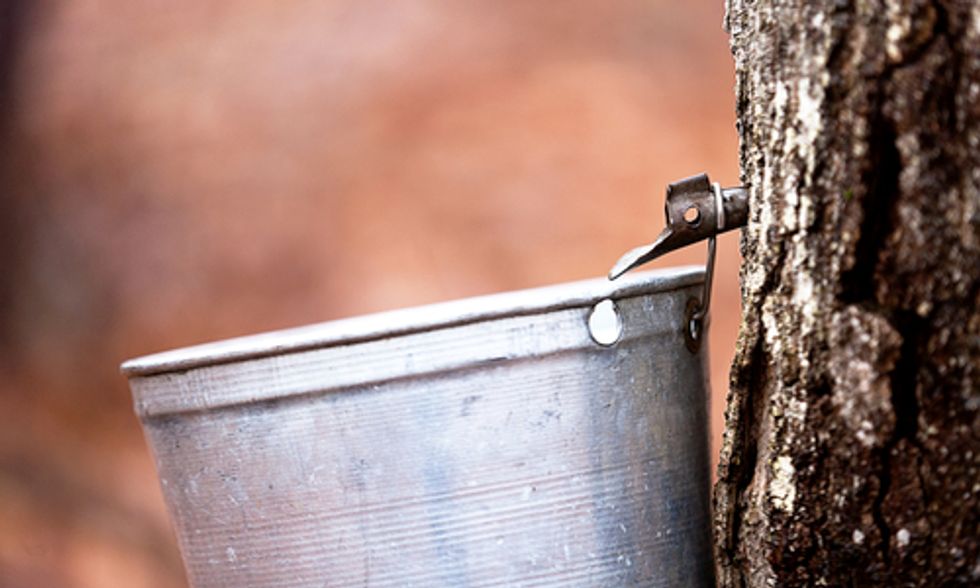 Photo courtesy of Shutterstock
Warm and irregular weather in the heart of sugar maple country is destroying the flavor of maple syrup, and it's cutting down on yields—two years ago, production dropped dramatically due to a warmer year, and this year, farmers are resorting to using vacuum tubing to suck sap out of the trees in order to access every last drop.
When we think of maple syrup, we usually picture farmers stomping out in the snowy woods, checking buckets that slowly fill from taps inserted into the trunks of sugar maples to access their delightful sap. After extensive boiling down—43 gallons of sap go into every gallon of syrup—the resulting product is a thick, rich, sweet, wonderful condiment, baking ingredient, and, of course, doughnut topping.
Maple syrup is graded on quality, and policy wars have been fought out over what can be labeled "maple syrup" as food producers try to sneak in adulterated products or "maple syrup flavored" sweeteners made with corn syrup and other cheap fillers while the fine nuances of maple syrup labeling are sussed out. Maple syrup fans, though, know the true flavor of maple syrup, and we're willing to pay a lot for it, too.
While reports warned that the syrup industry would be in trouble, no one really expected it to happen this fast. A projection of events that might occur 20 or 30 years in the future is suddenly a reality now, leaving maple syrup farmers flailing to keep production up. The problem in this and recent years has been a fall in sap production, leading to a drop in syrup production and huge losses for the industry, with the same amount of labor to maintain the trees and work through the extremely short and fragile sugaring season.
The vacuum tubing is a short-term solution to a long-term problem. To increase production, farmers are connecting lengths of tubing to the trees to suck syrup out, increasing individual yields. Their tubing is all connected and leads to a central collection site, which also reduces the amount of work required during sugaring season, allowing farmers to focus on the work in the sugaring shacks, with, yes, an app to help them track their lines remotely with the use of sensors.
Vacuum tubing represents the passage of a traditional way of life, even as it increases efficiency and helps cut prices on syrup production. But this technology also signals something more alarming: it, like many other recent developments in agricultural technology, was developed specifically in response to climate change. When it's no longer an effective solution to the problem, what comes next, not just for maple syrup but for staple food crops we rely on to survive?
--------
YOU MIGHT ALSO LIKE
Climate Change Will Make it Harder to Grow These 5 Foods
Chipotle Warns Climate Change Could Cut Guacamole From Its Menu
Reports Affirm Climate Change Could Lead to Drastic Increases in Food Prices
--------
EcoWatch Daily Newsletter
Recent Stories from EcoWatch