Maple Syrup Threatened By Climate Change
May. 07, 2014 11:25AM EST
Climate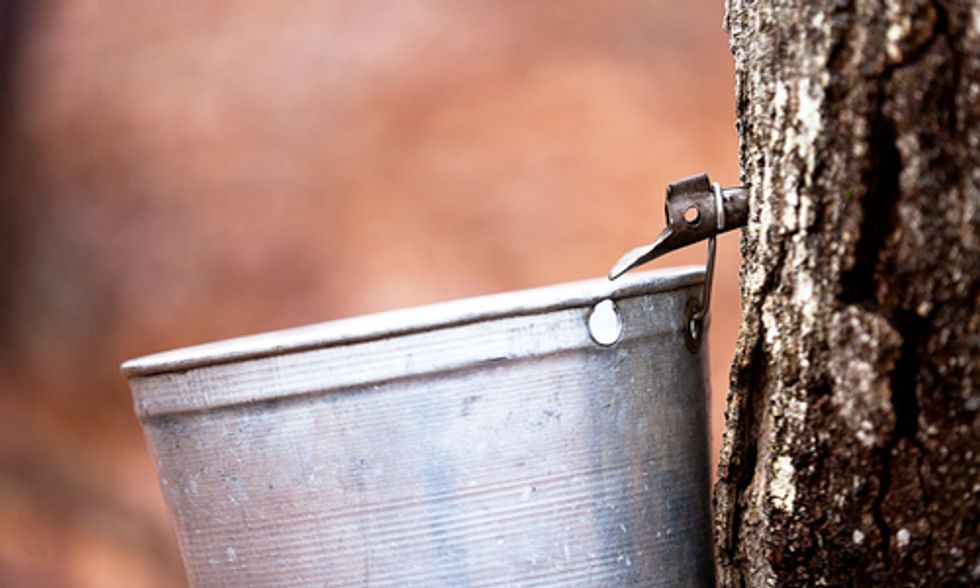 I thought the worst thing that could happen to my most beloved breakfast condiment was the 2012 maple syrup heist, but I was wrong. It turns out that climate change is trying to ruin maple syrup along with chocolate, bananas and many other beloved foods.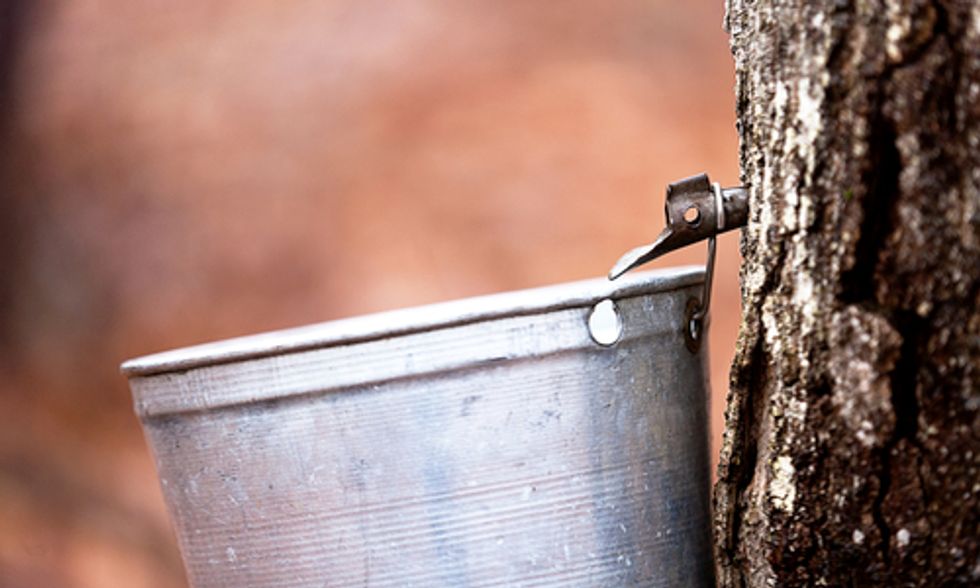 Photo courtesy of Shutterstock
Warm and irregular weather in the heart of sugar maple country is destroying the flavor of maple syrup, and it's cutting down on yields—two years ago, production dropped dramatically due to a warmer year, and this year, farmers are resorting to using vacuum tubing to suck sap out of the trees in order to access every last drop.
When we think of maple syrup, we usually picture farmers stomping out in the snowy woods, checking buckets that slowly fill from taps inserted into the trunks of sugar maples to access their delightful sap. After extensive boiling down—43 gallons of sap go into every gallon of syrup—the resulting product is a thick, rich, sweet, wonderful condiment, baking ingredient, and, of course, doughnut topping.
Maple syrup is graded on quality, and policy wars have been fought out over what can be labeled "maple syrup" as food producers try to sneak in adulterated products or "maple syrup flavored" sweeteners made with corn syrup and other cheap fillers while the fine nuances of maple syrup labeling are sussed out. Maple syrup fans, though, know the true flavor of maple syrup, and we're willing to pay a lot for it, too.
While reports warned that the syrup industry would be in trouble, no one really expected it to happen this fast. A projection of events that might occur 20 or 30 years in the future is suddenly a reality now, leaving maple syrup farmers flailing to keep production up. The problem in this and recent years has been a fall in sap production, leading to a drop in syrup production and huge losses for the industry, with the same amount of labor to maintain the trees and work through the extremely short and fragile sugaring season.
The vacuum tubing is a short-term solution to a long-term problem. To increase production, farmers are connecting lengths of tubing to the trees to suck syrup out, increasing individual yields. Their tubing is all connected and leads to a central collection site, which also reduces the amount of work required during sugaring season, allowing farmers to focus on the work in the sugaring shacks, with, yes, an app to help them track their lines remotely with the use of sensors.
Vacuum tubing represents the passage of a traditional way of life, even as it increases efficiency and helps cut prices on syrup production. But this technology also signals something more alarming: it, like many other recent developments in agricultural technology, was developed specifically in response to climate change. When it's no longer an effective solution to the problem, what comes next, not just for maple syrup but for staple food crops we rely on to survive?
--------
YOU MIGHT ALSO LIKE
Climate Change Will Make it Harder to Grow These 5 Foods
Chipotle Warns Climate Change Could Cut Guacamole From Its Menu
Reports Affirm Climate Change Could Lead to Drastic Increases in Food Prices
--------
In "Weather," Jenny Offill tells the story of a librarian named Lizzie who prepares for a climate apocalypse. Andrew Merry / Getty Images
By Suzanne Cords
One day Lizzie, the first-person narrator of the novel, receives an old book as a gift, with a dedication wishing the reader to be among the survivors. Like the preppers who build bunkers and stockpile supplies in remote areas to be ready for the end of the world, Lizzie is convinced that the end of the world is definitely near in times of a threatening climate disaster.
Lizzie, who lives in New York with her husband and son, is a university campus librarian. She worries about almost everything: her brother, an ex-junkie, or her dental insurance and the future in the face of the apocalypse. She is obsessed with reading reference books and articles about climate change.
She also devours words of wisdom, including about Buddhist spirituality: "A visitor once asked the old monks on Mount Athos what they did all day, and was told: We have died and we are in love with everything." But nothing can lift her spirits.
'Lizzie Is Just Like Us'
Lizzie observes rich New Yorkers plan their move to regions that are less threatened by climate change, something she simply cannot afford. Sometimes she watches disaster movies, which lead her to worry even more.
Above all, she is a gifted observer of her fellow human beings. "Young person worry: What if nothing I do matters? Old person worry: What if everything I do, does?"
Lizzie, the U.S. author told DW, is a bit like the rest of us — well aware of the climate crisis, but because she cares and worries about so many other things, that awareness falls by the wayside. That's how she felt herself, Jenny Offill said, but the more she looked into the issue, the more she saw a need for action on her part, too.

"I also was trying to see if there was a way to make it funny, because, you know, so much of the world of prepping and imagining disaster is actually sort of strangely funny."
The novel was shortlisted for the 2020 UK's Women's Prize for Fiction and has now been released in German translation.
Climate Activist With a Vision
But then, there is also this serious, scientifically based concern about what climate change means. In the past, says Offill, artists were the ones who would predict disasters; today it's the experts, as well as the students she teaches. In the end, their fears and their justified anger motivated her to take a closer look at the issue. Today, she is a climate activist herself, and is involved in initiatives along with many other artists.
Lizzie, the heroine of Weather, hasn't gotten that far. But she voices her fears, and that's a start. "Of course, the world continues to end," says Sylvia, a mentor of Lizzie's, at one point — and commences to water her garden. There is hope after all.
Reposted with permission from Deutsche Welle.
EcoWatch Daily Newsletter
A Shell oil drilling rig off the coast of Alaska in the Chukchi Sea on May 21, 2015. Orjan F. Ellingvag / Corbis via Getty Images
By Jake Johnson
A federal appeals court on Tuesday dealt the final blow to former President Donald Trump's attempt to open nearly 130 million acres of territory in the Arctic and Atlantic Oceans to oil and gas drilling.
Electric vehicles are the cars of the future. sl-f / Getty Images
By 2035, every new car and truck sold in the U.S. could be an EV, a new report says.
Accelerations in technology and especially battery affordability, paired with new policy, mean the dramatic transition would save American drivers $2.7 trillion by 2050, an average savings of $1,000 per household per year.
The ramp up in EV production would also create 2 million new jobs by 2035. Battery prices have fallen 74% since 2014, and their unexpectedly rapid fall is a key driver of the cost savings.
EVs are far simpler mechanically, and more efficient, than internal combustion engine (ICE) vehicles, which translates to reduced climate pollution and lower costs for consumers.
Strengthened vehicle efficiency standards and investment in fast charging infrastructure are needed to accelerate the transition, which would prevent 150,000 premature deaths and save $1.3 trillion in health environmental costs by 2050.
For a deeper dive:

The Guardian, Fast Company, E&E, Morning Consult, Canary Media

For more climate change and clean energy news, you can follow Climate Nexus on Twitter and Facebook, sign up for daily Hot News, and visit their news site, Nexus Media News.
The Gowanus Canal in Brooklyn, New York, a polluted nearly 2 mile-long waterway that is an EPA Superfund site. Jonathan Macagba / Moment / Getty Images
Thousands of Superfund sites exist around the U.S., with toxic substances left open, mismanaged and dumped. Despite the high levels of toxicity at these sites, nearly 21 million people live within a mile of one of them, according to the U.S. Environmental Protection Agency (EPA).
The National Weather Service station in Chatham, Massachusetts, near the edge of a cliff at the Monomoy National Wildlife Refuge. Bryce Williams / National Weather Service in Boston / Norton
A weather research station on a bluff overlooking the sea is closing down because of the climate crisis.
The National Weather Service (NWS) station in Chatham, Massachusetts was evacuated March 31 over concerns the entire operation would topple into the ocean.
"We had to say goodbye to the site because of where we are located at the Monomoy Wildlife Refuge, we're adjacent to a bluff that overlooks the ocean," Boston NWS meteorologist Andy Nash told WHDH at the time. "We had to close and cease operations there because that bluff has significantly eroded."
Chatham is located on the elbow of Cape Cod, a land mass extending out into the Atlantic Ocean that has been reshaped and eroded by waves and tides over tens of thousands of years, The Guardian explained. However, sea level rise and extreme weather caused by the climate crisis have sped that change along.
"It's an extremely dynamic environment, which is obviously a problem if you are building permanent infrastructure here," Andrew Ashton, an associate scientist at Cape-Cod based Woods Hole Oceanographic Institution, told The Guardian. "We are putting our foot on the accelerator to make the environment even more dynamic."
This was the case with the Chatham weather station. It used to be protected from the drop into the ocean by about 100 feet of land. However, storm action in 2020 alone washed away as much as six feet of land a day.
"We'd know[n] for a long time there was erosion but the pace of it caught everyone by surprise," Nash told The Guardian. "We felt we had maybe another 10 years but then we started losing a foot of a bluff a week and realized we didn't have years, we had just a few months. We were a couple of storms from a very big problem."
The Chatham station was part of a network of 92 NWS stations that monitor temperature, pressure, humidity, wind speed and direction and other data in the upper atmosphere, The Cape Cod Chronicle explained. The stations send up radiosondes attached to weather balloons twice a day to help with weather research and prediction. The Chatham station, which had been observing this ritual for the past half a century, sent up its last balloon the morning of March 31.
"We're going to miss the observations," Nash told The Cape Cod Chronicle. "It gives us a snapshot, a profile of the atmosphere when the balloons go up."
The station was officially decommissioned April 1, and the two buildings on the site will be demolished sometime this month. The NWS is looking for a new location in southeastern New England. In the meantime, forecasters will rely on data from stations in New York and Maine.
Nash said the leavetaking was bittersweet, but inevitable.
"[M]other nature is evicting us," he told The Cape Cod Chronicle.