This website uses cookies to ensure you get the best experience while browsing it. By clicking 'Got It' you're accepting these terms.
Man-Made Climate Change Guilty of Causing Australia's Hottest Year
Oct. 04, 2014 09:00AM EST
Climate
Scientists are fond of saying that it is difficult to pin the blame for any one climate event onto climate change. But they have just made an exception by reporting that many things that happened in Australia in 2013 bore the signature of man-made climate change.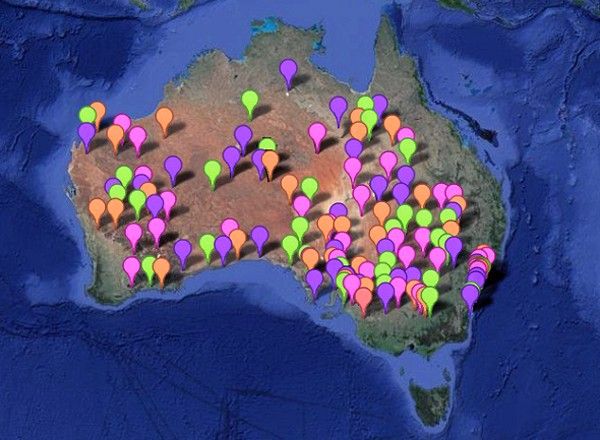 In that one year, Australia recorded its hottest day ever, its hottest month in the history books, its hottest summer, its hottest spring, and its hottest year overall.
Extreme events
And in a special edition of the Bulletin of the American Meteorological Society, examining extreme events around the world during 2013, a series of papers home in on the Australian heat waves, and identify a human influence.
"We often talk about the fingerprint of human-caused climate change when we look at extreme weather patterns," said David Karoly, professor of meteorology at the University of Melbourne's School of Earth Sciences. "This research across four different papers goes well beyond that.
"If we were climate detectives, then Australia's hottest year on records in 2013 wasn't just a smudged fingerprint at the scene of the crime, it was a clear and unequivocal handprint showing the impact of human-caused global warming."
In general, the world's meteorologists have found nothing unequivocal to suggest that global warming due to greenhouse gas emissions from fossil fuel combustion caused, for example, the Californian drought, extreme snow in the Spanish Pyrenees or an October blizzard in South Dakota in the US.
But they did find that global warming doubled the chance of severe heat waves in Australia—making extreme summer temperatures five times more likely, increasing the chance of drought conditions sevenfold, and making hot temperatures in spring 30 times more probable.
And they reckoned that the record hot year of 2013 would have been virtually impossible without global warming. At a conservative calculation, the science showed that the heat of 2013 was made 2,000 times more likely by global warming.
Different picture
Paradoxically, Australia's prime minister, Tony Abbott, was one of the world leaders who pointedly stayed away from the recent United Nations climate change summit in New York, and in the past has taken a sceptical stance on climate science. Yet research funded by Australian taxpayers has consistently painted a different picture.
"When it comes to what helped cause our hottest year on record, human-caused climate change is no longer a prime suspect—it is the guilty party," said Dr Sophie Lewis, a paleoecologist at the Australian National University.
And her colleague, Sarah Perkins, a climate scientist at the Australian Research Council's Centre of Excellence for Climate System Science, warned that 2013 was only the beginning.
She said: "If we continue to put carbon into our atmosphere at the currently accelerating rate, years like 2013 will quickly be considered normal, and the impacts of future extremes will be well beyond anything modern society has experienced."
YOU MIGHT ALSO LIKE
3 Ways Small Business Plays Huge Role in Fighting Climate Change
NASA Satellite Images Reveal Shocking Groundwater Loss in Drought-Stricken California
EcoWatch Daily Newsletter
Variety of fermented food korean traditional kimchi cabbage and radish salad. white and red sauerkraut in ceramic plates over grey spotted background. Natasha Breen / REDA&CO / Universal Images Group / Getty Image
Even if you've never taken probiotics, you've probably heard of them.
These supplements provide numerous benefits because they contain live microorganisms, such as bacteria or yeast, which support the healthy bacteria in your gut (1, 2, 3, 4).
Pexels
Singapore will become the first country in the world to place a ban on advertisements for carbonated drinks and juices with high sugar contents, its health ministry announced last week. The law is intended to curb sugar consumption since the country has some of the world's highest diabetes rates per capita, as Reuters reported.
A typical adult takes around 20,000 breaths per day. If you live in a megacity like Beijing, with many of those lungfuls you're likely to inhale a noxious mixture of chemicals and pollutants.
Fred Stone holds his brown swiss cow Lida Rose at his Arundel dairy farm on March 18 after a press conference where he spoke about PFAS chemical contamination in his fields. Gregory Rec / Portland Portland Press Herald via Getty Images
By Susan Cosier
First there was Fred Stone, the third-generation dairy farmer in Maine who discovered that the milk from his cows contained harmful chemicals. Then came Art Schaap, a second-generation dairy farmer in New Mexico, who had to dump 15,000 gallons of contaminated milk a day.
Protesters attend the 32nd annual Fur-Free Friday demonstration on Nov. 23, 2018 in Beverly Hills, California. Ella DeGea / Getty Images
California Governor Gavin Newsom signed into law a bill that that bans the sale and manufacture of fur products in the state. The fur ban, which he signed into law on Saturday, prohibits Californians from selling or making clothing, shoes or handbags with fur starting in 2023, according to the AP.
By Simon Evans
During the three months of July, August and September, renewables generated an estimated total of 29.5 terawatt hours (TWh), compared with just 29.1TWh from fossil fuels, the analysis shows.
A demonstrator waves an Ecuadorian flag during protests against the end of subsidies to gasoline and diesel on Oct. 9 in Quito, Ecuador. Jorge Ivan Castaneira Jaramillo / Getty Images
Protesters block the road outside Mansion House in London during an XR climate change protest. Gareth Fuller / PA Images via Getty Images