This website uses cookies to ensure you get the best experience while browsing it. By clicking 'Got It' you're accepting these terms.
Lone Republican Takes Stand on Climate at GOP Debate, But Vows to Build Keystone XL If Elected
Aug. 07, 2015 09:39AM EST
Politics
The first debate for the Republican presidential contenders took place last night in Cleveland, Ohio. Because of the 17-person field, the first debate night was split in two. The top 10 polling candidates debated at 9 p.m., while the bottom seven participated in what was dubbed the "Happy Hour Debate," at 5 p.m.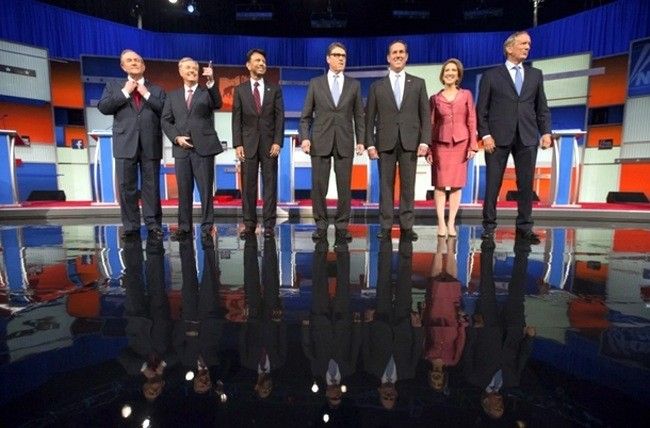 Real estate mogul Donald Trump, former Florida Gov. Jeb Bush, Wisconsin Gov. Scott Walker, former Arkansas Gov. Mike Huckabee, retired neurosurgeon Ben Carson, Texas Sen. Ted Cruz, Florida Sen. Marco Rubio, Kentucky Sen. Rand Paul, New Jersey Gov. Chris Christie and Ohio Gov. John Kasich all made the cut for the 9 p.m. debate. The Happy Hour participants included: South Carolina Sen. Lindsey Graham, former Texas Gov. Rick Perry, Louisiana Gov. Bobby Jindal, former Pennsylvania Sen. Rick Santorum, former CEO of Hewlett Packard Carly Fiorina, former New York Gov. George Pataki, and former Virginia Gov. Jim Gilmore.
Scant attention was paid to environmental issues at the first Republican primary debate. Climate change was not even mentioned once during the 9 p.m. debate. The only time it came up during the earlier debate was when moderator Bill Hemmer brought it up in a negative way saying to Lindsey Graham, "You worked with Democrats and President Obama when it came to climate change—something you know is extremely unpopular with conservative Republicans. How can they trust you based on that record?"
Moderator: Lindsey Graham, with climate change, you believe in science. How can people trust you? So this is going well. #GOPDebate

— Emerson Collins (@ActuallyEmerson) August 6, 2015
"You can trust me to do the following: that when I get on the stage with Hillary Clinton, we won't be debating about the science," Graham replied. "We will be debating about the solutions. In her world, cap-and-trade would dominate. That will destroy the economy in the name of helping the environment. In my world, we would focus on energy independence and a clean environment."  
Lindsey Graham did not back away from believing in climate change. That was gutsy, especially in this crowd. #GOPDebate — Darryl Johns (@idarrylm) August 7, 2015
That sounds promising, but Graham goes on to say, "When it comes to fossil fuels, we're going to find more here and use less," he continued. "Over time we're going to become energy independent. I am tired of sending $300 billion overseas to buy oil from people who hate our guts." Graham supports more domestic coal and oil production and said later in the debate, that Clinton is "not going to build the Keystone pipeline. I will."
Read page 1
"The choice between a weak economy and a strong environment is a false choice," he said, seemingly contradicting his earlier statement that a cap-and-trade program would "destroy the economy in the name of helping the environment." But Graham concludes by saying, "A healthy environment, a strong economy and an energy independent America—that would be the purpose of my presidency."
Full text of Lindsey Graham's remarks on #climate change at first presidential debate here: http://t.co/zpeMiWputw #GOPDebate #ActOnClimate

— Christopher N. Fox (@ChristopherNFox) August 6, 2015
Even though Graham's remarks are a far cry from a serious call to action on climate change, at least he isn't "debating about the science," which is more than most of the other candidates can say. As evidenced by Graham's comments, the most talked about issue by far in both debates wasn't even an issue. It was a person: Hillary Clinton. Many of the candidates gave obligatory swipes at President Obama, but every candidate made sure to take jabs at Clinton whenever possible. It took almost an hour into the 9 p.m. debate for anything eco-related to even come up.
When asked whether he would cut government funding for departments such as the Internal Revenue Service and the U.S. Environmental Protection Agency (EPA), former Arkansas Gov. Mike Huckabee called the EPA's mandates unconstitutional without any explanation as to what he meant by that. Scott Walker embraced an "all-of-the-above" energy strategy and Jeb Bush made mention of the need to embrace the "energy revolution," which Slate describes as "a vaguely worded reference to the boom in natural gas and renewables." Bush also voiced his support for the Keystone XL pipeline, making sure to slam Clinton (of course) for not saying whether or not she supports it.
"Hillary Clinton can't even say she's for the Keystone XL pipeline after she's left [the State Department]," said Jeb Bush. "Give me a break. Of course we're for it." The rest of the main debate was full of standard Republican talking points: God, national security and illegal immigrants.
YOU MIGHT ALSO LIKE
Gov. Brown Asks GOP Presidential Candidates: What Are You Going to Do About Climate Change?
Neil deGrasse Tyson: Politicians, Stop 'Cherry-Picking Science' for Political Gain
EcoWatch Daily Newsletter
Europe is gearing up for another extreme heat wave that could set all-time records for several European countries.
Modern agricultural greenhouses in the Netherlands use LED lights to support plant growth. GAPS / iStock / Getty Images Plus
By Kevin M. Folta
A nighttime arrival at Amsterdam's Schiphol Airport flies you over the bright pink glow of vegetable production greenhouses. Growing crops under artificial light is gaining momentum, particularly in regions where produce prices can be high during seasons when sunlight is sparse.
Golde Wallingford submitted this photo of "Pure Joy" to EcoWatch's first photo contest. Golde Wallingford
EcoWatch is pleased to announce our third photo contest!

On Oct. 4, 2017, the Senate EPW Committee held a hearing on Wehrum's nomination.
EPA / YouTube screenshot
The U.S. Environmental Protection Agency's (EPA) former head of the Office of Air and Radiation who was instrumental in drafting policies that eased climate protection rules and pollution standards is under investigation by a federal watchdog for his dealings with the fossil fuel industry he was supposed to be regulating, according to the New York Times.
It's no secret that the Trump administration has championed fossil fuels and scoffed at renewable energy. But the Trump administration is trying to keep something secret: the climate crisis. That's according to a new analysis from the watchdog group Environmental Data and Governance Initiative (EDGI) who found that more than a quarter of the references to climate change on .gov websites vanished.
Pexels
New York is officially the first state in the union to ban cat declawing.
People walk in the Shaw neighborhood on July 20 in Washington, DC, where an excessive heat warning was in effect according to the NWS. Alex Wroblewski / Getty Images
By Adrienne Hollis
Climate change is a threat multiplier. This is a fact I know to be true. I also know that our most vulnerable populations, particularly environmental justice communities — people of color and/or low socioeconomic status — are suffering and will continue to suffer first and worst from the adverse effects of climate change. Case in point? Extreme heat.