'Koch Brothers' Pay Celebrities to Sing Climate Change Denier Anthem
Dec. 11, 2015 11:51AM EST
Climate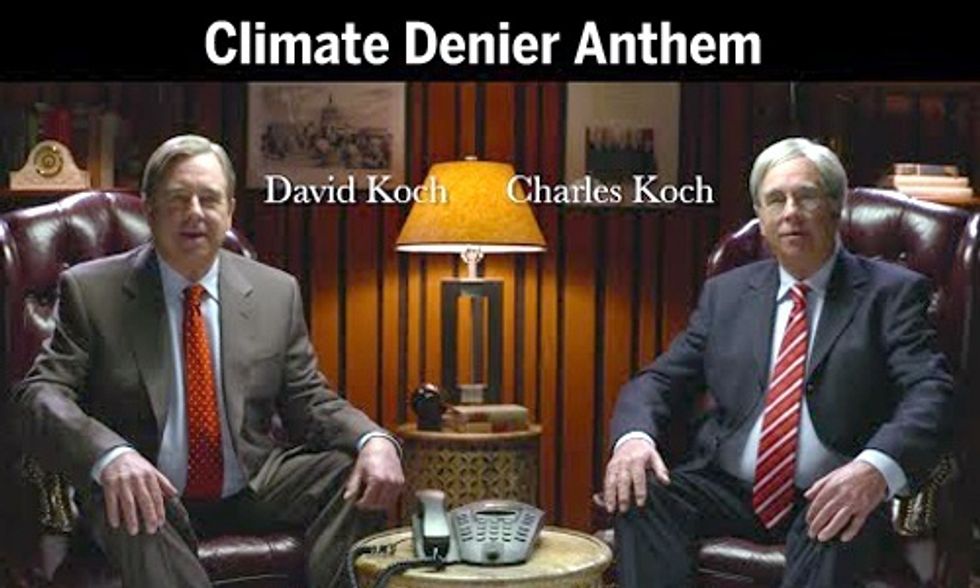 In a satirical video from the comedy website Funny or Die and ClimateTruth.org, two actors portray infamous conservative billionaires, Charles and David Koch, or as they put it, "the guys who own the Republican party." They pay well known celebrities, such as Darren Criss, Emily Osment, January Jones, Estelle and Ed Weeks, to sing a climate denier anthem spoofing the 1985 music video "We Are the World."
"There's a major problem plaguing our society," says David. "Idiots who claim that climate change is real."
"Folks, climate change is pure fiction," Charles chimes in. "So we spent billions of dollars assembling the world's hottest conservative pop stars to sing a song that we wrote," explains David. "We hope it proves to you that climate change is pure hogwash," Charles adds.
You be the judge:
YOU MIGHT ALSO LIKE
Hidden Camera Prank Exposes Absurdity of Climate Deniers' Arguments
Jeff Goldblum, Ed Begley, Jr. Mock Fossil Fuel Industry in Funny or Die Video
Donald Trump Attacked by Eagle Named Uncle Sam, GIF Goes Viral
Bernie Sanders: GOP Candidates Care More About Koch Money Than 'Preserving the Planet for Our Children'
EcoWatch Daily Newsletter
Related Articles from EcoWatch