This website uses cookies to ensure you get the best experience while browsing it. By clicking 'Got It' you're accepting these terms.
K-Cup Inventor Admits He Doesn't Have a Keurig, Regrets Inventing Them ... Find Out Why
Mar. 05, 2015 09:56AM EST
Food
In a story released this week, Keurig K-cup inventor John Sylvan, who sold his shares of the company for $50,000 back in 1997, admits he regrets ever creating the disposable plastic coffee pods that built what is today a $4.7 billion business. With an estimated nine to 13 billion plastic K-cups hitting landfills last year, Sylvan admits, "I feel bad sometimes that I ever did it."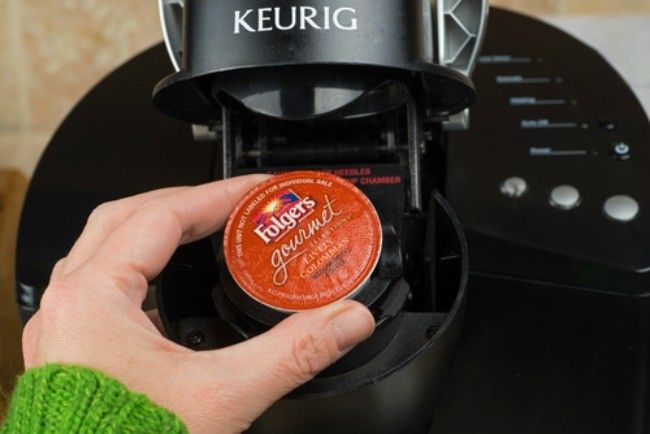 Photo credit: Shutterstock
Pod-based coffee makers like Keurig, designed to create customizable single-serve coffees from plastic pods filled with coffee grounds, can be found in one-third of American households. That pervasiveness is generating a lot of leftover pods that end up in landfills.
Keurig was acquired by eco-friendly coffee producer Green Mountain in 2006, combining names in 2014. While every spin-off coffee pod product produced since the merger (including Vue, Bolt and K-Carafe cups) is recyclable, the company's biggest seller, the original K-cup product made from plastic #7, is not.
When Keurig Green Mountain's design patent on the foil-topped plastic coffee pod expired in 2012, the market was flooded with competing options, many of which are biodegradable or reusable, raising the question: Why won't Keurig Green Mountain follow suit?
According to Keurig Green Mountain's Chief Sustainability Officer Monique Oxender, they're working on it. The company has committed to making all K-cups recyclable by 2020, but concerned citizens say it's not fast enough. A petition set up by the creators of the viral Kill the K-Cup video urges Keurig to expedite the development of their recycling program and has been signed by more than 20,000 people. According to Sylvan, it won't happen any time soon. "No matter what they say about recycling," he said, "those things will never be recyclable."
Supporters of pod-based coffee makers would argue that's not such a bad thing considering the machines require less electricity than traditional brew pots and extract coffee more efficiently from less grounds, saving on the resources required to produce the water-intensive crop.
Coffee is a staple in the American diet and won't be going away any time soon. It offers a slew of health benefits and, most importantly, the jolt of caffeine so many have come to rely on. So what's the most eco-friendly coffee brewing option? According to Murray Carpenter, author of Caffeinated, the answer is, unfortunately, instant coffee.
If abandoning the convenience of your single-serve Keurig for more sustainable instant coffee is out of the question, there are other options. Keurig Green Mountain's Grounds to Grow On program collects used pods turning the grounds into fertilizer and burning the cups for energy. Another company, Terracycle, sells zero-waste boxes where you can collect coffee pods to ship back for recycling.
As for Sylvan, he says he has a solution to Keurig's waste problem but that the company won't listen. As they embark on their own 2020 recycling initiative, he has started a new company Zonbak selling solar panels, in part to offset the negative environmental impact of his K-cup invention.
YOU MIGHT ALSO LIKE
Man Quits Job to Travel in Solar-Powered Home on Wheels
Reducing Food Waste Is Good for Economy and Climate, Report Says
World's First Plantable Coffee Cup to Replenish Rain Forests
EcoWatch Daily Newsletter
Graphical representation of vertical pectoral herding by whale in Southeast Alaska. Prey are denoted in yellow. Whale deploys an upward-spiral bubble-net to corral prey and establish the first barrier; pectorals then protract to form a 'V' shape around the open mouth (depicted by blue arrows), creating a second physical barrier.
Kyle Kosma / Royal Society Open Science /
CC BY 4.0
When you have a whale-sized appetite, you need to figure out some pretty sophisticated feeding strategies. They mysteries of how a humpback whale traps so much prey have eluded scientists, until now.
California Yosemite River Scene.
Mobilus In Mobili / Flickr /
CC BY-SA 2.0
An advisory panel appointed by Trump's first Secretary of the Interior, Ryan Zinke, has recommended privatizing National Parks campgrounds, allowing food trucks in and setting up WiFi at campgrounds while also reducing benefits to seniors, according to the panel's memo.
Strips of native prairie grasses planted on Larry and Margaret Stone's Iowa farm protect soil, water and wildlife.
Iowa State University / Omar de Kok-Mercado, CC BY-ND
In Haiti, Action Against Hunger screens children for malnutrition. Christophe Da Silva / Action Against Hunger, Haiti
By Dr. Charles Owubah
As a child growing up on a farm in Ghana, I have personally known hunger. The most challenging time was between planting and harvesting – "the hunger season." There were many occasions when we did not know where the next meal would come from.
Today, on World Food Day, I think of the 820 million people around the world who are undernourished.
A Lyme disease warning on Montauk, Long Island, New York.
Neil R / Flickr
Biomedical engineers have developed a new, rapid test capable of detecting Lyme disease in just 15 minutes.
Brown bear fishing for salmon in creek at Pavlof Harbor in Tongass National Forest, Alaska. Wolfgang Kaehler / LightRocket / Getty Images
The Trump administration has moved one step closer to opening Earth's largest intact temperate rainforest to logging.
The Democratic primary candidates take the stage during Tuesday's debate. SAUL LOEB / AFP via Getty Images
On Tuesday night, the Democratic presidential candidates gathered for what The Guardian said was the largest primary debate in U.S. history, and they weren't asked a single question about the climate crisis.
A. Battenburg / Technical University of Munich
By Sarah Kennedy
Algae in a pond may look flimsy. But scientists are using algae to develop industrial-strength material that's as hard as steel but only a fraction of the weight.