John Kerry: Climate Change Most Serious Threat We Face on the Planet
Sep. 23, 2014 09:31AM EST
Climate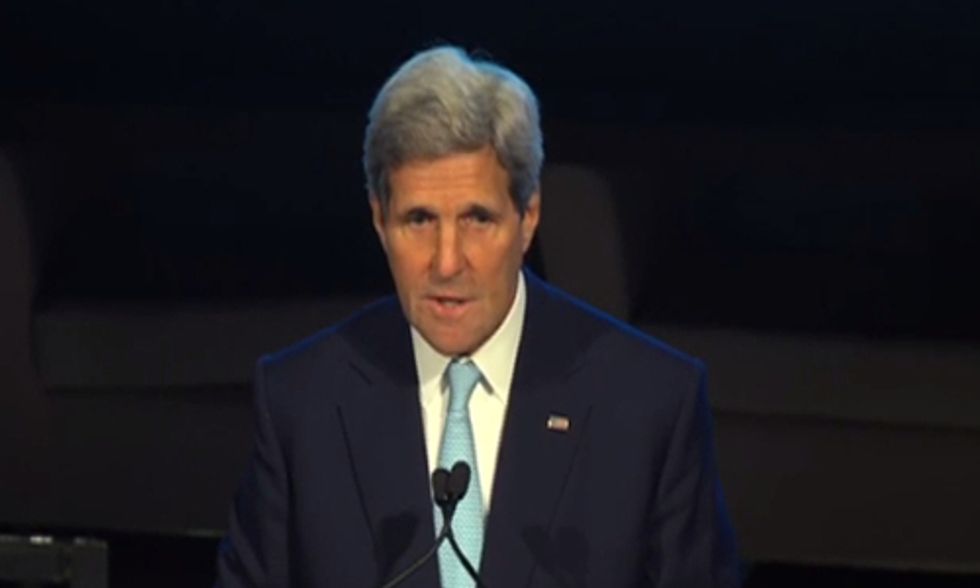 In opening remarks for Climate Week delivered at the Morgan Library in New York City yesterday to a gathering of business, government and environmental leaders, U.S. Secretary of State John Kerry called addressing climate change a "moral obligation" and said, "It doesn't cost more to deal with climate change; it costs more to ignore it and to put our head in the sand and continue down this road of obfuscation and avoidance."
On the day after more than 300,ooo demonstrators took to the streets for the People's Climate March, the largest climate action in history, and the day before world leaders, including President Obama, convene for the UN Climate Summit, he urged leaders in all sectors to look at climate change as inextricably bound up with the other challenges they're dealing with.
"Too often climate change is put into an 'environmental challenge' box, when in fact it's a major set of economic opportunities and economic challenges, it's a public health challenge, and it's also unquestionably an international security challenge," he said. "You can make a powerful argument that it may be, in fact, the most serious challenge we face on the planet because it's about the planet itself. And today, more than 97 percent of all the peer reviewed studies ever made confirm that."
He recalled the first U.S. Senate hearing about the climate in 1988 and enumerated the impacts of not taking action in all those years, referring to the increase in greenhouse gases, the recent record hot August droughts, extreme weather events, water shortages rising sea levels.
"You don't have to take my word for it," he said. "You don't have to Al Gore's word for it. You don't have to take the IPCC's word and the Framework Convention, all those people who are sounding the alarm bells. You can just wake up pretty much any day and listen to Mother Nature, who is screaming at us about it."
He took a dig at the climate deniers in Congress when he said, "We have this opportunity to be able to make a certain set of choices, and that's why President Obama has stepped up unilaterally, because we don't have a Congress that yet completely buys into it and we have one house particularly that not only doesn't but fights back against the science."
He emphasized the need for governments to work together, announcing that the previous day he had convened a meeting of foreign ministers for the first time to discuss the challenges and potential areas of cooperation.
"We agreed that we would meet again next year to hold all the nations that were there accountable and to measure ourselves about what the targets are we set as we go into Paris next year," said Kerry.
"It's hard to believe that that's the first time ever that many foreign ministers—not climate ministers, not environment ministers, but foreign ministers who set foreign policy came together in order to discuss this topic. But it is not going to be the last time, we assure you. I've also set a directive to every single one of our 275 missions, embassies, consulates, that the chiefs of mission are to put this issue on the front burner in all of our interventions with the host countries wherever they may be."
Read the full text of his remarks here.
YOU MIGHT ALSO LIKE
300,000+ Demand Climate Action Now at Largest Climate March in World History
Desmond Tutu: It's Time to 'Move Beyond the Fossil Fuel Era'
Watch a Climate Denier Label IPCC Report as UN's 'Perverse Priorities' on Fox News
EcoWatch Daily Newsletter