This website uses cookies to ensure you get the best experience while browsing it. By clicking 'Got It' you're accepting these terms.


The best of EcoWatch, right in your inbox. Sign up for our email newsletter!
Jimmy Carter: Citizens United 'Gives Legal Bribery a Chance to Prevail'
Feb. 04, 2016 09:05AM EST
Politics
Former U.S. President and Nobel Peace Prize winner Jimmy Carter has taken aim at the "erroneous" Supreme Court ruling that "gives legal bribery a chance to prevail."
Carter made the comments, an apparent reference to the 2010 Citizens United ruling, in an interview Wednesday with the BBC's Today program.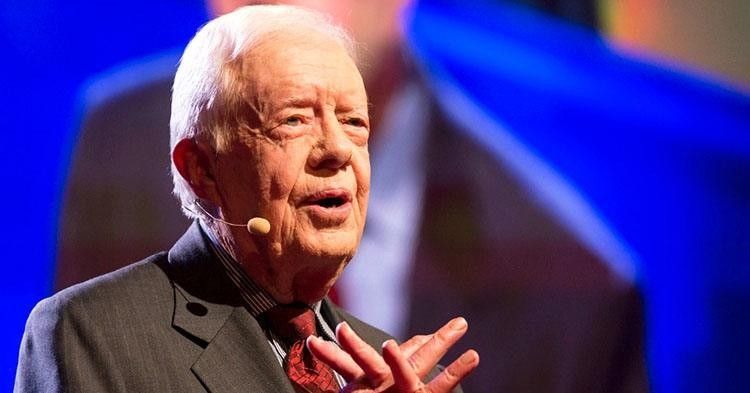 Carter told interviewer John Humphrys that the ruling would have prevented a "relatively unknown farmer" like himself from emerging as a serious candidate. "Now," he said, "there's a massive infusion of hundreds of millions of dollars into campaigns for all the candidates."
"Some candidates like [Donald] Trump can put in his own money but others have to be able to raise, I'd say, a hundred to two hundred million dollars just to get the Democratic or Republican nomination. That's the biggest change in America," he said and one for the worse, adding that "the erroneous ruling of the Supreme Court where millionaires, billionaires can put in unlimited amounts of money directly into the campaign."
"In a way," Carter said, "it gives legal bribery a chance to prevail because almost all the candidates, whether they are honest or not and whether they are Democratic or Republican, depend on these massive infusions of money from very rich people in order to have money to campaign."
Carter contrasted today's elections from when he was running for office, saying, "In those days when I ran against Gerald Ford, who was incumbent president or later Ronald Reagan, who challenged me, we didn't raise a single penny to finance our campaign to run against each other. We just used the $1 per person checkoff that every taxpayer indicates at the end of his or her income tax return. But nowadays, you have to have many hundreds of millions of dollars to prevail."
Humphrys said that another change that seems to have occurred over the decades is that "many members of the middle class and working class, white people, have been disaffected form the political process"—something that Carter attributed to the fact that "they have, in effect, been cheated out of a proper opportunity to improve their lot in life" because "rich people finance the campaigns" and "then when candidates get in office they do what the rich people want."
Carter's comments to BBC are similar to ones he made in September 2015, when he talked to Oprah Winfrey about the influence of money on elections, saying, "We've become, now, an oligarchy instead of a democracy."
They also echo ones he made in 2012 when he denounced the "financial corruption" of elections and referred to "that stupid ruling" by the Supreme Court. "We have one of the worst election processes in the world right in the United States of America and it's almost entirely because of the excessive influx of money," he said at the time.
Carter's interview on BBC also covered the eradication campaign his foundation, the Carter Center, has been waging against guinea worm, a parasitic infection.
Carter, who's 91 and has been undergoing treatment for cancer, said his hope is that he "can outlive the last guinea worm."
YOU MIGHT ALSO LIKE 
Watch Colbert Explain Why the Broncos Should Draft Hillary Clinton for the Super Bowl
Bernie Sanders and Hillary Clinton Make History in Virtual Tie in Iowa
Gov. Kasich Admits Renewables Are the Future, So Why Did He Freeze Ohio's Clean Energy Mandate
EcoWatch Daily Newsletter
An artist's rendering of the recomposition facility. MOLT Studios
Washington became the first U.S. state to legalize human composting Tuesday, offering residents a more environmentally friendly way to dispose of their remains, AFP reported.
Mr.TinDC / Flickr / CC BY-ND 2.0
Many nutrients are essential for good health.
By Pat Thomas
Throughout the U.S., major food brands are trying to get rid of GMO ingredients — not necessarily for the right reasons, but because nearly half of consumers say they avoid them in their food, primarily for health reasons.
But the CEO of Impossible Foods, purveyor of the Impossible Burger, is bucking that trend.
People in more than 100 countries are expected to take part in well over 1,000 strikes on May 24 to demand climate action from their governments. @ExtinctionR / Twitter
DoneGood
By Cullen Schwarz
Ethical shopping is a somewhat new phenomenon. We're far more familiar with the "tried and tested" methods of doing good, like donating our money or time.
Asian elephants frolic in Kaudulla Wewa at Kaudulla National Park in central Sri Lanka.
David Stanley /
CC BY 2.0
When it comes to saving some of the planet's largest animals, a group of researchers says that old methods of conservation just won't cut it anymore.
smcgee / Flickr / CC BY-NC 2.0
Several New York City Starbucks exposed customers to a potentially deadly pesticide, two lawsuits filed Tuesday allege.