This website uses cookies to ensure you get the best experience while browsing it. By clicking 'Got It' you're accepting these terms.
Is China Still Committed to UN Climate Process?
Sep. 07, 2014 10:38AM EST
Climate
In a major blow to the United Nation's upcoming climate change summit, Chinese President Xi Jinping decided to pull out earlier this week.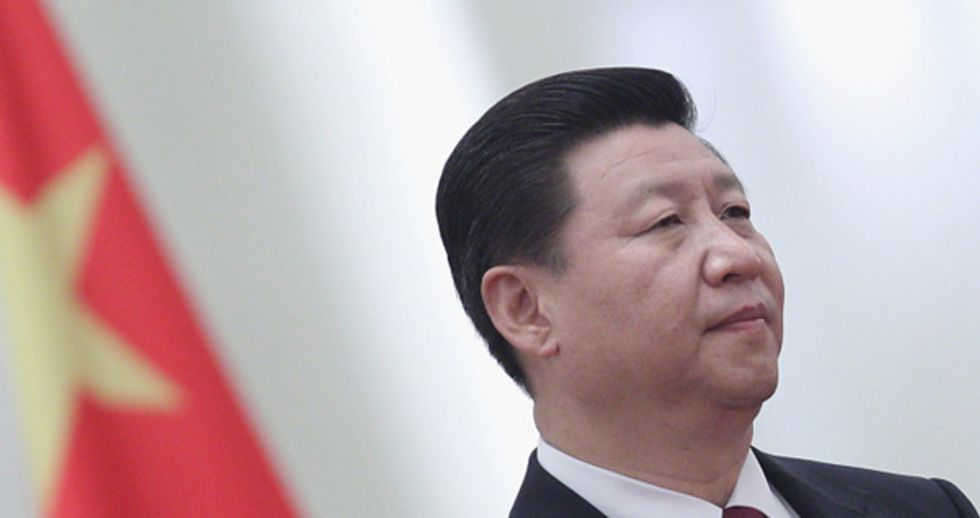 That's according to a Bloomberg article which cites two UN diplomats.
After initially confirming his place, together with U.S. president Barack Obama only two months ago, Xi may now send another top level Chinese delegate to the Sept. 23 gathering instead. It is unclear why Xi himself will not attend.
But, according to a spokesperson from the Beijing government, the change is not necessarily indicative of China's weakening stance on fighting climate change.
The move comes a few weeks after Indian prime minister Narendra Modi decided to snub the gathering.
The news will certainly dash the hopes of UN head Ban Ki-moon who has especially organized this summit in order to build momentum ahead of all important climate talks in Paris next December.
In 2015, world leaders are expected to strike a new deal to rein in emissions, and prevent the catastrophic warming of our planet.
And, although the absence of both Modi and Xi will certainly be felt at this summit, it may not necessarily scupper the negotiation process: the meeting is only a gathering, not a negotiating session.
Striking a solid binding deal couldn't be more pressing.
According to a draft of the UN's latest climate report:
"Continued emission of greenhouse gases will cause further warming and long-lasting changes in all components of the climate system, increasing the likelihood of severe, pervasive and irreversible impacts for people and ecosystems."
Using stronger language than the previous three reports, it also warns that the "risk of abrupt and irreversible changes" is increasing, overwhelming current political efforts to contain the crisis.
That brutal assessment came eleven months after the Nobel Peace prize winning body revealed that our planet is warming much faster than expected. Temperatures may now breach the two degrees Celsius mark within the next thirty years.
In April, the head of the World Bank Jim Yong Kim said that warming temperatures will usher in conflicts over food and water within the next five to ten years.
"Unless we act dramatically and quickly, science tells us our climate and our way of life are literally in jeopardy. Denial of the science is malpractice," warned U.S. Secretary of State John Kerry.
Earlier this year, the U.S. and China pledged to lead the charge against global warming. As the world's two largest emitters of greenhouse gases, commitment by these two economic powerhouses is paramount.
Barack Obama has since taken the largest step of any U.S. president to date by reining in emissions from America's vast fleet of power stations.
And, China has now declared a war on pollution as it maintains its lead in the clean energy race.
According to many observers, the U.S. China relationship is one of the most promising developments in nearly twenty years of failed climate talks.
And, although recent news regarding the Chinese president has lead some people to question China's commitment to the UN process, it is important to remember that Beijing and Washington have been working very closely together over the past year to tackle this issue.
Toxic air pollution across the world's most populous nation has forced the Chinese leadership to clean up its act, regardless of outside pressure.
After sacrificing the environment for decades to achieve breakneck economic growth, Beijing is now making its fight against pollution one of its key objectives to ensure social stability.
Earlier this year, China's chief climate negotiator Xie Zhenhua assured: "We should be confident that the Paris meeting will not be another Copenhagen."
In the past, a lack of cooperation between China and the U.S. has sabotaged UN climate talks, including a much hoped for deal in Denmark five years ago. Negotiations collapsed as rich and poor nations clashed over who should bear the brunt of emission cuts.
According to developing countries, industrialized nations should have stepped up to the plate as they are historically responsible for the problem. But, developed economies argued that emerging nations like China and India can not shirk their responsibilities as they now create a huge proportion of today's greenhouse gases.
And, mature economies like the U.S. and Japan will not make their cuts binding unless major polluters like China does too.
"It is an open question whether the world is ready to sign up to something that is adequate in Paris next year," noted EU Climate Change Commissioner Connie Hedegaard earlier this year.
Just over a year before that crucial summit begins in Paris, world leaders need to bear in mind one thing. Five years ago, they vowed to limit the warming of our planet to two degrees celsius.
And, in order to keep that promise, according to a recent roadmap presented to the UN, "global net emissions of greenhouse gases will have to approach zero by the second half of this century."
According to the report compiled by experts from 30 international institutions, current emission targets are simply way too conservative: "By and large, national targets are not derived from an assessment of what will be needed to stay within the 2C limit."
It says that in order to meet that target, the world's 15 largest economies will all have to take ambitious strides to move towards a low carbon economy.
That list includes: the U.S., China, India, Indonesia, Russia, Australia, the UK, Germany, France, Canada, Japan, South Korea, Brazil, Mexico and South Africa.
Speaking ahead of this month's UN summit, Ban Ki-Moon said:
"Solutions exist and we are already seeing significant changes in government policies. The race is on, and now is the time for leaders to step up and steer the world towards a safer future."
With a steep temperature rise sitting on our collective horizon, let's hope that world leaders find that will before heading to Paris next December, for as Martin Luther King once said: "We are all caught in an inescapable network of mutuality, tied in a single garment of destiny." And, while the task ahead is certainly challenging, in the words of the late Nelson Mandela: "It always seems impossible until its done."
YOU ALSO MIGHT LIKE
'Irreversible' Damage to Planet From Climate Change Says Leaked IPCC Report
Bill McKibben on Democracy Now!: Obama's Nonbinding Climate Deal, IPCC Report, People's Climate March
New Satellite Maps Show World's Major Ice Caps Melting at Unprecedented Rate
EcoWatch Daily Newsletter
Investing in grid infrastructure would enable utilities to incorporate modern technology, making the grid more resilient and flexible. STRATMAN2 / FLICKR
By Elliott Negin
The Royal Swedish Academy of Sciences' recent decision to award the 2019 Nobel Prize in Chemistry to scientists who developed rechargeable lithium-ion batteries reminded the world just how transformative they have been. Without them, we wouldn't have smartphones or electric cars. But it's their potential to store electricity generated by the sun and the wind at their peak that promises to be even more revolutionary, reducing our dependence on fossil fuels and protecting the planet from the worst consequences of climate change.
Two Javan rhinos deep in the forests of Ujung Kulon National Park, the species' last habitat on Earth. Sugeng Hendratno / WWF
The global population of the critically endangered Javan rhinoceros has increased to 72 after four new calves were spotted in the past several months.
A tiger looks out from its cage at a new resort and zoo in the eastern Lao town of Tha Bak on Dec. 5, 2018. Karl Ammann believes the "zoo" is really a front for selling tigers. Terrence McCoy / The Washington Post / Getty Images
Are tigers extinct in Laos?
That's the conclusion of a detailed new study that found no evidence wild tigers still exist in the country.
A group of scientists is warning that livestock production must not expand after 2030 for the world to stave off ecological disaster.
The largest wetland in Africa is in the South Sudan. George Steinmetz / Corbis Documentary / Getty Images Plus
Methane emissions are a far more powerful greenhouse gas than carbon dioxide – about 28 times more powerful. And they have been rising steadily since 2007. Now, a new study has pinpointed the African tropics as a hot spot responsible for one-third of the global methane surge, as Newsweek reported.