This website uses cookies to ensure you get the best experience while browsing it. By clicking 'Got It' you're accepting these terms.
Ignoring Climate Risks Could Sink U.S. Economy
Aug. 03, 2014 09:02AM EST
Climate
For the second time in a month, Americans have been warned that the economic cost of not acting on climate change is likely to be calamitous.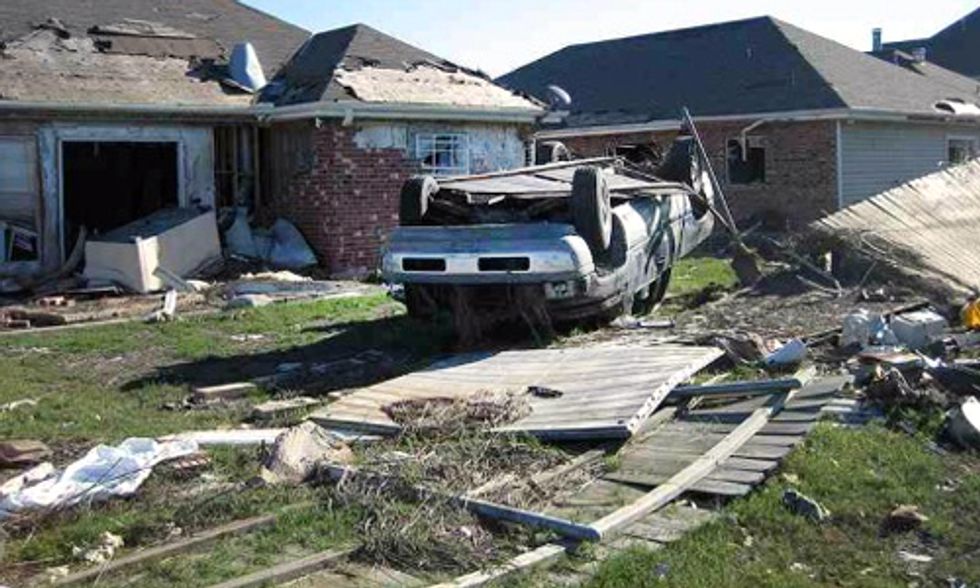 Photo credit: Wikimedia Commons
Robert Rubin, the co-chairman of the influential, non-partisan Council on Foreign Relations, says the price of inaction could be the U.S. economy itself.
Writing in the Washington Post, Rubin, a former U.S. Treasury Secretary, argues: "When it comes to the economy, much of the debate about climate change—and reducing the greenhouse gas emissions that are fueling it—is framed as a trade-off between environmental protection and economic prosperity,
"But from an economic perspective, that's precisely the wrong way to look at it. The real question should be: 'What is the cost of inaction?'"
Widespread Disruption
He backed the Risky Business Project, a research initiative chaired by a bi-partisan panel and supported by him and several other former Treasury Secretaries. It reported in June that the American economy could face significant and widespread disruption from climate change unless U.S. businesses and policymakers take immediate action.
In his opinion article in the Washington Post, Rubin argues that, in economic terms, taking action on climate change will prove far less expensive than inaction. He wrote: "By 2050, for example, between $48 billion and $68 billion worth of current property in Louisiana and Florida is likely to be at risk of flooding because it will be below sea level. And that's just a baseline estimate; there are other scenarios that could be catastrophic.
"Then, of course, there is the unpredictable damage from superstorms yet to come. Hurricane Katrina and Hurricane Sandy caused a combined $193 billion in economic losses; the congressional aid packages that followed both storms cost more than $122 billion.
"And dramatically rising temperatures in much of the country will make it far too hot for people to work outside during parts of the day for several months each year—reducing employment and economic output, and causing as many as 65,200 additional heat-related deaths every year."
Rubin believes a fundamental problem with tackling climate change is that the methods used to gauge economic realities do not take climate change into consideration. He wants climate-change risks reflected accurately, and companies required to be transparent in reporting vulnerabilities tied to climate.
"If companies were required to highlight their exposure to climate-related risks, it would change investor behaviour, which in turn would prod those companies to change their behaviour," he argues.
Flawed Picture
"Good economic decisions require good data. And to get good data, we must account for all relevant variables. But we're not doing this when it comes to climate change—and that means we're making decisions based on a flawed picture of future risks.
"While we can't define future climate-change risks with precision, they should be included in economic policy, fiscal and business decisions, because of their potential magnitude."
Rubin says the scientific community is "all but unanimous" in agreeing that climate change is a serious threat. He insists that it is a present danger, not something that can be left to future generations to tackle.
"What we already know is frightening, but what we don't know is more frightening still," he writes. "For example, we know that melting polar ice sheets will cause sea levels to rise, but we don't know how negative feedback loops will accelerate the process ... And the polar ice sheets have already started to melt."
He concludes: "We do not face a choice between protecting our environment or protecting our economy. We face a choice between protecting our economy by protecting our environment—or allowing environmental havoc to create economic havoc."
The White House's Council of Economic Advisers has estimated that the eventual cost of cutting greenhouse gas emissions will increase by about 40 percent for every decade of delay, because measures to restrict them will be more stringent and costlier as atmospheric concentrations grow.
You Might Also Like
California Experiencing Most Severe Drought Ever Recorded
10 Biggest Threats to Human Existence
Groundwater Disappearing Much Faster Than Lake Mead in Colorado River Basin
EcoWatch Daily Newsletter
Hospital workers applaud during a tribute to the essential health care workers at Hospital Universitario de Mostoles in Mostoles, Spain on March 27, 2020. Legan P. Mace / SOPA Images / LightRocket via Getty Images
Essential farm workers continue to work as Florida agriculture industry struggles during coronavirus pandemic. Joe Raedle / Getty Images.
By Liz Carlisle
This opinion piece was originally published by Yes! Magazine on March 30, 2020.
As the coronavirus crisis has laid bare, the U.S. urgently needs a strategic plan for farmland. The very lands we need to ensure community food security and resilience in the face of crises like this pandemic and climate change are currently being paved over, planted to chemically raised feed grains for factory farm animals, and acquired by institutional investors and speculators. For far too long, the fate of farmlands has flown under the radar of public dialogue—but a powerful new proposal from think tank Data for Progress lays out how a national strategic plan for farmland could help boost economic recovery while putting the U.S. on a path to carbon neutrality.
A worker with nonprofit organization Martha's Table loads bags of fresh produce to distribute to people in need during the novel coronavirus outbreak on April 1, 2020 in Washington, DC. Chip Somodevilla / Getty Images
By Shawn Radcliffe
The CDC recommends that all people wear cloth face masks in public places where it's difficult to maintain a 6-foot distance from others. This will help slow the spread of the virus from people without symptoms or people who do not know they have contracted the virus. Cloth face masks should be worn while continuing to practice social distancing. Instructions for making masks at home can be found here. Note: It's critical to reserve surgical masks and N95 respirators for healthcare workers.
The CDC has emphasized that washing hands with soap and water is one of the most effective ways to prevent the spread of COVID-19. Guido Mieth / Moment / Getty Images
The Centers for Disease Control has emphasized that washing hands with soap and water is one of the most effective measures we can take in preventing the spread of COVID-19. However, millions of Americans in some of the most vulnerable communities face the prospect of having their water shut off during the lockdowns, according to The Guardian.