This website uses cookies to ensure you get the best experience while browsing it. By clicking 'Got It' you're accepting these terms.
Hundreds Rally Asking Gov. Cuomo to Deny the Constitution Pipeline
Apr. 05, 2016 03:27PM EST
Energy
Nearly 400 people from across the state of New York and beyond rallied in Albany today asking Gov. Cuomo to stand up to the Federal Energy Regulatory Commission (FERC) and use the state's authority under the Clean Water Act to deny the 401 water quality certificate for the Constitution Pipeline.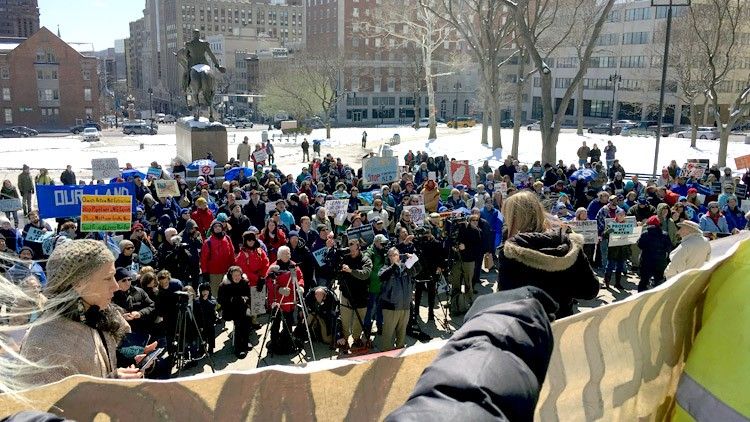 The Constitution Pipeline, a joint venture between Williams Pipeline Companies and Cabot Oil & Gas, would run approximately 124 miles from Susquehanna County, Pennsylvania to Schoharie County, New York. The pipeline would be 30 inches in diameter, and transport natural gas—the equivalent of 4.68 million gallons of oil per day—from the Marcellus Shale in Pennsylvania to New York state.
The rally was organized by Stop the Pipeline, with the support of 60 participating organizations. The event included speeches from prominent environmentalists, including Waterkeeper Alliance president Robert F. Kennedy, Jr., and a march from the capitol to the headquarters of the New York Department of Environmental Conservation. People whose land has already been taken by eminent domain for the construction of the pipeline led the march, followed by "the spirit of the Susquehanna," symbolizing the water that nourishes all life.
"FERC is a rogue agency that is captured by the very industry it is supposed to regulate," Kennedy said. "We need to reclaim our democracy from corporations that routinely pollute our water, and are now taking people's land for their profit. Governor Cuomo can continue his environmental leadership by denying this 401 water quality certificate."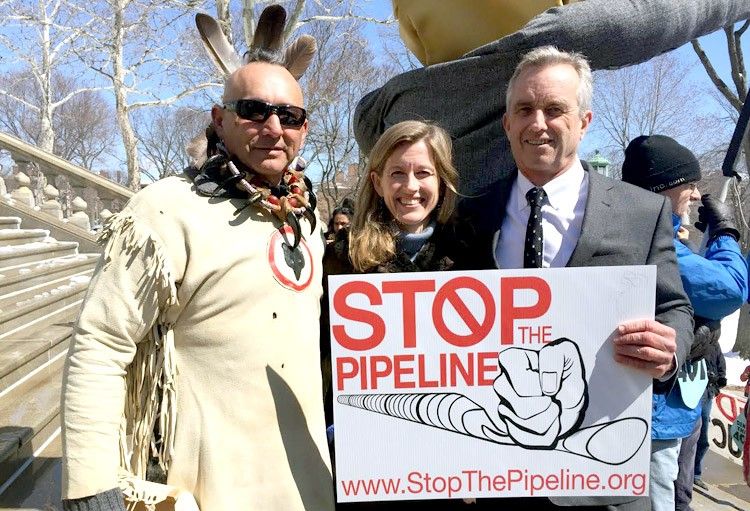 "I implore Governor Cuomo to protect the health and safety of all New Yorkers by saying no to dangerous fracked gas pipelines and other fossil fuel infrastructure," Wenonah Hauter, executive director of Food & Water Watch, said at today's rally.
"He should start by denying a water quality certificate for the Constitution Pipeline. This project would cross hundreds of streams and put New York's most essential resource—its clean drinking water—at risk. Governor Cuomo should listen to the hundreds of New Yorkers who are here today, and the many more that they speak for, and reject antiquated fossil fuel infrastructure like the Constitution Pipeline."
In January, FERC approved limited tree cutting along the Pennsylvania section of the pipeline route, which includes about 25 miles of the 124-mile route. But, FERC delayed similar operations in New York.
On March 1, guarded by heavily armed U.S. marshals, a Constitution Pipeline tree crew began felling trees in the Holleran family's maple sugaring stand in New Milford, Pennsylvania to make way for the pipeline. The cutting began 11 days after Federal Judge Malachy Mannion dismissed charges of contempt against the landowners for allegedly asking a tree crew that had arrived on the property not to cut the trees.
On March 24, seven people, including Gasland filmmaker Josh Fox and Pennsylvania landowner Megan Holleran, were arrested in the driveway of FERC in Washington, DC, while waiting for commissioners to join them for pancakes topped with the last drops of maple syrup from the Holleran family farm.
"FERC has become the henchmen of the pipeline companies," Delaware Riverkeeper Maya van Rossum said. "It uses legal loopholes and violations of law to strip states and communities of their legal rights to review, challenge, and even deny pipeline projects. We need Governor Cuomo to stand as our champion by saying "no" to the Constitution pipeline and "no" to FERC."
Other speakers today included Karenna Gore, director of the Center of Earth Ethics at Columbia University; Kanerahtiio Jock, Kanien'kehá:ka (Mohawk) Bear Clan; William Roche, a property owner whose land and dreams have been taken by eminent domain; Doug Couchon, We Are Seneca Lake; Jim Cutler, Sugar Shack Alliance and Hilltown Community Rights; and representatives of many other groups.
YOU MIGHT ALSO LIKE
7 Arrested at 'Pancakes Not Pipelines' Protest at FERC
Community Builds Walden Pond Cabin in Thoreau-Inspired Fracking Pipeline Protest
Surgeon General's Warning: We Must Act on Climate
6 Colorado Teenagers File Appeal in Fracking and Climate Lawsuit
EcoWatch Daily Newsletter
Large food companies are following in the footsteps of fast-food restaurants such as Burger King and KFC by offering meat alternatives. Getty Images
By Elizabeth Pratt
Hormel, Kellogg's, and Kroger are among the large companies now planning to offer "fake meat" products at grocery stores.
Experts say the trend toward plant-based meats coincides with consumers' desires to eat less meat.
However, experts urge consumers to closely check package labels as a product isn't necessarily healthy just because it's described as plant-based.
In grocery stores and fast-food outlets around the U.S., a revolution is taking place.
Colombia rainforest. Marcel Oosterwijk / CC BY-SA 2.0
Many of us think of the Amazon as an untouched wilderness, but people have been thriving in these diverse environments for millennia. Due to this long history, the knowledge that Indigenous and forest communities pass between generations about plants, animals and forest ecology is incredibly rich and detailed and easily dwarfs that of any expert.
picture-alliance / Newscom / R. Ben Ari
By Wesley Rahn
Plastic byproducts were found in 97 percent of blood and urine samples from 2,500 children tested between 2014 and 2017, according to a study by the German Environment Ministry and the Robert Koch Institute.

Pexels
Medically reviewed by Daniel Bubnis, MS, NASM-CPT, NASE Level II-CSS
Hot yoga has become a popular exercise in recent years. It offers many of the same benefits as traditional yoga, such as stress reduction, improved strength, and flexibility.
Lara Hata / iStock / Getty Images
By SaVanna Shoemaker, MS, RDN, LD
Rice is a staple in many people's diets. It's filling, inexpensive, and a great mild-tasting addition to flavorful dishes.
An image of the trans-alaskan oil pipeline that carries oil from the northern part of Alaska all the way to valdez. This shot is right near the arctic national wildlife refuge. kyletperry / iStock / Getty Images Plus
The Trump administration has initialized the final steps to open up nearly 1.6 million acres of the protected Alaskan National Wildlife Refuge to allow oil and gas drilling.