This website uses cookies to ensure you get the best experience while browsing it. By clicking 'Got It' you're accepting these terms.
Hundreds Protest Tar Sands Pipeline as Expert Warns of 90 Percent Probability of Line 9 Rupture
Oct. 23, 2013 08:56AM EST
Energy
By Derek Leahy
The international pipeline safety expert who last August described Enbridge's Line 9 pipeline as "high risk for a rupture" now says the probability of Line 9 rupturing is "over 90 percent."
"I do not make the statement 'high risk for a rupture' lightly or often," said Richard Kuprewicz in an interview with DeSmog Canada. "There are serious problems with Line 9 that need to be addressed." Kuprewicz is a pipeline safety expert with over forty years of experience in the energy sector.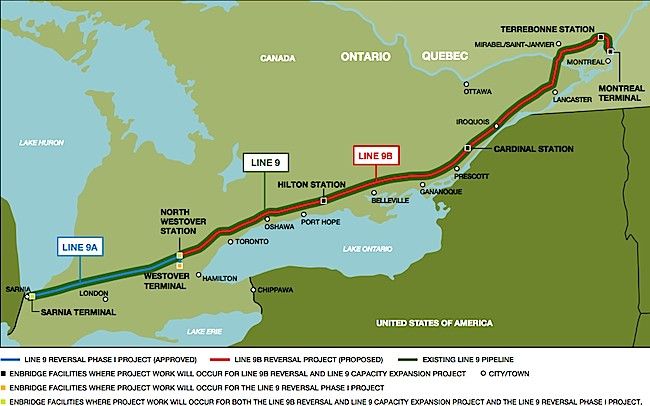 Hundreds rallied in Toronto over the weekend to voice their opposition to Enbridge's plans to ship Alberta tar sands bitumen from Sarnia to Montreal through the 37-year-old Line 9 pipeline.
Kuprewicz also expressed concerns about transporting diluted bitumen through Line 9 saying it will increase the growth rates of cracks on the pipeline. Line 9 lies in the most populated part of Canada and crosses the St. Lawrence River and major waterways flowing into Lake Erie and Lake Ontario. A Line 9 spill could pollute the drinking water of millions of Canadians.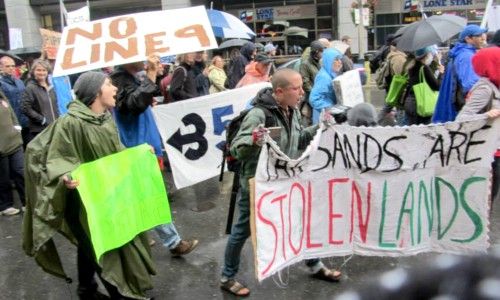 Extensive Stress Corrosion Cracking on Line 9
"Existing SCC (stress corrosion cracking) on Line 9 can worsen due to the increase in pressure cycling associated with shipping dilbit (diluted bitumen)," explained Kuprewicz. "This could lead to a rupture." 
The thick heavy crude bitumen is diluted with a condensate (natural gas or naphtha) so it can flow through pipelines. 'Pressure cycling,' or the variations in operating pressures of a pipeline, increase with dilbit, because dilbit can vary more in composition than light conventional oil. The greater swings in the levels of operating pressures can create cracks in a pipeline.
Kuprewicz examined Enbridge's assessments of Line 9 and found evidence of extensive stress corrosion cracking on Line 9, most likely caused by the pipeline's external protective coating (polyethylene tape or PE-tape) separating from the sections of Line 9, allowing water to damage the pipeline.
Kuprewicz has seen this problem before. He researched the U.S. federal investigation into the Kalamazoo, MI, dilbit spill—the largest onshore oil spill in US.. history—on behalf of various concerned parties. The disbondment of PE-tape on Enbridge's Line 6B pipeline and subsequent SCC on the pipe caused the rupture. Three million litres of dilbit were spilled into the Kalamazoo River and the surrounding waterways, and the $1 billion cleanup continues to this day. 
Enbridge claims that its in-line inspection tool can detect any serious SCC threats to the pipeline. According to Kuprewicz, the in-line detection technology Enbridge is using has yet to be proven effective.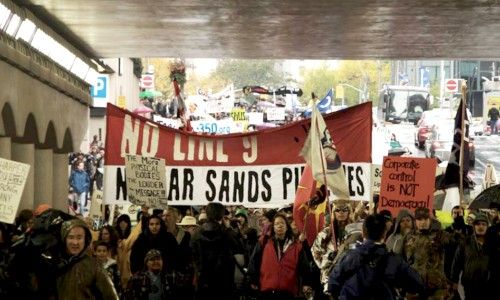 Hydrostatic Testing of Pipelines is the "Gold Standard" for Safety
"Enbridge needs to conduct a hydrostatic test on Line 9," Kuprewicz told DeSmog Canada. "It is the gold standard for pipeline integrity and safety. Canada has a well-established history of hydrotesting its pipelines." 
A hydrostatic test would pump water through Line 9 at similar pressures to those the pipeline is expected to operate at, but there is no indication that Enbridge plans to conduct hydrostatic testing.
Kuprewicz also questions Enbridge's claims of an automatic shutdown in the event of a pressure drop in Line 9 or a 10-minute shutdown if an unexplained reading comes in from the pipeline. When a pipeline ruptures, pressure loss as well as detecting the drop can take quite a while. The 10-minute shutdown procedure existed at the time of the Kalamazoo spill and it still took Enbridge 17 hours to shut down the ruptured pipeline.
"I am not trying to be hard on Enbridge. There are definite improvements they could make to their pipeline management system that would significantly reduce the chances of a Line 9 rupture," said Kuprewicz.
Enbridge Lacks Adequate Liability Insurance for a Line 9 Spill
The Goodman Group Ltd found that, in the event of a Line 9 spill, Enbridge's $685 million liability insurance for all its operations (not just Line 9) would be inadequate. The California-based consulting firm says Enbridge needs $3 billion of liability insurance for Line 9 alone.
"This is especially true in Toronto and Montreal, where the pipeline runs parallel to or across key urban infrastructure and could threaten the drinking water supply, resulting in multi-billion dollar costs," warned Ian Goodman, president of the Goodman Group.
Cleanup costs of other onshore oil spills such as Lac-Megantic in Quebec and the Kalamazoo spill were analyzed by the Goodman Group, and Line 9's location in a highly populated area was considered. The firm concluded that a bad Line 9 spill would cost at least $1 billion. The worst-case scenario was pegged between $5-10 billion.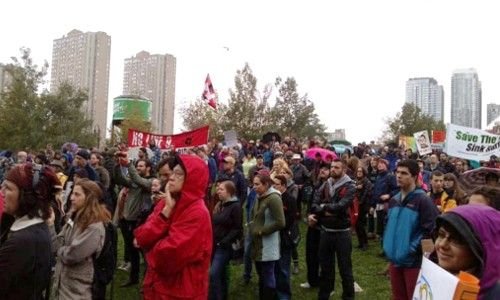 Ontario Demands Independent Third-Party Assessment of Line 9
The Ontario government in some ways echoed the recommendations of Kuprewicz and the Goodman Group on Oct. 17 during a National Energy Board (NEB) public hearing in Toronto.
Ontario demanded that Enbridge conduct a hydrostatic test on Line 9, and that the company maintain $1 billion in insurance for the pipeline. The province also called on the NEB to initiate an independent third party assessment on the state of Line 9, and not rely solely on Enbridge's findings.
"Given the age of the pipeline, its location in a large part of southern Ontario, its additional service life of 30 years or more, and the potential adverse consequences of a rupture, it seems a matter of simple prudence and common sense to ensure the (assessments) are as thorough, comprehensive and as accurate as possible," Rick Jennings told the NEB panel. Jennings is an assistant deputy minister with Ontario's Ministry of Energy.
"In our view, an independent third-party review is required for that assurance," said Jennings.
The NEB hearings on Line 9 were scheduled to wrap up in Toronto on Oct. 19, but the NEB postponed the final hearing to an unknown date and location. The NEB could make its final decision on Line 9 as early as January 2014.
Enbridge has applied with the NEB to increase the capacity of Line 9 from 240,000 to 300,000 barrels per day, reverse the pipeline to flow west-to-east and ship 'heavy crudes' such as dilbit through the line.
Critics of the Line 9 project say the pipeline should not be approved to ship dilbit because of the likelihood of a rupture and the adverse impacts that further expansion of the tar sands will have on climate change and the people and environment of northern Alberta. 

EcoWatch Daily Newsletter
Extreme weather events supercharged by climate change in 2012 led to nearly 1,000 more deaths, more than 20,000 additional hospitalizations, and cost the U.S. healthcare system $10 billion, a new report finds.
Giant sequoia trees at Sequoia National Park, California. lucky-photographer / iStock / Getty Images Plus
A Bay Area conservation group struck a deal to buy and to protect the world's largest remaining privately owned sequoia forest for $15.6 million. Now it needs to raise the money, according to CNN.
This aerial view shows the Ogasayama Sports Park Ecopa Stadium, one of the venues for 2019 Rugby World Cup. MARTIN BUREAU / AFP / Getty Images
The Rugby World Cup starts Friday in Japan where Pacific Island teams from Samoa, Fiji and Tonga will face off against teams from industrialized nations. However, a new report from a UK-based NGO says that when the teams gather for the opening ceremony on Friday night and listen to the theme song "World In Union," the hypocrisy of climate injustice will take center stage.
Vera_Petrunina / iStock / Getty Images Plus
By Wudan Yan
In June, New York Times journalist Andy Newman wrote an article titled, "If seeing the world helps ruin it, should we stay home?" In it, he raised the question of whether or not travel by plane, boat, or car—all of which contribute to climate change, rising sea levels, and melting glaciers—might pose a moral challenge to the responsibility that each of us has to not exacerbate the already catastrophic consequences of climate change. The premise of Newman's piece rests on his assertion that traveling "somewhere far away… is the biggest single action a private citizen can take to worsen climate change."

Volunteer caucasian woman giving grain to starving African children.
Bartosz Hadyniak / E+ / Getty Images
Food will be scarce, expensive and less nutritious," CNN warns us in its coverage of the UN's new "Climate Change and Land" report. The New York Times announces that "Climate Change Threatens the World's Food Supply."
By Adam Vaughan
Two-thirds of people in the UK think the amount people fly should be reined in to tackle climate change, polling has found.
Climate Week NYC
On Monday, Sept. 23, the Climate Group will kick off its 11th annual Climate Week NYC, a chance for governments, non-profits, businesses, communities and individuals to share possible solutions to the climate crisis while world leaders gather in the city for the UN Climate Action Summit.
By Pam Radtke Russell in New Orleans
Local TV weather forecasters have become foot soldiers in the war against climate misinformation. Over the past decade, a growing number of meteorologists and weathercasters have begun addressing the climate crisis either as part of their weather forecasts, or in separate, independent news reports to help their viewers understand what is happening and why it is important.