This website uses cookies to ensure you get the best experience while browsing it. By clicking 'Got It' you're accepting these terms.
Human Emissions Will Delay Next Ice Age by 50,000 Years, Study Says
Jan. 14, 2016 10:10AM EST
Climate
The phrase "ice age" may bring to mind woolly mammoths, saber-toothed cats and perhaps Sid the sloth from the animated films. It certainly doesn't suggest ideal conditions for us distinctly-not-woolly humans.
New research suggests that the impact of humans on the planet is pushing back when the Earth might descend into its next ice age.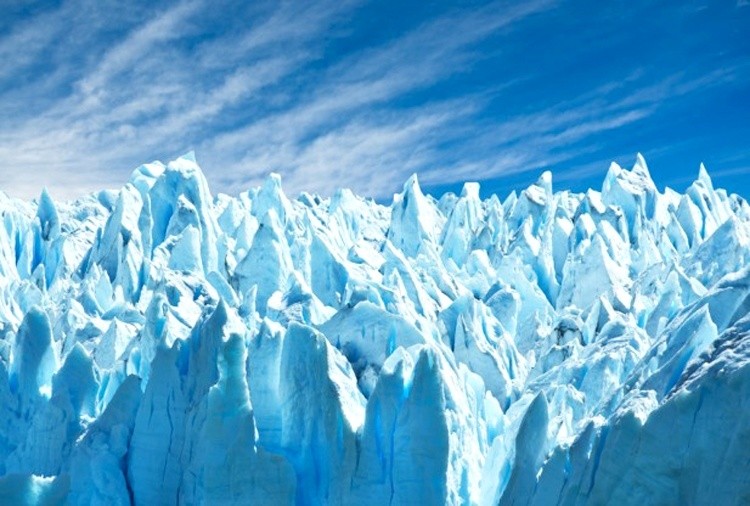 While the Earth might have naturally cycled back into an ice age in 50,000 years' time in the absence of emissions, we're unlikely to see one for at least 100,000 years because of the CO2 we put into the atmosphere.
The findings highlight the huge impact that humans are having on the planet, say scientists not involved in the study.
Chilly Cycles
Around 12,000 years ago, the Earth emerged from its last ice age. As the vast ice sheets that covered much of the northern hemisphere receded, human civilization blossomed, making the most of the relatively mild conditions that we still enjoy today.
In the new study, published in Nature, researchers have worked out a formula for what triggers an ice age to start. The timing is based on two principal factors, they say: the amount of the sun's energy the northern hemisphere receives during summer and the levels of CO2 in the atmosphere.
The amount of energy the Earth gets from the sun fluctuates naturally over many thousands of years because of subtle variations in the Earth's position and orbit around the sun. These are known collectively as as Milankovitch Cycles.
Running simulations with an Earth System model, the researchers find that if atmospheric CO2 were still at pre-industrial levels, our current warm "interglacial" period would tip over into a new ice age in around 50,000 years' time.
But CO2 emissions from human activity in the past, and those expected in the future, mean the next ice is likely to be delayed to 100,000 years' time, the researchers say.
No Practical Importance
This may sound like good news—nobody wants another ice age anytime soon—but it isn't a reason to thank fossil fuels, says lead author Dr. Andrey Ganopolski from the Potsdam Institute for Climate Impact Research. He tells Carbon Brief:
"We do not believe that the fact that anthropogenic CO2 emission can additionally postpone the next ice age …has any practical importance—this is rather an illustration of not so well-known fact that anthropogenic climate change will last not hundreds, but hundreds of thousand years."
This is a point that Prof Michel Crucifix from the Université catholique de Louvain picks up in an accompanying News & Views article. Even though the industrial revolution is only a few centuries old, human-caused emissions will keep atmospheric CO2 levels elevated for many thousands of years, he says:
"[A]nthropogenic CO2 will still be in the atmosphere in 50,000 years' time, and even 100,000 years, which is enough to prevent any glaciation."
As for holding off the next ice age, the damaging impacts of climate change will be felt long before then, says Prof Richard Allan, professor of climate science at the University of Reading, who wasn't involved in the study:
"[The next ice age is] not worth worrying about compared to immediate concerns about damaging human-caused climate change expected over the coming decades if no action is taken to mitigate this likelihood."
Profound Impact
The findings show just how profound the impact humans are having on the planet, says Prof Andrew Watson, Royal Society research professor at the University of Exeter:
"This study further confirms what we've suspected for some time, that the CO2 humans have added to the atmosphere will alter the climate of the planet for tens to hundreds of thousands of years."
Prof Jonathan Bamber, a professor in physical geography at the University of Bristol, agrees:
"It is both remarkable and a little scary to think that, in a short space of time, humans have been able to modify the climate system in such a dramatic and profound way."
Narrow Escape
The researchers also looked back into the Earth's history, and found that we narrowly missed descending into an ice age a few hundred years ago.
Natural CO2 levels during the most recent interglacial periods have been at around 280 parts per million (ppm), but have been as low as 240ppm in the more distant past.
Running their model for these different levels of atmospheric CO2, the researchers found that an ice age could have been triggered if CO2 had been at the lower level of 240ppm.
A recent study suggested that land clearance and early agriculture by humans around that time could be the reason for the extra 40ppm in the atmosphere. But Ganopolski and his co-authors say the changes to land use are unlikely to have caused such a large increase in CO2.
Avoiding the ice age was just down to luck, says Ganopolski:
"What we show in our paper is that we escaped the glacial inception naturally, thanks to a proper combination of Earth's orbital parameters and natural CO2 concentration."
So although humans aren't behind this icy near-miss, it seems we are having a substantial impact on when the next ice age does finally appear.
YOU MIGHT ALSO LIKE
Was Canada's Latest Earthquake the Largest Fracking Quake in the World?
Outraged Republican Senator Vows to Block Appointment of FDA Commissioner Over GMO Salmon
6 Ways Obama Can Cement His Climate Legacy
Oil Prices Drop Below $30 a Barrel for First Time in 12 Years
EcoWatch Daily Newsletter
Two Sherpa descending from Everest Base Camp, Himalayas, Khumbu, Nepal. Joel Addams / Aurora Photos / Getty Images
Climate change is having a grizzly effect on Mount Everest as melting snow and glaciers reveal some of the bodies of climbers who died trying to scale the world's highest peak.
Navajo Generating Station, Arizona. Wolfgang Moroder / Wikimedia / CC BY-SA 3.0
The Navajo Nation have decided to stop pursuing the acquisition of a beleaguered coal-fired power plant in Arizona, locking in the plant to be taken offline and its associated coal mine to close later this year.
A Navajo Nation Council committee voted 11-9 last week to stop pursuing the purchase of the 2,250-megawatt Navajo Generating Station, which with the Kayenta coal mine provides more than 800 jobs to primarily Navajo and Hopi workers as well as tribal royalties.
A coalition of utilities that own the plant said in 2017 it would cease operations due to increased economic pressure, and the plant's future has proved a flash point for national and regional energy policy and raised larger questions on how Native communities will handle ties to fossil fuel industries as the economy changes.
For a deeper dive:
Arizona Republic, Indian Country Today, AP, WOKV, Farmington Daily Times
For more climate change and clean energy news, you can follow Climate Nexus on Twitter and Facebook, and sign up for daily Hot News.
Related Articles Around the Web
Sir David Attenborough opens Woodberry Wetlands on April 30, 2016 in London, United Kingdom. Danny Martindale / WireImage
An extended version of the Fuxing bullet train at the China National Railway Test Center on Oct. 15, 2018 in Beijing, China. VCG / VCG via Getty Images
By Jeff Turrentine
Is it just us?
Other countries don't seem to have a problem getting their high-speed rail systems on track. This superfast, fuel-efficient form of mass transit is wildly popular throughout Asia and the European Union. Japan's sleek Shinkansen line, the busiest high-speed rail system in the world, carries an estimated 420,000 riders every weekday. In China, the new Fuxing Hao bullet train now hurries more than 100 million passengers a year between Beijing and Shanghai at a top speed of 218 miles an hour, allowing its riders to make the trip of 775 miles — roughly the distance from New York City to Chicago — in about four and a half hours. Spain, Germany and France together have more than 4,500 miles of track dedicated to high-speed rail, over which more than 150 million passengers travel annually.
Ocean Heroes Bootcamp
By Coda Christopherson (11) and Lea Eiders (15)
Growing up in a plastic-free home, I was sheltered from the plastic waste crisis. I (Coda) went to a very progressive school that had vegan lunch items, farm animals and ran on solar power. My mom produces zero-waste events and my dad is a sailor, so we're very passionate about the ocean. When I was nine years old, we moved back to Manhattan Beach, California and I started 3rd grade in a public school. This was the first time I really understood that plastic-free living is not the norm; single-use plastics were everywhere, especially in the cafeteria. Once I recognized this problem, I knew I had to make a difference.
A major California avocado producer issued a voluntary recall of the popular fruit over concerns they could be contaminated with Listeria monocytogenes, USA Today reported.
Henry Avocado issued the recall Saturday after a routine government inspection at its California packing facility turned up positive test results for the bacteria on "environmental samples," the company said in a statement. No illnesses have been reported.
Acting Secretary David Bernhardt visited Watson Hopper Inc., a manufacturer of rigs and oil drilling equipment in Hobbs, New Mexico on Feb. 6, 2019.
Tami A. Heilemann / DOI
Oil executives gathered for a conference laughed about their "unprecedented" access to Trump administration officials, according to a recording obtained by Reveal from the Center for Investigative Reporting.
In the recording, taken at a June 2017 meeting of the Independent Petroleum Association of America (IPAA) at a Ritz-Carlton in Southern California, members expressed excitement about one official in particular: David Bernhardt, who had been nominated that April to be deputy secretary at the Department of Interior (DOI). Bernhardt would be confirmed the following month.
"We know him very well, and we have direct access to him, have conversations with him about issues ranging from federal land access to endangered species, to a lot of issues," IPAA political director Dan Naatz said in the recording.