How to Teach Kids About Sustainability
So you want to be a good role model and teach kids—whether your own, nieces and nephews or a classroom—how to respect nature, be mindful of the waste they create and more. In short, to teach them about sustainability. And have fun doing it. Where do you start?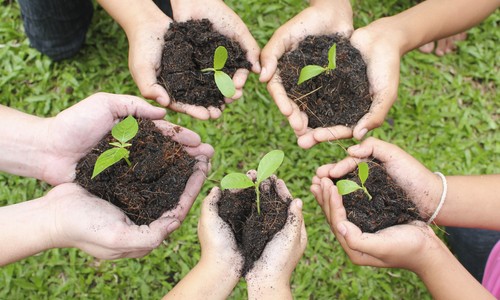 Photo courtesy of Shutterstock
There are some quick pointers on how to do so, such as these 5 tips for teaching kids about sustainable living, geared to a younger audience:
1. Lead by example
2. Make it fun
3. Get kids involved
4. Read to them
5. Volunteer with your kids
Vanderbilt University's Center for Teaching offers suggestions on teaching about sustainability issues for a more mature audience:
1. Beware of student overload
2. Avoid doom and gloom
3. Focus on quality of life issues
4. Peer engagement and support
5. Student analysis of data
6. Deconstruct eco-rhetoric 
7. Precautionary principle
8. Embrace interdisciplinarity 
Sound like some solid pointers, but not sure how to start implementing them in practice? Turns out there are quite a few resources with detailed ideas and lesson plans.
The Center for Ecoliteracy, a nonprofit advancing ecological education in K-12 schools, believes the best hope for learning to live sustainably comes from schooling that is "smart by nature." This includes weaving the following basics throughout curriculum at every grade level:
Experiencing the natural world; learning how nature sustains life; nurturing healthy communities; recognizing the implications of the ways we feed and provision ourselves; and knowing well the places where we live, work and learn.
The center offers a wealth of information and material, covering environmental issues, instructional tools, strategies and philosophical grounding.
Facing the Future is a nonprofit that creates tools for educators to equip and motivate students to develop critical thinking skills, build global awareness and engage in positive solutions for a sustainable future. The curricula offered by Facing the Future covers environmental, social and economic issues as well as sustainable solutions.
The National Wildlife Federation explains how Eco-Schools USA can benefit your school. The free program is designed to help schools improve academic performance, save money and conserve resources—to green your school inside, outside and throughout the curriculum. There are seven steps to complete before receiving an Eco-Schools award, one of which is linking to educational curriculum.
Check out what's available at Children's Environmental Literacy Foundation (CELF)'s resource center. The mission of CELF is to establish sustainability as an integral part of every child's K-12 learning experience. Yes! Magazine's Teaching Sustainability section includes resources on how to build a robust economy, healthy planet and just world for all.
Hungry for more ideas? The U.S. Environmental Protection Agency offers a Students and Sustainability online clearinghouse of information, designed for teachers who want to introduce concepts of sustainability in their classrooms and for students who need guidance in their sustainability research projects.
If you are looking for something hands-on this spring, consider the following pointer from Green Education Foundation, a nonprofit committed to creating a sustainable future through education: the garden as a teaching tool.
The foundation sees a garden as a great place to explore sustainability education, offering kids lessons in ecology, biodiversity and conservation. Guidelines offer plans for sustainable gardens at three budget levels and tutorials on constructing wheelchair-accessible raised beds and bird feeders, as well as details on topics ranging from recycled materials to water conservation.
What techniques have you used to teach children about sustainability?
——–
YOU MIGHT ALSO LIKE
10 Ways to Teach Your Child to Eat Well
10 Environmental Health Questions to Ask When Choosing Childcare
7 Tips to Prep for Gardening Season
——–
Monsanto, the maker of the glyphosate-based herbicide Roundup, filed a motion June 16 in U.S. District Court, Northern District of California to reconsider the chemical's addition to California's Proposition 65 list of agents known to cause cancer.
The agrochemical giant made this move based on a June 14 Reuters investigation of Dr. Aaron Blair, a lead researcher on the World Health Organization's International Agency for Research on Cancer (IARC) committee, that classified glyphosate as a "2A probable human carcinogen" in March 2015.
Keep reading...
Show less
By Avery Friedman
Algae is often considered a nuisance, but for Sweden, the rapidly growing sea plant is now an asset.
As the Scandinavian country works to cut all of its greenhouse gas emissions by 2045, it's using algae to sop up the carbon emissions from cement.
Keep reading...
Show less
Jun. 24, 2017 01:35PM EST
By Itai Vardi
A recent intensification in protests against Williams Partners' planned Atlantic Sunrise pipeline in Pennsylvania prompted a state senator to propose legislation aimed at limiting demonstrations.
Last month, Pennsylvania Sen. Scott Martin (R-Norman) announced his intention to introduce legislation that would pass the costs of law enforcement responding to protests onto the demonstrators. Martin also helped introduce a different bill that would criminalize protests at natural gas facilities.
Keep reading...
Show less
Jun. 24, 2017 01:29PM EST
Black Shogun / iStock
The Federal Energy Regulatory Commission (FERC) released its Final Environmental Impact Statement Friday for the Mountain Valley Pipeline, a controversial 303-mile pipeline that would carry two billion cubic feet of fracked gas per day from West Virginia through Virginia.
Keep reading...
Show less
Jun. 24, 2017 01:46PM EST
Falcon PEV
The so-called "first and last mile" problem is one of the biggest hurdles with public transportation. How do you encourage more people to take Earth-friendlier commutes when their homes are miles away from the train or bus station?
One solution, as this Estonian electric scooter company proposes, is to simply take your commute with you—literally. Tallinn-based Stigo has developed a compact e-scooter that folds to the size of a rolling suitcase in about two seconds.
Keep reading...
Show less
Jun. 24, 2017 05:12PM EST
Connect4Climate
[Editor's note: I'm still in shock after hearing the news that Lucia Grenna passed away in her sleep last week. When we first met in April of 2014 at a Copenhagen hotel, I was immediately taken by here powerful presence. We spent the next couple days participating in a Sustainia climate change event where Lucia presented her audacious plans to connect people to the climate issue. I had the chance to partner with Lucia on several other projects throughout the years and work with her incredible Connect4Climate team. I was always in awe of her ability to "make the impossible possible." Her spirit will live on forever. — Stefanie Spear]
It is with a heavy heart that Connect4Climate announces the passing of its founder and leading light, Lucia Grenna. Lucia passed peacefully in her sleep on June 15, well before her time. We remember her for her leadership and extraordinary ability to motivate people to take on some of the greatest challenges of our time, not least climate change.
Keep reading...
Show less
Jun. 23, 2017 07:29PM EST
Wikimedia Commons
By Stacy Malkan
Neil deGrasse Tyson has inspired millions of people to care about science and imagine themselves as participants in the scientific process. What a hopeful sign it is to see young girls wearing t-shirts emblazoned with the words, "Forget princess, I want to be an astrophysicist."
Keep reading...
Show less
Jun. 23, 2017 01:57PM EST
www.youtube.com
By Andy Rowell
Any day now we will truly witness climate change in action. Within days at worst, maybe weeks at best, scientists predict that a huge section of the Larsen C ice shelf in Antarctica will break off into the ocean, in what is called a major "carving" event.
Keep reading...
Show less
Jun. 23, 2017 02:27PM EST
www.youtube.com
President Trump visited Cedar Rapids, Iowa on June 21 to speak to a large crowd in the U.S. Cellular Center at a political rally organized by his campaign.
As Trevor Noah noted during The Daily Show episode last night (starts at 2:25), the real reason Trump has these rallies is to "get back in front of his loyal crowds and feed of their energy." Noah believes that "Trump supporters are so on board with their dude he can say anything and they'll come along for the ride."
Keep reading...
Show less