This website uses cookies to ensure you get the best experience while browsing it. By clicking 'Got It' you're accepting these terms.
How Offshore Wind Turbines Could Have Calmed Hurricane Katrina and Superstorm Sandy
Feb. 26, 2014 09:35AM EST
Business
By Tim Radford
U.S. engineers have thought of a new way to take the heat out of a hurricane.
Fortuitously-placed offshore wind farms could make dramatic reductions in wind speeds and storm surge wave heights.
Hurricanes are capricious consequences of peculiar sea temperature and wind conditions, while wind farms are the outcome of years of thoughtful design and investment and not an emergency response to a severe weather warning.
But, according to new research in Nature Climate Change, a giant wind farm off the coast of New Orleans in 2005 could have lowered the wind speeds of Hurricane Katrina by between 80 and 98 miles an hour and decreased the storm surge by 79 percent.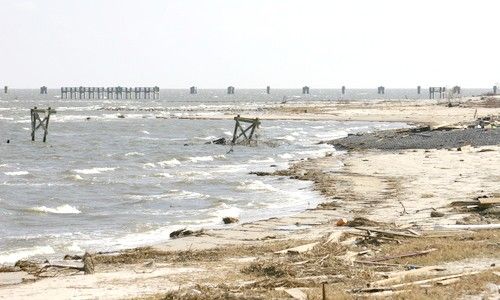 Photo courtesy of Shutterstock
Katrina was a calamitous event that caught civic, state and federal authorities off-guard, and devastated the city. But an array of 78,000 wind turbines off the coast would, according to Mark Jacobson of Stanford University, and Cristina Archer and Willett Kempton of the University of Delaware, have defused its force dramatically—and turned a lot of hurricane energy into electricity at the same time.
Wind turbines turn in the wind to generate energy. The laws of thermodynamics are inexorable, so a national grid's gain is the wind's loss, because wind energy is dissipated as it crosses a wind farm. One turbine literally takes the wind out of the sails of another.
Tempest models
One of the three Nature Climate Change authors, Archer, last year examined the geometry of a hypothetical wind farm to work out how to place turbines most efficiently to make the best of a gusty day, rather than have one bank of turbines turning furiously while the others barely stir.
But this same translation of wind circulation to electrical circuitry suggested another accidental consequence. Jacobson and his colleagues used sophisticated computer models to test the impact of a hurricane on a wind farm, and since the U.S. has both cruel experience and highly detailed records of hurricane events, he and his Delaware partners decided to model three notorious tempests: Superstorm Sandy, which slammed into New York in 2012 and caused $82 billion damage in three U.S. states, Hurricane Isaac, which hit Louisiana the same year, and Hurricane Katrina in 2005.
"We found that when wind turbines are present, they slow down the outer rotation winds of a hurricane," Jacobson said. "This feeds back to decrease wave height, which reduces movement of air toward the centre of the hurricane, increasing the central pressure, which in turn slows down the winds of the entire hurricane and dissipates it faster."
And Archer put it more vividly: "The little turbines can fight back the beast," she said.
Kempton added: "We always think about hurricanes and wind turbines as incompatible. But we find that, in large arrays, wind turbines have some ability to protect both themselves and coastal communities from the strongest winds."
Double benefit
The conclusions are based entirely on computer simulations. Real world tests are for the moment unlikely, chiefly because wind farms tend to have dozens or, at the most, hundreds of turbines and the hurricane experiment was based on turbines in their tens of thousands, delivering hundreds of gigawatts.
But Jacobson and Archer tend to think big anyway. They argued in 2012 that 4 million wind turbines in the world's windiest places could generate at least half the world's electricity needs by 2030 without interfering too greatly with global atmospheric circulation.
The tempest-taming qualities of really big wind farms would deliver an added bonus: they could offer protection to vulnerable coastal cities. The costs of wind-farming on such a scale would be huge, but then the losses to coastal cities from flooding and storm damage in a rampant climate change scenario are expected to rise to $100 trillion a year by 2100.
The three authors calculate that the net cost of such projects—after considering all the good things that could come from them—would be "less than today's fossil fuel electricity generation net cost in these regions and less than the net cost of sea walls used solely to avoid storm damage."
A sea wall to protect one city might cost anything from $10 billion to $29 billion, and that is all it would do: protect that city. A really big wind farm would offer protection during cyclones, typhoons or hurricanes and generate carbon-free energy all year round.
Visit EcoWatch's RENEWABLES page for more related news on this topic.

EcoWatch Daily Newsletter
Artist's conception of solar islands in the open ocean. PNAS
Millions of solar panels clustered together to form an island could convert carbon dioxide in seawater into methanol, which can fuel airplanes and trucks, according to new research from Norway and Switzerland and published in the Proceedings of the National Academy of Sciences journal, PNAS, as NBC News reported. The floating islands could drastically reduce greenhouse gas emissions and dependence on fossil fuels.
Marcos Alves / Moment Open / Getty Images
More than 40 percent of insects could go extinct globally in the next few decades. So why did the U.S. Environmental Protection Agency (EPA) last week OK the 'emergency' use of the bee-killing pesticide sulfoxaflor on 13.9 million acres?
EcoWatch teamed up with Center for Biological Diversity via EcoWatch Live on Facebook to find out why. Environmental Health Director and Senior Attorney Lori Ann Burd explained how there is a loophole in the The Federal Insecticide, Fungicide, and Rodenticide Act under section 18, "that allows for entities and states to request emergency exemptions to spraying pesticides where they otherwise wouldn't be allowed to spray."
Simple swaps that cut down on kitchen trash.
Sponsored
By Kayla Robbins
Along with the bathroom, the kitchen is one of the most daunting areas to try and make zero waste.
View of downtown Miami, Florida from Hobie Island on Feb. 2, 2019.
Michael Muraz / Flickr
The Democratic candidates for president descended upon Miami for a two-night debate on Wednesday and Thursday. Any candidate hoping to carry the state will have to make the climate crisis central to their campaign, as The New York Times reported.
By Sharon Kelly
On Monday, the Wall Street Journal featured a profile of Scott Sheffield, CEO of Pioneer Natural Resources, whose company is known among investors for its emphasis on drawing oil and gas from the Permian basin in Texas using horizontal drilling and hydraulic fracturing, or fracking.
Pexels
By Craig K. Chandler
The federal government has available to it, should it choose to use them, a wide range of potential climate change management tools, going well beyond the traditional pollution control regulatory options. And, in some cases (not all), without new legislative authorization.
Denis Poroy / Getty Images
By Dan Gray
Processed foods, in their many delicious forms, are an American favorite.
But new research shows that despite increasing evidence on just how unhealthy processed foods are, Americans have continued to eat the products at the same rate.
By Sarah Steffen
With a profound understanding of their environmental surroundings, indigenous communities around the world are often cited as being pivotal to tackling climate change.