How Fracking Destroys the American Dream
Last fall, Resource Media compiled an in-depth media tip sheet to provide journalists with background information and sources about the growing body of evidence linking drilling with widespread impacts on property values, property rights and quality of life in communities across America.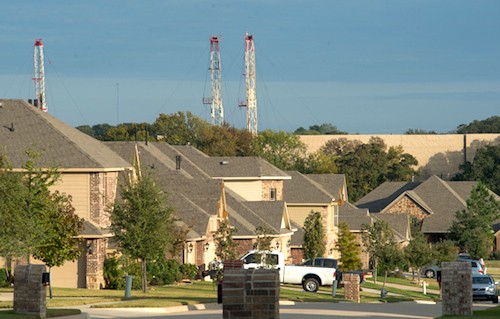 Since we first published Drilling vs. The American Dream, fracking has continued unabated, inching up and into ever more cities, towns and neighborhoods. To keep up with the changes, we updated the guide to include new data and research and new stories from the growing choir of millions of Americans who are now directly affected by oil and gas development:
Drilling vs the American Dream: Fracking impacts on property rights and home values
There are currently more than 1.1 million active oil and gas wells in the U.S., and more than 15 million Americans now live within a mile of the hundreds of thousands that have been drilled since 2000, according to an analysis by the Wall Street Journal. Made possible by the advent of fracking, drilling is taking place in shale formations from California to New York and from Wyoming to Texas.
And there's no indication that this "unprecedented industrialization" shows any signs of slowing. Almost 47,000 new oil and natural gas wells were drilled in 2012, and industry analysts project that pace will only continue.
Drilling rigs now regularly inch up and even into communities that never anticipated having to address problems like round-the-clock noise, storage tanks, drums of toxic chemicals, noxious fumes, near-constant truck traffic and pipelines near homes, schools, playgrounds and parks. For many, the impacts of this kind of large-scale industrial activity are incompatible with quality of life.
Congressman Jared Polis saw this firsthand last fall when a drilling rig went up on property neighboring his small farm in Weld County, CO. Polis, who said he had no notice of the fracking operations, filed a complaint with state regulators and then a lawsuit over concerns "about the impact that fracking has on the health of communities as well as the economic impact as it relates to property value."
Also look no further than Exxon CEO and board chairman Rex Tillerson, who is suing to stop construction of a water tower that would supply nearby drilling operations because of the nuisance of, among other things, heavy truck traffic, noise and traffic hazards from the fracking operations the tower would support. That's right, the head of the single largest drilling company in the world, acknowledges the "constant and unbearable nuisance" that would come from having "lights on at all hours of the night … traffic at unreasonable hours … noise from mechanical and electrical equipment." Tellingly, Tillerson's lawsuit—filed in 2012 with other plaintiffs, including former House Majority Leader Dick Armey—claims the project would do "irreparable harm" to his property values.
At a more macro level, research is staring to show that energy booms such as the current drilling frenzy may not be the economic windfall that boosters make them out to be. After the initial surge in income and jobs that comes with drilling, problems inevitably follow: higher crime rate, decreased educational attainment and over the long run, significant declines in income. The more heavily a community ties itself to the drilling economy, the greater the decline.
"The magnitude of this relationship is substantial," the study authors are quoted saying in the Washington Post, "decreasing per capita income by as much as $7,000 for a county with high participation in the boom."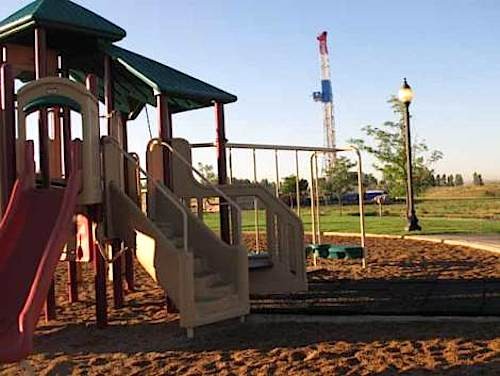 Erik Hoffner
For those who own the rights to the oil and gas on their properties, the impacts of drilling can be offset by royalty payments that come from selling them to oil and gas developers. But in most parts of the country, the legal doctrine of split estates allows one party to own the rights to minerals and other resources below the surface while someone else hold the rights to property above ground. With the oil and gas industry showing little self-restraint and drilling encroaching into cities, towns and suburbs, split estates have left millions to deal with problems such as increased truck traffic, chemicals, lights, noise, heavy equipment, noxious air emissions and water—all without any compensation.
There are weak regulatory protections and few legal precedents to protect residents from this kind of industrial activity in their back yards. Regulations on how far drilling must be set back from homes and schools, for example, provide almost no cushion—often only several hundred feet—to mitigate drilling's impacts on nearby homes and businesses.
Feeling unprotected by weak state and federal regulations, however, more and more communities are starting to fight back by passing local laws restricting or banning fracking within their borders. Pittsburgh became the first to take matters into its own hands with an ordinance in 2010. Since then, many others have followed suit: Dallas, Los Angeles, multiple cities and towns in New York, New Jersey and Pennsylvania, counties in New Mexico. Last fall in Colorado, voters in four cities passed ballot measures banning or severely restricting fracking, three of them overwhelmingly. And this year, backers are gathering signatures for a 2014 statewide ballot measure that would give Colorado cities and towns local control over drilling-related policy decisions within their borders.
This pushback against drilling and its impacts goes beyond simple NIMBYism. The financial risks posed by drilling are real and substantial enough—as detailed below—that banks and insurers are also now adopting guidelines that forbid mortgage loans or insurance coverage on properties affected by drilling. It's a battle between oil and gas and the nest egg of countless Americans.
The following examples begin to piece together the ways in which the threats posed by drilling and the deep pockets of the oil and gas industry quite literally hit home. Taken together, they are a call for decision-makers to start quantifying data and asking tough questions about drilling vs. the American Dream.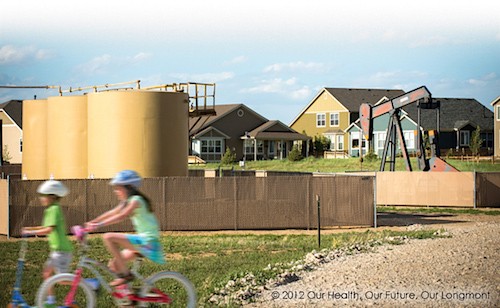 Property Rights
Mortgages and Fracking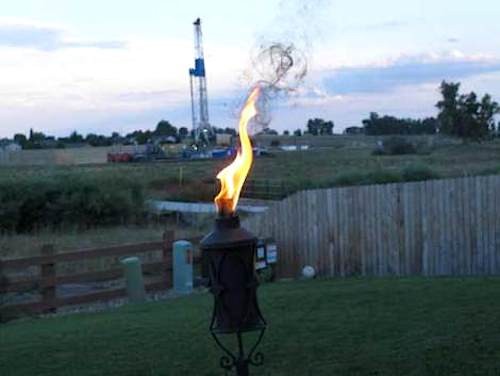 Erik Hoffner
Recognizing the numerous ways that drilling and fracking could damage value, the mortgage industry is starting to refuse to take on the financial liabilities and is tightening policies that prohibit lending on properties with wells on them or that are subject to leasing.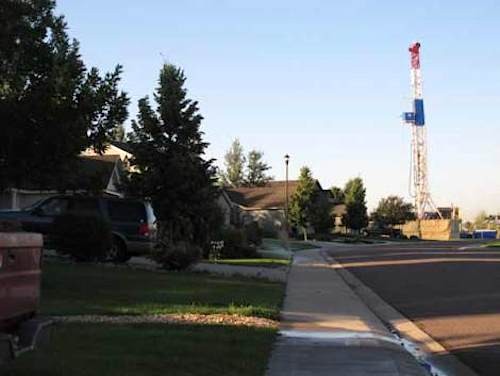 Erik Hoffner
Insurance Coverage
Homeowners who think damage to property incurred by drilling accidents is covered by insurance need to think again. Such damages are typically not covered.
Last July, Nationwide Insurance spelled out specifically that it would not provide coverage for damage related to fracking. According to an internal memo outlining the company's policy, "After months of research and discussion, we have determined that the exposures presented by hydraulic fracturing are too great to ignore. Risks involved with hydraulic fracturing are now prohibited for General Liability, Commercial Auto, Motor Truck Cargo, Auto Physical Damage and Public Auto (insurance) coverage."
Often, a driller or well operator's insurance won't cover damages, according to the NYSBA summary. Homeowners may have to sue for damages and, even if they win, may not get paid for all damages since drillers admit in their regulatory filings that they may not carry enough insurance.
Other online resources:
Visit EcoWatch's FRACKING page for more related news on this topic.

Dow CEO Andrew Liveris and President Donald Trump in February.
U.S. Environmental Protection Agency (EPA) administrator Scott Pruitt met with Dow Chemical CEO Andrew Liveris before deciding to reverse an earlier EPA decision to ban the company's toxic and widely used pesticide, chlorpyrifos.
According to records obtained by the Associated Press, the EPA boss met with Liveris for about 30 minutes at a Houston hotel on March 9. Later that month, Pruitt announced that he would no longer pursue a ban on chlorpyrifos from being used on food, ignoring his agency's own review that even small amounts of the pesticide could impact fetus and infant brain development.
Keep reading...
Show less
www.facebook.com
Native communities and environmental justice advocates in Louisiana opened a new resistance camp Saturday to oppose the proposed Bayou Bridge Pipeline project. Called L'eau Est La Vie, or Water is Life, the camp will consist of floating indigenous art structures on rafts and constant prayer ceremonies during its first two weeks.
Keep reading...
Show less
Continuing its march toward elimination of key Clean Water Act protections, the U.S. Environmental Protection Agency (EPA) on Tuesday issued a formal notice of withdrawal of the Obama administration's rule defining which waters can be protected against pollution and destruction under federal law.
Keep reading...
Show less
The U.S. Environmental Protection Agency (EPA) is not doing enough to prevent weed resistance to the herbicide glyphosate (Roundup) says a new report from the EPA's Inspector General's Office, which draws in part on a report from the agbiotech company, Pioneer: Weed Management in the Era of Glyphosate Resistance.
Keep reading...
Show less
SUMR
When it comes to the latest wind turbine technologies, size matters. A group of six institutions and universities is designing an offshore wind turbine that will stand 500 meters in height. That's taller than the Eiffel Tower and the Empire State Building.
The research team, led by researchers at the University of Virginia, believes that its wind turbine concept will produce 50 megawatts of peak power, or about 10 times more powerful than conventional wind turbines.
Keep reading...
Show less
www.facebook.com
Natural gas is often considered the cleanest fossil fuel, but could it actually be dirtier than coal?
Watch as New York Times reporter Mark Bittman, in the above Year's of Living Dangerously video, investigates how much methane is leaking at fracking wells. Find out how the natural gas industry's claims compare to what scientists are reporting.
See what happens when Gaby Petron, an atmospheric scientist with NOAA, converts her van into a mobile methane detector and sets out across northeastern Colorado for two years, taking thousands of readings to uncover the truth.
www.youtube.com
Adrian Grenier was named UN Goodwill Ambassador earlier this month. The Hollywood actor, best known for his iconic role of A-list movie star Vincent Chase in the HBO smash hit and film Entourage, will advocate for drastically reducing single-use plastic and protection of marine species, and encourage his followers to make conscious consumer choices to reduce their environmental footprint, according to the UN Environment announcement.
"Together we must usher in a new era of compassion and carefulness through forward thinking environmental programs to drive measurable change," Grenier said. "I am personally committed to creating ways in which the global community can come together to help solve our most critical climate crises through routine, collective action.
"The more we connect to nature in our daily lives, the more dedicated we will become to our individual commitments. Together, I believe we can go further, faster in our race to achieve the UN Sustainable Development Goals by 2030."
Watch the video above to learn more.
The last week has seen a flood of stories on clean energy's prospects—stories that make your head spin with their conflicting tales of renewable energy's prospects of ending our dangerous addiction to fossil fuel power from coal and gas.
Keep reading...
Show less